Cost to repair a leaky faucet
Most parts are cheap, but labor will cost you



Written by

Edited by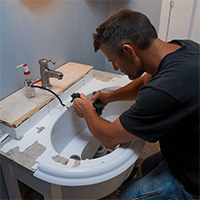 A leaky faucet may not seem like a plumbing emergency, but it can lead to shockingly high water bills. Fixing a leak can also prevent mold and mildew growth, which can create huge repair bills down the line. Comparatively, fixing your faucet is inexpensive. We spoke with several plumbing companies around the country, and once you add in the costs of labor and parts, you can expect to pay a professional anywhere from $150 to $350 to get your faucet back in working order.
Take a look at what can affect these costs, how to spot a leak and whether this is a repair you can tackle on your own.
---
Key insights
Most replacement parts are inexpensive, so the biggest cost factor is often the labor.
For most minor issues, homeowners may be able to easily DIY this job.
If you need to replace the entire faucet, the price can range from $50 to $400.
Leaky faucet repair costs
How much it costs to repair a leaky faucet comes down to parts and labor. The cost varies depending on where you live, the repair company and what parts are required. We researched some average prices to give you an idea of what to expect.
Replacement faucet parts
Replacement faucet parts are often much cheaper than the cost of labor, so you may be able to save a lot of money with a DIY repair.
When a faucet needs repairs, you'll often need a few parts to complete the job. Here are some typical costs for common faucet parts according to Andrew Miles, an expert with 30 years in the plumbing industry:
O-ring: These range from $1 to $5.
Rubber washer: Replacement generally costs around $2 to $5 for a pack of multiple washers.
Valve seat: This part costs around $5 to $10, depending on the material and brand.
Cartridge: Depending on the brand and complexity, these can range from $10 to $100. The cartridge is a small plastic piece that controls water flow and is in almost all new faucets.
Ceramic disk: "In ceramic disk faucets, the disk assembly can wear out. These are generally more expensive to replace, ranging from $20 to $50," said Miles.
Stem assembly: Faucets with two handles have this part. Replacing this will cost $10 to $50, depending on the brand and material.
Hose (for pull-out faucets): If you have a pull-out faucet that leaks, a new hose can cost between $15 and $50.
Gaskets and seals: "These are usually inexpensive but crucial for preventing leaks," said Miles. "They may come in kits or separately, costing between $2 and $10."
Labor
When it comes to labor, most plumbers will charge a rate by the hour. Typical rates range from $45 to $200. "A simple fix takes about an hour," said Hunter Botto, a veteran plumbing professional and the past president of the National Plumbing-Heating-Cooling Contractors Association (PHCC). "A complex fix that requires turning off the water can take hours."
Cost to repair by faucet type
The type of faucet can change the cost of the repair, with bathtubs on the more expensive side and bathroom and kitchen sinks on the lower end. Here's a breakdown according to the kind of faucet.
| Faucet type | Average cost |
| --- | --- |
| Bathroom sink | $60-$200 |
| Kitchen sink | $250 |
| Bathtub | $60-$400 |
| Outdoor | $100-$300 |
Bathroom sink faucet
Bathroom sink faucets can be one of the cheaper repairs, at $60 to $200. Sometimes the washer just needs to be switched out, which can run from $2 to $5, so you're really paying for the labor more than anything. If you need a new faucet because of age, cracks and other major problems, you'll likely pay $50 to $300, depending on the type and brand of sink.
» TIME TO RENOVATE: Best bathroom remodeling companies
Kitchen sink faucet
Fixing a leaky kitchen sink can be a little more expensive than fixing bathroom faucets, at up to $250. These faucets tend to have more parts, making them harder to fix. If you need a new kitchen faucet, the price can increase by quite a bit. You'll pay around $100 to $250 for the installation and an additional $50 to $400 for the new faucet.
Bathtub faucet
At $60 to $400, bathtub and shower faucets are some of the most expensive to repair. If the parts are in the wall, it can take longer to get to and drive up the labor costs. Bathtub faucets are also more complicated to remove than other types of faucets, which can also add to the time it takes to repair.
Outdoor faucet
Outdoor faucets are often victims of the elements. Freezing temperatures can burst inner components and the spout. Usually, outdoor faucets are replaced instead of repaired. Replacements can run between $100 and $300 with the faucet and labor included.
Signs of a leaky faucet
You probably know that if your faucet drips when it's turned off, it has a leak problem. However, there are a few other signs you can look for that aren't so obvious. Here's how to find out if your leak is a little more sneaky:
Look for stains on the wall around the faucet. Water may be escaping the faucet and making its way into the wall.
For kitchen sinks and bathrooms with a vanity, check underneath to see if there is any moisture inside the cabinet where the faucet connects to the water line, on the floor or on the wall.
Look for water pooling around where the faucet connects to the sink.
Keep track of your water bill. If it seems higher than normal and you haven't increased your water usage, there could be a leak.
Try to jiggle to the faucet or handles. If they feel loose, that could mean they're leaking.
Listen for any unusual sounds like creaking or sputtering when you turn on the tap.
» LEARN: Best water leak detectors
DIY leaky faucet repair
If you're handy with tools, you can probably repair most faucet problems yourself. Faucets don't have a lot of parts and are easy to remove and put back together. You may end up paying just a few dollars if the fix is as simple as replacing the O-ring or a washer. In those instances, it's worth a shot to troubleshoot the problem before calling a plumber.
The trickier repairs include bathtub faucets, outdoor faucets and any repairs that may require accessing parts behind walls. In those cases, it's best to call in a professional.
FAQ
How long does it take to repair a leaky faucet?

Straightforward fixes for bathroom and kitchen sinks usually take around an hour. If a plumber needs to access parts behind a wall, like for a bathtub faucet, you're looking at a few hours. Similarly, if a plumber ends up replacing the entire faucet, it may take a couple of hours to fix.
When should I replace the faucet instead?

Older faucets usually need to be replaced. "If you are fixing an extremely old faucet that has old-style washers, it might not be cost-effective to repair it," said Botto. "Any faucet that is over 15 or 20 years old is most likely extinct. Finding and obtaining these small parts will be challenging." Cracked faucets or faucets that have multiple problems will also need to be replaced.
Do home warranties cover leaky faucets?

Typically, home warranties cover plumbing as part of their systems plans. This should include faucets, but it's always best to thoroughly read a home warranty contract before signing up. In general, though, both repairs and replacements will be covered.

One reviewer from Arizona shared a good experience with a home warranty company for a leaky faucet: "Bathroom faucet started to leak … and received a response from a plumbing company within hours. Choice authorized total faucet replacement without hesitation. Faucet was replaced within 48 hours!"

» COMPARE: Best home warranty for plumbing
Bottom line
What you pay to repair a leaky faucet boils down to the cost of the replacement parts plus labor. Since the cause of a leaky faucet is often minor, you can save on the labor costs by doing simple repairs yourself — especially if the part is only a few dollars. However, if the repair involves more complexity, like opening up a wall, it's best to call a plumber instead.
No matter the cost, getting a leaky faucet fixed right away can save you from major water damage repair and high water bills.
---
Article sources

ConsumerAffairs writers primarily rely on government data, industry experts and original research from other reputable publications to inform their work. Specific sources for this article include:

HomeAdvisor, " How Much Does It Cost To Fix A Leaky Faucet? " Accessed Sept. 26, 2023.
Did you find this article helpful?
|
You're signed up
We'll start sending you the news you need delivered straight to you. We value your privacy. Unsubscribe easily.