5 benefits of occupational therapy for elderly parents
Discover the benefits of occupational therapy



Written by

Edited by
Find Walk-In Showers near you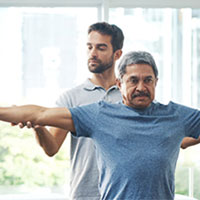 In every stage of life, occupational therapy helps people develop, recover or maintain the skills they need to do meaningful and necessary daily activities. In particular, occupational therapists can help older adults overcome daily challenges caused by diminished ranges of motion and mobility.
Occupational therapists perform home evaluations to help identify where home modifications could be made for aging in place. They also educate and team up with caregivers, making sure they balance their personal lives with their roles providing necessary care. Here's a few ways occupational therapy can help people age in place.
1. Overcome everyday challenges
Occupational therapists use education, exercise and rehabilitation techniques to help make daily tasks like getting dressed, eating, bathing and using the restroom easier for patients. Range-of-motion exercises can include something like sitting in a chair with your arms to your side and feet flat on the floor and slowly extending one leg out in front of you and holding it for a few seconds.
By focusing on what they can do rather than what they can't, occupational therapists teach patients to do daily tasks safely based on their abilities. Regular occupational therapy like working crossword puzzles, doing arts and crafts or reading a magazine can help patients sharpen their fine and basic motor skills, keep up their strength and improve their dexterity.
2. Recommend home modifications
Occupational therapists look at your parents' home layout to get a feel for how they move around their home everyday. They recommend modifications like getting a bathtub seat or grab bars to make daily activities safer. Home modifications help prevent falls and instill confidence when doing everyday tasks:
Installing grab bars
Putting in slip-resistant flooring in bathrooms
Power lift recliners
Installing a home monitoring or medical alert system
3. Provide support for memory loss
Occupational therapy is key during early stages of memory loss. Therapists assess a client's cognitive ability and help address any changes in their behavior or personality through behavioral modification.
Occupational therapists help patients who are experiencing dementia by measuring their strengths and weaknesses and then identifying performance areas that need work. Even though there is no cure for the disease, therapy patients often show improvement through adaptation and compensation. A therapist can teach someone with dementia to use lists and other prompts to help with recollection. Here are some examples of how occupational therapists can help your loved one with memory loss:
Providing engaging occupational tasks for people who engage in repetitive, non-productive behavior. So if the person used to like to do the newspaper's daily crossword puzzle, providing them with simplified puzzles.
Putting stop signs on fence gates or front doors for people who get disoriented or wander.
Teaching caregivers non-defensive responding and orienting techniques for people who suffer from personality changes.
Helping a caregiver place a limited clothing selection in the closet of a person who forgets what season it is.
4. Help with vision loss
If your parent or loved one suffers from vision loss, such as with glaucoma, an occupational therapist can work with them using activities that promote visual awareness, help them detect patterns and reinforce perceptual skills. An occupational therapist may suggest changes at home and work. Changes can include using color-coded ID tags, more lighting and contrast and aid equipment like magnifiers. They might also suggest removing clutter that could pose as a tripping hazard. Examples of visual therapy practices include:
Putting bright orange stickers on dishwashers, microwaves and washing machines so it's easier for a patient to know where to put their fingers and push.
Painting walls white, painting outlet covers black and putting white tape around each outlet so someone with macular degeneration knows where to plug in an appliance.
Color coding and labeling medication with brightly colored tabs and large print.
Putting neon tape on steps to prevent trips and falls.
5. Provide caregiver assistance
Being a primary caregiver can take physical, emotional and financial tolls. Occupational therapists are trained to evaluate a caregiver's situation and help manage or alleviate their workload when necessary. The therapist's goal with a primary caregiver is to make sure they're maintaining a lifestyle in which the patient's needs are met without sacrificing their own. They do this several ways:
Recognizing the caregiver's needs must be met along with the patients'.
Encouraging caregivers to express all feelings: anger, stress, sadness and frustration.
Implementing coping strategies and encouraging healthy lifestyle habits like exercise, group or individual therapy and hobbies.
Keeping caregivers informed on current research about conditions and techniques so they can make better decisions.

Bottom line: Maintaining independence as long as possible is a major goal as people get older. A dedicated occupational therapist can help patients stay active, safely do daily tasks and maintain a healthy lifestyle. If you think your parent or loved one could benefit from occupational therapy, ask your primary care doctor for a local recommendation.
Did you find this article helpful?
|
You're signed up
We'll start sending you the news you need delivered straight to you. We value your privacy. Unsubscribe easily.