Consumer Complaints and Reviews

We purchased a King Infused mattress - in less than one month started to sag & pillow top to loosen up. After paying the inspection fee, Serta said it will be replaced. I mailed the law tags as requested with the check and now Serta disappeared!!! Now 6 month later still Serta wont return calls and never showed up with replacement. Awful company! A scam! A ripoff!!!

I bought the mattress at big lots because it was supposed to be the top of the line mattress. This thing is junk. It can't be turned over and I will be throwing it out because my back has pain every day. I can't move around once I'm in bed because it's not firm, and the sides give way making it dangerous because I have rolled off on the floor. I will be buying an old style cheap firm mattress and it WILL NOT be a Serta!

After trying to sleep on a Serta iComfort hybrid mattress for over a hundred nights, I contacted the major department store where I bought it and was allowed to return it (for a modest restocking fee) and make another selection. Thank goodness (I chose a traditional innerspring by Stearns and Foster and am very pleased)! The Serta was cheaply made and too lightweight. It did not give me proper support and as a result I developed a back ache (that I thought was a kidney problem, but was not). Absolutely no edge support. And hot!! Within minutes of getting into bed, I would become so hot that I to turn back all the cover. I lowered the temperature in my bedroom to 65 degrees and was still too hot (in the month of January, too). My "sinkage," which was drastic, caused no air flow, thus making me hot. Bottom line: I do not recommend this mattress!!! Overpriced and a bad choice!!!

My Serta mattress is one week short of a year old and it is sagging. When it was 2 months old, it was the most comfortable mattress I owned and recommended to people. Not anymore! Less than a year old, and I can't believe the pain my back and hips are in. The warranty states that it must sag 1.5 inches before they replace it. I guarantee that is not the case when you look at it. It is a pillow top mattress, so it doesn't show indentation. However when you slightly push on it, you sag to the middle of the mattress. When you lay on the mattress you sink dramatically! This is a split king mattress and we purchased my husband's on the same day. We have slept on the mattresses the same amount of time and I am of lesser weight. His bed is not like this as of yet. Don't buy a Serta iComfort hybrid! The killer is we still owe $2000 on them. Rip off.

We had a 5 star king size Serta mattress that has shifted 3" and the guy that came out said he has NEVER seen anything like it! Well Serta is trying to blame it on a stain that happened 3 months after they were contacted!! How convenient for Serta!!! I will not EVER buy a Serta product again. A bunch of lying people in warranty department!! My mattress has been shifting since the day we bought that piece of JUNK!!! Box springs fell apart and the company we bought it from went out of business!!! How can a stain have anything to do with it when the stain happened AFTER we contacted Serta??? I'm gonna add pictures, and you be the judge of this rotten company?!?
How do I know I can trust these reviews about Serta Mattress?
825,614 reviews on ConsumerAffairs are verified.
We require contact information to ensure our reviewers are real.
We use intelligent software that helps us maintain the integrity of reviews.
Our moderators read all reviews to verify quality and helpfulness.
For more information about reviews on ConsumerAffairs.com please visit our FAQ.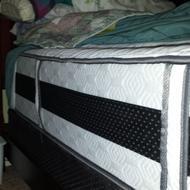 Bought iComfort Philosopher Firm. Within 3 days I had sagging, uneven hills and valleys, developed hole that drew us into middle of bed. I would have done better on the floor!!! I am the most unhappy that I have been in years. SO IF YOU HAVE ANY BRAINS YOU WILL NOT PURCHASE ANY SERTA AS THEY ARE BY FAR QUALITY. This company will be bankrupt soon. "KARMA BABY." Also it looks as if it were made in a backroom. Terrible workmanship. Unbelievable, unbelievable, unbelievable. Poor, poor, poor!!!

We purchased this "Loveable" bed from QVC in Oct 2015 in King size. Within 6 months it started sagging. An inspector came out, agreed that it was no good. They brought us a new one 6 weeks later. Months ago that one started sagging. We called again. Inspector came out, saw that the new depressions in the bed were over 6 inches deep and said he never saw anything like this in over 30 years. Well they brought us a new one on May 1, 2017 (no box springs) and guess what... It's sagging again after 2 weeks. This is totally unacceptable. We are requesting a new inspection. They are awful to work with. We will NEVER purchase their products again. Our guest room Big Lots bed is 100 times better.

I want to warn anybody who is considering purchasing iComfort Queen Bed, STOP! You may be an arthritis sufferer who has read how wonderful the cooling gel will feel. This is total BS! Why do you think arthritis hurts more in cold weather? The foam in this bed starts to sag in no time. Even somebody without a painful spine will get one from sleeping in this bed.
I have arthritis in my cervical and lumbar spine. I sleep on my back or on my sides. Whatever position that I fall asleep in, I am awoken in two hours or less with excruciating pain in that area, unable to get back to sleep again. I have woken in soo much pain that I am in tears and trembling all over. I go out to the sofa and on my way, I take ** or ** and put my moist heat packs in the microwave. Once I get the pain under control, I am still suffering from anxiety from the experience. This was the most expensive bed that I ever purchased and by far the worst.
I have tried to get assistance from the store where I purchased it and Serta directly on numerous occasions and got nowhere much earlier in this awful experience to current. If there is ever a class action lawsuit, I want to be included for all of the needless pain and suffering that Serta has put me through along with the extra medical attention that I had to endure. I feel so foolish for trusting Serta to manufacture only a quality product and to do right by me. After four years, my nap today was the last straw! I have just purchased another bed.

Received replacement mattress in April 2013 - filed claim for "sink hole" in memory foam in May 2016. Claim denied due to staining. Have had a waterproof mattress cover on since day one that showed no signs of pass through stains. Staining on mattress cover did not match stains on actual mattress foam - unsure where the "stains" came from, but nothing lined up so as to suggest it was caused by my wife or myself. Mattress is hybrid of spring and two layers of memory foam. Very large area of both foam layers split causing you to sink down to the spring level when laying in the bed. Multiple individual springs had punctured out of their sleeves and the metal tore through the foam as pressure was applied from sleeping on the mattress.
Spoke with case manager to argue the facts and was told to file a claim with the mattress protector company - again, protector not defective and used successfully on two previous mattresses with zero staining. Stains only on side of mattress that had the defect, so seems likely that there was a manufacturing issue with the bed itself. Was told by the case manager that even if the stain was water that it would compromise the bed. So the $2500 bed is so fragile that water would eat away at two layers of foam through both a waterproof mattress cover, the actual mattress cover and eat away at the spring casing in order for them to be released.
I went through two rounds of BBB communication over the last year and each time they were just a broken record and offered no resolution aside from staining caused the mattress to fail, not a defect. To make matters worse, we discovered this mattress had no law tag attached ANYWHERE. So either the company that delivered the replacement gave us a used/fake mattress or Serta themselves ordered it.

I purchase the Serta Perfect Sleeper mattress from JCP.com. The mattress were delivered damaged and noted on the delivery receipt. I contacted JCP Furniture and they advised that I needed to contact the delivery co., Baton Rouge delivery. I did and they advised that I needed to contact JCP.com. In the meantime, I had to set up these mattresses for my mother as I had already disposed of her others. The mattresses felt like a hard cardboard box wrapped with material. You could feel this just in putting sheets on the bed?? The mattress top was so light and you could literally feel the springs when you sat and laid on it. I was furious and even more so as it was a surprise for my mom who had just come home from a hospital stay. She never complained but I knew how uncomfortable these cheap, poorly made boxes were.
I contacted JCP Furniture again and to no avail, no assistance. I asked for a supervisor and was told a message would be left. I never received a return call. This has been a never-ending nightmare of constant calls into customer service and warranty. A few days ago I reached out again and received a return call 3 days later from, Abraham @1-888-557-3782 who stated he is the Manager of Serta Warranty Customer service. This person was very rude and antagonizing and all he would continue to say is that I have to prove that this is a warranty issue and a lengthy process.
After being badgered and repeating the same responses over and over, I asked for his manager. He told me his manager is the CEO of the company and he would not have time to speak with me nor would he call me back as he is too busy. This ended our call. This company is a bully who refused to stand behind its product quality and not uphold the 10 year warranty clearly noted on this item. I WILL NEVER PURCHASE FROM JCP Furniture nor SERTA again.

I purchased an IComfort Inception mattress 3 years ago. This is supposedly a firm mattress. While it was very comfortable to start, the support of the mattress degraded quickly and it is now very soft. The mattress has a 10 year warranty, but this is a joke. It only kicks in if there is a visible depression in the mattress. This was an expensive mattress that seems to be very low quality and whose manufacturer does not stand behind it.

After what l thought was carefully deciding to purchase a brand new Serta Mattress and Box Spring only to be totally unhappy and sadly becoming sickened after trying to sleep on my new mattress and box spring. The chemical smell is so bad still yet after 10 days of airing out. l feel nauseous, headaches, and sore throats. Calls to the manufacturing company was a big void. I will never ever buy another Serta product again. The chemical smell is obnoxious.

Savant III Plush Mattress (with adjustable base) - I'm writing this review after yet another sleepless night because of pain. We bought our new bed at RC Willey and it felt great in the store!! Right away my husband and I had a hard time sleeping in it but thought okay new bed it might take a minute to get used to. Tossing and turning, waking up throughout the night with hand, leg, foot numbness and tingling. Waking up with back pain and feeling exhausted from fighting with our bed all night. I wish I had found these reviews first.
I am only 43 & we bought this bed around Black Friday. Well in Oct/Nov I woke up one morning with a kink in my neck and thought I just slept wrong. Nope. It's gotten way worse at a rapid pace. I have severe spinal stenosis along with about 6 other spine disorders. I will show my husband this site when he wakes. I'm getting rid of it immediately. I do feel tortured every night! Yes class action lawsuit please!!! I have actually woke up crying several times. I had no idea a bad mattress could ruin your health so fast and so bad.

Me and my wife bought a iComfort Memory Foam mattress 4 years ago. Well it broke down to a big hole. So we finally got approved for a new one after my wife fought with Serta for 2 months. So we got the new one iComfort Hybrid Extra Firm for my back issues. We have had this bed for 1 month. It's already getting holes in it where you sink down. I advise would be don't buy, they are not worth all the money you pay for them. I have had better beds for a lot less.

We bought the I-series Applause Serta mattress, considered from the salesman of Sears as a firm mattress. It cost about $1300. When it delivered I thought it was a different one from the one I tested at Sears. It was soft and my husband and I are sinking when we sleep. Our back pain is worse and really we are very disappointed. It is a fraud to sell a firm mattress and realize that is so soft that you sink and you have to toss all night!!! The inspection process is ridiculous. They ask photos without nobody on the top to show it sinks on its own. So after I lost a lot of time taking pictures, sending to the customer service they reply to me that I cannot prove what I am saying and cannot reimburse me. I felt like I was going to turn crazy. We try to think what we could do to avoid spend more money to buy a new mattress. Any idea??? DON'T BUY SERTA MATTRESS AND SPECIALLY FROM SEARS!!! THEY WANT ONLY TO SELL!!!

This iComfort Savant Everfeel mattress should be recalled. My husband and I bought this mattress a year ago and we have not had a good night's sleep since. Additionally, we both are having back issues now and are very uncomfortable at night. We are now in the process of buying a new mattress and basically throwing away the $2000 that we spent on the mattress. However our health is more important than the money and getting a good night's sleep is what we're really truly looking forward to. There's absolutely no support in this mattress and I feel that it should be recalled.

Purchased this Serta inner spring mattress on Black Friday 2016. It is now March 2017. A bit over 3 months of sleeping on it, and the sewing threads are coming loose all over the top and sides of the mattress. I sleep alone, I'm about 5'11" tall and weigh 160 pounds. The mattress is always covered with a bedspreads, so no body contact with the mattress material. And yet the threads are coming off by the handful. If after 3 months the threads are coming loose all over, I cannot see this mattress lasting longer than a year! The Serta warranty is worthless, it only covers the springs breaking and/or the mattress sagging, anything else is not covered. Total junk. For what it's worth, this mattress replaced a 20+ year old Simmons inner spring. Instead of throwing out the old mattress I put it in the spare bedroom. I'm now glad I did, I have a feeling I'm going to go back to that old mattress before the year ends! Serta scammed me.

I purchased the Serta Perfect Sleeper Gel Memory Foam Lorabelle Mattress from American Mattress and the chemical off-gassing odor has become unbearable. I have allowed this mattress to air out for 96 hours since purchase and the fumes only seem to be getting worse. The chemical odor has permeated my entire residence and is making me nauseous. I contacted Serta and they recommended that I sprinkle baking soda on the mattress and let it sit for 30 minutes, but that made no difference. I am returning this mattress. DO NOT BUY THIS MATTRESS.

Bought a Perfect Sleeper mattress and box spring from The Firm three months ago. It cost about a thousand dollars, after taxes. I weigh 175 pounds. I tried this bed a few times in a few different stores. When it delivered, I thought they had sent the wrong one. In the store the mattress was made with memory foam. Pretty firm. Felt supported. This one was made of foam. Foam foam. I checked the tags. Seemed to be the same. Didn't know what to think. Felt like I was going crazy.
The mattress is very light and continually shifts off the box springs. At least a couple of times a night I get up to push it back on to the box spring. When I lie on my back, my back hurts. When I lie on my side, my hips hurt. Thus I toss and turn all night (all the while shifting the mattress off the box spring). I did not have back or hip pain prior to getting this bed.

The orthopedic dog bed is beautiful & fits my dog great but all the fabric sheds everywhere. It seems it's not attached or glued. You can rub your hand over it and it pulls up & leaves a bare spot. This is only on the inside where the dog sleeps. The outside is ok. It is made of corduroy. Each time the dog gets out of the bed & walks on my carpet the stuff falls off of him & I have to vacuum. For over $50.00 this should not happen. Who says Serta is the best???

Great mattress for the first 6 months, then support degrade after that. I suffer from back pain so the i-Comfort Hybrid series in firm (Fundamental model) seemed like an ideal replacement for my 10-year-old inner spring Sealy mattress. Eventually you'll sink into a hole as the memory foam upper doesn't hold up. My wife and I now have a 'hill' down the middle of the mattress that limits your sleeping space to your own body cavity hole. I had 2 different inspectors come out from Serta and they both used their measuring tools to come to the conclusion that the bed is not defective and is within the warranty allowances. Yet I continue to sleep in my confined hole and am now considering taking this POS to the dump and eating a good amount of money.
The inspection process was such a waste of time. I spent $1,650 on this set and it's barely a year old. Don't fall for the 100-day satisfaction sleep guarantee because 100 days is not nearly enough time to give a true assessment. I'll never buy another Serta Mattress since they obviously don't care to stand behind their claims that i-Comfort Series is "revolutionary" and is worth the good money I paid for it. Don't fall for the Consumer Reports review that gave it a shining review. This experience has shown me that CR is no longer a good source for researching products before I purchase.

NEW SERTA MATTRESS purchased on 12/31/2016. Mattress defective upon delivery (but delivery guys rushed out). I contacted MATTRESS WAREHOUSE, and Serta was contacted. They agreed to send a SECOND MATTRESS out. This SECOND mattress had same defect (valley / sinking in middle from head to foot). MATTRESS WAREHOUSE contacted again, and salesman told me for the 4 time that I can get a full refund. They changed their mind (if this was even the truth), and offered a THIRD MATTRESS. I declined, and the salesman told me a full refund would be ok. District Manager said no to the refund (he didn't have authorization... WHAT???).
Customer service for Mattress Warehouse was so rude and wouldn't help. SERTA REP DIDN'T RETURN CALLS. I have filed a complaint with my credit card, the BETTER BUSINESS BUREAU, and the STATE'S ATTORNEY GENERAL FOR CONSUMER PROTECTION. Do NOT purchase from MATTRESS WAREHOUSE in LAUREL, MD. The only care about their $$$... not customers. SERTA products are not good, and they do not stand behind their "brand". BUYER BEWARE.

We owned the Serta Prodigy II iComfort mattress less than a year when it started developing holes that we were sleeping in. We were both waking up with back pain and I developed a hip problem which has now turned into some very bad sciatica. I can no longer sleep on it. We paid about $2100.00 for it at Godby Furniture. When we complained to them they had someone come out and look at it. It was determined to be defective and luckily we are getting a replacement. I'm so disappointed in this and now I'm afraid by getting a replacement it will do the same thing and then nothing will be done about it. We have had an iComfort before this one for about three years but never had an issue with it. Our son now has it and it's fine. I feel it's just this Prodigy model. Please Serta take note!

I purchased my first Serta Savant lll mattress on 1/15/17. The odor from the off gassing was so toxic that when I entered my master bedroom I instantly felt nauseous & had serious headaches. My wife experienced the same problem. I searched every article available on Memory Foam mattresses and was told the strong toxic odor would dissipate in a couple of days. I took all of the bedding off, opened all windows and let it air out for 3 days. The smell only got worse.
I went back to Sit 'n Sleep and was shipped a new bed immediately. Good customer service. The exact thing happened on the replacement bed. Finally after another week I went down to Sit 'n Sleep and was given a full refund. Good service. After searching through the internet I found exactly what I was looking for, Saatva. I normally would not buy a mattress online but I was desperate. I received my Saatva on time, no odor, half the price and the most comfortable bed I had ever slept in.

After months of research and in-store exploration, we settled on the Serta icomfort F500. Price was $3699 before the foundation. We had an all latex mattress for 14 years and it was wonderful. But over time, it started to break down and needed to be replaced. You can't go to a brick and mortar store and find an all latex mattress so we ordered one online like last time. Only this one was not made with the same quality and it was too jiggly so we returned it at much expense and hassle. After that experience we REALLY do not want to have to return another mattress but the Serta icomfort F500 has to go. We have had it for about 6 weeks.
The first two weeks we really liked it and were relieved. But after that my arms and hands started to tingle and go to sleep after several minutes. I'm a side sleeper and I can feel the trigger points in my shoulders and hips. We specifically got the softest version (which was also the most expensive) because I had experienced numb arms in the past when sleeping on a hard mattress. We thought the soft version would keep our arms/hands from going to sleep but we were wrong. It's like you sink into the bed when sleeping on your side and instead of your shoulders sinking in as well they are somewhat at a different angle that puts pressure on your arms. I agree with the other reviewers that it's like you are in a hole and it can be almost impossible to roll over, especially toward the middle.
The other night I was home alone and specifically attempted to sleep in the very middle of the bed and it was like I was on a hump after only having it for about 6 weeks. If we lie on our backs, the bed is fairly comfortable but for side sleeping it is not good at all. Even if we try to lie on our backs all night it seems like we wake up with lower back pain. I just wouldn't recommend this mattress because there has got to be a better way to sleep than being awakened all night due to numb arms. I don't have the answer. I wish I did because I would gladly return this and buy something else. Any suggestions are welcome!

Wish I would have seen these reviews before I purchased a $2,100 Serta iComfort memory foam mattress. What a POS. I cannot believe they sell this junk. Sleeping in a "hole" cannot roll out. Sometimes I feel trapped. Please do not purchase this product!

Purchased from QVC, the Idolize model. See receipt, purchased in June 2016. It has been six months and the Idolize mattress has my body impression on both sides now from turning the mattress. I have hip and back pain from sleeping on this mattress. I am afraid that contacting Serta will result in no assistance, as I have read other comments and complaints. DO NOT BUY SERTA. This bed is cheaply made. I can lift the mattress and turn it myself, it's so lightweight and cheap. I am extremely disappointed. Cannot leave a review on QVC as the bed is no longer offered. I will however contact customer service at QVC as well.

My husband and I purchased the Boutique Suites 9" mattress and foundation in April, 2015. Initially, the mattress was comfortable. However, it was soon apparent that it was causing significant back issues to the point of being disabling. I contacted Serta but they had nothing to offer since the grace period had just ended. (For $1900 one would expect better customer service!) There are dips in the mattress where my husband and I sleep. The mattress is okay for one person, but it is terrible for two because we roll into the center. I try to sleep right on the outside edge of the mattress. It is so uncomfortable that I sometimes sleep on the couch instead. Honestly, the floor would be more comfortable than this mattress! I will never purchase another Serta mattress again!

We were so excited about our iComfort mattress when we first purchased it. It was so comfortable for the first few months and then, I began to notice I was waking up in the morning with severe low back pain. I didn't realize at the time how the mattress had actually broken down, and the indentation in the bed where I had been lying. I finally realized that as I was lying in bed, I was lying in a hole. I weigh all of 105 pounds. This mattress has continued to break down and deteriorate. The day I went back in to the mattress store to ask if there had been any complaints with this mattress was actually the 2 year anniversary of our purchase. I was informed that the mattress I had purchased had major problems that had been reported.
I have endured severe pain, pain management including epidural injections over the past months, and then I realized it was the mattress that we had purchased to help promote our good health, and a great night's sleep. Also, the pain has been so bad first thing in the morning, when I first wake up. Instead of feeling refreshed, I feel severe pain in my low back. I have photographs on and off of this mattress to prove the deterioration of this mattress.

It's the best mattress when you are looking comfort and substantial support. I enjoyed the mattress and the people who work the company. Great laughs and fun and was helpful with the mattress that best suits my bunny and I.

Michael J. Breus, Ph.D.Mattress Contributing Editor
Michael J. Breus, Ph.D., known as The Sleep Doctor, is a Clinical Psychologist and both a Diplomate of the American Board of Sleep Medicine and a Fellow of The American Academy of Sleep Medicine. He is on the clinical advisory board of The Dr. Oz Show and is a regular contributor on the show. He is also the author of several books, including The Sleep Doctor's Diet Plan: Lose Weight Through Better Sleep (Rodale Books; 2011) and Good Night: The Sleep Doctor's 4-Week Program to Better Sleep and Better Health (Dutton/Penguin; 2006). Dr. Breus has been featured on several national media outlets, including The Today Show, The CBS Early Show and Psychology Today. More about Michael J.→

Serta has been making quality mattresses for over 80 years and has been recognized and awarded for its products. It is committed to being environmentally responsible in manufacturing and production. Serta and Simmons are now the same company.
Variety: The Serta perfect sleeper is the lower cost line which is great for light use or occasional use. The better model is the iComfort Series (introduction of foam and gel).
Retail stores: Serta has a number of retail stores around the country where consumers can test out the mattresses before deciding which one to purchase.
Support: It has excellent customer support, both when purchasing mattresses online and in retail stores.
Financing: Customers can finance their purchases and can get 0 percent APR for up to 60 months in certain cases.
Best for Serta mattresses are best for eco-friendly, parents and professionals.
Serta Mattress Company Profile
Company Name:

Serta Mattress

Year Founded:

1931

Address:

3 Golf Center, #392

City:

Hoffman Estates

State/Province:

IL

Country:

United States

Website:

http://www.serta.com/