Consumer Complaints and Reviews

I ordered a bed online; Ended up asking for a refund. They kept the delivery fee even though nothing got delivered. Never had such a bad experience from any other company. I'm very disappointed. Can't even get the bed I wanted because somehow the bed is discontinued. How can the bed be discontinued if I was allowed to order it? I'll never order from Rooms to Go again.

What a bullshit warranty they have. One of my the spring broke in the cushion the second chair is sagging in cushion. Both are only 14 months old. The extended warranty department will only replace one of the two, and said the second chair is not under warranty. Called the customer service department back and they said they have to go by what the tech said about the chair. Well hello people the second chair isn't only sagging the arm is broken as well. We have bought two bedroom sets, two living room sets. NEVER AGAIN...

'My' experience with 'them' has left me with the absolute impression that this company has turned into just another corporate giant that has absolutely no procedures in place for when they make mistakes, mistakes that have negative impacts on their customers' daily schedules. Right now their 'cause' has 'affected' me in a way that I feel abused. But I'll get over it once I transfer my frustration onto this complaint site. How a corporate entity deals with its mistakes are when you find out just what kind of company they are. All their care seemingly goes into marketing and selling, they totally and spectacularly failed when it came to actually delivering my product. There was a complete 360 degree difference in their sales procedures to their logistics procedures. I would compare it to - One is from planet earth the other is from an unknown planet in a far away galaxy where robots run the show, badly.
The day of delivery was scheduled. I took a day off from my work to be home for them. They called at 7.02 am to give me a schedule of 8.00 - 8.30 am, even though they should have done that the day before. So I had booked the whole day off because I had no idea what time to expect them. They called again at 8.22 am asking me what apartment building I was in and I explained I am in a house, not a building. It turned out, they were trying to deliver my order to an apartment building over 250 miles away. I have never lived anywhere close to where that was, as the driver tried to imply I had used an old address! He was innocent otherwise. Just following errors that should not be tolerated, errors cause customer disloyalty and the bottom line suffers. How much time, fuel etc. did this one error make?
Some mystery person had been into my order at Rooms To Go, the day after it was placed and put in this address, but they claimed they didn't know who, or why.
Anyway, back to me. So being the emotionally intelligent, reasonable person that I am, I accepted that my furniture was not going to be arriving this Wednesday August 2nd 2017. I say - "I donated my furniture last night knowing you were coming, can I have it by Friday then please, I can sit on the floor for a couple of days". They say- "Oh no, we'll call you on Saturday to reschedule, your order is locked and we can't look at it again for 48 hours."
So I re-negotiated and it took me another hour of persistent phone calls to get someone to agree to call me on Friday and request a quick delivery. My order must be top secret information to be locked for 48 hours and not one person in the company can unlock it, not even the man himself Jeffrey Seaman because they said "Oh no, he doesn't talk to customers", in a manner that left no doubt in suggesting it's beneath him. Amazing what happens to a man when he becomes too successful to give a damn, they become just a concept of themselves. But this is Corporate America at its finest.
I wanted to call him to see if he had a spare sofa I could use until they decide when they can deliver my new sofa and chairs, and to give him some advice on how to turn his business into one that has integrity, as well as profit? Just because he's got rooms to go doesn't mean he knows better than me. But, he doesn't talk to customers, so why would I want to talk to someone like that anyway? I asked if I could talk to the head of customer care, they said "They don't talk to customers." The system is in charge at rooms to go "It's locked Maam." So it's locked, that's it then, no more talking!
So the Rooms to Go system has no integrity, no pride, no morals, no empathy and no skills or procedures to deal with mistakes... Until they decide to unlock the orders a few days later and then maybe, hopefully call me back to let me know when I can have the order delivered? In the meantime, I'll sit on the floor, happy that I am not working for an organization that has multiple personalities. They reel you in, then abuse your time and mentality, similar to how a sociopath deals with their victims.

Beware of this Sectional, do not purchase! Too many problems with this whole experience to include all. Purchased LAF Sofa, RAF Chaise and ottoman from RTG Clermont. Delivery was late (10:30 pm) and both delivery persons appeared drunk. Sectional was not wrapped or protected and had spots, delivery man apologized that it was his sweat and it would wipe right off. Spots could not be wiped off.
After 4 attempts to redeliver new Sectional with all of them spotted, I asked for a refund. Told that RTG could pick them up and refund my 400$ paid in cash in 2-3 billing cycles. I put down 400$ and financed the rest, but they could not give back the 400$ so I could go look for another sofa. I would have to be without sofa for 2-3 billing cycles. Customer Service was not willing to work with us and very rude at times. We ending up signing a take as is with a refund that still has not been received, 6 months later now. Jason the manager at Clermont even left a message on my home voice mail promising a check in the mail for the refund, that of course never came. So tired of trying to get what was promised to me. Worst customer experience and purchase ever.

Save your money. The furniture protection plan is some bull. They just took pictures of my furniture, called me back and said I will have to get it professional cleaned because it got too many spots. They only spot clean, They never even tried to spot clean it.
How do I know I can trust these reviews about Rooms To Go?
849,102 reviews on ConsumerAffairs are verified.
We require contact information to ensure our reviewers are real.
We use intelligent software that helps us maintain the integrity of reviews.
Our moderators read all reviews to verify quality and helpfulness.
For more information about reviews on ConsumerAffairs.com please visit our FAQ.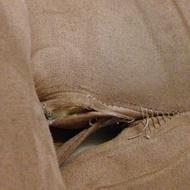 RTG is a RIP off. Bought a sofa and recliner in 2015 and still making, payments on it. The sofa, is busting loose on one end, and it's hardly sat on!?!?!. I was told, when I bought the furniture that it had a 5 year warranty... WHAT A JOKE! Had I have done some research first, I would have found that NOT to be true! So, the sales person LIED! NEVER again will I do business with this scam of a company!! STAY AWAY!!! DON'T WASTE YOUR MONEY!!!

Was given a delivery window over the phone for 1-4. 5 minutes till 4 they call and say that the original window was 4-7 and that now they were behind and wouldn't get here till 7-10. First off, What the heck are they doing delivering to anyone at 10 at night! That's ridiculous! We've waited and wasted ALL day now! Explained to them that I had to get up early the next morning for work and that there's older people here and that is disturbing their rest. We don't have a bed to sleep in. Nothing they could do. You give someone a time window, be there. Not good business! Customer service could care less. You're paying this much for something, You expect better. Once this is paid off, I don't intend to darken their door again.

I purchased a love seat and sofa which we love. However less than a few months into use, the filled cushions have lost their firmness to the point that it is not comfortable to sit on. At the point of sale the salesman told us that if we had any problem with the cushions that a trained service tech come to our home would take care of the issue and replace if they can't fix it. Also we have purchased protection plan for spill and food, the deal was if they can clean it they will replace it. Techs came to my house and determine that the stain are too large for them to clean. What kind of BS is this.

I bought a dining set at Rooms to Go. They deliver the product missing components. After my contact with their Customer Service they delivered the wrong stuff. I have now been contacting them to fix the issue and they want to replace the entire set. They can't confirm the time of delivery. What a crappy store and what a crappy Customer Service Department.

Purchased a sofa, loveseat and ottoman February of 2016. Several months later purchased a chair that went with the set, in a different fabric but matched the pillows and ottoman. We have this in our living room. Maybe sit on it once a week. We are older. It's only the two of us and while cleaning it recently I noticed it's not wearing well. The cushions are showing wear and pilling terrible plus seams are ripping. I emailed the company and was told they could at their convenience sew the seams but the pilling and the wear was normal. Really!!! It's only a little over a year old. We keep it covered much of the time and don't even sit on it every day!! The stuff they sell is garbage. We are so disappointed.

I went to the store on July 8, 2017. I picked out the bed I wanted and had a great experience with the sales lady Peggy. I asked if they would take the old bed and she said as long as it's noted on the order & she put it on the order & double checked to make sure it was there & it was. The delivery date was for July 14, 2017. They arrived and delivered and left. I was not home at the time of delivery but my husband was home, he had the old bed by the front door and they didn't take it. I came home at lunch and saw they hadn't taken the old bed. I called customer service and they called the delivery driver and he said he asked my husband where the bed was and my husband did not answer. They never asked him anything other than where he wanted the new bed.
The CSR said the delivery driver was too far away to come back and get the bed. I told him it didn't have to be that day but I don't have room in my house for it that's why I was sure to have it added to the order. He said he would contact the delivery manager and call me back. He called back and said they were not going to pick it up. He said it's a he said she said scenario and they WOULD NOT come get it. I called the store and spoke with Peggy on July 15 and told her what happened, she apologized and got her manager. Her manager was rude and kept trying to talk over me. I finally had to ask him to be quiet and let me finish.
After telling him everything he finally said they would not come pick the bed up. Even after I told him that I would probably never buy from Rooms To Go again because of the delivery experience. We feel they were unprofessional and immoral (for lying) with the exception of Peggy. I will let everyone I know how they are and to not buy from Rooms To Go in San Antonio. I tried to find a way to contact corporate but the only email address available was for customer service which obviously would not help. They have great prices and sales people but they lack greatly in customer service, delivery & management.

We received a delivery from Rooms to Go and one item, a nightstand, out of 5 items was not on the truck. The driver tried to get me to sign the manifest that everything had been delivered. I asked where the nightstand was, and he said that it was not on the truck. I asked for a written proof of some kind that the nightstand was not delivered, so I could take it up with Rooms to Go. He refused to give me any paperwork of any kind.
I called customer service and was treated very rudely, and was told that their documentation shows that the nightstand had been loaded on the truck with the rest of the order. He refused to put me through to a supervisor or manager. I got frustrated and hung up. I then made the driver note on the manifest and sign that the night stand was not delivered, and kept the page as proof. He got his panties all knotted up and called his dispatcher, who called me back and was very obnoxious, telling me that I had no legal right to proof that I have not received an item that we had paid for with much yelling and insulting. I hung up on him before things got out of hand on my part.
Then I decided to call the store where we had bought the furniture. The person I spoke to actually understood what customer service is about. I kept her on the line till I received a confirmation email from her that the nightstand will be delivered in a few days. I gave the driver his precious, worthless piece of paper back and send them on their merry way.
So although the problem was resolved in the end, why was all that aggravation necessary? First, a driver tried to con me into signing for an incomplete delivery, and refused to give me proper paperwork, then I had to deal with a clueless, incompetent customer service person and got insulted by an obnoxious dispatcher who tried to bully me into accepting an incomplete delivery. Needless to say, they will not get any more business from us.

I purchased a sectional sofa which we love. However less than a year into use the feather filled cushions have lost their firmness to the point that it is not comfortable to sit on. At the point of sale the salesman told us that if we had any problem with the cushions that a trained service tech come to our home would take care of the issue. Great right?! Well that is not the case. According to RTG Corporate no service tech will be sent to handle the issue but I may pay for new cushions to replace the "deflated" ones. Think of using a down pillow for a few years and that is about what our $2,500 sofa is like. I will not be spending a penny more with RTG. Glad I was able to support celebrity endorsements and TV adds vs paying for a quality piece of furniture with a company that stands behind their product. Sofia, Cindy and Eric... you owe me a sofa.

I bought the furniture from Rooms To Go 3 month back and the quality is so bad that the thread started coming out from the fabric, and when I complained to Customer Service they say it is a normal wear and tear... in just 3 months. Normal wear and tear... What is the insurance for then. I bought the insurance which covers the fabric. Never, ever buy the furniture from them.

I bought a king size adjustable bed. This is the one with the base that moves. It's nice. Be aware that sheets tear when you raise and lower the bed. I did ask about the sheets before I purchased. You really need to get extra deep pocket sheets online. I would go higher than 18 inches. Sheets set that for up to 18 inches tore after I raised the bed. I had to order extra deep pocket sheets.
Also try before you buy, nope, no warranty no days before you return. You buy it it's yours. No returns on the bed. Also be aware if you get a king size bed get the 1 mattress king size. If you get two twins and put them together you will sink in the middle. If you still want to adjust both sides you need to order another motor with it. The sales person didn't include it like we asked is a special order. All in all it's a nice bed. Just get the deeper pocket sheets above 18 inches.

Delivered wrong set of couches and they were late! When I call customer services they were TERRIBLE at listening and getting my correct set on time. On 06/26/2017 we bought sectional couch from RTG on Glenwood ave. Sales Representative, Anita was wonderful and very nice, I was actually very happy and impressed with the service I got at the store on Glenwood ave. My couches were scheduled for delivery for 7/3/2017 from 10-2 pm. Customer service rep. called to inform me they would be late; the couches arrived at 3:00 pm. When the couches arrived I realized it was the wrong set and there was an oil stain on one of my pillows! We told the delivery guys and they just left the couches and told us to call customer service who would take care of the couches. They left the couches and left.
I called customer service and they wanted me to wait another week to get my correct set delivered. After spending an hour on the phone with the customer service representative I was finally able to speak with a manager (I cannot recall her name) who promised that we would get the couch delivered for Thursday July 6th. However, on July 6th I got a call from customer service saying that the couches would be delivered on the 11th instead because the "trucks were too full". I had already taken the day off (this was two days I needed to take off of work). When I checked my order status online, the delivery date had moved to July 14th!
At this point I was so upset and disappointed with the RTG and their customer service. I called them to see why my order was backed up and asked to speak to a manager. I wanted to share how upset I was and frustrated I was with the change in delivery, especially because I had to take off of work and miss out on my money!
I spoke with Ethan **, who provided terrible customer service. He listened to my concerns, but told me that I needed to speak to the other manager who helped. Honestly, he made it seem as if it was my fault and said that nothing was set in stone and that I should have confirmed the date and time. I explained to him that the manager, who I initially spoke with, promised me that the couches would be delivered on July 6th but they never got here- to me that was pretty solid! This manager was very incompetent and basically did not know how to help me. As a manager you should know how to handle complaints from customers, who sustain their jobs, and be able to support them and provide QUALITY customer care.
Ethan ** did not do any of this. Again he was rude, had terrible communication skills, made it seem as if this mistake was my fault (which clearly was not) and tried to hand this issue off to someone else because he was not competent enough to help me, he even said, he couldn't do anything about it! I WILL NEVER AGAIN BUY FROM ROOMS TO GO and I will NEVER REFER THIS COMPANY TO ANYONE!
Now I have to take ANOTHER day (July 14th) off of work and stay home all day and wait for the right set of couches which I should have had on July 3rd. I am beyond disappointed and dissatisfied with the customer services Rep. and Managers. Even the manager who promised that I would get my couches on July 6th. RTG really needs to serve their customer better and listen/meet their needs if they want to continue their business. It is just so ridiculous how a simple mistake that they made turned out to be something so stressful and frustrating for me and my family! The worst thing is that they didn't care and tried to blame me for their mistake!!!

I purchased my couches from Rooms to Go. My warranty had expired by one week and the handle on the recliner broke off and the threading on the couch was coming apart also. I called Rooms to Go and they couldn't fix it because it was out of warranty. I was told if I decided to fix it I could pay for it. Just today the other handle broke off. I called to see about getting it fixed and was informed that they do not fix furniture when they are out of warranty even if I paid. I would have to go to a local furniture store and see if they want to repair it. I was so upset. Wish I knew this before. Wouldn't have bought my kids' bedroom furniture there also. So much money spent there and the warranty and customer service are horrible. I am so disappointed.

My buying experience at Rooms to Go was pretty pleasant (guess it has to be to get your cash). The problems I ran into with the company was with the delivery and cancellation policy. First off you only have 48 hours from the time of purchase to return your items for a full refund, so if things get delivered to you in bad shape you just have to wait for them to send someone out to look at it which typically takes 2- weeks as per the customer service rep. When I bought the furniture I was promised that everything was brand new fresh out of the box. But only 2 items that arrived a week after purchase were in boxes and being that it takes them so long to deliver, I'm now stuck with the items.
Now the items didn't all come in bad condition. Most was in great shape and looked new. The problem was with a couple pieces of my sectional where the metal connects on a couple pieces were bent so the furniture doesn't stay together, and on the foot-board to the king size bed I purchased. The in the store the foot-board looks like it was stained with wood strainer to give it a deep, rich, dark color. The bed I received had its color painted on (literally) and the worst part was that on the foot-board not only did they miss spots but the item was made a little too small so it didn't line up with the side rails to support the bed. The delivery guy told me it was refurbished which shouldn't have been the case as I paid to have all brand new items.
Now here is the real kicker... The companies that Rooms to Go contracts the deliveries through don't carry foot booties for carpeted floor. The night or day after I paid for the furniture I received a call from RTG customer service about the delivery. It was right then and there that when I was asked about special instructions for the drivers I told the woman on the phone that they must wear booties in my home. My carpet is near white and stains easily. She told me that that didn't carry them, and I told her that if it was a problem for the guys to wear them then we need to cancel my order right now or I was going to need something in writing to say RTG would cover the cost of my having to clean my carpet where they might have dirtied it during the delivery. The CS rep told me it should be just fine, she would put it in the notes to make sure the men have booties and there would be no issue.
Of course when they got to my home they had no booties so just to get stuff in my home they had to put plastic bags on their feet. They wouldn't wear the bags to take my chest and dresser upstairs which I complete understood because they were really heavy and the stairs have a turn so I told them they could take it all back and come back when someone was ready to either wear booties or put it in writing that they would pay for the cleaning. They assured me that someone men would come back out and put on booties and finish the delivery if I just let them store my chest and dresser in the garage for now.
So here I am. I order a bedroom set and a sectional. The chest and dresser is in the garage. The foot-board doesn't fit the bed (they also didn't have the wood screws to nail my slats in to support my mattress), and my sectional isn't fully connected. They did try and give me a 50 dollar credit towards carpet cleaning which I would have been fine with if carpet cleaning was only 50 bucks. Most places won't even come out for less than 100. So far can I safely say I can't wait to see how they handle the rest of this situation because right now I feel like buying from this place was just a catastrophic mistake.

I ordered a sectional on 4/23/17, paid $1,000 deposit upfront and I am finally getting the couch on July 13, 2017. So much for same day delivery. Also the store would not refund more than 80% of the deposit even though they could not deliver as promised, I had to complain with the BBB to get them to agree to refund the deposit if I found an equivalent sectional.

Buyer beware! I purchased furniture in TN for a beach house in FL. I purchased a living room set and two bedroom sets with mattresses. After three deliveries, I still have damaged furniture. (Damaged, at the warehouse, delivered damaged merchandise, back ordered items....) The last sofa sleeper I received as a replacement was filthy dirty and when we open it the sleeper looked like someone had sex on it. I told the driver the take it back to the warehouse along with the rest of the items on the truck. We live out of state so it's a HUGE hassle for deliveries. I have talked with customer service, store employees and managers at least 20 times. The best they can do is give me $65 off the damaged sofa sleeper and void the warranty or I can try one more time for a new sofa. My original delivery was in April. It's now July. I totally regret spending any money at Rooms to Run From!

NEVER AGAIN!!! I went to Rooms to Go a few weeks ago to purchase a bed for my daughter and a couch for our second living room area. First of all, they had a beautiful bed on display. The price sheet on the dresser for the bed was for a similar but with a different price. Nowhere did they have the correct price for the bed being displayed. False advertisement. We still wanted the bed. It was late and we went ahead and made the purchase knowing I was going to call and file a complaint. After we paid we were told about a 3 year warranty and were given 2 bottles of cleaner. Me and my husband did not purchase a warranty so we were confused. When we got in the car we looked at the receipt and sure enough we were charged $130 for the warranty. I called the store manager the next day and was told she would give me a callback.
The next day came and I went ahead and went to the store to share my frustrations. I went to the price sheet and guess what, it had been changed. Imagine that. The store manager was literally no help. She said we paid the correct price for the bed we purchased and refused to lower the price to what the original price said. She also said the sales associate would be talked to and that 90% of customers buy the warranty and went on about how good it was. I walked out and contacted the BBB. After going back and forth a few days they refused to help and agree that the sign was misleading and it was false advertisement. Finally about a week and a half later, (yesterday) my husband picks up the couches and behold, more problems. The bottom of the couch was torn, the bottom of the couch was not stapled correctly so a big portion of the bottom fabric was open.
Finally, when getting to the ottoman the zipper was completely jammed. My husband ended up having to undo the staples and get the legs out that way. Reached out to RTG this morning and they said they would have a tech come out to replace the bottom part of both the ottoman and the couch. These couches are supposed to last??? Horrible!!! Never again will I shop at RTG.

Having purchased thousand of $ from Rooms to o I am really upset over my last experience at my local store. We purchased a recliner and upon delivery we realized the size and design did not fit our decor. OK...so we decided to return it. GOOD LUCK. I was told by the 800# people to contact local store and our salesmen **...and there would be no problem. I did and he was very nice but had to speak to the store manager. This is the Sarasota FL store. 5170s Tamiami Trl. 34231. The word came back that they could not help me. REALLY???
Anyway after numerous back and forth and a super HORRIBLE explanation and Attitude from the store manager I guess I am stuck with a $800 recliner that I can't use and even though they state they do have a refund program, GOOD LUCK GETTING ONE. The most upsetting was the treatment and conversation with the store Manager **. We will NEVER shop there again. Actually everybody except the salesman on the phone are VERY confrontative and RUDE... I will be posting this review on all and any sites I can and social media.

We bought a recliner and loveseat and the spring (which was plastic) broke and popped up and tore the side of one of the cushions. We don't use the loveseat very much. I contacted the customer service dept and after going back and forth with them they said they could send a tech out to take pictures. We never heard anything back! This is the worst furniture and furniture company we have ever dealt with!

This location has VERY POOR customer service! I went into the store to purchase a piece of furniture that I saw online. Upon entering the store I saw two gentlemen that appeared to work there but they walked passed me. I was in the store for about 20 minutes and I was never greeted nor did anyone ask me if I needed assistance. I had to walk up to a salesmen, WHO WAS SITTING IN A CHAIR PLAYING WITH HIS IPAD OR ELECTRONIC DEVICE, and ask him if he worked there. That was the FIRST red flag! To make a long story short! I NEVER received the furniture that I ordered!
Please be informed about their RETURN POLICY AND "SUPPOSED" DELIVERY POLICY. The return policy states that after 48 hours of purchase you cannot receive a 100% refund! I was informed after I purchased furniture that they don't deliver beyond the second floor! I have yet to find that in writing! One of the WORST experiences that I've had with purchasing furniture.

I purchased a living room set from Rooms To Go, the Cindy Crawford collection, which included a 8 piece leather sectional, two end tables, rug with pad. The first problem, they delivered the wrong size table, then the delivery drivers set the sectional up wrong. Me and my husband had to rearrange it to fit in the room correctly. So I never got the right table and was like I'll just keep it. So after about a week the frame on the end recliner was bent so we had it replaced. Next after about 3 months the leather began to peel on the console so it was replaced. Now guess what, the same console is peeling.
The company now tell me I can do a in store exchange for equal or GREATER value and I have 30 days to do it. My husband and I been to the store twice and still haven't found anything because for one, the best look sectional in the store was the the peeling fake leather one we already have. The salesmen keep saying that it's the best seller. I'm so frustrated because we feel ripped off and nothing else we pick will compare to a damn 8 piece sectional. I will never shop at Rooms To Go again.

The couch smelled of chemicals and burned my eyes. My entire house smells like it now. I wanted to return the couch but didn't know they have a "no return policy" once delivered. Most reputable companies have a good return policy these days so I didn't give it a thought until I received my couch. I now understand why they don't have a return policy when they sell nasty smelling, chemical drenched furniture. Will never shop here again.

2 months ago I purchase a sectional, the recliner handle came apart so I schedule a repair with the customer service in wish I had to take the day off, the day in question was Friday June 9 2017. I received a phone call indicating that the repair man was I'll I understood the situation even though I was in the hole $310.00 by missing work. I also purchase a kid's bedroom set for my 4 year old for Saturday June 17 2017 between 10.00 and 3:00. They were supposed to bring a replacement for my broken recliner and my son bedroom set, I work Saturdays as well. But I decided to take it off to wait on the delivery guys.
The guys show up at 6:00 pm and didn't deliver the headboard and footboard for my son's bedroom set and now they want me to miss another day of work because they can't accommodate me at a time after 5:00 pm and won't even let me return the bedroom set part that I have here. No care for customer at all. My biggest thing is that I could had purchase the bedroom set outright by using the money I lost by missing work.

Sereno leather sofa is broken. I called my local Rooms to Go for assistance. Basically they told me since my order was out of their warranty they could not assist me. Funny thing is, I'm about to buy a house and would need furniture. Originally I was excited to go back to Rooms to Go because I had a great experience. As a result of their amazing customer service, Rooms to Go will no longer get my business. Seems like I'm not the only one...

The store was Rooms To Go at 7660 State Highway 121, Frisco, Texas. My complaint is not with the local store or the product we bought. The complaint is with the delivery service and Rooms To Go's complete non-responsiveness to our claim for damage done to our house by the delivery crew. In my opinion, this has been a very deliberate effort to completely ignore my complaint, simply believing that if they ignore complaints for long enough, dissatisfied customers will eventually give up. A very curious approach to customer service, but apparently it has worked for them. Here is a summary of what is now a seven month futile attempt on my part to even get a call back from Rooms To Go:
On 11/16/16, Rooms To Go, using a third party delivery service (Cory Companies), delivered our Tempur-Pedic mattress. In the process, the rather rude delivery men tore up the nosing piece where our stairs meet the hardwood floor. It appears that they dragged the box or unit along the nosing, rather than lifting it over the threshold. We reported the incident to Rooms To Go customer service who turned it over to the subcontracted delivery service. The first thing the Cory Companies person said was that the drivers would have to pay for it out of their own pockets. She then asked me if I wanted to drop the complaint. I assured her that I had no intention of dropping it. I was then asked to take photos and forward it to her. That was done of 11/18/16.
I sent several follow-up emails to the rep finally receiving a response on 11/30 stating that they were still looking into it. I sent two follow-up emails (12/19 and 12/23) and received a response stating that they were still in the middle of getting everything together). Still having heard nothing further, on 1/27/15 I decided to go back to Rooms To Go, since Cory Companies apparently had no intention of resolving this.
My first contact at RTG was with **. She was very nice and asked me to send the history of my attempts to work with Cory Companies and asked me to forward the photos, which I did. February 14th and 20th follow-up e-mails to ** were never responded to. I made a number of follow-up calls to RTG Customer Service. On 3/7/17, a rep told me that the Claims Manager responsible for my area was **. I was told that ** would call me. I did not hear back from **, so on 3/15 I called Customer Service again. This time I talked to ** who said he would e-mail ** to check on the status of the claim and make sure that he has my correct phone number. Again, no call back.
I called again on 3/22 and this time talked to **. ** said that she would e-mail Claims and would follow up with me if I haven't heard back by the next Friday. Of course, no call from **. On 4/7, I called CS again and talked to **. ** said that ** was not in that day, but she would call him on Monday and get back to me on Monday with an update. You guessed it, no call back from anyone. My final attempt was on 4/17/17. I talked to ** who was away from the phone for 2 or 3 minutes (typical of most of the reps I talked to). She came back on and said she was going to transfer me to **. Wow, finally?? Nope, straight into voice mail. I left ** a voice message. As I expected, I never got a return call.
Although the customer service reps were all cordial and made it sound like they would do what they could to help, I am convinced that they are a part of the game. In my opinion, they are paid to temporarily appease the caller, all in hopes the customer will finally give up. My guess is that ** is probably incentivized not to respond to customer claims. Perhaps his bonuses are structured to pay based on the number of claims he ignores. Who knows?
I find it incredible that a company like Rooms To Go would treat their customers like they do. When you spend $8,000 on a mattress, you have every right to assume that it will be delivered without the delivery guys damaging your floor. Certainly if that did occur, you would anticipate that any honest, ethical and customer service oriented company would at a minimum, contact the damaged party. But not Rooms To Go.
Now seven months following the incident, no one from Rooms To Go has ever called me back. Very hard to fathom. I never thought I would have to submit a write-up like this about any company. I suspect if RTG reviews these write ups, ** may well get a handsome bonus for his perseverance in ignoring my claim. Obviously using social media to help spread the word will need to be my next project. I only wish that I had reviewed this board before purchasing my mattress from Rooms To Go. Little did I know. Buyer beware!

We bought a leather sectional less than a year ago. The one recliner is clearly broken at the foot rest. They sent a technician 3 weeks later. He took pictures and told me someone would get back to me in a couple of days. I did not hear from anyone. So I called. The CSR relayed to me that the tech said this was not a defect but the customer broke it. We have sat in this chair maybe 5 times. I have a recliner in another room we have had for 10+ years, and sat in a lot, that is not damaged. I find it absolutely ridiculous that they are blaming the customer on this. It was my first time buying from Rooms to Go. And my last. This was not cheap either. It is the Cindy Crawford home collection. So if you are looking for some furniture stay clear. Or just never sit in it.
Rooms to Go Company Profile
Company Name:

Rooms To Go

Website:

http://www.roomstogo.com/