Find a Mattress Brands partner
Our promise. We provide a buying advantage with verified reviews and unbiased editorial research.
About Brentwood Home
Brentwood Home is an online company that specializes in the sales and service of made-to-order mattresses. Brentwood Home sells various mattress styles from your standard spring mattresses to gel and memory foam based beds. In addition to mattresses, Brentwood Home also sells premium bedding and pillows as well as beds specifically suited for your canine companion. Because mattresses are made at the time of your order, Brentwood Home offers an extensive warranty package to ensure the life, quality and comfort of your new mattress.
Brentwood Home mattresses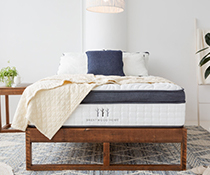 Brentwood Home
Oceano Luxury Hybrid Mattress
$1,499 (queen) as of publishing date
Made with memory foam, high-density support foam, comfort coils, organic wool and cotton. Includes Tencel fabric cover. Designed to accommodate all types of sleepers. Medium-soft comfort level. Brentwood offers a one-year sleep trial and a 25-year warranty.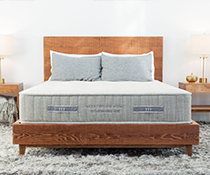 Brentwood Home
Cedar Natural Luxe Mattress
$1,499 (queen) as of publishing date
Hybrid latex mattress constructed with natural and organic-certified material. Individually pocketed coils are made from recycled, single-tempered steel. Features wool tufting, coconut buttons and hand-stitched handles. Medium-firm comfort level.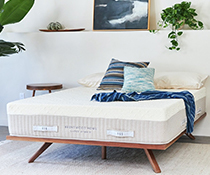 Brentwood Home
Hybrid Latex Mattress
$1,099 (queen) as of publishing date
Constructed with natural, alternative and recycled materials. Features a zone-targeted latex foam core, a coil system with up to 975 8-inch coils, a renewable flaxseed-fiber pad and organic cotton. Available in medium comfort level.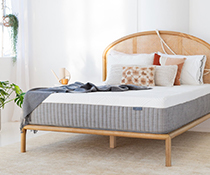 Brentwood Home
Cypress Affordable Memory Foam Mattress
$599 (queen) as of publishing date
Features cooling charcoal-infused memory foam with BioFoam. Select from all-foam or hybrid models with innerspring units for coil support. Compatible with adjustable bed frames. Free shipping and free returns.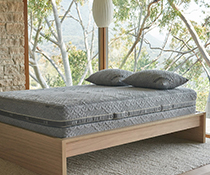 Brentwood Home
Crystal Cove Mattress
$1,299 (queen) as of publishing date
Designed to promote therapeutic recovery and deep sleep. Dual-sided hybrid mattress features a five-zone coil support system, two layers of natural latex, flow foam and memory foam. Rated as medium-soft comfort level.
A link has directed you to this review. Its location on this page may change next time you visit.
How do I know I can trust these reviews about Brentwood Home?
4,243,660 reviews on ConsumerAffairs are verified.
We require contact information to ensure our reviewers are real.
We use intelligent software that helps us maintain the integrity of reviews.
Our moderators read all reviews to verify quality and helpfulness.
Page 1 Reviews 0 - 10
Laura of Malvern, PA

Verified Reviewer Verified Buyer
Original review: Dec. 29, 2020
I purchased a Crystal Cove square meditation cushion as a Christmas gift for my Husband and it was delivered 9/25/2020. There was nothing wrong with the cushion itself, but my Husband wasn't interested in it. When I contacted customer service to request the return, I was told that there is a 30 day return policy from date of delivery only. It seems ridiculous to me that they offer a one year trial run on a mattress but can't accept a return of an unopened, unused cushion still part of their product line at Christmas time. Buyer beware.
4 people found this review helpful
Matt of Inman, SC

Verified Reviewer Verified Buyer
Original review: Oct. 25, 2020
We purchased the Brentwood Home Oceano after reading several favorable reviews. But we now know that those reviews are only first-impression reviews of this mattress. When we first received the mattress, we loved it. It was incredibly comfortable...at first. But we have owned this mattress for less than two years, and my wife (a slender woman with lower back issues) can no longer sleep in it. The mattress has sagged so much and the support for her lower back is so poor that she started waking up every morning with progressively-worsening back pain. She now sleeps on an older mattress in our guest bedroom and does not have any back pain when she awakes because that mattress (a different brand) still provides good support for her lower back.
She has napped on the middle of our Brentwood Home Oceano and has done fine because neither of us slept in the middle of the bed (indicating just how much each of our two sides have sagged). We contacted customer service who reportedly offers a 25-year warranty on this mattress, but they said our mattress has not sagged enough to qualify for any warranty service. If you look around enough, you will find many dissatisfied customers of Brentwood Home for this same reason - the mattresses wear out fast. Don't believe all of the favorable reviews of people who have only owned the mattress for a few weeks. You'll be out over $1000 and shopping for a new mattress in less than two years...like we are now!
10 people found this review helpful
Thank you, you have successfully subscribed to our newsletter! Enjoy reading our tips and recommendations.
Skylar of Chicago, IL

Verified Reviewer
Original review: May 12, 2020
I purchased the Brentwood Home Oceano mattress 3 months ago, and it is a superb mattress. It is high quality, luxury feel and super comfortable. The gel memory foam gives me enough hug without the sinking feeling. I am well supported and there is no motion transfer. Edge support is fantastic. I didn't experience any concerning off-gassing, but I did let it air out for a day. This is a solid product by Brentwood Home. Plus it is a beautiful mattress to look at and it feels super smooth to the touch. I am a side/back combo sleeper and I sleep like a baby completely through the night. Brentwood Home customer service is excellent. They are very responsive to questions and helped me make my final purchase. The mattress shipped 24 hours after ordering and Fedex Ground delivered it 7 days later (California to Illinois). I highly recommend Brentwood Home, and I am very pleased.
Be the first one to find this review helpful
Michelle of West Palm Beach, FL

Verified Reviewer
Original review: Feb. 11, 2020
On 05/01/208, we had the Oceano Mattress delivered to us, and we absolutely loved it the first year. The mattress is advertised as the #1 rated luxury with a medium-plush feel. Thirteen months later, the mattress lost it's medium-plush feel and became uncomfortably soft to sleep on. Not only that, the fabric buttons that are anchored onto the mattress extruded, which can be felt through the mattress pad and bedsheets, causing pain when I would move around. I reached out to customer service, and they sent me a complimentary Oceano Memory Foam Mattress Topper, which is really helpful covering the buttons, however, not with the firmness of the bed.
Before I purchased the bed, I had spent three weeks researching mattresses online, watching videos, and read 5-star reviews before choosing this mattress. The reviews on their website are misleading. I am unable to log on to Brentwoodhome.com to leave an honest review. I want people to know that this mattress has issues, and they should not spend their money on it unless they do not mind their bed losing its firmness in less than two years. I now wake up with cervical and spinal pain due to this bed. I honestly wish I listened to my husband before I purchased a mattress online.
22 people found this review helpful
stephen of Lancaster, NY

Verified Reviewer
Original review: Sept. 18, 2019
Ok we began our mattress search locally like everyone else used to...but lying on a bed for minutes in public store is useless so we went home to do a little diligence online. After we narrowed it down to two or three choices we visited oursleepguide.com and were blown away by how detailed and precise the reviews were of literally dozens of mattresses. They picked the Brentwood Oceano so we added that to our choice list and stacked it up against the few others we were considering. The Purple 3, the Saatva and Puffy Lux were all contenders, but the thing that pushed us toward the Oceano was the trial period being literally triple the others offered. ONE FULL YEAR to see if you like a bed sounds like a no brainer, and all the prices were about the same...so we pulled the trigger.
Once we made our purchase we expected to wait about 3 weeks to receive the bed. Pleasantly surprised we received it in about a week. Lugged our old mattress down the stairs, and lugged the heavy ** box upstairs to put our mattress into our frame. Something was wrong. The mattress did not fit into our frame? It was too long and not quite wide enough? Ok, while we ordered a king size mattress, it seemed like they had sent us a California king (4 inches longer and 4 inches narrower). After all the excitement and backbreaking work of moving everything around, we naturally started to panic. Checked our order and did in fact order a king size so we started an online chat with Brentwood as there really is no phone number to contact them. The woman who helped us told us to take a pic of the mattress tag, and include into our chat screen. Sent the tag pic, but the tag stated it was the right size of a king mattress. The plot thickens! It was a mistake made not by the shipping department, but by the factory upon final inspection.
I took pics of the mattress in our frame and it was apparent that it didn't quite fit with gaps on the side and a mattress hanging over the footboard by inches, so she sent us another order, and promised to triple inspect the size to make sure we receive the correct size. We slept on the California mattress even it's not quite snug in our frame, and I must say, I slept great! It's a bit more firm than I'd initially thought it would be, but in a plush way. It's much easier to move around in, and way supportive in all the areas our old foam bed failed in over the years. I'm thrilled to death with the company we decided to put our trust in, and very optimistic about the mattress, but we have a full year to see. No bad decisions here...
5 people found this review helpful
Mark of Palm Harbor, FL

Verified Reviewer
Original review: Aug. 9, 2019
24 hours after ordering mattress I began receiving over a dozen robocalls per day, unabated for over a month. Contacted Avocado who stated that basically they didn't care. If you love robocalls, buy this mattress....but you can probably get more robocalls for less than $1700.
8 people found this review helpful
Connie of Manchester, TN

Verified Reviewer
Original review: Dec. 3, 2017
I ordered from Amazon. Description of mattress was directly from company's website. Stated medium feel. This is not true. It is hard as a rock. The corners of the mattress never filled up. They are sagging and I have only had this for 4 days. Also Brentwood will not honor their warranty if you buy from 3rd party but they get the money when you buy one. Not impressed with this company.
32 people found this review helpful
J of Draper Ut, UT

Verified Reviewer
Original review: Nov. 11, 2017
I will say that when I initially bought my bed, I was very happy, happy with the experience. I've had a couple of issue since and have contacted customer service several (at least 7 times) to assist me. The agent always promises to have someone call me back and no one ever does. I did have a supervisor call me back ONCE and missed the called - try to contact her, left at last three messages. NO RESPONSE! That is awful customer service! I was thinking I would buy a couple more beds when I moved into my home, but at this point I will never purchase another product from this company. Unfortunately, I've told so many friends what a great company - I will be updating them on the current situation. Very upset!
40 people found this review helpful
James of Baton Rouge, LA

Verified Reviewer Verified Buyer
Original review: Aug. 19, 2017
Brentwood products are made in America and they also offer the inner spring and the memory foam combination. I purchased the Oceano box spring the mattress but the mattress wasn't level. I contacted them and I'm going to send it back and exchange it for a new one. But besides that, it's a nice and amazing mattress.
5 people found this review helpful
Jeremy of Manchester, NH

Verified Reviewer Verified Buyer
Original review: Aug. 14, 2017
I've read a few reviews online and Brentwood had a nice website so I just went for it. I purchased an Oceano Mattress however, the mattress was very uncomfortable for us. It was too soft and the edge support was really bad. I ended up not keeping the mattress and I didn't get any runaround when I returned it. They were very, very cordial and very helpful. Brentwood's customer service team was fantastic. It seemed like a great company but it didn't work out for me.
17 people found this review helpful
Brentwood Home Company Information
Company Name:

Brentwood Home

Country:

United States

Website:

www.brentwoodhome.com
You're signed up
We'll start sending you the news you need delivered straight to you. We value your privacy. Unsubscribe easily.