9 mortgage questions to ask your lender
How to determine if a lender is right for you



Written by

Edited by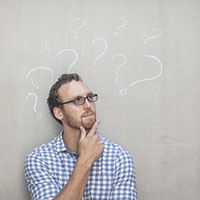 Buying a house is an exciting, albeit confusing, process. That's why it's important to work with a fully transparent, communicative and supportive lender. Before you commit to a lender, ask these nine questions to ensure you choose the right company and feel confident moving forward with the mortgage process.
---
Key insights
Different lenders will offer different rates and terms for various mortgage types, such as conventional, USDA or VA loans.
You don't want any expensive surprises after you close, so it's important to choose a lender that's transparent about costs and fees.
If you are uncomfortable with your first-choice lender, you can switch to a different lender before you close.
Which mortgage type is best for me?
There are several different types of mortgages that may be a better fit for you than a traditional conventional loan. For example, if you'd like to buy a home in a rural area, you could qualify for a loan with the U.S. Department of Agriculture (USDA). USDA loans offer a number of special benefits, like flexible credit score requirements and no minimum down payment.
Ask your lender which types of loans you qualify for and which of those loan types has the best rates, down payment options and costs. Not all lenders offer every type of loan, so shop a few different lenders before deciding.
What home price can I afford?
It's important to have a clear understanding of your financial situation and what you can comfortably afford before you start searching for homes. Calculate your current income, expenses and debt obligations. Knowing these numbers upfront will help you narrow down your options and avoid falling in love with a home that may be beyond your budget.
Keep in mind that your lender might preapprove you for the maximum loan amount you can qualify for. But this number doesn't take into account all your personal financial considerations, such as how much you want to put into savings, your future travel or family plans, etc.
» MORE: How much house can I afford?
How much do I need for a down payment?
Paying monthly PMI may be more affordable than a 20% down payment.
Don't assume you need a 20% down payment saved before you purchase your home. A lender can help you figure out the down payment amount you really need to make based on your loan type and creditworthiness.
If you make a 20% down payment, you won't have to pay for private mortgage insurance (PMI). But ask how much your PMI will be before deciding if you should avoid it at all costs. If your PMI will add $150 extra to your monthly mortgage payment, that might be more affordable in the short term than trying to come up with a 20% down payment.
Plus, your PMI can be dropped once the principal balance of your mortgage is 80% or less than the home's original value.
How much are closing costs and fees?
Buying a house is expensive, even if you are getting a great deal on the property. There will be a lot of fees involved, so ask the lender upfront how much you are expected to pay and what the seller can cover. Make sure you understand the purpose of each fee you're asked to pay and if it's really necessary.
"Lack of transparency is a major concern," said Adie Kriegstein, a licensed real estate salesperson for the residential real estate firm Compass. "If a lender is not forthcoming about fees, terms or conditions, it's a warning sign. Ensure you have a clear understanding of all costs, including interest rates, origination fees and closing costs."
Kriegstein also advises homebuyers to be wary if a lender advertises unreasonably low interest rates or fees, since this usually comes with hidden charges or unfavorable terms that might emerge later in the mortgage process.
Steven, a ConsumerAffairs reader and retired military veteran from Denison, Texas, learned that lesson the hard way. He reported that when he decided to refinance his mortgage, his original lender overcharged him when his new bank requested documents for the refinance. "They charged me $5 a page that they faxed to the bank," he said.
The unpleasant surprises didn't end there. Steven claims that when his new lender paid off his mortgage balance, the original lender added more charges totaling nearly $1,800.
What interest rate do I qualify for?
Before moving forward with a lender, know what interest rate you realistically qualify for. Don't settle for a rough estimate, since this can be drastically different from the actual interest rate offered after a lender reviews your creditworthiness.
When you ask for a rate check, it will be a hard inquiry. However, if multiple lenders run rate checks during a period of about one month or so, the inquiries may be lumped together on your credit report as a single event. This can help you avoid multiple dings to your credit score while still allowing you to shop around for a good rate.
Once you know your interest rate offer, you can do two things:
If the rate is great, lock it in so you don't have to worry about it going up before you finish the mortgage process.
If the rate is less than stellar, this could be a sign that you should work on improving your credit score before looking at homes.
Can I lock in my rate?
Locking in your rate when it is low can save you a lot of money if interest rates go up before you sign the final mortgage documents. If your lender does offer a rate lock, ask how long the rate lock is good for and if there are additional costs involved.
Which documents do I need to buy a house?
When you apply for a mortgage, expect a lot of paperwork. Your lender will need information from you multiple times throughout the process. Ask which documents you need and have them ready to help your underwriting process go faster.
If you anticipate a financial change soon, like getting a new job, let your lender know.
If you know you will have a complicated situation coming up, such as a job change, inform your lender in advance. Your lender should be able to help you navigate through most financial situations and let you know which documents will be needed if and when your circumstances change.
Additionally, if you are getting a loan backed by a federal body, like the U.S. Department of Veterans Affairs (VA), you might need to provide additional documentation confirming you meet the loan's special eligibility requirements. To qualify for a VA loan, for example, a borrower must be a U.S. military veteran, a member of active-duty personnel, a reservist or a surviving spouse.
» MORE: How does a mortgage work?
How long does the process take?
The loan application process can vary in duration depending on several factors, including the complexity of your financial situation, the type of loan you're applying for and the lender's internal processes. Ask your lender what time range to expect and what the average closing time is for its other borrowers.
It's also a good idea to ask if there is anything you can do on your side to speed up the process. If at any time you feel like things are at a standstill, you can call and ask for a progress report to see where the holdup is. You can't force a lender to go faster, and there are many factors in the mortgage process that you won't have control over. But you do have the right to know what is happening with your loan every step of the way.
How do you handle loan servicing?
Loan servicing refers to the management and administration of your mortgage after it has been funded. This includes tasks such as payment processing, maintaining escrow accounts and handling any customer service inquiries related to your loan.
Ask what to expect after you have the keys, including when you are required to submit your first payment. You can also ask about the likelihood of the lender selling your loan and the average number of loans it transfers to a different lender. Having your loan sold shouldn't necessarily be worrisome, but it can be annoying if you have to establish a new payment account with your new lender.
FAQ
Are there any red flags I should look for when comparing lenders?

"Communication is key, so if a lender is unresponsive or fails to communicate effectively, it could lead to problems during the mortgage process," said Kriegstein. "Watch out for pressure tactics as well. Reputable lenders give you time to consider your options and won't rush you into making a decision."
Can I switch my mortgage lender at any time?

You can change your mortgage lender at any time before you close. Once the closing process is complete, however, you will need to refinance to change lenders.
What questions can a lender legally ask?

Your lender can legally ask you for your financial details and even your marital status. However, it cannot specifically ask if you are currently pregnant or plan to start a family. It also cannot ask about your health status.
Bottom line
Don't shy away from asking a lender questions. Its answers will help you decide if it's the right lender for you. Knowing ahead of time what to expect from a lender, especially with respect to costs, will make you feel more confident throughout the mortgage process.
---
Sources

ConsumerAffairs writers primarily rely on government data, industry experts and original research from other reputable publications to inform their work. Specific sources for this article include:

Consumer Financial Protection Bureau, " When can I remove private mortgage insurance (PMI) from my loan? " Accessed May 31, 2023.
Did you find this article helpful?
|
You're signed up
We'll start sending you the news you need delivered straight to you. We value your privacy. Unsubscribe easily.