Navy Federal Credit Union
Consumer Complaints and Reviews

Unbelievably incompetent: screwed up wire transfers, failed to send wire transfers and did not inform me, and froze accounts with no notice or explanation while I was overseas. YOU CANNOT SPEAK TO A HUMAN BEING so you have to call multiple times through the computer system, and then re-explain your problem each time to a new person. Finally, had HAD IT and closed my accounts, which the bank re-opened without my permission or telling me, and began accepting deposits into an account for which I no longer had access. NEVER SEEN such horrible practices -- and it's obvious that management and leadership DO NOT CARE. I over the years had over $1M there and couldn't even get anyone to address the problems. Or even return a phone call.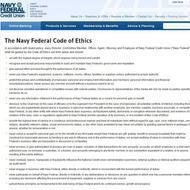 The Office in San Diego Cal 92117, they gave me false information about getting a new Debit Card. I asked for a manager and the manager continued to give me wrong information about receiving a new debit card. I then called the phone customer service and a women named Jacklyn said I would receive my new debit card the next day by Federal Express. They said it would be a duplicate to the one I had. It never came. I went to the San Diego Office 92117 and asked about the issue. They said, "For the information but you can not receive a duplicate card". The office did not care about resolving the situation. I was upset and told them why are they lying to me. This went on for 4 days.
They asked me not to raise my voice. They did not want others to hear about my complaint. I told them sorry they need to honor their code of ethics on their website. I left and went to another branch and after that branch took care of the issue, the police showed up asking if I owned a gun. I said no. The officers they said the other Branch at 92117 said I was upset so they assumed I was a threat. I am filing legal action against the bank for harassment and for calling the police and filing a false police report. Navy Federal Code of Ethics is not honored by their employees or the company. I want not suggest putting your money in a Bank that has no honesty or truth.

Approximately twenty years ago as a retired Navy Chief having successfully raised two, retired with 5 Navy Achievement Medals, 1 Navy Commendation Medal and a Meritorious Mast from the USMC when comms was lost I took over the rescue of the USS Vancouver's AAVs in Operation Sea Angel off Bangladesh; I had a twenty something try to educate me on handling my financial affairs. I moved my money, leaving $100 in my acct, to NICU where I still bank today. I only maintained the use of my NFCU Visa ever since. I have tried to register to access my Visa Acct online several times over the years and have always had something blocking me from doing so. In real life there is a statute of limitations but for this notice which I found out was supposedly an outstanding check (which I never wrote) it's apparently been twenty years and they're still pursuing it. The one thing that NFCU excels in is growth, but don't expect Customer Service.

I began the process of refinancing my existing mortgage with Navy in April 2017. The trail of tears is as follows: Ran a preliminary analysis and quoted me 3.25 + 0 points. Received preliminary approval 3.25 + 5.0% points. Said rate change because I was in their B class due to FICO score (below 720—barely). I told them did they want to believe the FICO or the fact that I had 3 loans with them always paid as agreed. They said it did not matter. Members and Off the Street—same. After arguing and me escalating the matter up the chain, I was offered 3.5 + 0.5% points. I said OK and gave them permission to order $625 appraisal per preliminary closing statement. Appraisal came in lower than expected (surprise..! All appraiser are writing conservative values). Their new offer 4.25% on a 3-year ARM. I am currently paying 4.25% for 30 year fixed loan.
You can't make this stuff up. I informed them they were idiots and suggested they re-look at their numbers. Got new offer of 3.65% provided write a check for $11,000. On June 7 (appropriate day), I told them to go pound sand. June 8, I receive invoice on appraisal. It was $350.00. Clear violation of disclosure (aka fraud). Anyhow, I am a bank regulator, former real estate lender, CPA, MBA, etc. I have never in my 30 years of experience have ever been yanked around like this. I reported Navy to the CFPB and am requesting my $625 back. I also reported them to the NACU. Navy is a stain to the mortgage industry.

Worst experience of my life, almost worse than boot camp. Customer service non-existent and a high degree of loan officer incompetence. Loan date made incorrect to begin with and told by my loan officer Deanna ** that I need to apply for new interest rate on behalf of her error. From then on, everything that could go wrong went wrong, up to the day I closed. I am still waiting on credits to my account. Please, use anyone but Navy Federal for your home loan, you have been warned!
How do I know I can trust these reviews about Navy Federal Credit Union?
825,614 reviews on ConsumerAffairs are verified.
We require contact information to ensure our reviewers are real.
We use intelligent software that helps us maintain the integrity of reviews.
Our moderators read all reviews to verify quality and helpfulness.
For more information about reviews on ConsumerAffairs.com please visit our FAQ.

Long story short: Opened an account online Apr 24, 2017 and funded with $50 via debit card from Chase. Accessed the account online ok. Two hours later the account was locked. Called and was told I was not eligible - fine - they would mail a refund check to the address of record. Waited 30 days, no check. Now I am told there is a security issue, and I need to go to a branch, which is 30 miles away. Thanks for communicating so well. Little do they know they missed out on two substantial trust accounts. They're not crooks, just lazy.

I have been a victim of chip card cloning twice in the past 4 months. Physical copies of my card were made and purchases of thousands of dollars were allowed to go through in several different states and even in the UK in a matter of minutes without being detected by their fraud department. Federal regulations prevent banks from holding you financially responsible for fraudulent purchases but Navy Federal has found a way to draw out the process as long as humanly possible. When the purchases are made they go into a pending status which affects your available balance. At this point Navy Federal will not do anything until the charges actually clear which can take two to five business days depending on the merchant. You then must submit a fraud claim to them which will take another two to five business days.
You must realize that weekends and holidays draw out the process even longer so you are without funds for at least a week. If you have loans or bills to pay with Navy Federal in that time you must contact the individual departments to avoid late penalties, overdraft fees, etc... Which requires long waits and dealing with poorly trained representatives. Just about every other bank out there will give you a provisional credit immediately after reporting fraudulent activity realizing that you as the customer require funds to live. Navy Federal is only looking out for their own bottom line and do not care if their policies hurt you and your family.

My father decide to change banks cause it was military and no more withdrawal charges. He switched 1stNB to Navy Federal Credit Union. He is on a fixed income as well as myself. I have had Six Back surgery myself. Okay my dad is getting ready to have Heart surgery sometime next month. On April 7, 17 he had to do some final testing so he ask me to hold on to his Debit card. I said yes as long as he put his pin number on it. I have a lost of memory that's why I told him to put it on his card.
Well me and my daughter went to the park and played basketball. My child loves it. Then we left there and went to eat. Paid for our food still had my wallet. I call it. Then went shopping after that. Don't know what happen but we did go to the restroom. Well someone found it and decide to use them cause the pin was wrote on them. Before I could report it lost the next day our accounts was permanently closed, frozen whatever and told my dad they know he did that. As far as depositing checks into our accounts and withdrew them for money large amount of money using debit card. They said we both are overdrawn on each acct for $193.00 each and we are held liable for it. They will not open a account in my dad name ever again. What can we do to clear our name. Please help.

I applied for membership on 4/11/17 after being told by NAVY membership dept. on phone I am eligible in many ways. I applied provided every document known to man received receipt acknowledging documents received. Waited until 4/20, called to follow up, was told needed a few days to review. On 4/26 I received an email welcoming me but not providing any details or account information. I received my Credit Bureau report for 2 hard pulls and another report stating account created as I am an OPM identity theft victim with excellent credit, heavily monitored. Today on 4/27/17 I received an email stating I'm not eligible and to forward this same documentation to them again by the same department. I responded stating already completed, account open.
I called NFCU and verified account with 2 representatives. Both told me email is from their employee but they have no idea why email was sent to me, it's not their department, membership. How can I bank with NFCU when they can't keep track of my sensitive information never mind my funds. I'm so upset. I give up and haven't even used the Navy Federal Credit Union, very dissatisfied and discouraged. Will they be able to keep track of my money? Shameful and I'm from a military family and serve myself.

Long story short, I had a very high credit limit of which I only used up 1/3 of my limit. Was paying my credit card on time, never late and always paid more than the minimum. Then they choose to close my account because they couldn't get a hold of me. Yes that's correct; they couldn't get a hold of me so they chose to close my account entirely. I had taken out loans that I paid before the due dates. I had a savings account with them and now I want nothing to do with them. I will never use them again. Ever.

I originally applied on 3/27/17 via the website to Navy Federal Credit Union to become a member due to my wife being a part of this credit union. I Sent over all of the required documents that was needed to process my new membership with Navy Federal Credit Union. A week had gone by and I didn't receive a response so I called and sent an email via their website. I didn't get anywhere with that so I've spoken to several representative and still no membership and it's now 4/13/17. It's very frustrating when this credit union is rated #1. I really don't understand how? It's now 4/13/17 and I still am not a member due to my information not being accepted per the security department EVERY rep conversation is when I speak with someone.
My wife sent over the same exact documents when she opened her account with Navy Federal Credit Union and didn't get any of the feedback that I am receiving. The representative along with management isn't considerate to the fact that I am a new customer and this isn't the way to treat me. It's going on a month and NO MEMBERSHIP! I've spoken to several different supervisors and haven't gotten anywhere. I want this to be handled immediately! I am getting the runaround with this whole thing. I need the entire world to know where I am coming from. It's inconsiderate to me and myself and my family. I am just frustrated and feed up with this CREDIT UNION WITH NAVY FEDERAL. I have been calling and trying to get an answer. I am now in the process of writing Cutler Dawson which is the CEO of NAVY FEDERAL CREDIT UNION about my experience joining Navy Federal Credit Union.

Joining was a hassle since I didn't live near a branch so I joined online at which point they screwed up my paperwork and placed a hard hit on my credit report lowering my score. After this was all straightened out I asked about the CD they advertised on their site claiming a 3% interest rate and was told that I would receive that rate so I took $3,000 and funded it to the maximum allowed amount. Three days later the CD showed up but was only 1% interest which is the old classic switch and bait fraud car dealers used to use. I didn't make a fuss because I was hope to get help in a home mortgage through them and when they prequalified me in the letter they gave me a limit of $259,660 so I applied.
From the start I was honest explaining I had only a school loan on my credit but that the Dept of Ed had me down still as unpaid but that I had in my possession the payoff letter which I had received showing the matter as settled. I further explained that I had only been behind because I was disabled and on SSI which had given me an income of only $889.40 a month to live on and that if I had gone through with the forgiveness process it would have counted as "taxable income" which would have left me without the SSI check and a tax bill I couldn't pay making matters even worse!
Fortunately in the meantime I had been surprised by the VA finding me as service related disabled at 100%, raising my income to $2,915.55 a month allowing me to pay off that loan and several other debts I was behind on because of trying to survive on SSI. Needless to say they turned me down for "excessive collections" and "unpaid collection accounts" despite the DoE letter and my 1/3 page letter of explanation that they either couldn't be bothered to read of the 5th grade level I wrote it at to keep things simple was beyond them. So now I am trying to rid myself of a switch and bait CD that pays less interest than my Ally savings account without the penalties so I can end this nightmare relationship.
Don't be stupid and believe what their site says. They have no interest in helping Vets on active duty service people in fact because they were in such a hurry to roll out a chipped ATM card they stranded tens of thousands of deployed men, women and their families without funds by cancelling their old ATM cards after sending out replacement cards they couldn't activate due to lack of infrastructure in their area of deployment. As far as I am concerned this is just another Wall Street con, no different from BoA, Chase, or Wells Fargo who cheat customers while making promises they will never keep or intended to in the first place!

Have been harassed from NFCU for the past 7 months. In August 2016 I refinanced my vehicle with NFCU when they had a promotion going on (low interest and $200 into account). I didn't have an account with NFCU previously, so I had to fill out all of the membership paperwork in order to open an account and deposit $25 in order to qualify for this financing promotion. Once that was complete, I was able to successfully refinance my vehicle. The payments for the vehicle were set up on a direct draft from my actual checking account so I didn't have to mess with anything. A short time after, I received a promotion and moved to Alaska.
Upon arrival to Alaska, I provided my new mailing and residential address. I then started receiving my savings account statements - which showed federal income tax withheld. I have never held a savings or checking account where federal income tax was withheld. I've received very little to no interest income on this account as it is less than $200.
When I inquired as to why or how federal income tax is being withheld, the response I received was because they didn't have my Federal Tax ID on file. I inquired as I am not a business and I did provide my SSN on my membership application. The representative indicated they did not have a membership application on file. I asked how that was possible as I opened an account with it - which she verified - and I refinanced a vehicle with it - which she verified. Nonetheless, the response was without a membership application on file, NFCU will withhold Federal Income Tax from my account. How is that legal?
Then I was receiving letters indicating NFCU did not receive all of the vehicle information and/or lien on the new registration since I moved to Alaska. They threatened to change my vehicle loan to a signature loan with a much higher interest rate if they did not receive the DMV title indicating they hold the lien. I had to resend that paperwork 3 different times to them, even after I confirmed with the DMV that NFCU was listed as the lien holder. Ironically, about the same time I was receiving these letters, I was receiving emails from NFCU stating I needed to verify my address as the one on file was incorrect. Weird, I could've sworn I was receiving my bank statements and all of this vehicle paperwork at my mailing address.
When I inquired this morning about these emails - I had to give my assigned access account number to reach an operator, then I had to verify name, last four and date of birth to even speak with her. I then had to subsequently had to verify my mailing and physical address on file and then she wanted my phone number so she could text a passcode to me, which I had to read back to her so she could initiate changes to my account - which there were none. Everything on file was correct (probably because of the missing membership application). I understand security and protecting information, but too much is absolutely ridiculous. I even had to delete the app because it was constantly wanting or indicating my password was incorrect. I will be closing these accounts as I have never had this much trouble through a financial institution.

I've had NFCU for years and never had a problem until I ran into financial issues. Unfortunately, I had credit cards, auto loan and personal loan with the bank which is the worst mistake ever. PLEASE DO NOT GET MORE THAN ONE ACCT with any bank. Nowadays they have it set up that they will take funds out of any account to pay for past due accounts or balances. They say to call and schedule an appointment to have payments made but that isn't honored because their automated system automatically takes the money out the account and there's nothing their customer service can do about it.
So you're left without your own money. Without knowledge upon opening account you are unaware that you underlining signed an agreement authorizing them to withdrawn funds from any available account. Then I tried to get my interest rate lowered, they do not want to assist. I tried to settle credit card payment and they do not take anything less than 85%. The loyalty of being with them for years means absolutely nothing to NFCU. They do not try to assist families in need. PLEASE DO NOT open several accounts with just one bank. In the long run it will bit you in the ass. I had to open another account with another bank because of this situation. NFCU is hopeless!

I noticed that money I had deposited last month for personal reasons, in my daughter's account was completely depleted, then a certain amount returned to the account without Navy Federal notifying me. When I called, the wonderful customer service staff that placed me on hold to figure out the problem from 12pm-8pm between 5 different representatives. Everyone was clueless. By 8 p.m. they finally found out that the other joint owner on the account withdrew all the funds, then replenish a small amount before closing all his accounts with the institution.
I asked how the hell can a joint owner be placed on the account when I walked in there with 3 small children and was the only person that sign as the guarantor for this account. Still clueless. Next day walked into location where I open the account to retrieve a copy of the paperwork that none of the wonderful reps I spoke to the day before could find.
The 2 pieces of paper they had on file listed only one person on the account as a signer - myself. So they sent it to the fraud department. I was upset and spoke with the fraud investigator who 2 days later stated that the matter was going to be closed. Closed because due to some clerical error the other parent was somehow added years ago even though I never noticed out of 3 children statements. And the other parent never had any activity until those 2 day period and because we are both the child's parents there is nothing they can do about it. Then asking the other parent nicely if he'll give it back instead of doing what you know is ethical right as a banking institution. But I told the fraud investigator I would spread the word about NFCU incompetence and failure to protect their customers funds they trust them with.
Great job Navy Federal by not abiding by your own legal terms stated on your minor set up account contract. Under the guidelines of Minors Accounts of Navy Federal forms "Federal law requires all financial institutions to obtain, verify and record information that identifies each person who opens an account, including Joint Owners and authorized signers." Thanks for allowing a clerical mistake to cost a single mother a financial loss because of your fraud justifications. Be vigilant of who you trust with your money, I know I have my eyes open now.

Put in a auto loan application couple month ago and I was declined, the services representative in Cherry Hill, New Jersey, told me to try again in couple month, that I did Feb 25, 2017, And my application was declined again and my credit score is better than last year. Thing is why I don't understand I had two auto loan in the past with Navy Federal Credit Union and I paid off in 2015 and 2016, I was never late, and I had two personal loan with them also and I paid off the loan. How can Navy Federal Credit rate me no limited credit experience, bankruptcy that it is 10 years old, high revolving credit and slow payment etc... And then this is last year made a $4000 personal loan and I was approved but they won't approve my auto loan.

Before I begin, if you cannot resist the lure of Navy Federals offers at least do this one thing: DO NOT under any circumstances close out your old checking and savings accounts with other banks. Especially if you are not being charged a monthly fee. If you have checking, savings, loans and credit cards with
Navy Federal and no other, you are in for a NIGHTMARE! NFCU was recommended to me by family and coming from military lineage it seemed like some kind of benefit or was earned in some way. I applied and easily opened a free checking account which I had never experienced before and a min. savings account was required.
The jaw-dropper came when I applied for a Signature Visa and was approved a very generous limit even with my mediocre credit score. I also got a checking line of credit after signing and returning an authorization form. All sounded great and it was like a dream come true having had nothing but a $300 store credit card to my name for many years.
The problem started when I was late one day on the overdraft. They took it out of my checking without notification. I had agreed to it on the auth form, so not the end of the world. But from that day forward as they say: "Let the games begin". The direct deposit from my menial occupation would go to them
Monday nights and they would indicate it was received but not post it for three business days since that day-late payment. Before it would be posted the next evening. During this new delay NFCU would take out any payments due that week BEFORE letting me access it via atm or online banking the following Thursday.
Having had quite enough of this Chicago Syndicate-style of banking, I changed my direct deposit back to my old bank and began taking payments into NFCU as they became due. It's been about three weeks since I did this and today I get a letter from Navy Federal stating my credit accounts are being closed due to a poor credit score. Now, this is after paying them EVERY month for over four years. I highly expect a closing statement any day now demanding payment in full for both accounts within thirty days, which will be impossible and inevitably destroying my credit rating for years to come. Imagine if I had a mortgage with them? Or perhaps a second? Don't let this happen to you. They want to run your entire financial life or you get booted out the door.

Do NOT bank with Navy Federal Credit Union! I had put $310.00 to transfer to my husband's ex-wife for child support. I was late one day on my credit card payment and they automatically transferred the whole amount onto my credit card balance. When I had called to get it reversed, the representative stated, "It's out of their hands because I was late for my credit card payment. Any money that would be deposited in the account would be automatically transferred over." Mind you, I did not give any consent to do this transaction. So, not only have they put my husband at risk for going to jail for not paying child support, but now my stepson will not have any support whatsoever this half of the month! The representative had no answers, wasn't willing to make a payment arrangement, wasn't helpful at all! So do yourself a favor and NEVER, I repeat, NEVER bank with Navy Federal Credit Union!!! Worst Bank EVER!

I have a credit card, checking account and savings account with Navy Federal. I also opened a savings account for my 3 kids. They automatically take money out of my checkings to pay my credit card without my permission if I'm behind. Even the little bit of child support that I do get when he finally decides to pay something. They told me that they have the right to do that and they can also take money from my children's savings as well. I stopped my direct deposits from going there because of this. Looks as if I'm not the only one with this issue. Sounds like a class action may come of this. I used to be a satisfied member, but not anymore.

My daughter and son had issues with settlement on their home in Aug 2015 due to Navy Federal dropping the ball on due date for settlement. Was told they would be compensated NEVER happened. Now one and half years later they get a letter stating mortgage payment going up $400 per month!! Who can afford that?? Why wasn't escrow taking enough money out for a shortage? Have owned several homes and NEVER had a payment go up this high!!! Poor very poor customer service and support! !! Only gave 1 star since I had to. NEVER use them. 2nd time Navy Federal has not given good service.

Recommend you allow reviews to have Zero Star option. Irrelevant perhaps, to this complaint but telling on the Ranks and records of the NFCU Board. I start by saying that I am a Disabled Vet as the result of a Ship's CO ordering me to expose myself to Ionizing Radiation and instigating a cover up. This event crippled me with Malignant Ependymoma Cancer to my spine and Malignant Soft Tissue Sarcoma Cancer. I Apologize, I just feel the board and employees treats their customers as Squids. I was rank of Commander when I could no longer work and was drummed out.
As required by Federal Bankruptcy Laws in 1989, I was required to report all creditors no matter the amount of the debt. $500.00 was owed to NFCU. I could have paid it but my attorney said it was illegal to show preference to creditors. Since that time I have acquired considerable wealth and don't need credit. But I would like to have access to MY accounts. My children have accounts with ADM NFCU and sometime I like to transfer money to them. (In a way I do use online banking because my wife and I have shared accounts.
I have to log in using her log in credentials. (I'm not as stupid as NFCU is.) BUT every time I have asked to be able to set up online banking I have been told, "You are not allowed to use online banking BECAUSE you owe us $500.00." This is an aggressive punitive action but mostly petty. DISCHARGED means I don't owe them squat and they just need to get over it. NFCU needs to be known more as good citizens instead of babies. Here's a hint to readers: USAA opened many years enrollment to all enlisted service members.

This bank has failed in every humanly possibly way. They literally can't even notarize something correctly. Seriously, everything has been a nightmare with them. My husband was in Germany for training, along with hundreds of other soldiers. Their debit cards were cancelled while they were over there. Navy Federal sent out chipped debit cards after they left for training, and there was apparently some type of deadline for activating these new cards (which was apparently emailed), and the old cards would be deactivated. Sure enough, all of these soldiers in Germany (who did not have access to email at the time), and I'm sure Iraq, Afghanistan and everywhere else overseas, their cards were deactivated. Imagine that for a moment. A bank that serves the military community, not even taking in to consideration our men and women, serving overseas, who did not have access to email.
When the card came, I did not activate it, as it would have deactivated the card he had with him. I'll also say there was no mention of there being a deadline, in the paperwork that came with the card. Before my husband headed to Germany, we took our POA in to the local Navy Federal in Richmond Hill, GA, only to find out it never was put on file. I had to go back SIX times, and still it was not on file. We once did an auto loan through them, which I would not advise. We had to fill out the same paperwork several times, and mail it in, and somehow, every single time, it was lost. We refinanced that loan after only three or so months, as we are simply done with Navy Federal. They are super unorganized, and their lack of customer service is appalling.

On April 28 2016 Navy Federal withdrew my car payment without my authorization from my bank account because I was two day late. When I call them to ask why they did it they told me they can do that with no other explanation even though I was still in my grace period to pay the car. I did not have automatic payment and I did not sign any paperwork for them to withdraw any car payment.

Been a member for 24 years and used NFCU for a mortgage. Biggest mistake ever. They failed to order the appraisal which delayed the closing of our home, and this happened twice even after appraisal was "rushed". Their lack of execution cost almost cost me the sale. This is not the organization it used to be. I will be moving over to USAA. Caveat emptor.

On Jan. 10th I drove through drive thru to make a deposit. Like normal, I put all my info and deposit in the machine. I had send it and like usual, I pressed the talk to agent or representative. I waited like 7 min., I heard nothing, pressed it again, then I get this rude response; "I'm helping someone else right now, I'll help you when I'm done." I said, "it's fine. I just wanted to make sure someone was there and received my info and deposit. I was here waiting and no had at least let me know that they had received my stuff." The lady was rude. Next time I'll call the 800 number and try to contact their supervisor while I wait. See if they like that!

I deposited a check for $300 drawn off of a Wells Fargo bank account on Monday 01/02/17 at the automated teller in Eastlake, CA. The bank's security dept placed a hold on the check and have now locked my account for 5 business days. I called and was told that the check was flagged as suspicious, and that the system is very rarely wrong. The person I talked to said she had never seen it be wrong before. Yesterday, Wednesday 01/04/17 I went to Wells Fargo bank with the account holder that wrote the check. We were informed that the funds had been released to Navy Federal and that the check had cleared. When I contacted Navy Federal earlier this morning, Thursday, 01/05/17 I was told by the bank's rep that Wells Fargo doesn't give information about cleared checks and that my account would be locked until next Tuesday, 01/10/17.
I am an Active Duty Sailor in the Navy with over 8 years service, with multiple bills that are now not being paid due to a bank that is supposedly for "Military" discriminating against me. I can only assume it is because I'm not excessively wealthy, and don't have the greatest credit. I'm sure they don't treat wealthy people this way, but if you are an enlisted sailor who is trying to make ends meet, they care nothing about you. It is a shame that thousands of us are risking our lives, sometimes daily, for millions of people. But the institutions that are supposed to be there for us discriminate against the very people they claim to help and be for in their commercials. Don't believe what you see on TV. Navy Federal is not there for the military, and certainly not for the Navy.

Been a NFCU customer for a little over year. I have a platinum credit card with them plus I had 3 car loans and everything has been paid on time and in most cases I paid more than what was due and before it was due. I was turned down for an auto refinance on 12/29/16 that was approved by USAA. I figured I would see if NFCU could give me a better rate so you can imagine how surprised I was when I was turned down. I called and asked to speak with a NFCU manager and was put through to Henry at the Winchester office. Henry looked at my credit with NFCU and agreed that my credit standing with NFCU was outstanding with no blemishes.
The car, I might add that I was refinancing was a 2002 Lexus 430 SC booked out for much more than I needed. Anyway, Henry said he would talk with a loan officer and really agreed with me that this loan should be approved. Today 12/30/16 Henry called and said, "Sorry cannot approve refinance loan." With that I have decided that NFCU really doesn't need my business any longer. USAA seems to care much more for the veterans and their needs than Navy Federal and judging from the reviews I read here I'll be glad to be a USAA customer.

I applied Nov 1st for our loan with the Navy Federal Credit Union. The VERY first thing I did was ask them if they can do this refinance in my husband's name "ONLY" even though he wasn't on title. I had issues with my credit and his was excellent, (750 score). I was very specific! The loan officer told me "Sure, that's not a problem, we can just add him to title later." I called 2 other local banks and they said the same thing. They said we'd be okay because we are married and we can show proof of him making the payments if necessary. "Both" of the other 2 banks offered a slightly better rate and lower costs but the NFC said they'd "match" the deal I got at the other bank (Dollar Bank in Ohio). So I decided to go with them because they were so much easier to deal with 2 previous car loans. And I was afraid the others would drag it out by requesting too many documents.
BIG MISTAKE!!! We had the loan locked in at 2.625% on a 15 year, (before the rates jumped up). November 8th, we received a "Conditional Loan Approval" subject to the appraisal, title work and changing the insurance into their name. I did all 3 by November 11th. I waited to hear back from them. I waited and waited... 2 weeks... 3 weeks... 4 go by. Middle of December I'm told that there's an "issue" with my title work. And they apologize saying that my loan officer is no longer working there and they had to "re-assign" my loan to someone else. The next day, this 'new person' never calls me back, I emailed him, NOTHING! I called again, a week goes by, never got back to me! No one is returning my calls.
Then finally, December 21th, I receive an 'email' not a phone call! from a loan 'processor' saying that they 'cannot' do our loan because of my husband not being on title. I flip out, call and speak with a supervisor. I tell him that I specifically asked my loan officer in the very beginning if my husband not being on title was a problem, I told him how I was told no it's not a problem etc.. This supervisor (Mike **) assures me that everything 'should be okay', that we should be able to work this out. But they'd have to get back to me. Now it's going to be Christmas holiday.
The following Tuesday morning I'm expecting an email saying we have a "Clear to Close" but nothing comes in. Next day at 430 pm I get a phone call from the processor telling me the very same thing she said in her email. That they cannot do the loan because he's not on title. I told her what the supervisor told me on Friday and she said that she knew nothing about that! I left a message and her supervisor called me and told me the same thing. So we have no loan and we lost our opportunity for the 2.625% rate because they have gone up over a point. A big difference in payment on a $200k loan! No apologies! No nothing! This was completely shocking and the worst experience Ever!!! DON'T WAIST YOUR TIME!!! They are more expensive anyways "IF" you can even get a loan!

I have an unsecured loan with Navy Federal and did not make a payment in Nov because I consolidated my debts and payments were going to occur in Dec. So Navy Federal went into my account without any permission and stole 1400 from account. According to them they have the "authority" to go into your account anytime they want! This is the most abuse I have ever encountered with any financial institution. I regret ever banking with them and I won't make the same mistake ever again. Now I'm fighting to get my money since we are a week away from Christmas! As a vet I would discourage anyone from doing business with them because of how they violate their customers. Looking into legal action.

Came to the Ballston location in Arlington to apply for a loan. The loan was to pay for a certification class and moving expenses. After explaining the situation in its entirety to the representative, I was told that I needed to open an account to apply. After opening a checking account, he opened a savings account for me as well although I didn't need it. He then did the loan application and told me to check back in a few days. I decided to call the customer service number about an hour after getting home and was told that my application had been denied. I was also told that the decision was made right away, as in while I was in the branch. After appealing the loan process several times over the course of 4-5 days, I was finally told that Navy Federal does not grant personal loans for job certification purposes, but would be more than happy to help me with my moving expenses.
After applying for a 4th time, I was denied again without a proper explanation. I was told to simply wait for my letter in the mail explaining the decision. I will be starting a new career in California on Monday, Dec. 19, and all Navy Federal has managed to do is waste my time and energy. From the beginning, the representative simply signed me up and left me out to dry. Knowing my application was denied, he told me to simply call back a few days later. Knowing that you don't give loans for certifications, your customer service and lending teams wasted my time and money having me appeal and process several loan applications.
I am going tomorrow to withdraw my money and close my account. I am also recommending my brother, a active member of the (US Army) and my mother, both account holders of Navy Federal to do the same. I have never felt so cheated and swindled by a company in my whole life. I want this to be made very clear: Your company created a checking and savings account for me AND RAN MY CREDIT knowing that the reason for the loan was not something you support. Shame on you and your banking institution for not knowing better.

Barbara FriedbergPersonal Finance Contributing Editor
Barbara Friedberg, MBA, MS is a former investment portfolio manager with decades of financial experience. Friedberg taught Finance and Investments at several universities. Her work has been featured in U.S. News & World Report, Investopedia, Yahoo!Finance and many more publications. More about Barbara→

Navy Federal Credit Union was founded in 1933 with seven members and has grown to have 5 million today. Members must be affiliated with the Department of Defense, Coast Guard, National Guard or U.S. Armed Forces. Immediate family members of the Navy Federal Credit Union can also join.
Products and services: Navy Federal Credit Union offers a complete suite of checking, savings, credit cards and loan products. They also provide online and mobile banking.
Credit cards: The credit union has credit, debit, prepaid, specialty prepaid and gift cards.
Membership benefits: There are a variety of promotions and benefits for Navy Federal Credit Union members including low loan rates, loan and insurance discounts, discount partner offers and more.
Saving benefits: To support saving and financial security, the credit union offers a special high interest rate certificate of deposit.
Mobile and text banking: The mobile app allows customers 24/7 account access and is supported by Apple, Android and Kindle Fire devices. The text banking provides alerts as well as transfers and account information.
Advice and planning: The resource center offers extensive information about managing money, retirement, financial planning, taxes, military and work life. This portal also includes financial calculators, free navy financial planning and home buying seminars.
Security center: The fraud protection portal gives advice regarding credit and debit card fraud, phishing scams, online and mobile security along with ATM security.
Best for Military members and their families who need specialized banking services stateside and overseas.
Compare Banks & Credit Unions
Navy Federal Credit Union Company Profile
Company Name:

Navy Federal Credit Union

Address:

820 Follin Lane SE

City:

Vienna

State/Province:

VA

Postal Code:

22180

Country:

United States

Website:

http://www.navyfederal.org/