Consumer Complaints and Reviews

I was mistreated by the Latham Branch office manager, Susan **. I am a Key Bank silver money market member and have a good credit standing. However, on February 3, 2017 9:30 AM, I was treated by Ms. ** like a potential criminal with poor credit when I tried to deposit three checks from Charles Schwab and asked to cash out one of the checks. She told me I could not get any cash as she does not know me and would not trust Charles Schwab's check either. Even though I urged her to review my bank records to show my credibility, she refused to listen to me. I was humiliated by her abrasive tone of voice and a lack of interest in what I have to say as a customer. She did not take any time to listen to me but showed an arrogant attitude towards me. I am shocked by her attitude and behavior.
If Key Bank is indeed a neighborhood bank, then building a relationship with customers is crucial for the success of your bank. Given the numerous number of banks are available now and the popularity of online banking, isn't a branch office staff's role is help its customer face-to-face? If not, then I see little value of the branch office.
My horrible experience with the Latham branch office is not limited to me. When I was at the bank on 2/3/17, I also heard other customers complaining about the treatment received. I hope this problem is unique to this branch office, particularly Ms. **'s management style. After all a bank built on its customers. If staff are unfriendly to its customers, how would you be a successful bank?

I was a First Niagara customer. Never had any problems. Boy that didn't last long after KeyBank took over. I always check my account online. They have a habit of not deducting your debits from your balance which in my opinion causes confusion. They all took two hundred dollars from my account and the only explanation I got was the online system wasn't accurate. WTF!!! If your online system isn't accurate what's the darn purpose of having it. They bounced my account because my statement was returned in the mail because they sent it to the wrong address. Ten dollars fee plus thirty nine for bounce fee. I'd like to BOUNCE them!!! Don't walk. Run from this bank.

I walked in and waiting for two tellers to stare at me and do nothing. Then the third continued on the phone, and I remained waiting a full four minutes. Then she stared until I walked up to the window, and greeted me. I told her I wished to cash two checks and set them on the counter. She asked me to repeat myself, and I did so and endorsed the checks. Then she asked if I had an account, and that I would have to pay a charge, and noticed it was a company account. She looked at the amount and gave me a rude look. Then she cashed my volunteer stipends, and counted out my money with a look of contempt and counted out the money in a sloppy pile, cash front and back and facing different directions on the counter. I could not reach all of my money. I had to neatly stack what I could, turn the bills all facing the same direction. I had to ask her to hand me the money. What kind of service was THAT?! I will find another bank!

Yesterday, a Keybank account rep called me about two online gaming charges on my account. I didn't know they happened until I checked my online account. I never made those transactions. They said they cancelled my card and I will receive a credit but when I called the day after to inquire about the credit I was told I have to wait 21 days to receive it. I don't have much money and waiting 21 days is out of the question. I have had accounts at other banks and if you dispute charges you don't have to wait 21 days. As soon as I can, I will be closing my account. Keybank sucks!!!

Bonus for signup not honored and nothing but trouble. In short form, I signed up with Key early December 2016 at a previous First Niagara branch in my town: local folks, should be easy enough. Wrong: the 200.00 promo that I qualified for is being denied at this time. Key stated that they did not have a Promo Code. My bank associate had been prepared for any such problems and I was willing to afford Key the benefit of the doubt for a new system with normal glitches. I kept the Promo Code and we resubmitted. Having now read the numerous complaints about Key, still not getting satisfaction regarding the promo and also getting blunt responses and lack of follow up to my emails to I am increasingly regretful for my decision to open an account. I write to inform others of my experience.
How do I know I can trust these reviews about Key Bank?
692,550 reviews on ConsumerAffairs are verified.
We require contact information to ensure our reviewers are real.
We use intelligent software that helps us maintain the integrity of reviews.
Our moderators read all reviews to verify quality and helpfulness.
For more information about reviews on ConsumerAffairs.com please visit our FAQ.

They BANK on that fact that most people do not read the fine print in their policy agreements and then go crazy on your bank account. They have so many hidden charges that it should be a crime. Their banking app NEVER reflects what you spend and what's in you account. They're telling me I had one thing in my account when I didn't and she tried to keep going but luckily I took a snapshot of my balances. And then she had no reason as to why it was happening. Almost every other bank does not charge like that. I really think they are abusing people with charges.

My account was transferred from First Niagara AND IT IS A NIGHTMARE! 300$ in rogue fees (changed setting of overdraft w/o my knowledge), HORRIBLE service, sullen employees (formerly of First Niagara), 2 and 1.5 hours wait time on hold, nothing gets resolved EVEN WHEN YOU VISIT THE BANK - THEY GET ON A PHONE AND YOU SIT THERE WAITING (1 hour!!! 2X!!! and I gave up and walked out). On top of it, THEY DID NOT LET ME CLOSE MY ACCOUNT!!! THIS BANK SUCKS. Now they added extra FEES AT KEYBANK CASH MACHINES!!! I sincerely hope they get investigated. I'm closing my account TODAY, AND IF THEY WON'T LET ME, I'M COMING INTO THE BRANCH WITH BACKUP - lawyer, private investigator, or whatever.

Key Bank messed up my car payment. They took it out fine in October... Double billed me in November and charged a late fee in January and don't why. They have sent me 3 25$ gift cards for the inconvenience! My car got totaled and Key Bank is give me and my insurance company the run around. They are a very unorganized bank and would not recommend this bank to anyone...

Being a military family, when we move, we open an account with a local bank once we get settled, and then keep our main bank which is primarily an online bank. We've never had any issues. Key Bank employees performed so poorly, that we cancelled our account before it was even completely open. We deposited an initial opening deposit of just $50, and here we are three months later, and it still has not been refunded. There's not a single person with this financial institution who seems to be concerned. I mean yes, it's just $50, but it's our money, not theirs. If they will so openly, and literally, steal $50, nothing would surprise me about this bank.

I have been a customer with Key for many years but the last 6 months has showed me that they are getting too big and do not care about the small accounts. It is all about big business. First time user of credit union and loving it. I have 13 accounts at Key and have moved 8 to the credit union and the rest of them will follow as soon as their dates mature.

I had first Niagara, they were bought by KeyBank - nothing has been okay since. Wait times are insane, I can't see details of my mortgage online, they transfer and transfer you and never answer your question - have spent hours on the phone - nothing is resolved. Email customer service over and over and get inane, unhelpful responses back. Took them two weeks to post my mortgage payment FROM KEYBANK CHECKING ACCOUNT TO KEYBANK MORTGAGE AND THEY CHARGED ME A LATE FEE! I could go on and on and on. I am going with another bank - it has been hell and has cost me a fortune. I loathe this bank. Avoid at all costs.

The only reason I got Key Bank was because I moved to Denver, CO from Buffalo, NY. It is basically the only bank that is in both cities. They charge $5 for using any ATM that isn't theirs... Whatever I don't use a lot of random ATMs anyways. So I go home for Christmas and I come to find out they charge for using their OWN ATMs $5!!! INSANE all because it is in a different state... DO NOT USE THEM EVER.

This bank has been one big pain! They are holding a check that I deposited last week until next week due to the fact that I "overdrew" my account a few times - something I wouldn't done except for the fact that they took money out of my account for overdraft fees which shouldn't have been taken out which made my balance a lot lower. This bank should be shut down and by reading other reviews here, I'm not the only one. I can wait to get my money out of this bank, I never had these problems with First Niagara.

I'm about to say the same thing many others have, about how I loved First Niagara, but when they switched to Key Bank they went south quickly. From sneaking little fees in for using out of network ATM's to get your account balance, to the $3.00 today for an "imaged items with statement charge", though I don't get printed statements. I suspect this is because I viewed a cashed check online. Are they just trying to drive business away? It's worked for me. I will find another bank on Monday. Good Lord.

I deposited a out of state check as usual for 20 months in a row without problem. On the 19th month my benefactor wrote a check from a closed account. The next day when the check cleared and I paid my bills online as usual. Three days later I got a call from a Key Bank employee. The check bounced and I was in the hole. When I got there two business day later to deposit a new check from the same source, they told me the account was closed. I waited twenty minutes for the teller to make phone calls. The account was closed, because of FRAUD she told me. Never been in prison or jail. Never bounced a check. NEVER committed FRAUD in my life. I asked if this would go on my credit record in the open portion of the bank where many customers were waiting. She was dismissive while saying NO. I felt like I should apologize for being poor as dirt.

Never in my life have I seen a more incompetent bank! Since Key Bank took over First Niagara I've had nothing but problems!! I've been reading MANY other comments on here regarding similar issues. My mortgage payments getting paid late, one was even labeled as being paid to Comcast. Other checks getting posted to wrong accounts, etc. Frontline customer service reps sound like they have no idea what they're doing and no business being in banking. One rep was trying to tell me that he couldn't fill out a dispute form because he couldn't find Pennsylvania on his computer. He then proceeded to go down the list of states he saw as if I should pick one that sounded like Pennsylvania. Are you kidding me?! Now they've lost a loan payment I made to another bank! It's only been a few months. I didn't have any problems in all of the four takeovers I've been through in the last 17 years! Citadel, here I come!

I had posted payments to go through my account and had sufficient funds. Well I also had written a check and there wasn't enough to cover it (that's why I have overdraft). Well I was told by the Mill Creek branch that if I wasn't there by noon today the check would go as nsf (so what's the point of overdraft?). Anyway she said that if it went nsf my account would go back to positive balance, but yet these CROOKS are going to charge me 5 overdraft fees. Well guess what? You can kiss my ** And ** Off. I'm done with this crap ** bank. They denied a payment of 50.00 when I had over 1000.00 in my account. The customer service guy said "Huh? I don't know why But SORRY we won't reverse the 37.00 fee..." SO today I'm going to close the worst Account I have ever decided to open.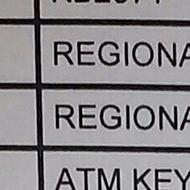 My bank was First Niagara and it was a great bank. Then it was bought by KeyBank. They never have me any mail about their fees nor did they have me sign any type of policy agreement seeing how they were completely new to me. This past Friday I had $28 in my savings account (thank God I usually just withdraw my paychecks the same day!) and KeyBank decided to help themselves to the funds in my account leaving me with a dollar something left. They are incredibly sneaky and I feel as if they robbed me. It is very unfair that they are charging their customers for atm fees when we already lost atm fees at whatever atm we go to out of our convenience. This bank is just truly awful.

I was originally a FN customer and never had issues UNTIL... KeyBank came along. All of a sudden my account has overdraft issues and if I dont know how to balance my own accounts. Their customer service is far beyond below average. Their reps sound like they dont care at all about doing their jobs and was just told that they have no corporate office which I find very to believe. When the ripple effect of their non-customer friendly issues settle, I will definitely be looking into banking elsewhere. And I do hope that these comments are taken seriously because KeyBank just needs to go out of business.

I was a HSBC customer, and then First Niagara customer. They were always fair and the staff was great. Then they switched to Key Bank, and it all went downhill. They say you transfer money account to account is immediate, it isn't. Your deposit, even from an employer, isn't available right away. They charge you fees for EVERYTHING. If you ask me, they are thieves. They say it's their policy. I've had more bogus fees saying our money was just pending, even when it was in our available balance. They are money-hungry, crooked jerks. Do yourself a favor and go somewhere else!

An absolute nightmare! The worst online banking experiences ever. When First Niagara was bought out by Key bank I thought it was great. Much closer to home. I soon found out the constant online banking problems. The app is a complete waste of time, nothing nice to report. Constant problems logging on and payments not sent on time with a simple electronic transfer. The bank has made mistakes and fined me with outrageous fees, I was able to have them reversed but not until I had contacted them a dozen times over a one week span. Completely unorganized, unorthodox, frustrating, annoying, and my banking will change as soon as I decide a better alternative. Run!!!

We paid off our car loan in full in October. We received a letter stating that the loan had been paid. But now in January have not received a title. We have called several times and received a run around. We will be seeking legal counsel.

I reported to the KeyBank branch manager that a check from my customer had not been deposited into my business account after 1 week. I was told that the check was lost. The branch manger said it is not KeyBank's fault and my company would be responsible for any stop check fees and loss of revenue. Summary: If KeyBank misplaces a night drop deposit it is your own darn fault for trusting in their incompetence. This was strike three for them and I just booted them to the curb.

I was a First Niagara customer since I can remember... until they merged with KEY BANK. #1 I did not receive any updated information about any fees ex: (I went over my account 40 cents with a $34.00 fee), 3 separate transactions, combined grand total $6.40 which I was charged $102.00. And I just DISCOVERED today that I was charged 10.00 for an inquiry I made. (WTH?) And lastly I was told I needed to pay $5 an ATM card??? (My old First Niagara bank card is expiring soon). After KEY BANK preys on the check to check working class. As soon as all my transactions process I WILL BE CLOSING MY ACCOUNT ASAP!! Meanwhile I have to argue and justify to the bank that I recipient NO UPDATED CHANGES.

Well first off it's been a few months nowhere close to closing. Loan officer and other involved in the process don't have a clue of what's going on. Bad communication between staff, then relaying pertinent information to me. One person says "Do this." Another says "No do it this way." Like wtf incompetents. Then I have like sent over a good amount of bank statement information repeatedly and their underwriter, etc must be a idiot like come on already. Last, it's add more money to your account towards closing like ** Key Bank. What closing? There's not a date yet and it doesn't look like there is one. I will never recommended this bank for a loan of any sort. Just cash a check and keep going. Go through your credit union. Avoid predatory banks.

I record my calls because it helps me remember. I have customer service lying to me about the dates my card was sent out. They told me it was sent out on the 16th and there was a technical error and it wasn't sent out until 21st with almost 1,000... Really??? For a $15 charge they could get me a new card in 2 to 3 days... I will be reporting them... Customer service sucks!!!

I paid off a car loan through Key Bank recently. The amount of the payoff was more than I actually owed Key Bank, so in return they sent me a refund check. Almost 2 months later they send me a letter from the collection dept, saying I'm delinquent on my loan payment (which mind you was already closed out and had a 0.00 balance on it), and say I owe them another month's payment plus some crazy fee. I've had First Niagara for over 25 years and I'm so sick to my stomach how Key Bank treats their customers. They don't listen to you when you call the so called "Customer Service Dept" if you can even get through to them. I'm at my wits end. I owe them nothing but they insist I do.

I was overdrawn.38 cents on my account. Immediately I transferred 1.00 to cover this delinquency. The same day, the same hour. I got hit for a 34.00 overdraft fee. We went to the local branch to see what they could do, it was less than a buck for goodness sakes, and it was rectified immediately. They could not do a thing to refund us. Well Key Bank, you just lost another customer who deposits 7500 dollars a month into your institution. The merger was a trip, and this was the last straw. Bye bye.

I had an auto loan through First Niagara and everything was going well. I sent my usual payment out earlier this fall, and was later contacted by Key Bank a few days after the due date stating my bill had not been paid. I asked who I was talking to and stated that I did not have an account with this bank, stop wasting my time. The person on the phone asked me if I had been in business with other banks (he started rattling off names), and when he mentioned FN, I said yes. He then proceeded to tell me that KeyBank had purchased First Niagara. I then mentioned how it was nice that no one told me this and that I had sent out my payment. He put me on hold for a few minutes and came back on the phone and stated they had found the check that I sent out, sorry for the inconvenience, and hung up the phone.
My mistake was not taking down his information, the time and date of the call because every month since, this has been a nightmare. Month after month, I have been getting calls from a collection company trying to collect a debt on a bill that has now been subject to many late fees. I spoke to a manager at Key about a month and a half ago who assured me that I was not late on any payments and to wait until the next billing cycle for it to be corrected as it sometimes takes a few days for their accounts to update.
Every month now I have to deal with this. I finally had enough today and lost it and demanded to speak to a manager. His answer was that a payment back in October was returned. I asked why was it returned and he said it was lost. I asked how it could have been returned if it was lost? He stated he was unsure, but it was returned. I then proceeded to ask him if it was returned, why have I not received a voided check back? No answer. I now have a check floating out in the world and no one knows where it is. Apparently I am not the first person that a check was lost on.
Another time on the phone I was as polite as can be until the woman on the phone said that perhaps I don't have funds in my bank to cover the payment. I assured her that being in business over 10 years, dealing with over a dozen banks on a daily basis, there are sufficient funds in the bank. She said well I have no way of verifying that. I then got a little loud and was abruptly hung up on. No big deal, I would have done the same. The issue is, I then called back and spoke to someone yet again, who then told me everything had been cleared, don't worry about it.
Now here I am, another 2 or 3 weeks have gone by and I am dealing with the same "missing" payment. I assured the company that after the first of the year, I will be switching banks because I have never had so much trouble dealing with a bank. Red flags have been flying all over since they took over, and I am very sorry to have lost my relationship with FN as I never had a problem. One time I had a check not arrive on time and they bent over backward to remove the $10 late fee. With Key, I now make electronic payments to be sure they do not lose another payment before the new year.
If you can, do not do business with this company. If you receive an auto loan quote through them from a dealership, request a new bank, even if it means your percentage goes up slightly. There is a reason they are able to offer such low rates. A bank with yearly revenues of $5.8 billion in 2015 should operate a little better than "your payment was lost." Trust me, it is worth a slightly higher monthly payment.

Key Bank acquired my auto loan from First Niagara. They didn't send any written notice of the acquisition. They made an unauthorized withdrawal from my Citibank checking account for the amount of my loan even though they were already paid for the month by my bill payment I set up with Key Bank. Neither Key Bank nor First Niagara were ever authorized to do automatic withdrawals from my account so they basically stole my money. When I called, they said it would take 3 business days for them to look into and expected me to let them keep the money they stole until they could figure it out. I didn't. I disputed the claim with Citibank and got my money back.
I've still had nothing but issues every month. Key Bank gets paid every month through my automatic bill payment with Citibank, but they still have my account multiple months overdue. Their collections department called me yesterday saying my account is several months overdue even though they're actually been paid on time every month. I've been on the phone for over 4 hours for the past 2 days with Executive Client Relations trying to get them to take my account out of collections and they won't. Three separate representatives have hung up on me rather than solve my issues. Kadeau in Executive Customer Relations just told me that my account is overdue because Citibank is paying my automatic online bill pay by sending them a physical check. In the mail. With a stamp. In 2016. And that they haven't received it. Citibank confirmed what anyone but Key Bank could already have figured out- that that's ridiculous in 2016 and not true.
So far, Key Bank took money from my account without authorization, put my account in collections even though they've been paid every month, and lied to put the blame on another institution. And wasted 4 hours of my time so far. And my account is still in collections for no reason. I've never voluntarily done business with this institution and I never will. They should be ashamed of themselves and regulators should think about this kind of behavior before authorizing mergers that only make customers worse off.
Company Name:

Key Bank

Website:

https://www.key.com/