Consumer Complaints and Reviews

Long time customer of Citizens and changed banks several years ago but kept one monthly deposit acct open. I inadvertently overdrafted when I used pay and did not change the accounts. I went to the bank immediately and gave them a check for "cash", which takes a day to clear which caused a second overdraft. (Depositing cash instead of a check would have prevented that but don't count on the bank telling you that.) The second overdraft was charged because they removed the first overdraft fee as a courtesy and that posted a day later, causing a second overdraft fee. The overdraft fee of 45.00 is ridiculous.

I recently needed cash for an after work event, but only had my debit cards. I use two banks, so I have two debit cards. The only ATM in my building is a Citizens one, so I went to get cash from that, but didn't mean to use my Citizens bank ATM card. Perhaps I just associated the Logo and used the wrong card, but a majority of my payroll goes elsewhere and that is the card I meant to use. Ordinarily a bank ATM will alert you that a transaction will cause you to over-draw your account, but allow you to do so if you have opted in. If this warning had come up I surely would have realized I was using the wrong card, but alas it did not.
Some time went by, and I checked this account that I use for vacation saving, when I noticed it was overdrawn. Not the $200 I overdrew, which had actually since been deposited via direct deposit, but was still negative over $150 in fees. For the one transaction. An initial charge of $35, and subsequent charges for $30 for remaining in the negative. Not only had I not received any correspondence to inform me I was in the negative, but was charged an obscene amount of fees. In my multiple attempts to rectify the situation, I was simply informed that the machine doesn't tell me, and therefore they are not responsible.
I can deal, although displeased, and move on. But the fact that the bank does not follow a standard practice of informing you that you will overdraw your account at the ATM is very disappointing. It is not customer-centric, and in my opinion is deceptive. I got 3 different stories, one telling me I was informed of the overdraft, one saying I should have been and a third telling me I wasn't and didn't have to be. Maybe they do not know their own policies. Either way, Citizens is not a bank acting in the best interest of the customer and it should be known.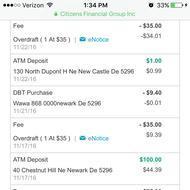 So once again my account is negative $34.01 because I put $9.40 of gas in my car and only had $9.39 in my account. I called and spoke with a representative, who I didn't let know I was a customer. I asked the representative, "Shelia, do you charge overdraft fees for anything under $5.00." Her response was, "No." So I explain to her that I've been charged two $35 fees. I give her my information and she puts me on hold. She comes back to let me know that those charges are valid. Because the transaction that caused the first overdraft to my account by a penny was over $5.00. Puzzled, I told her she didn't say that in the beginning of the call. I advised her she didn't specify that it had to be the transactions less than $5.00 and not actually what the account is overdrafted by. Then I ask her "well how does that apply to other overdraft fee for $4.99 on which I was charged a fee?"
Get this, the rep tells me that, "We didn't charge you a fee for that. We charged you for the transaction before that, on the 15th of November for $21.98." I told her that can't be right because that transaction had posted and my account was current and had a balance of $2.50. Then she proceeds to tell me well the $4.99 charge was already taken away from my balance. My mind was blown. I told the rep Shelia that makes absolutely no sense because the transactions happened a day or two apart and my account had an available balance in it before the transaction for $4.99. She then tries to repeat herself like her logic is right when it isn't. This isn't the bank for anyone with funds or very little funds. They are crooks, I've even been charged overdraft fees for pending transactions. I will stick with my credit union until I find a better bank and I will never suggest them to anyone.

Before applying for education refinance loan at Citizens Bank, I spoke to branch manager regarding loan eligibility requirements. I specifically asked if bankruptcy from 2 years ago would preclude me from being eligible for loan. The manager was very helpful and kind, she stated that she would call me back in 5 minutes, that she was going to ask the lending department my question. I received a call back that I met the eligibility requirements, and to come into branch office to apply for refinance loan. I was hopeful, my credit score 695, and having just bought a house; I knew my credit has come a long way in two years. I went to the branch office, opened an account, deposited $50, and filled out loan application.
To my surprise the loan was denied within 30 seconds of application being submitted. The reason for denial on the letter stated, "Credit history reflects a bankruptcy" and that they carefully considered my application. I was given false information by the bank manager, bankruptcy does preclude you from being eligible for this loan. Secondly, my application was not carefully considered since the denial letter came 30 seconds after submitting the application. First, I wish Citizens Bank would have been honest with me; especially since I specifically asked the question about bankruptcy prior to applying for loan. Secondly, I wish they would have truly "carefully" considered my application. My mortgage company carefully considered my application, and I was able to successfully prove that the cause of my bankruptcy was due to circumstances beyond my control.

I'm sick of this company. I've been a long term customer for over 15 years and I will be closing my account! Twice now they have posted a check to my account on the day of my direct deposit. When I login to my account it looks ok and then the next day they charge me an overdraft fee of $35 saying the check was cleared the day before my direct deposit? How is that possible? Oh wait it's because it's a scam business they do this on purpose!!! They make you think you still have funds available in the account by processing your check early in the morning before your direct deposit hits the account.
I got a $35 overdraft fee for being $18 overdrawn. I called their customer service dept to have it reversed and they wouldn't do it. They said they will only do it once a year. The last time it was done they said was last December so technically it was last year. When I confronted them about it they said it's a rolling year. Way to deceive your customers! Well they lost a faithful long time customer. I will be finding myself a better bank that rewards me for doing business with them!
How do I know I can trust these reviews about Citizens Bank?
639,780 reviews on ConsumerAffairs are verified.
We require contact information to ensure our reviewers are real.
We use intelligent software that helps us maintain the integrity of reviews.
Our moderators read all reviews to verify quality and helpfulness.
For more information about reviews on ConsumerAffairs.com please visit our FAQ.

Within 10 days from 10/24 to 11/7, I had been charged $135.00 in fees 30.00 or 35.00 fee for each account overdrawn. When I asked to waive the fees they told me they only do it once a year and waived $35.00 for me. Right now I have 7 accounts with them. I am about to close all my accounts. BOA is more reasonable.

Opened an account but was never given checks. They were supposed to order a package of checks but didn't. When my wife called them they said they were ordered on the 12th. They did not come by the last date they should have. When asking Customer Service about it they said there was not a record of them. Still don't have any checks and still don't have any answers.

In one month I've been charged 136.00 in fees 34.00 each fee for an account overdrawn by .84 cents. When I asked to waive a fee they told me they only do it once a year and they did one back in February. It's October and it's a different acct. I've requested my pin twice, updated my address with them 3 times and I haven't received a statement or a pin to my cards. Because I live in Florida there are no branches to take my money out. I stopped direct deposits. As soon as I get my pin I'm taking my money to another bank account.

Circle Gold, Family Trust, and overall a very disappointed customer... My suggestion to anyone that is considering this bank is Don't!!! Be aware that this is a classic big bank that only cares about being a big bank. There are so many other options out there with better customer service that I am shocked they are made it as long as they did.

I have been on the phone for at least 2 hours with different reps to get this crazy resolve - can't close acct unless I go to Conn. Bank and I live on Long Island, NY. I finally got a rep who suggested that I would be able to close acct if Bal was down to 0. The problem was they (ATM) was only allowing me to take out $20 and not $25. The next rep told us to go to a grocery store and buy something for $5 and the bal would be zero. This was truly a waste of 4-5 hrs of my life that I will never be able to get back.

Recently, my computer was hacked and rerouted to a scamming agency that basically froze my screens. I did not know this at first. When it was frozen, a message alert popped up indicating that it was Apple Security, that the computer was getting locked due to virus attacks, and that here was this 866 number to call with a case id number provided.
Not realizing that this message was a scam, I called it and the next thing I know, I was told that Apple insurance doesn't cover software but that an antivirus software would be needed. The person indicated that they were an offshoot of Apple Services that handled such software and antivirus needs and that for $199.99, I could have 2 years of this protection. I had my doubts and asked tons of questions - but these seasoned pros had answers to everything. Not knowing any better, I made the payment - it required paying through the bank via ACH.
There was even a message next to the payment process that said that there would be fines and federal reporting if payments were not legitimate! Basically threats about making legitimate payments -- talk about hypocrisy. The person took over my computer to install this software but the computer continued, though now unfrozen, still had issues -- strange messages and alerts. I took the laptop to Apple the next day. Apple told me that this company was a scamming company that victimized at least 5 people a day on their end in this one store! In other words, they were familiar with this scammer! They said to call the bank right away and tell them the situation and put a stop to the payment.
So I called Citizens Bank - I explained it. The representative understood the situation and completely agreed with the fact that such scams can occur and that they would look into this. I was worried about the scammer's ability to go into the account again and asked about protection. The rep said that if they found the scam to be legitimate then they would block the company. If not, then I could change the account number.
Today I received a letter from Citizens for the wrong amount - $119.19 - and the claim was denied on the grounds of "Items under written statement of unauthorized debit cannot be used to dispute non-receipt of goods and services." What does that even mean? An ambiguous statement that is meaningless but the perfect way to not assist and protect the customer?!
I called the claims department and they said well, if it is the wrong amount then I have to file it again. REALLY?! They got it wrong and I have to redo it?
Then I asked about what the statement of reason they gave meant and they said because I authorized it, they can't do anything about it. That's not what the statement read! Worse yet, this was a Chinese rep who couldn't speak well enough to explain anything. She was rude and unwilling to listen. Then she proceeded to say that I should've done my research first on the scamming company before paying.
Well sure! When I am being told that this is an Apple support company and my computer is locked so that I can NOT research anything, suddenly it's all on me. This was synonymous to saying: 'If I got robbed at a store, why did I go to the store in the first place and I should've researched the potential robbers likely to go to that store at that time when I anticipated going!'
I asked her what protection can they give to customers with regards to such scams. She said - none. I told her that this doesn't bode well for Citizens customers and that if word spread on this, then it would reflect poor practices on Citizens Bank. She didn't care. I am definitely considering moving my account, my business account, and my parents' accounts from this bank!

Long lines fewer branches open. More and more branch closing. Now if I need a teller closest one is twenty miles away.

In early June 2016, I called their customer service line and spoke to Diane. Advised her that it appeared all monies I was sending to pay down principal on car loan was instead going to future interest payments. She asked if I was sending it on computer, and when I answered yes, she stated computer was not set up to handle extra principal payments. On future investigation, I also realized that the payments I was making by mail for the same reason were also going to future interest payments. At that time, I asked for a print of all payments going back to beginning of loan (October 2014). This report clearly shows that the extra principal amounts that are being applied DO NOT MATCH the amount I have been sending.
I have now called back numerous times (July 2, July 13, 25, 28, 8/1,10, 17,21), and have supposedly spoken to both Mary ** and Joel ** from the Chairman's Office (highly doubt this) and no one can seem to answer where my money is going. At first they tried to state that I must be filling the payment coupons wrong. Since the coupons state what do you want to go to additional principal, and being able to read and write English, I know this is not true. They then stated they would have to get copies of coupons to see how I filled them out.
I keep getting passed around from office to office and today (August 24th), I received another call from the "Office of the Chairman" and I am back to square one waiting to find out where my money is going. In the meantime, I am doing myself a disservice by not sending extra payments as I know they will not be applied.
I have now reached out to the New Jersey Consumer Affairs Counsel in order to seek assistance filing whatever paperwork is necessary in order to get all back principal payments credited to my account.

Wait for over one week to open a checking account. Their online system is terrible and the customer service is hard to reach.

Applied to consolidate student loan. 800+ FICO score. $100k+ income. Never missed payments. Applied for less than $50K to LOWER a monthly payment that I've always been good on. Sent in everything they asked. Denied. What?

I co-signed a car loan for my daughter who defaulted on payments. Citizens Bank took every penny from my checking account without my knowledge, went food shopping and no money. Stay away from them.

I hate to even check off 1 star for the review, they don't even deserve that. Please save yourself a lot of trouble and do NOT use Citizen Bank. They are horrible. I applied for a HELOC. I have excellent credit rating of 750+. I was told what to submit for information, which I did do. NO call or emails back. After a few days I called for an update to be told they need more info, which I sent. Days later same thing, no calls or emails. I had to call every time to get updates. Finally after 5-6 times of sending info, they sent an appraiser to my home. Then I was told 3 things needed to be taken care of before I was to get the loan (a railing on steps, primary heat in house, and paint the outside because of the paint chips on the house) and as soon as they were done the appraiser would get right back out there to check the work.
I worked day and night over the weekend as well as pay contractors to get the list done. After that no appraiser. I asked him if it would help if I went up and took pics of the work and emailed them to him, he said yes, it may help move the process along which I did. Everything was done and electric heat was installed in every room. Do you believe after looking at the pick he asked me where the pipes from the electric heat run too. He asked if they ran to a furnace??? I called and emailed and was told an appraiser would call me that day. Never happened, I called again and was told I would be contacted within 24 hrs. Never happened. Every time I spoke to the loan officer (whose name I will not give but the initials are BS) I was told he was working on it and he would get back to me shortly.
After working my ass off, 2 weeks later and still getting the run around, I was told I needed to finish the bathroom. I had told them in the beginning that was one of the reasons for the loan. He flat out lied and told me he had told me earlier that the bathroom had to be done. I have all emails and voice mails to prove it. I finally told him that I was going to my local bank (which I should have done to begin with) and to cancel everything. I went to my local bank yesterday, with the paperwork and was approved. ONE DAY. Imagine that. Save yourself a lot of trouble. Do not use Citizen. These people don't care about you. Citizen needs to really look at the people running the online service because as far as I am concerned, they don't care about anyone and have no clue as to what is going on.

The issue that I am addressing is with one branch in particular, the one on Rodi Road in Pittsburgh, located in my local Giant Eagle. At every other branch that I've gone to, the customer service has been exemplary, except at this one particular branch, and to even bring it down to a micro level, one person, Garret **, the assistant manager of the branch. I've dealt with what I perceived to be rude behavior on a couple of occasions once on the phone and another time in person. The latest occurring on May 23, 2016. Whilst discussing matters of my account, Garrett, in the middle of me talking, turned around and walked away from me. When addressing this, he told me that he had nothing else to say, and also that he had to make a deposit drop, without resolving my issue.
I immediately went to Mark the manager of the branch and complained about Garret's behavior, and I also asked for the regional manager's information. Upon further brainstorming, I realized that my argument was moot because I was able to resolve the issue, so I did not contact the regional manager. On June 6, 2016, I received a letter telling me that my relationship with Citizens Bank was being terminated. I immediately felt that this was due to retribution because of my complaint, and possibly discrimination because I am black and Garret the Asst. Manager and Mark the Manager of the branch are white.
I immediately went to the branch to inquire if my account was in fact being closed due to retribution. I spoke with Mark the manager at the Rodi Road branch, and he told me that they would never close a customer's account because of a disagreement and proceeded to tell me that Steve ** at the Edgewood Towne Center branch was in fact the person that put in the request that my account be closed. Mark told me that he wasn't even allowed to tell me that but he wanted to help me.
I then went to the Edgewood Towne Center branch to see if more light could be shed on this situation and spoke with Virginia in customer service and with the Asst. Manager at that branch (who were very nice), and they told me that Steve did not make the request for my account to be closed because they had never seen me at the branch and looking over my account they could not see why my account was being closed. All they knew is that it was being closed and that's all they could really tell me. They were able to see that in fact the request to close my account had actually come from the Rodi Road branch where Mark and Garrett worked.
I then proceeded to go back to the Rodi Road branch to speak with Mark again in regards to why (in a non threatening way) he told me that it was closed from the Edgewood Towne Center, when in fact in was closed from his branch. He listened and said that he didn't believe that Garrett the Asst. Manager would do something behind his back, and he told me that he would do some investigating and get back in touch with me.
Customer service to me is tantamount. I am stickler for it, and I demand good service. If I acted the way that Garrett treated me at my job, I would have been written up or possibly fired. I am disappointed with the way I have been handled by Citizens Bank, when all I've tried to do is be a good customer. I try my best not to bounce checks. I don't commit fraud with my account. I do whatever I can do legally to ensure that my account stays in the positive. I sincerely believe that Garret requested that my account be closed because I complained about his poor customer service.
Then the letter I received made me feel like I am a criminal, especially the last paragraph. I can't believe that as much business that I've done with this bank which on the most part has been positive that I am treated like this. I don't want to go to another bank. I have my direct deposit and everything else linked to this account. I feel that it is my right to complain if I'm not pleased with the service. Not one time during my diatribe with Garrett did I become hostile, I didn't raise my voice, I didn't try to jump over the platform, and I did not threaten him in any way, shape, or form. I just was trying to explain and make my point.

Today is 6/03/2016 and sold my car on 5/06/2016. It was financed through a different bank. On 5/28 I got a letter in the mail dated 5/23 and the payoff check that the bank sent to pay off my car loan (Not sure why they wouldn't overnight something like that). I called customer service and fought with them for 45 minutes about why they wouldn't except that payoff check that was obviously good because it came from a bank. They said I would have to get ahold of the person who bought my car and they would need to call that financial institution. For some reason they didn't accept a motor vehicle proceeds check. So, on May 31st the buyer got a check remade and I had to pay another $100 because my 15 day pay off was no longer correct and my payment was late. We took the payoff check and my personal check for the other amount to the post office and had it overnighted. It was guaranteed to be delivered by noon on 6/1.
I just called on 6/3 to make sure they received the checks and they said it hasn't been paid yet and that it MIGHT get processed today or Monday. The lady on the phone said she had no phone number for the processing department and there wasn't anything I could do. I would just have to wait for my $16000 check to get processed and try to call back later. I have never experienced a situation like this in my life. The buyer of the car is still waiting for the title so she can put it in her name. Her temp plates are about to expire. This financial institution DOES NOT have the best interest of their customers. I would NEVER recommend anyone to use this company for anything. Consumer checking accounts and definitely not any loans.
Another thing that is irritating is they ask for your entire social security number in their automated system and then they ask again when you finally get to talk to a person. Why isn't there another way to verify us as a customer? I know they have more information that they could verify. Anyways, just don't. Just stay away from this ridiculous company.

I received a credit card from Citizens Bank saying that 0% APR rate for 15 months. Needless to say I used the credit card and paid everything on time and in a timely manner. However, I was charged interest for 2 months on the credit card. I called the bank and asked them why? They told me that I received 0% APR on bank inquiries, while interest is applied on purchases. That was not written in the application that I signed or anywhere where I as a customer could have made that correlation when signing the contract. I recommend that no one use Citizens Bank because it is public enemy #1. They are not out there for your best interest and they do not care about their customers. They are a very bad company. I would never use their services again, and I recommend the same for anyone else.

Citizens Bank holds the mortgage to my house and I go to bed nightly praying for help. This is the worst bank I ever had to deal with. I never saw such shady practices! I used to have a checking with Citizens Bank years ago and to this day still get checks from lawsuits that Citizens Bank had to pay over shady business practices. If you live paycheck to paycheck, go to Capital One, much friendlier bank that does not rape you. Karma Citizens Bank, karma.

My husband and I had a car loan through Citizens One, Auto Finance, we paid the loan off on April 13, 2016. We have been waiting for the Release of Lien. Collectively, my husband and I have spoken to 6 people inquiring as to when our paperwork would arrive. Not one person had the same answer. We literally have had 6 different answers. What is so ironic is you hear the "this call may be monitored"... They must never listen to these calls. The same ridiculous customer service is still occurring.
We have spoken to multiple supervisors, inquiring if we could please have an original copy of the Release of Lien overnighted to us, at OUR EXPENSE. But that request was refused. They were so kind to send us a copy of what they supposedly sent. That is not worth the time it took to press send. We have sold the vehicle but cannot move forward with our sale until we have an original. The customer service and lack of action is a complete embarrassment to Citizens One Auto Finance.

On April 9, 2016 I deposited $1000 in cash at a branch ATM. There was an error and my deposit was not processed. I went to speak to the branch manager and filed a claim. She called later that same day and told me that the ATM was serviced and my $1000 was found jammed in the machine. I was told that the money would be credited in a timely manner. As of today April 27, 2016 the $1000 has NOT been credited. I contacted the corporate office today and they apologized and then told me that it would take another 3-5 business days to process. I will not be holding my breath as that's what I was told on the 9th. This is the second time that this has happened at a branch ATM. The first time was on 10/8/15 and it was for $400. After several calls I was credited on 10/21/15 for the entire $400.
This was a small business account. Due to both incidents I have concluded that Citizens Bank does not care at all about their customers. Once the $1000 is credited I will be closing my accounts with them and will be reviewing them negatively on every consumer protection website. I feel it a duty to warn any business or person of their terrible business practices.

It is Citizen One's official policy to send their loan customers a monthly billing statement. You are supposed to get a monthly statement for the amount of payment due and the payment due date. When Citizen One suddenly and unexpectedly stops sending you your billing statements you'll be charged $20 in late fees for not making a payment. How convenient (and profitable) that Citizen One gains from their own failure! When you call Citizen about not getting a statement they'll promise to deliver one. Don't hold your breath. I didn't get a statement for over 6 months. What's even worse is that Citizen One refuses to take responsibility for their blunder and rejects out of hand any reasonable resolution.

Citizen's called me and resolved the issue completely. I have updated my rating based on the additional action they took.
I do believe the inactive account workflow could be improved to include customer email notification and talked to them about it. The representative was polite and understanding.
I appreciate the responsiveness and action taken.
Original Review
Fees charge without notifying the customer. My husband and I have multiple accounts with Citizens Bank- savings, checking, mortgage, etc. One account opened long ago was done as required. Since the mortgage was paid, that particular account has a balance in it but no real activity. Citizens has classified this account as "dormant". Their policy is to charge a fee of $5/month after the account is dormant for a specific amount of months. NO notice is sent to the customer as a warning or alert that this is about to happen or HAS happened. Our other linked accounts are active and we check them online, etc. We have been customers and have had multiple mortgages over the years as new homes were purchased. I called to explain that all of our accounts are linked and have balances more than adequate to qualify for "no fee" accounts. I was told I am not being charge an account fee but am being charge a monthly "dormant" fee.
The fact that we use all the other accounts and pay a mortgage monthly does not matter. That one account is "dormant". I then requested that they close the dormant account and waive the very fees charged of $30. They said they could only waive $10- even at the management level. While the fees charged are small, in principle I believe this is extremely poor customer service. The courtesy of sending a reminder email warning that this account was dormant and could be accessed fees would be an easy and customer focused process to put in place. I work in IT. Customer notification could be done using the email address on file with electronic banking alerts, etc.

I did a deposit at the ATM since the line at the bank window was so long and then the ATM took my money and told me my transaction couldn't be completed. I called the 800 number to be told the ATM was updating and my money would be in after 12 pm. Well after 12 pm no money still. I called the 800 number again to be told it would take 3 to 5 days to get my money.

The worst banking experience I have ever had. The overdraft policies are medieval and embarrassingly tilted toward the banks own procurement of more $$ for themselves. Closed my check acct with them after getting beat by long deposit wait times while my bills were being paid on auto payment. Big big mistake. Very quick to charge fees but takes forever on getting deposited money for actually accounted for. Good for them bad for the consumer. Have an overdraft acct. set up for pay off of remaining fees. Do you think they could even notify me of when the fee is due? No of course they say they, Citizens Bank cannot do that! Why? Oh maybe you will forget on a pay due then they can can charge $20.00 late fee on a 50.00 due payment. Will they notify me ever? No they cannot do that as I no longer have a checking acct with them. Broken, horrible and predatory!

Do not ever do business with this bank!!! You will do yourself a huge fave especially if you are elderly. Not good. And the supervisor (Ashley) from the state of PA, I am from Mass, thinks/thought she owned the bank. She kept me on the phone for over 40 minutes just to get a new atm. Upper management... (training, training) CS is very important these days. I will be closing my account in the next couple of days. Do not open an account there.

I hate everything about Citizens Bank. They are the worst bank out there. I have had so many issues with them. The latest being, I set up overdraft protection on my account, and they still charge you every time you overdraft and they take the money out of your savings account, and then still charge you a service fee. A SERVICE FEE FOR TRANSFERRING YOUR MONEY TO YOUR CHECKING ACCOUNT. When I spoke to a rep, she said "Citizens was technically doing you a favor, by correcting your mistake." ** you Citizens Bank.

I transferred money from another bank on a Friday then decided I did not want to send that much so I transferred some of it back the following Wednesday. The Citizens returned the transfer and charged me $35 and caused the other bank to charge me $25 for the return. After talking to my other bank they said they processed both the same day and refunded the $25 and most banks record the deposit first and it would not cause a insufficient funds situation. Citizens however recorded the withdrawal Wed. the deposit Thur. When I called they said they have been doing it that way for yrs and I would have to pay the $35.
Citizens Bank Company Profile
Company Name:

Citizens Bank

Company Type:

Private

City:

Providence

State/Province:

RI

Country:

United States

Website:

http://www.citizensbank.com/