Consumer Complaints and Reviews

I applied for a visa secure card online with Citizen Trust Bank. Waited for 2 weeks to get approved, they sent me a letter saying. "Congratulations, you are preliminarily approved for your $500.00 cash secured credit card request. Please go to your nearest Citizens Trust Bank Financial Center and open up a certificate of deposit in the amount of $600.00, which will be used as collateral for the credit card. Once complete, please let me know and I will proceed with your loan request. Should you have any questions, please feel free to contact me. Thank you for considering Citizens Trust Bank for your financing needs."
I did everything they ask of me to do! Went to the bank had to fill out another application (on my lunch break from work) it took about 45 minutes to process, then took 2 weeks to receive a letter through mail, then about another week my card came, call to activate it! Finally 2 week past I tried to use my card (DECLINED) okay maybe I need to call and activate my card again, call the number on the card to speak with a live customer service rep gave me the run around until 1 lady said "Your card has been canceled since April 2", it's April 12th (WTF). Why??? I don't know you need to speak with someone at the bank tomorrow morning okay!
Call the bank first thing in the morning lady transferred me, so she get on the phone and say "I don't know why your card was canceled but hold let me find out, okay", she gets back on the phone and says "Did you file for BANKRUPTCY!" Yes I did but I withdrew it, she said "Let me speak to someone and I'll have them to call you back ok!" I was calm! Lady called me back the next day and say "Unfortunately because you file for bankruptcy we can't provide you with a credit card!" Now I'm PISSED but I keep my cool then she goes to say, "I can offer you C.D loan." REALLY. I said "Let me think about it! Are y'all gonna put my money back in my saving account." She said "Yes!"
I'm gonna politely take my ass up to Citizen Trust Bank and withdraw every cent... Reason being? I swipe my card 3 times at 3 different locations. Declined! Not 1 person at Citizen Trust Bank call, send me a letter or even emailed me to let me know that my card was canceled, not 1 living soul at Citizen Trust Bank had the decency to contact me! What if I didn't have any money on me the embarrassment of me swiping my card and it declining! This bank is a joke. I'LL NEVER IN MY WORST DAYS GO BACK AND DEAL WITH THIS UNPROFESSIONAL, INCONSIDERATE, IMPROPER, UNPRINCIPLED BANK! Bad business!!! Rate no star!

A week ago today (as of April 11, 2017) I wrote my wife a check for my son's school fees of 150 dollars. When she cashed the check, Citizens Bank cashed $1500, completely bouncing my account. Wednesday, she called them and gave them the runaround. When she finally was able to speak to a manager from the Macedonia branch, he kept telling her that the money would be there the following day.
Needless to say, Thursday arrived and I still didn't have my money. I managed to get a hold of Citizens Bank on Thursday on Twitter (I'm a Keybank member) and they forwarded my case to the chairman of the board. After that, the money was removed from her account on Friday morning last week. They are to reimburse me 1,350 dollars. I've been calling my bank daily and nobody has seen anything come in from these people. They are also telling my wife now that the manager is not in the bank and that nobody is aware of her case at the local branch. I've tried calling them myself, but unless you have a Citizens Bank account, you cannot get to a real human being. No surprise there, as they seem to be crooks.
This is also not the first time this bank has incorrectly cashed checks. This happened to us once before in less than a year's time. It's funny how they are dragging their feet to get this fixed, while in the meantime I cannot pay my bills or buy food for my child; not like they care anyway. I would be very leery of using Citizens Bank for your needs. I have tried contacting them again, to which they are ignoring my messages. My bank has told me it could take up to five days before they see anything come through, and since Friday was when they took the money, I might not see it until the end of this week. If that's how a bank does business, I want no part in doing anything with them again.

The Charter One was ok bank. After Citizen bank take over, I decide to go out of this bank. They are never send any notice about overdraft fee, and in one day they take me 5X35 dollars. I check like today my account and no overdraft fee. My account was positive and was under one thousand. So I go to the bank and put deposit check. Tomorrow I check again online, and I see overdraft fee. 5X35 dollars So I did talk to them and they are refund one time 35 dollars, and they are not guilty of course. I was mad and I open account with different bank, come to the Citizen bank and close account. Take all my money out. So balance was 0. No debt.
Next day they are reopen my account and let it go for one PayPal payment of the 1.96 dollars, two times, and they are put overdraft fee 3 times again. I did go in the branch and show all paper printout. He was shock and he did not help me. He just explain the every bank working same. He told me "you will not like my answer..." That is shame for Citizen bank and I am go forever. Also I talk to my family about my experience with Citizen bank. 3 of them already open account with different bank and will go out. Never ever more with Citizen bank. NEVER!

I have never seen a bank with more BS fees and BS reasons to access those fees. They charge you $3.50 to use another bank's ATMs, they charge you the usual $35 overdraft fee but if your overdraft is sustained for 4 or more days they charge you $30 each day it is sustained. They have already had lawsuits because of their fraudulent fee accessing. They just find new ways to continue to do the process. Their online banking is not in real time either making it easier to overdraft. It's 2017 Citizens, get with the times. Other banks allow you to see the drafts immediately. They may be still pending but you will at least still see them. With Citizens, you may not see a draft pending to come out so you put money in the account to make sure it's covered when it does but it doesn't matter to them. If they see it on the back end you still get charged and you will see the overdraft charge but never actually see your account go into the negative.
I have been with this company since 2003 and have wanted to switch banks for years. I just never felt like dealing with all of the hassle of changing auto drafts and deposits but I have no choice. They are breaking my wallet. I would rather pay to use another bank then continue to pay Citizens. I previously had to close my savings account with them because they wanted to start charging me to have it even though I had it for 5 years free of charge. Time for a new bank. I would never recommend this bank to anyone. Not even my worst enemy. If I could, I would give them 0 stars but it requires me to put at least 1.

I've paid 200 in fees in the last two weeks (highest fees of any bank I've ever worked either 39$ each!) and they just returned a check I wrote because of the insufficient funds in there due to the all the fees I was charged that started with a 9$ unauthorized charge. It takes them 90 days to process a claim for unauthorized charges before they can issue a refund, this is ludicrous. I am closing this account and I'm done with these crooks, no wonder every time I turn around another branch is closing.
How do I know I can trust these reviews about Citizens Bank?
744,857 reviews on ConsumerAffairs are verified.
We require contact information to ensure our reviewers are real.
We use intelligent software that helps us maintain the integrity of reviews.
Our moderators read all reviews to verify quality and helpfulness.
For more information about reviews on ConsumerAffairs.com please visit our FAQ.

Not surprising to read all of the reviews below! If you are reading, do you remember how the Founding Fathers used the pen to win the victory against our stalwart enemies in the England of that day (only). Well, let us press forward by using that same weapon. It still works!!! The written word. Thank God for the First Amendment.
If you are reading and you need a good bank that will take care of you (even though I disagree with a particular cause that they really support) - they are kind, accommodating, consistent, up to date, sober, serious and engaging about your money and what matters to you regarding the stewardship of your money. CHASE BANK is the place to go. They have gone to bat for us on a few matters and always take care of us. Citizens Bank, contrariwise, like the bullies that they are in fact, brings the bat, club us to death with it-then says "Anything else I can do for you?"...with a rattlesnake smile after their bite! Run!!!
If, on the other hand, you like bullies, you like to lose money, you like to spend hours and hours and hours going in circles on the phone, getting nowhere-ESPECIALLY IN THE OFFICE OF THE CHAIR- then, you will love these snakes! Even mean people would hate this bank. Three women in the Office of the Chair, composed a letter filled with lies- merely because the one they received from an organization which watches out for the "little guy", who wrote to ask their side of the story regarding the troubles they have been causing us.
For example, when I shared that we had not received the records that I requested from Citizens and that it was asked of several workers at Citizens, that it was our legal right to get them from Citizens, (we still have not received those records showing how much we have paid to them) this watchdog outfit asked them if they responded and RA___, she replied by lying and writing back to the watchdog group "The ___ have received their paperwork as asked for; (penned also by STA___ too) and we have resolved this issue." She even placed it on their system computer, so that if a customer service worker looks on there to help me-the lies and confusion go deep into the notes which in turn causes these workers in Customer Care to not believe you! Nice game huh?
If you have been bullied too, call the media-tell your story, expose these bullies for who they are! Call the BBB, and the Consumer Financial Protection Bureau- write to them, tell the truths that need to be exposed. Save others and help those of us who are still battling the beasts and expose their bullying. Citizens pay their people a lot of money to "act" as if they are listening to you in order to help but them "sword your gullet", in the end, (if you disagree or investigate the truth any action at all that they have done), with what you have shared. Terrible!!!
So, basically, they have coined the game of figuring on this reasoning "nobody can touch us". I surely will be applauding when they fall. Allowing them to remain, or to remain but not to have to be held accountable, is irresponsible at so many levels. One of the complaints below says that there are "Several" Class Action Suits against this bank!
Our experiences matches exactly the wisdom of my legal counsel in Buffalo, New York . When asked about them, this legal counselor (who used to work for another bank in Buffalo, within legal) described Citizens Bank in this way - "Of course they are running you around on this issue. Yes, I understand. They are well known for not caring about anyone or anything." I asked "How comfortable would you be in taking on this case?" Their reply was "I personally would do anything you need; but, my organization is going to be a mixed on it because corporate would like to maintain all good banking relationships in our area of business. " I understand this legal counsels position; unfortunately it is wrong and it is how much evil is allowed and often, therefore, still occurs.
Really, we cannot say enough about the craziness you will have to endure if you choose to entrust your money to Citizens Bank, whose corporate offices are in Rhode Island. Do not risk it! Our stories go on for pages, but, to remain confidential and respectful, this is the tip of their iceberg!

Citizens Bank is a bank I will not recommend to anyone especially if you are **, Hispanic or disabled. I am a first time home buyer so I was excited about purchasing my first home as a single mom. When I applied, I got my pre-approval. I shopped for a house found one. I paid for my inspection and appraisal and put a down payment on the house. I got my grant money for closing. My credit is good and my income is steady. Citizens ask me if I was married. I told them no. They wanted a written statement to say this so I gave them one. The loan officer told me it will not be a problem to get my loan. By the way it's for 33,000 dollars for the home. Citizens Bank has harassed me and discriminated against me from day one. So now we are at the very end of the process of getting the loan and they tell me they can not process my home loan till they investigate my marital status.
I was told they are going to put my personal information through a special database that will go throughout the United States to find out my marital status and anything else they needed to know. I am not just disappointed. They are not and have not been professional throughout the process. They have violated my rights. I am writing Washington D.C. I might have a lawsuit base on my information. Citizens Bank is trying to find was ways to turn down my loan. I am sorry I applied with them. I regret it. I do believe they will deny my loan.
I will have my lawyer on standby for litigation. I also want to say the loan officer I had was giving me misleading information. I had to go to outside sources to get the truth. The loan officer also tried to get me to pay more than I was suppose to pay to the appraisal which was outrageous 555 dollars. Banks like Citizens Banks should be investigated for Discrimination. They should be accountable and responsible for their action.

I just closed my accounts and waiting for my direct payments rerouted to another bank. We had a business credit card that we had fraud issues with it. We thought it was resolved and closed. Then a year after we get a bill to say we owe 11,000+ and they have gone without permission into our accounts and took money. Two years of hassle and a year and half to just produce statements that didn't show what were the 11k for! Then they close the inquiry saying I didn't provide information (which I did four times) and although the chairman office was involved it was a waste of two years and long hours and they send me a letter TODAY pay the balance of 3k+ by TOMORROW! And still no answer why, where and what and when those purchases were made! So good luck with this. I have banked 15 years with you and you have been very disappointing!

It took 13 weeks to close on this loan and I had the seller threatening to end the sale because we were still not closed and at 12 weeks I still had not received a closing date. I have EXCELLENT credit and I was very fast to respond to all requests within 24hrs providing all document and it still took 13 weeks. I applied for my mortgage through Citizens back on October 24th 2016. The seller was threatening to end this sale and I would have lost over $40,000 on this home due to everything we put into the property while we were renting to own it for the last year until our previous home sold. It took over 4 weeks to get an appraisal, and the communication has been very disappointing and unprofessional. All documents requested from me were provided within 24hrs every time unless it was something we needed from the seller who lives several states away but was still provided in a timely manner.
The first mortgage person, Maria ** quit and it seemed like my loan just got pushed to the side, then her boss Kent ** took over and he never had any updates or seemed to know what was going on. Then I was working with a new employee, Rebeccah **, who doesn't return phone calls or email requests and seemed to have no idea what was going on. I was also given a number for someone named Mark, who I was told could help and apparently he was no longer with the company for the last three months.
Just to give you an idea of how messed up this process was, I had Rebeccah ** ask me at the very end of December to satisfy all of the open items from the appraisal I had in November. I had to inform her that I had the appraisal in November and all items were satisfied and approved by the appraiser and the report was sent to her on December 9th 2016. I even followed up with the appraiser to ensure the report was sent. Which it was and he stated that citizens even requested him to make changes to it. No one told me I needed a water test but I knew that would be required due to the FHA requirements and scheduled it and sent the results in.
In late December I had to resign several documents from October because Rebeccah said they are not allowed to be signed electronically for FHA and I need to hand sign them all. Finally on January 10th it looked like we were going to FINALLY close and I was provided another closing disclosure to sign. Then on January 12th I get a call at 5:00pm that I would not be closing on Friday and the $15,000 credits that were supposed to be applied won't be and that I would not need the $15,000 in closing costs!? I signed several Closing Disclosures from October through January and all of them included the $15,000 credit and had closing costs less than $1,000. Now after 12 weeks they just tell me "Oh wait you can't use that and you need to pay $15,000 in closing costs or you can't close."
Back in November I even verified with Kent ** prior to purchasing my new appliances and he stated that the closing costs would not be anything more than the $700 on the CD and that I would be perfectly fine purchasing my appliances as long as I didn't open any additional credit which I didn't, I paid cash for them. Now January 13th I had to return my new appliances, took money out of my 401k, and had to ask for gift money. Rebeccah provided me with gift money forms. She NEVER said it had to be a family member. Then Jim ** gets involved and tells me it must be a major family member. I NEVER ask to borrow money from others and I broke down and asked a few family members. I was able to come up with enough, had the forms submitted and then they proceed to tell me I need to go back and ask for bank statements from all of them. Nowhere in the instructions did it state they needed to provide bank statements.
There was no way I was going to ask family to provide me with their personal bank statements. I asked Jim why Citizens can't just verify the information they needed with the bank using the information provided. He said that wasn't an option. I then asked if the seller pay could pay for the closing costs? I am not sure why no one suggested this from the beginning. He said that we could do that and that was how we were able to finally close. I almost didn't go on my honeymoon on January 19th because I thought we were going to have to pack and move and be losing $40,000. My husband made me go and the next day I found out from my attorney that we were able to close and that she was setting it up for January 23rd. Do you think anyone from Citizens called to discuss this with me NOPE. I felt like no one had a care in the world about my loan and I had no one to ask questions or provide answers to.
It was horrible. It honestly has been a very sad experience and I am very disappointed. I don't understand how this was even possible. My attorney and random people in the office all hugged me on the day of closing telling me that this was the most brutal home buying experience they ever seen in their entire career. My attorney will refuse to work with anyone who deals with citizens bank now.
Now I just found out that they never set it up for Bi-Weekly payments as requested and that Citizens does not do bi weekly payments. Also the worst part is that I originally wanted to go Conventional and was told I had to go FHA in order to use my $15,000 credits. However on week 12 of this process I was told I wasn't able to use those credits and I am now stuck with a FHA loan until I can refinance to a conventional.

I wrote a check from a credit card that I called credit card before I did it and they said it's good. Well it didn't go thru. Went to my bank, talked to the manager, we sat in her office, called the credit card co. They told her for me to write another check. Everything was good well no. Now they canceled my checking acct. Went to pay 2 two credit cards same bank same address. No I can't do that manager said and if I didn't like it pay off my cards and I didn't have to come back.

Have been a loyal customer of Citizens Bank for over 15 years, never late on a payment. Checking division does not have access to mortgage payment division. Deposited $10K via phone to have funds automatically withdrawn from my checking and applied to my home equity mortgage. Instead of applying the one monthly payment toward home equity and putting the remainder of the funds in my checking account, remainder of funds were applied to the principal of home equity loan. Assumed funds were available in checking and auto withdraws were being made toward home equity. Received a notice that my checking account was cancelled and overdrawn.
Contacted bank to resolve issue, rude customer service, nothing they could do and I should have known that the 2 divisions were separate and do not have access to both accounts and do not communicate with each other. Too bad for me. Can't refinance soon enough with another bank... too bad for you Citizens as I was a loyal customer and you made a ton of money off of me.
You should take more care to treat your customers with respect and do not demean them like Rose in the Raymond NH branch did to me. She told me I should have known how banks work (checking does not communicate with loans-yet I had to have a checking account for auto withdrawals tied to my home equity mortgage). She claimed she even worked for marketing firm and knew how the banking industry worked. Well isn't she just miss wonderful...except for her customer service skills and superior attitude. You just cost Citizens Bank probably $60K in interest with your higher than mighty, condescending attitude. Now they will not even take care of my overdrawn fees for my closed checking account. Yep it is only $102 but it is the principal of the matter. Customer service is pitiful, find a bank that respects its customers and does fair business.

I was literally speaking with Citizens Bank reps from 1 pm Friday til 11 pm Friday. I had an overdraft a day to not receive anymore fees. I asked the best way after given false info by a supervisor. It was after 6 pm so I could not go to bank. I asked could I deposited a check from my mom from Citizens Bank on Saturday to assure no further fees on Monday. She said no. She said I had to do the deposit. Friday by 10 pm through atm. Well I said it will be a Citizens Bank check. They said fine. She wrote it for more than the overdrawn amount so I could have a few bucks. Well it took the check and didn't let me get a withdrawal.
So I called once again. They told me I'd most likely get the $30 fee bc the deposit wouldn't hit until Monday when the fee would hit. And further stated I should've waited til Saturday, cashed the check and deposited. I explained the rep with her name what she said. They said "I apologize but I can't do anything bc I wasn't in the conversation." I'm so upset, I'm terminally ill, the overdraft happened NC. My insurance wouldn't pay for my med and I really needed it. Now I'm out another $30 plus we start all over with an overdraft of $35 then the $30 kicks in bc I don't receive a check til February 1st.
This is absolutely fraudulent, the check should've been recognized as a Citizens check and treated as cash as other banks do, and the fees/deposit should cancel each out and I should be in the positive Monday. Unfortunately I'm stuck with this acct. bc of financial situation and images new customer as of January 8th. God bless me. Thank God I only have several more months of life left.

I have two auto loans with Citizens. Always pay on time, yet every time I try to log in it is a different story. Login fails and blocks me out after one attempt. Website is not user friendly. Calling tech support is a joke, as the story changes along with the policies and every instruction they give you to correct the problem is changed with every call you make. It seems almost on purpose, as you can never really correct the problem nor find someone competent enough to correct it once and for all. Why offer a service you can't use. As for honesty and reliability, I suggest you look for another banking institution and save yourself the utmost aggravation. They treat you as though you are the one doing something bad or wrong and offer no real assistance. They just want to take your money. I wish I had never gotten the loans. NEVER AGAIN - buyer beware.

When I opened a CD with Citizens I was told I had to pay for paper notifications so of course I did everything through efile. I had a very sizable CD come due with NO NOTIFICATION from the bank. It was at 1.25% interest & they rolled it into .03%! When I called they said I should have checked their site for alerts. So I said "hold on while I look" and she said, "It's gone. It's too late now." HOW CONVENIENT. We are talking September, 3 months ago! I requested to either refund me the account with no penalties or roll it into 1.25%. They refused both. I am furious. I am nothing but a number to them. I am so done with that bank!

We received a letter the bank was canceling our accounts for no reason. We have disabilities and we have only done banking with Citizens for 35 yrs. It was a man named Ryan ** who signed the letter. We are hurt, it has caused us great harm. In all 35 yrs Citizens and all its employees have been good to us. There is a "not so friendly people there." The letter stated we could not have access to our monies. A lawyer may have to be involved.

Horrible, unethical practices! I've had a few accounts with this bank since the 90s and over the past few years, I've noticed they have changed their policies and it's not for the better! They create extra fees and extra charges anywhere they can. They hold checks meant for deposit so that a member's account will go into a "negative state". They do this so that they can take even more money out of your account for themselves. I tried to call and speak to a Manager and I went in circles on the phone for over an hour. It's pointless. Truth be told ---They will do anything to take your money under their insufficient fees policy and/or their other "fee for everything policy".
Citizens is a "scam". Just read all the reviews on this website. We can't all be telling the same story by coincidence! I've told them that I do not want overdraft protection, but yet, they apply it anyway. They don't listen. They hit my account for the fee anyway. Buyer beware! Run from this bank! Once my last pay deposit goes in, I'm taking my money and I'm going to another bank. The buck stops here. No more free rides from me Citizens. Move on to your next victim! I'm out thousands of $$$ in fees that this bank pocketed! Biggest mistake on my part was staying with them as long as I have!

This bank is very crooked. They charge overdraft fees that should be regulated by the federal reserve. They purposely put their customers in debt. It's illegal to overcharge customers every four days. They are abusing American people. It should be investigated immediately and have government restrictions on overcharging. One overdraft fee is sufficient not 4 in a month when the person overdrafted by a few dollars. America, Donald Trump please put a tight eye and clamp on this bank's crooked process.

So, I change my bank to Citizens Bank. My first deposit was my payroll check. The teller tells me it will be posted on Tuesday which still gives me time to finish Christmas shop for my daughters. Tuesday comes around the bank makes only 200 dollars of my check available and the other amount was on hold. I called the consumer's services and then was the FIRST to explain they hold for seven days.

Citizens Bank canceled my account without giving me any reason. And now just suddenly they closed my account without any previous note. Just have some bills that were not paid, due cards and accounts closing. I felt like treated with disrespect and never in my life I thought could be treated like that.

On-time payments? Check. More than the minimum? Check. Carrying low balance? Check. Well apparently in the upside down world of Citizens Bank Credit Services, this means your credit balance is decreased. My FICO score went up 18 points in the last two months, DTE decreased and Citizens response is to lower the limit on my card dramatically. Oh, but this is not the first infraction... In fact, this is the second time Citizens has lowered my limit after paying down the balance of the card. Citizens rewards good credit behavior by negatively impacting your credit.
At this point, all I can do to decrease the damage Citizens causes is close the card, which also doesn't look good on your credit report, but it's better than leaving Citizens the perpetual ability to decrease my score. I spoke with a Customer Service manager on two occasions and it was like speaking to a machine, more interested in citing the clause "it is in our contract to re-examine and adjust your account at any time". There is no human factor to the conversation, let alone consideration of the facts on a case by case or customer by customer basis. Unethical and irresponsible management of your credit. Avoid at all costs!

Long time customer of Citizens and changed banks several years ago but kept one monthly deposit acct open. I inadvertently overdrafted when I used pay and did not change the accounts. I went to the bank immediately and gave them a check for "cash", which takes a day to clear which caused a second overdraft. (Depositing cash instead of a check would have prevented that but don't count on the bank telling you that.) The second overdraft was charged because they removed the first overdraft fee as a courtesy and that posted a day later, causing a second overdraft fee. The overdraft fee of 45.00 is ridiculous.

I recently needed cash for an after work event, but only had my debit cards. I use two banks, so I have two debit cards. The only ATM in my building is a Citizens one, so I went to get cash from that, but didn't mean to use my Citizens bank ATM card. Perhaps I just associated the Logo and used the wrong card, but a majority of my payroll goes elsewhere and that is the card I meant to use. Ordinarily a bank ATM will alert you that a transaction will cause you to over-draw your account, but allow you to do so if you have opted in. If this warning had come up I surely would have realized I was using the wrong card, but alas it did not.
Some time went by, and I checked this account that I use for vacation saving, when I noticed it was overdrawn. Not the $200 I overdrew, which had actually since been deposited via direct deposit, but was still negative over $150 in fees. For the one transaction. An initial charge of $35, and subsequent charges for $30 for remaining in the negative. Not only had I not received any correspondence to inform me I was in the negative, but was charged an obscene amount of fees. In my multiple attempts to rectify the situation, I was simply informed that the machine doesn't tell me, and therefore they are not responsible.
I can deal, although displeased, and move on. But the fact that the bank does not follow a standard practice of informing you that you will overdraw your account at the ATM is very disappointing. It is not customer-centric, and in my opinion is deceptive. I got 3 different stories, one telling me I was informed of the overdraft, one saying I should have been and a third telling me I wasn't and didn't have to be. Maybe they do not know their own policies. Either way, Citizens is not a bank acting in the best interest of the customer and it should be known.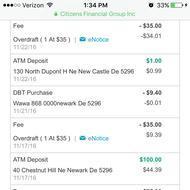 So once again my account is negative $34.01 because I put $9.40 of gas in my car and only had $9.39 in my account. I called and spoke with a representative, who I didn't let know I was a customer. I asked the representative, "Shelia, do you charge overdraft fees for anything under $5.00." Her response was, "No." So I explain to her that I've been charged two $35 fees. I give her my information and she puts me on hold. She comes back to let me know that those charges are valid. Because the transaction that caused the first overdraft to my account by a penny was over $5.00. Puzzled, I told her she didn't say that in the beginning of the call. I advised her she didn't specify that it had to be the transactions less than $5.00 and not actually what the account is overdrafted by. Then I ask her "well how does that apply to other overdraft fee for $4.99 on which I was charged a fee?"
Get this, the rep tells me that, "We didn't charge you a fee for that. We charged you for the transaction before that, on the 15th of November for $21.98." I told her that can't be right because that transaction had posted and my account was current and had a balance of $2.50. Then she proceeds to tell me well the $4.99 charge was already taken away from my balance. My mind was blown. I told the rep Shelia that makes absolutely no sense because the transactions happened a day or two apart and my account had an available balance in it before the transaction for $4.99. She then tries to repeat herself like her logic is right when it isn't. This isn't the bank for anyone with funds or very little funds. They are crooks, I've even been charged overdraft fees for pending transactions. I will stick with my credit union until I find a better bank and I will never suggest them to anyone.

Before applying for education refinance loan at Citizens Bank, I spoke to branch manager regarding loan eligibility requirements. I specifically asked if bankruptcy from 2 years ago would preclude me from being eligible for loan. The manager was very helpful and kind, she stated that she would call me back in 5 minutes, that she was going to ask the lending department my question. I received a call back that I met the eligibility requirements, and to come into branch office to apply for refinance loan. I was hopeful, my credit score 695, and having just bought a house; I knew my credit has come a long way in two years. I went to the branch office, opened an account, deposited $50, and filled out loan application.
To my surprise the loan was denied within 30 seconds of application being submitted. The reason for denial on the letter stated, "Credit history reflects a bankruptcy" and that they carefully considered my application. I was given false information by the bank manager, bankruptcy does preclude you from being eligible for this loan. Secondly, my application was not carefully considered since the denial letter came 30 seconds after submitting the application. First, I wish Citizens Bank would have been honest with me; especially since I specifically asked the question about bankruptcy prior to applying for loan. Secondly, I wish they would have truly "carefully" considered my application. My mortgage company carefully considered my application, and I was able to successfully prove that the cause of my bankruptcy was due to circumstances beyond my control.

I'm sick of this company. I've been a long term customer for over 15 years and I will be closing my account! Twice now they have posted a check to my account on the day of my direct deposit. When I login to my account it looks ok and then the next day they charge me an overdraft fee of $35 saying the check was cleared the day before my direct deposit? How is that possible? Oh wait it's because it's a scam business they do this on purpose!!! They make you think you still have funds available in the account by processing your check early in the morning before your direct deposit hits the account.
I got a $35 overdraft fee for being $18 overdrawn. I called their customer service dept to have it reversed and they wouldn't do it. They said they will only do it once a year. The last time it was done they said was last December so technically it was last year. When I confronted them about it they said it's a rolling year. Way to deceive your customers! Well they lost a faithful long time customer. I will be finding myself a better bank that rewards me for doing business with them!

Within 10 days from 10/24 to 11/7, I had been charged $135.00 in fees 30.00 or 35.00 fee for each account overdrawn. When I asked to waive the fees they told me they only do it once a year and waived $35.00 for me. Right now I have 7 accounts with them. I am about to close all my accounts. BOA is more reasonable.

Opened an account but was never given checks. They were supposed to order a package of checks but didn't. When my wife called them they said they were ordered on the 12th. They did not come by the last date they should have. When asking Customer Service about it they said there was not a record of them. Still don't have any checks and still don't have any answers.

In one month I've been charged 136.00 in fees 34.00 each fee for an account overdrawn by .84 cents. When I asked to waive a fee they told me they only do it once a year and they did one back in February. It's October and it's a different acct. I've requested my pin twice, updated my address with them 3 times and I haven't received a statement or a pin to my cards. Because I live in Florida there are no branches to take my money out. I stopped direct deposits. As soon as I get my pin I'm taking my money to another bank account.

Circle Gold, Family Trust, and overall a very disappointed customer... My suggestion to anyone that is considering this bank is Don't!!! Be aware that this is a classic big bank that only cares about being a big bank. There are so many other options out there with better customer service that I am shocked they are made it as long as they did.

I have been on the phone for at least 2 hours with different reps to get this crazy resolve - can't close acct unless I go to Conn. Bank and I live on Long Island, NY. I finally got a rep who suggested that I would be able to close acct if Bal was down to 0. The problem was they (ATM) was only allowing me to take out $20 and not $25. The next rep told us to go to a grocery store and buy something for $5 and the bal would be zero. This was truly a waste of 4-5 hrs of my life that I will never be able to get back.
Citizens Bank Company Profile
Company Name:

Citizens Bank

Company Type:

Private

City:

Providence

State/Province:

RI

Country:

United States

Website:

http://www.citizensbank.com/