Can I use a personal loan for my down payment?
It won't work for most mortgages, but there are other ways to keep down payments low



Written by

Edited by
Find Personal Loans near you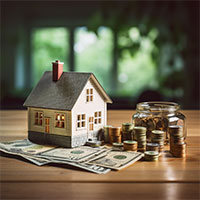 In a competitive housing market, your down payment could be what's holding you back from buying your dream home — or from even entering the market.
The average cost of a home in the U.S. in the second quarter of 2023 was $495,100, according to the Federal Reserve Bank of St. Louis — meaning you'll need around $99,000 for a 20% down payment. Considering the average salary is around $61,000, according to the U.S. Bureau of Labor Statistics, saving enough for a down payment could take longer than you hope.
While a personal loan may seem like a good option, it's likely not your silver bullet. Most lenders won't let you use a personal loan as a down payment. Instead, consider the options below that can help you get into a new home, regardless of whether you're bringing 2% or 20% to the table.
---
Key insights
Mortgage lenders usually don't allow personal loans for down payments because it affects borrowers' debt-to-income ratio.
A 20% down payment is recommended to avoid mortgage insurance, but some programs allow significantly less upfront — sometimes just 3% or $100 in special cases.
Homebuyers can use government-backed loans, local programs, 401(k) loans and gifts from relatives to come up with a down payment.
Do mortgage lenders allow personal loan down payments?
Most mortgage lenders do not allow homebuyers to use a personal loan as a down payment. This is because the bank wants to protect its investment and needs to know you'll be able to repay the loan. It doesn't want you taking on more debt to pay off another.
Why most mortgage lenders don't allow personal loans
There are two major reasons why using a personal loan for a down payment isn't a good idea.
It can impact your debt-to-income (DTI) ratio. To determine how much mortgage you can afford, lenders examine how much of your income goes toward your debt payments. Credit cards, car payments, student loans and personal loans all impact your DTI ratio and the overall mortgage amount you'll qualify for. Most lenders require a DTI ratio under 43%, but it can be as low as 36%. If you take out a personal loan, it may disqualify you for a mortgage if your DTI ratio is too high.
It may signal to your lender that you're not ready to buy a home. "Using a personal loan may raise questions about the borrower's financial stability and ability to handle future mortgage payments," said John Grace, a financial advisor with four decades of experience and the founder of Investor's Advantage Corporation in Westlake Village, California. "Lenders closely evaluate the source of funds for down payments, and relying on a personal loan might lead to additional scrutiny of the borrower's financial situation."
When mortgage lenders might allow personal loans
There are rare situations where you might be able to use a personal loan for a down payment, depending on the lender.
If you're moving for a job and can prove you'll be able to make payments based on your new salary, you could use a personal loan to buy a home. This only works if your new job will significantly impact your DTI ratio. You'll also likely have to work with your employer to provide proof of your new salary.
If you can prove that you have money coming in (through an inheritance, property sale or bonus), you can sometimes use a personal loan to make an offer and carry you through until the money arrives.
Before assuming any of these situations will work for you, check with your lender. Your lender will verify and substantiate your down payment before approving your loan.
» COMPARE: Best mortgage lenders
How much is a down payment for a home?
In addition to a down payment, you should also budget for closing costs, which can be 2% to 5% of the home loan amount.
A big misconception for many first-time homebuyers is that you need to bring a 20% down payment — which simply isn't true.
Most homebuyers try to put 20% down because then they won't have to pay for private mortgage insurance (PMI). PMI costs around 0.5% to up to 6% of your total loan amount and protects your lender if you aren't able to make payments. After you reach a loan-to-value ratio (LTV) of 80%, you can usually remove the PMI and save some money on your monthly payments.
For first-time homebuyers using a conventional mortgage, the minimum down payment is 3%. But most lenders require a minimum 5% down payment for a conventional mortgage.
Down payment assistance programs
Coming up with a down payment of even 5% could be a big financial undertaking for some. If this isn't an option for you, there are many programs out there that can help.
While many of these programs require an extra step or two to qualify, they could be a better option than taking out a personal loan.
How to avoid using a personal loan for a down payment
If you don't qualify for any of the programs listed above, there are lots of ways to scrape together the amount you need for a down payment.
Take the time to save
For some people, all it takes is more time. Consider coming up with a budget, so you'll know when you hit your savings goal. You can also wait until you receive your tax refunds, bonus or any inheritances coming your way. While waiting doesn't always feel like a great option, it may be the most financially responsible.
Find a local program that covers down payments
The U.S. Department of Housing and Urban Development (HUD) lets you search for local homebuying programs that can help with down payments. The National Homebuyers Fund provides grants to low- and moderate-income buyers that can cover up to 5% of your total down payment.
Focus on improving your credit score
The better your credit, the higher the likelihood you'll get approved for a conventional loan with a small down payment. Some conventional loans allow as little as 3% down for folks with high credit scores. You can improve your credit by paying down your debt (especially credit cards) and making payments on time.
Ask someone close to you for help with the down payment
Having a friend or family member cover the down payment, either as a gift or an interest-free loan, isn't for everyone. Yet, if you do have a strong relationship with someone who can financially support you, it could help you secure the home of your dreams. Come up with a repayment plan before you've made the purchase, so the only thing you have to figure out is moving into your new home.
Ask them to deposit the amount into your account as soon as you've figured out a payment agreement. If it's a loan, your lender will add it to your DTI. If it's a gift, your lender may ask the giver to sign a gift letter to legitimize the transaction.
Leverage a home equity loan
Perhaps you've found your dream vacation home or a great investment property but you don't have the cash for a down payment. If you already own a property, you can use the equity you've built toward the down payment on your new home.
Take out a 401(k) loan
While not the best idea, you can borrow from your retirement plan to cover your down payment. Only do this if you're certain you'll be able to repay the amount you borrow so you can protect your retirement.
FAQ
What can't you use a personal loan for?

You can't use a personal loan as a down payment on a house or to pay your college tuition.

You can use a personal loan to consolidate debt, to cover financial emergencies, on weddings or special occasions or to pay off medical bills.
What is a down payment grant?

A down payment grant is money given to you by a down payment assistance program (DPA) to help you purchase a house. It can cover the entire down payment or a percentage of the down payment or closing cost. States, counties and cities all have their own DPAs. This money doesn't have to be paid back.
Who can gift money for a mortgage down payment?

Any blood relative can gift money to support someone making a down payment on a house. If the money is a gift, then it can not be repaid. Otherwise, it is technically considered a loan.
Will a personal loan impact my credit score?

Yes, a personal loan will impact your credit score, but not necessarily in a negative way. Making consistent, on-time payments for extended periods of time can improve your credit score. If you're late on a payment, it'll do the opposite.
Are there any other costs beyond the down payment associated with buying a house?

You can expect to pay 2% to 5% of your home loan amount to cover closing costs on your new house. So, if your mortgage is for $300,000, your closing costs could be $6,000 to $15,000. Renovations might also be something to budget for, depending on the condition of the house.
Bottom line
Navigating the path to homeownership can be frustrating, especially if you don't have the down payment you need when you find the right home. While using a personal loan may seem tempting, it likely won't work. Most lenders discourage or even prohibit homebuyers from using personal loans for their down payment.
Yet, there are many alternative paths to coming up with a down payment. Whether you tap into specialized programs like FHA loans or USDA loans, lean on local initiatives or leverage a personal relationship for help, options exist for your unique financial scenario.
---
Article sources

ConsumerAffairs writers primarily rely on government data, industry experts and original research from other reputable publications to inform their work. Specific sources for this article include:
Did you find this article helpful?
|
You're signed up
We'll start sending you the news you need delivered straight to you. We value your privacy. Unsubscribe easily.