Bank of America Online Banking
We are official Bank of America reps, here to help, listen & learn from our customers.
Consumer Complaints and Reviews

I do online banking with B of A and have been a customer since 1974. I'm retired here in Vietnam and all my retirement checks are electronically deposited into my account each month. Once a month I use my debit card to do a check card purchase at the State bank here and withdraw the funds. B of A charges me 3% as does the State Bank total of 6%. However the processing time can take up to 6 or 7 days for the transaction to clear. Normally after the 4th day the transaction drops off my online account and the funds are returned and posted as available. Then a few days later it shows back up again as cleared.
I contacted Customer Service about this and they said to just remember what my actual balance is and don't spend over it. I asked them what would happen if during the few days that the funds were shown as available that the IRS would issue a bank levy on the account, would those funds be affected or would B of A subtract the amount and honor the transaction and pay it. They said regardless of the transaction if the IRS serves a levy all available funds are frozen and the transaction would be returned as NSF to the State Bank here. I asked them why, even though the transaction was first posted 5 days before the levy was issued? They just stated that it would be because of the availability of funds. Hasn't happened yet, but is this true?

Just got off the phone after being transferred 3X's trying to change the email address for my account, trying to switch the primary and secondary addresses I had listed not a new one. The website will not allow you to do this and it's a jungle getting to the correct party to do it, if there is one that does it? I'm very disappointed in the security of this bank, and will likely need to change the home mortgage to Chase, which gives a lot better service than B of A. Sorry Bank of America, I've been with you for many, many years now, and don't really want to go thru this hassle.

Our bank account was hacked - although the fraud department was very fast at refunding the money. My mortgage payment was rejected - they charged me a NSF fee. So I went a scheduled another payment to the mortgage payment - Bank of America processed the original a second time several days later - over drawing my account. They will not refund the money - and refuse let me dispute the charge through them. They won't even file a claim or open a dispute for duplicate transaction of any kind. Leaving my account at zero dollars... They won't even let me speak with a supervisor. I've spoken with 6 people in 4 departments for the last 2 hours. Feels like I'm hitting my head against a brick wall. Shameful that they won't help me. Why would I trust them with my money ever again? Every representative has a different suggestion and story - none of whom will actually offer to help. I hope someone reads this and decides to help.

Why can't Bank of America get up-to-date like every other credit card company, in terms of making an online bill payment? They make their customers go through the arduous process of obtaining letters from your bank and mailing them to BOA in order to "set-up" your bank info in their system. TWICE I obtained letters from my bank and mailed them to BOA. TWICE I received my information back in the mail stating that my bank letter was insufficient verification and needed additional letter(s) from my bank??? What is it with the extra measures? I never needed to do this for another credit card company. Oh wait, yes maybe I did like 2 decades ago! BOA please get your system updated to suit the modern times.
I have to call in every month in order to make my payment. I feel like BOA doesn't want me to pay on time so I can be penalized. I really can't come up with any conclusions! Why do they make it so hard for their customer to make PAYMENTS? I had to once again call in this morning, had to enter in my credit card information, got through to a rep who asked me my account number, 3 numbers on the back of the card and my mother's maiden name??? All for what? To make a payment? I don't know anyone who would go through all the trouble to make a fraudulent payment on my behalf. After all this verification of my account I was then transferred to the automated service where I had to once again enter in ALL my account information. PLEASE, PLEASE, PLEASE BOA get it together and make it easier for your customers to make a payment.

On 11/5/2016, I paid my credit card online $47.07. My checking account (TD bank) was debited $4,707 on 11/7, caused a $35 over-draft fee. This was not my mistake since I never entered the actual amount ($47.07). I simply clicked "Last Statement Balance" & paid in full. They issued $4,707 credit on 11/8, but charged again on 11/10, causing another over-draft.
Apparently this was a software glitch & affected many. Called many times, most of the times can't get through due to overload. Finally got through after 2 hour waiting for call back. The customer service person had no idea what I was talking about or the situation. Demanded 3 times to talk to his supervisor. After another 30 minute wait, the supervisor was not much better. She first tried to deny responsibility by offering some ridiculous excuses which I know to be false. Finally, she no longer denied it was B of A's fault, but refused to help. As a result, I was charged 2 over-draft fees, maintenance fee due to balance fell below minimum requirement, and not to mention interests being charged while account was in over-draft status.
How do I know I can trust these reviews about Bank of America?
741,284 reviews on ConsumerAffairs are verified.
We require contact information to ensure our reviewers are real.
We use intelligent software that helps us maintain the integrity of reviews.
Our moderators read all reviews to verify quality and helpfulness.
For more information about reviews on ConsumerAffairs.com please visit our FAQ.

Their product, web UI and app are simply the worst among all finance service I have ever used. I have very bad experience interacting with their customer support on phone as well. Very long wait and no conclusive result after the conversation. It was painful to set up recurring payment. The UI design is confusing and error prone. There was another incident that made me decide to leave them forever. (I am not going to close my account with them but I will not use their card and service, nor keep any of my assets with them).
I was on a two months long trip last summer around Asia. For some reason, the auto-payment failed and I carried 20 something dollar in my balance when I started the trip unaware. A month later during my trip, the email of the late payment ended up in my spam and I never found the email about the failure of auto payment. When I got another email of being late on payment for over 30 days, it was too late. I paid it off right away on the 31st day and called them and credit bureau and tried to fix it. They refused to admit the mistake and the late payment record stayed in my credit history. I had a perfect record until then and even today, this is arguably affecting my credit progress and this might impact my mortgage rate as well. In all, there are way more better financial service out there. Avoid BOA at all.

Sent an online check to another bank, but it was sent to the wrong person/entity. That entity cashed the check. They called BofA and informed them of the mistake, I received an online message to call the wrong/entity. They were willing to write us a check. But then their bank said go thru normal process (whatever that is)? So we are out the money, and the loan is not getting paid. I called the bank where the loan is, which coincidentally is the other entity's bank. The bank said it was all OK.
Then, BofA calls me to respond to my online messages, that the money is not being returned to me. BofA had sent me the message to call the other entity. Several other messages from online banking that they were still researching the problem and it could take up to 90 days to resolve. Now, after 28 days we have not received our money. About 1 week ago, BofA (actually their online check issuer) contacted me to fill out an affidavit, but I had to mail it them before they could do anything. This is already over 2 weeks after the incident occurred and when the other entity had contacted BofA. So, 1 week later they still don't have the affidavit.
Meanwhile, about a week ago, our client manager gets involved because the online banking people called him. So he says it's a fraud and should be treated as such. Then he gets back later and says that the affidavit is the correct manner to resolve this. He also suggested a temporary credit in my account by last Friday, 3 days after we spoke. But today, I email him, only to find out that he was waiting for me to send a scan copy of the affidavit, that's 6 days later. It's really hard to solve anything if they don't care to fix it. This is consuming way too much of my time. Today, 28 days later, still no resolution, still no money returned to our account. The loan comes due again in 3 days. Don't know what to do, other than go to court, small claims court. I am a business and personal customer for over 30 years.

I've been with BofA for nearly 10 years. My experience with them was mostly good for the first couple of years. After that, it was all downhill. My credit report is spotless and my FICO reflects that. But BofA has consistently raised my credit card APR regardless of my ability to handle my debt. (Of course that means I'm going to transfer the balance somewhere else.) But, in addition to the rate hikes, they find ways to charge me fees on my accounts.
I'm a software engineer. I happen to know that a "maintenance fee" in the year 2016 is a complete load of garbage. There's absolutely NO maintenance involved in maintaining my account. Nobody goes into the database with a dustpan and broom. Why would a completely electronic system need "maintenance" and why would that cost $12/mo? Before I made enough money to survive, BofA worked their magic to adjust my transactions to increase the chances of an overdraft. And they were relentless with the overdraft fees. Today, I make decent money, so overdrafting isn't really an issue. But I also noticed they've increased the fee frequency.
My rewards credit card has never had any late payments in the 2 years I've had it because I used BofA's transfer scheduling. Recently my online banking showed me that my payment on my card was due (and late). I checked and BofA had definitely pulled the money from my checking and put it in the card. Apparently, without notice, they changed how their system works and I had to go in and change how I make my payments. Had I not noticed this, I would have had my first negative mark on my credit report in over 7 years and I would have been hit with a late fee. It's clear they're always working to find ways to hit you with fees and ruin your credit.
Also, their rewards points are a joke. If I buy $1,000,000 worth of merchandise, I might be able to buy a pack of gum with the points from it. (Obviously an exaggeration, but you get the point.) Rewards cards from credit unions are usually twice a good in rewards than BofA's best cards... I assume that if you're filthy rich, they probably have good rewards cards for you - likely because they don't reward the bottom 99%...
BofA is an awful bank. They're not there for their customers. They're there for their customer's money. And when the customer is out of money, they put the customer in debt to the bank. Not making enough to survive (the majority of the nation) could put you in the position for BofA to destroy your life financially. And that's why they get rid of you because there are no more pennies to squeeze out of you. I've begun moving my money over to credit unions and Simple bank. Best decision I could make. Do yourself a favor. Stay far from Bank of America. They're just another commercial bank that preys on the bottom 90% of America.

I used Bank of America's Bill Pay Center. (2) of my payers began processing 5 days before the date I specified. And payment was not sent to creditor until 3 days 2 days after specified. I signed up to have Bank of America NOT pay if the funds were not in my account. After speaking with them, they THEN informed me that rule is ONLY for day to day usage on my debit card. And any authorized payments through the payment center or the re-payment center. Any payments returned will be charged a $35.00 fee. If I decide to have them pay it anyway, I get charged a $35.00 fee. There is nowhere on the site that explains this disclaimer. There was nowhere on paper or mailed correspondence that explained all payments made from the payment center was processed through the bank by generating a check and mailing that off to a merchant. This also caused lateness on my payment.
Starting in March of 2016 I've been charged $350.00 in returned fees. I was not aware of the damage until I began noticing a pattern that was not of my own cause. Bank of America is notorious for clearing all small payments from your account FIRST, and if they see there is not enough to cover the higher amounts, THAT's when they put that payment through and allow the payment to be returned. I've made large payments through Bank of America and those payments are held up. When I make small payments afterwards, all the small payments are processed immediately. BANK OF AMERICA CONTINUES TO RIP OFF THE CONSUMER BY UNNECESSARY RETURNED FEES.
I walked into the Mount Arlington, NJ site and spoke to the representative at the desk. She informed me taking action to NOT make any payments and discontinuing my protection plan would deny all payments if the funds were not there. I agreed to this plan because this is what I requested. Since, Bank of America has experienced 2 breaches in security and sent me a new debit card, and after the card was sent in March of 2016, THAT is when I began to accumulate $35.00 fees. In other words, they discontinued my request and began allowing payment after payment to go through, giving them a opportunity to charge me the RETURNED $35.00 fees. THIS is a travesty and should be investigated immediately. I read an article of one branch manager bragging about the extra $1000-$2000, collected from one consumer per year due to this course of action. Sincerely FRUSTRATED!!!

I called bank of my CD was about to mature in a few days and they would not provide me with a manual check because they are a virtual bank. I have other accts with Ally and other internet banks and they are able to provide manual checks and do not understand why they cannot provide the service. Anyhow, I called to request a check and advise I was not going to renew CD - gave me a hard time to get my money and was forced to give them an acct number to do the transfer which is not what I wanted... since they had trouble doing the wire transfer they renewed my CD.
When I called to follow up on why I had not received I was told they renewed and then proceeded to tell me if I wanted my CD release I would have to pay the penalty which was MUCH MORE than what they give you in interest. They are thieves and not sure why Consumer Affairs or whoever regulates banks are not doing anything to these thieves because this is what they are. Do not bank with these people.

The absolute worst experience ever! I have waited for 7 days now for BOA to clear a wire that was sent by the sending bank on day 1 (Friday). A federal wire confirmation number was issued on day 1 (Friday). BOA received the funds on day 1 (Friday). BOA chose to hold on to these funds all of Friday and all of Monday without clearing it in my account. Then on Tuesday, they decided to request information from the sending bank. The sending bank sent the information within 2 hours. Now, 7 days later at 5pm on Thursday, BOA still has not cleared the funds. The BOA wire desk says "there is NO TIME LIMIT on the review, and it can take 10 years" for all they care. They can hold on to consumers' funds without any accountability.
This is the epitome of zero accountability. I'm astounded at how the government doesn't realize that this for-profit financial institution is holding on to consumers' money without any accountability and without any transparency as to why they are holding on to funds. Icing on this is that I was the sender from the other bank as well, and just needed the funds quickly in the BOA account for a transaction. I wish there were good alternatives in the banking world. Until one comes up, thieves like BOA will continue to "hold" consumers' funds.

Went to the nearest bank which happened to be a Bank of America to pull out money at ATM. ATM takes my NON Bank Of America card with no warning, no kickback, nothing and does not return card... Bank manager is less than sympathetic... Customer service can neither explain why or offer any recourse.

I submitted an application online for a Bank of America credit card 2015. I went to inquire online if application was pending. No results were found. Reviewed my credit report and there were 5 inquiries from Bank of America. Needless to say I was very unhappy with that. A escalation rep from Bank of America called and stated I would have to provide dates which I told rep a the times of the inquiries. She then repeated her statement. It's not fair that a customer should have to do a rep job. I'm frustrated with Bank of America and that bank is also charging outrageous finance charges one month 1.50 next month 10 times. Still not resolved. No explanation from Bank of America.

I have been a customer of Bank of America for almost ten years. I have been using bill pay for the last three years. I get paid on the 1st of each month and my bills are scheduled for the 3rd (to avoid any potential problems, or so I thought!). This month, New Year's Day fell on a Friday so the next business day was not until the fourth. Bank of America took it upon themselves to pay my bills on the 31st and, even though my paycheck also came in on the 31st, they chose to pay my bills, charge my account $105.00 in overdraft fees, and not officially deposit my check until the 4th. When I called about this I was told that it is in their policy to pay the bills, if they fall on a non-business day, the business day preceding that date.
When I pointed out that my check was also there on that date and that, in fact, I had been able to use it over the weekend I was told that they were letting me use my money as a "courtesy" over the weekend. Hmm, a courtesy??? I was "allowed" to spend MY MONEY as a courtesy?? So, in a nutshell, they take all the money out of your account on the PRECEDING business day but do not deposit any funds until AFTER the holidays. Makes no sense to me but tons of cents for them! I have now opened a new account elsewhere and will never allow Bank of America to steal from me again! In my mind policy is not meant to surpass basic customer service and common sense!

I transferred what I thought was 30.00 from my checking (15 year customer) to my credit card and by accident all of my money... 3000 went to the credit card. It took one second... It was a simple mistake or so I thought. They will not give me my money back for 10 days. It is all the money I have. All my checks I wrote will bounce. How could Bank of America do this to a 15 year customer? There is no loyalty. They want the interest. I begged and pleaded but they said "it was policy, we hold your money". Please rethink getting an account with Bank of America and especially their credit card. They do not bank like humans and they do not care about people.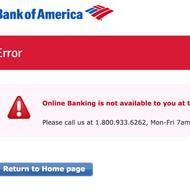 I have been a customer of Bank of America for over five years. I received emails informing me that 200$ and 250$ had been withdrawn from my account and I was now using overdraft protection. Unsure where these charges came from, I tried to log into online banking, but received the error message "your account is not available at this time". Mobile app doesn't work either. I tried calling the number listed on the error page, but have been on hold for over an hour and nothing has happened.
How can they randomly deny me access to my account? Just last week I called them because they charged 3 overdraft fees to my account and didn't use the account that was linked for overdraft protection, charging me 105$ for what should have cost me an additional 10$... The person on the phone was rude and unhelpful and the person online was similarly crass and didn't seem to care that I was closing my account.

I opened a bank account and included my daughter on the account. I live in Wisconsin, She lives in Lawrenceville GA. She also is on an account with her daughter, (thus my granddaughter.) My granddaughters account had a fraudulent charge on it, someone stole her debit card, DL, and other papers. The fraudulent activities and charges created a huge overdraft on that account, and they took the funds out of MY account because my daughter is on both. They did not call me, they did not email me, they did not text me, they did nothing. And the representatives on the phone not only kept transferring me around to other people, but they would use the line "I'm going to put you on hold and investigate this further" only to come back with a line to make the situation even worse.
Right now I am out $7,000 dollars and they refuse to do anything. The fraud was not on my account, was not against me, was two accounts removed from mine, but they took it and they refuse to budge. My daughter and I (and granddaughter) will certainly leave BOA and we encourage ANYONE AND EVERYONE to avoid them if at all possible.

I made 1 transfer with my BOA app last week. They pulled the exact amount of money from my account 3 times! I contacted them, they said nothing they can do about it! I talked to customer service and their Managers through online chat, too, and the Claims department on the phone. I am in the middle of a tough divorce and the transfers were to my soon to be ex wife so I can't get the money back from her. I am not working and this has left me broke.

I made a deposit in my iPhone as I usually do, and they authorized certain amount as usually they do. A few days later when I checked my account it was overdrawn by the amount of the check, because instead of credit my account they withdraw the money. So I got a letter by mail a couple days later that said I should make a deposit of the check in the bank, because the image it was not clear (which I did). After that I called them, but they said they had to open an investigation because I had deposited twice. Of course I did it because they told me to do that. So, now on I just go and get the check cashed and then make a deposit in my account. Don't ever make a check deposit online. Do yourself a favor and go to the bank.

Approximately one week ago, I received a phone call from a person who identified himself as **, and claimed he was a representative of a company named "Winners Lottery" (or something close to that). He was pleased to report that I had won $5.5 million and that he would personally deliver a certified check to my home as soon as I paid the processing fee of $395. I told him I did not believe him and that I would not pay the processing fee before he gave me the name and address of the bank, the name and address of the account holder, the checking account number and the phone number of an officer of the bank who would confirm that there was $5.5 million on deposit and available for release. He seemed troubled by my request and said he would have to get authority to release that information to me.
He called me each of the next four or five days to assure me that he was working on the matter and would get the information for me. On Saturday, April 25 he called to tell me that my money was deposited in Bank of America Account number ** and that the funds would be transferred to me as soon as I went to Walmart and purchased a money transfer in the amount of $395 designating the transferee as ** of Uniondale, New York. He said I could verify the fund availability by calling Bank of America at 6314801574 and providing upon request the above account number and the PIN number, **.
Yesterday I dialed the phone number. The phone answered by a recorded voice, "Bank of America, how can I direct your call?" Available alternatives included getting information about my account. I was asked to enter my account number and did so. I was asked to enter my PIN and did so. The recorded voice responded, "Welcome **. Your account balance is $5 million five hundred thousand dollars which cannot be accessed until payment of the processing fee of $399" (sic).
I had no reason to believe the statements since I knew an account could not be opened in my name without my social security number and my signature. But, it was persuasive. I did not pay the processing fee and terminated my communications with Mr **. How did he get a phone number that was answered so authentically?

On March 31st I logged into my account as I normally do for the past 8 or more years I've had the account. And the last month's bills are still listed on Bill Pay page, they were paid through the company's site. So I mark them as paid, and mark reason as other. (Which I do every month or so as the new bills come in). On April 1st I log into my account and see that the three bills I marked as paid are being processed for payment. I call immediately to ask why they are being processed when I did submit payment, there had to be a glitch that caused this mistake. I was told there's nothing we can do about it, call the vendors and request a refund, I had to have processed the payments. I spoke to three different people and was given the same response. No one offered to look into it any further. Terrible Terrible customer service!!!

Bank of America is absolutely the most greedy bank I've ever encountered. There are fees for absolutely everything. What I'm currently upset about is the fact that when your account gets overdrafted they don't send you an email to let you know. Instead they wait until their ridiculously high fee of $35 is assessed and then they tell you. You have to pay it within 5 days or else another one will be assessed. Isn't it obvious that if someone has overdrafted their account it will be difficult to not only bring the balance to 0 but to then have to pay $35 on top of that within 5 days?
Their customer service is horrible, they wouldn't work with me at all on the fee even though I've been a long-time customer and have never asked for a fee to be waived before. I just think that the least they can do is send an email or notification the moment the account overdrafts so that a customer has time to make it right before the "overdraft" fee is assessed. Shame on you Bank of America for your incredible lack of compassion and customer service.

The customer service in online messenger is ** rude. Educate your ** staff.

After 3 months, did not receive ATM card.

BOA shut down our log in I.D. All of our online e-bill information, automatic payments, past history, and future payments were lost. BOA told us they were no longer available. Late fees are piling up, we are now late on our payments and it is destroying our credit rating. I am sure that our 4 accounts could of been brought "back to life" but no one wanted to bother earning their pay check.
UPDATED ON 01/31/2015: Very nice Representative from Corporate phoned. Unfortunately, they could not recover lost date. Offered to send us a letter stating the problem if we sent them the account nos. and information. This is what they deleted. Will not take responsibility for their mistake.

I have requested access PIN for ATM several times and no mail was ever delivered regarding the new PIN. They sent me my statement every month which means they have the correct address. So I finally decided to close the account. I went to a branch and they told me I couldn't close it there due to some unfinished paperwork when open the account. I had to call customer service to close it and get the check within two weeks. I closed my account before thanksgiving of last year. The rep told me that the check will be here within two weeks. Today is 1/8/15, I still haven't gotten the check.

My Central Provident Fund was transferred to my US account with Bank of America. Bank of America is saying that they had cancelled the transaction because my old last name as in my passport has been used for the transaction. The transaction could not be completed because my new last name is tagged with the bank. The bank has my change of name certificate so there is no reason for cancelling the transaction. On checking with the Singapore bank, the bank says that the transaction was not cancelled at all. I have been trying to contact Bank of America wire transfer department but nobody is responding to it. Bank of America is asking me to file a claim with the Singapore bank. I have a transaction showing that the transaction has not yet been cancelled and the money is still held up with Bank of America.

I signed for bill pay with a recurring payment once a month in the amount of $150.00. I found out that a payment was made as scheduled on the 15th of October, which the funds made me $150 plus $35 overdraft fee in the negative. My paycheck was deposited on the 17th, which covered the charge of $185. On the 28th of October, BoA made an identical for the amount of $150 twice, which caused my account to be overdrawn approximately $362.18. My account was in the black before this recent transaction occurred. They blamed me for their error and asked me to call the company they overpaid for a refund. I called the company and they were surprised by the second payment, which they couldn't refund because I was paying back taxes. So I was refunded the overdrafted fees (35 x 3), which still left me in the negative for $257.36 instead of a positive amount of $7.36.

I had a checking account with Bank of America. I made some purchases online. All charges said they were complete on my online account and money was already deducted from my balance on a Monday. On Tuesday one of the stores had already shipped my items. Thursday I received my package. Friday my account was up to date. Saturday morning I was negative and charged 3 NSF fees.
I called Bank of America and was told that I can't rely on the online account that when I made these purchases I didn't have enough money to cover them. Not in the mood to argue, I went to the branch on Westport Ave in Norwalk CT. I brought my account to zero. I told her I wanted to close the account, she said I was all set, took my ATM card and said she would shred it. That was the manager of the branch!!!! Sunday I go online to make sure the account was closed. Nope. It was of course still open.
I called Bank of America and told them it needs to be closed ASAP. They said I had a purchase still pending from 2 weeks before that I couldn't close my account until this was cleared. Frustrated, I called again and said I do not want to bank with them anymore. The lady was very nice about it and closed the account the correct way but all in all they overdrafted me when I had money in my account. They are incompetent and like to overdraft people to make money and I would not recommend them at all.

I set up recurring payments through online bill pay (BOA). The first few months were fine. However, I began seeing unpaid ebill. I have been charged late fees b/c of this and I'm beginning to wonder if it's an intentional glitch?! I was passed around on the phone for over an hour with no resolve. I only wanted the fees credited back. If your money has been stolen this way please contact me. **. I'd like to start a class action suit...
Bank of America Online Banking Company Profile
Company Name:

Bank of America

Company Type:

Public

Ticker Symbol:

BAC

Year Founded:

1992

Address:

100 North Tryon St

City:

Charlotte

State/Province:

NC

Postal Code:

28255

Country:

United States

Website:

http://www.bankofamerica.com/