Adorama Camera
More Than a Camera Store Adorama Camera has been providing services and products in Imaging - and Beyond, since 1975.
We have on hand an incredible staff team of experts who are anxious to share with, and learn from, our customers. We've earned our reputation for exceptional service and integrity - one interaction, one sale, one gem of advice and one respected customer at a time.
We shop long and hard and thoughtfully to make your shopping experience a wide-angled panorama of the very best in photographic/visual gear. Smart buying on our part means savvy saving on your part. At Adorama, we pride ourselves on keeping the cost of remarkable photography remarkably low by constantly comparing and competing to keep our shelves stocked with the best equipment at the best prices.
Whether you're looking to add the latest gear to your bag, enhance your visual experience or just share a camera-friendly word with people who care — welcome to Adorama.
We love photography. We love the art and science and passion of photography. We love the photographers, both well-known and well-intentioned, who create works both famously and anonymously great.
Our store brings it all together — a wall-to-wall, floor-to-ceiling photographic overload (take your time, you could get a bit lightheaded!). Experience the very latest, the proven workhorses, the must-haves, the smart add-ons and the unexpected surprises.
Consumer Complaints and Reviews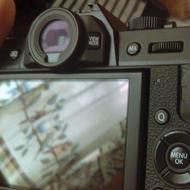 I bought a Fujifilm X-T10 and it came broken without a thumb grip that is supposed to be built in. I contacted them and they said it is supposed to come like that and it was an accessory. Which was absurd since you could go to Fujifilm's website and clearly see it came built within the camera. I felt as if they did not want to admit they gave me a broken product. My photojournalism professor also recommended me this site and said it was reliable but he is also now disappointed. This was a complete travesty for being my first purchase from them. I can tell you now I will not be shopping here anymore.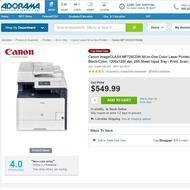 Recently someone posted a deal from Adorama on Slickdeals.net. Normally Slickdeals is very good at vetting these deals before they make it to the front page deals, so I thought we had a winner here with my printer order. Adorama offered the Canon imageCLASS MF26CDW for 274.99 while on promotion. It appeared later that many other retailers were offering this price as well so I went for it. When I checked the item on their website it says that the availability is "In Stock Online" and that it may take 1-2 days to process. Now I don't mind waiting a day or two for my item to ship... However, that's where things went bad!
After placing my order, I receive the email below saying that my item is back ordered. This email came within 15 minutes of placing my order. So, being concerned that the item shows in stock I called customer support. The lady I spoke to sounded like she was not in the USA. She stated that they have an open order with Canon for these printers and they are currently just awaiting delivery. They were expected to deliver within 1 to 2 days to the warehouse and then they would ship. That was the reason for the may require 1-2 days to process. 2 days passed and I still didn't have an update on my printer. I contacted support again, and they stated that the website doesn't update as fast as their back end system and that my item is still on backorder. They offered to get me with a salesperson who could recommend a similar machine that would meet my needs or cancel the order.
First law violation: They sold me a product (bait) and then knowing they don't have the product to sell, tried to get me to switch to something else (switch). For those that don't know it's called a bait-and-switch law and it's illegal. Second law violation: They have now debited my account almost $300 for a printer that they have no intentions of shipping. This would be fraud! Now the item is back to regular price on their website. It still shows as in stock online and they are still taking orders for these machines that they are not shipping. Don't sell to this company or buy from this company if you actually want money or your product. You will lose both! I will not be shopping here again. I am filing a claim with the better business bureau today and I will be contacting the New York Attorney General's Office today about this company and their fraudulent ways. It is likely that he will direct me to the FBI Cyber Crimes, but we will start with these two first.

The verification team at Adorama don't stay behind their shipping policies. The whole point on shopping with them was to have an item being shipped the same day. After made the confirmation or the order, the Verification team messed up and activated the order to be shipped after 8pm EST. The call that I received from that team before 8pm can be reviewed since they recorded them and the time can be verified there. However, since they messed up the item was not shipped that day and until the next one I found out about it. Spend around 30min with Customer Service and they have no solution for me. They offer you a compensation for completely ** with you as long as you don't cancel the order.
There was no point for me to continue with the order since the person receiving the item as a gift was flying out from the country so I could have spent the same amount of the purchase on trying to send abroad this item to that person. An apology just doesn't solve the issue and I have the proof (they as well) of how they are not behind their policies advertised on their website and how someone on their team made a mistake that they should have resolved around the customer.
Think twice before relying on such incompetent resources and hopefully they could train their representatives better so they don't waste their customer's time. I will do my best to discourage anyone I know that is considering Adorama by sharing my experience and provide better options so they don't buy with them. Thanks again to Adorama for messing up with me and the whole story behind this gift. The only thing I got from Adorama instead of a nice gift was nothing and someone that got away with it.

This is my story. Nikon D750 body with just over 1,500 shots. Nikon SB 900 with all blank warranty papers. Nikon 28-300mm Which I just bought from Adorama for over $1,000.00. Tamron 24-70mm newest version the best lens. Canon XA-10, with Mic, and aftermarket Hi cap battery, charger And some accessories. These items are in excellent condition, along with all warranty papers. After I talked to Avi ** He told me that I will hear from him soon, after waiting for a few days I got a reply from Avi that I can get roughly for $3,470.00. I am happy to see this $3,470.00, and I thought that I might get some more after they get all my gears.
A week after I called Avi whether he got my package, they did and I asked Avi that how much more I can get for my gears, Avi transfer my phone to Jack. My first question I asked Jack is how much more I can get, Jack told me that I can get for $2,500.00. I said "No" to Jack immediately. How can I want to sell my gears for that much, when I see the first number $3,470.00 that they show me. If I didn't see that number, I didn't think I will send all my stuffs without questions. Amir told me that Adorama will buy things from customer 70% based on the market price. If doing so my whole gears can get paid over $4,000.00 based on the price on Adorama Website.
Please help me, if Amir didn't give me the number $3,470.00 then there is no way I will send all my photo equipments in such wonderful condition. I told Amir that I want to buy a camera that can do both video and still. This Nikon with big lens banged to my 3 years old daughter a few times, I don't want that to happen again; therefore, I have to let them go.
Now, do you think I can get the price that the first time Amir told me which is 3,470.00 or I can only get $2,500.00. Just think like this. If you sell all my gears for half of the market price, you already make a lot more than you pay for me. I am not a Pro guy, and I am just a Handicap guy. I can get over $1,000.00 a month, and I have four mouths to feed. I love to take photos for my kids, now I think if I sell these to Adorama, I will get more money than selling them on Ebay. Please rethink this matter, and help me.
Please anyone out there can help me, I am so greatly for all helps that I can get. Jack told me that Deal is a deals many time, and He spoke very fast; therefore, I have to make sure that I can get $3,470.00 by asking Jack over and over again. Ok I said. Before hung up the phone I asked Jack that I want to buy a camera which can do both still and video, Jack suggested me that the Sony A7II is good for that and if I buy it then I can get $250.00 off. Wow that is great. A week later I got my Sony along with a check $250.00. I call Jack right away because How can I get that much, Jack told me that I can get that much along with $400.00 in my account? I didn't have any Adorama Account as I recalled, and no one told me that is what I get pay, and I didn't asked them to do so. Jack explained to me that the sony A7II is $1,700 plus $400.00 in my account plus a $250.00 check therefore, the total that I can get is $2,350.00.
Jack, are you out of your mind or you are taking advantage on non English Native Speaker. Please do your math. If someone out there has all my gears and sell them on Ebay for %30 percent of the market value right now, then I am sure they can get a lot more than Adam pay me for $2,350.00 on Ebay right now. I am very scary and sad, because of how can a big company with the Reputation can do such thing for a Disabled guy like me. Jack told me this over and over that our conversation on the phone has been recorded, then there is no way I can do anything about it. Jack, if you are a decent man, please don't do that to me and either you pay me $3,4700. Or returned back all my gears. Thank you.

I purchased a Sony 70-400 zoom lens through Adorama/Amazon. Not only was the lens priced nice, but to my surprise, Adorama shipped me the newer model (G series). I had first ordered through a competitor and when they failed to ship on time, Adorama/Amazon had the lens to me in less than 24 hour. They were hands down the best experience for me. The lens is beautiful!
How do I know I can trust these reviews about Adorama Camera?
633,474 reviews on ConsumerAffairs are verified.
We require contact information to ensure our reviewers are real.
We use intelligent software that helps us maintain the integrity of reviews.
Our moderators read all reviews to verify quality and helpfulness.
For more information about reviews on ConsumerAffairs.com please visit our FAQ.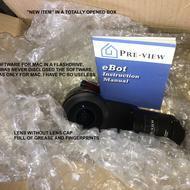 I bought from Adorama via Amazon.com a "Pre-View Ebot System 360 Degree Panorama Images Start Kit for Nikon DSLR". The item came, as you can see in the picture attached, with the box totally opened and destroyed, the lens without a lens cap and full of grease and fingerprints and software for MAC in a flash drive (I have PC). First of all, the box looks like it was found in the garbage. Then the lens, without any protection and all dirty, the software in a cheap flash drive and for MAC. Adorama was selling this item as "New". I would like to know the meaning of "New" for this crappy store.
Adorama did not disclose in Amazon.com that the software was for MAC. As you can suppose, this item is going back to Amazon right away, but you know what? I guess it is all my fault. 4 years ago I purchased from crappy Adorama a professional video camera and I had a similar experience. I swore myself not to buy from them anymore and I did it, I deserve what happened because I already knew them. That time I kept the camera, but now they will eat this piece of garbage they sent to me. Minus 10 stars for Adorama.
Updated on 8/2/2016: This is the second part of my terrible and awful experience with this crappy company called Adorama. After 2 long weeks of dealing with this people, they issued a refund for the item I bought from them via Amazon.com, but they kept the shipping cost. I bought that item because was described as NEW and they sent me a USED, BOX OPENED, INCOMPLETE AND PROTOTYPE item (prototypes are not supposed to be sold). Why do I have to pay SHIPPING FOR AN ITEM I DID NOT ORDER? People, please, do not buy from Adorama. Purchase experiences with them are really BAD and the returns even WORST!!!

I source many items as a part of my work. I have learned that I come out much better if I deal with companies that have exceptional support, rather than exceptional prices. Anybody can offer a low price. It takes a real commitment and integrity to provide exceptional support. The sales person that I dealt with at Adorama did not rush me, was so knowledgeable, that he helped me quickly navigate their vast product offering to the items that would serve ME best. If I only could include a tip for such a salesperson... I would.

In short: Paid extra for express 1-day shipping, took me 14 phone calls with them and 4 emails to actually make the order, only to realize they don't even have that item in stock. Just horrible, horrible overall online service. I've performed a 1-day shipping expedite order since I knew I'm leaving the US on Friday (ordered on Tuesday). The item has been stuck on "Pending" for a few days and I started making some emails. Every e-mail took forever to answer (over a day). Eventually, I gave up and started making phone calls. The representatives on the phone were nice but caused insane amounts of frustration and confusion.
Apparently the credit card charging failed due to MasterCard marking the deal as "Suspicious". After 2-3 calls to MasterCard, it was resolved. She said (the representative) it will be shipped out today during all of our calls before and after resolving the payments. They finally were able to charge me after me making almost 14 phone calls to them overall. I was sure it's all over and I'm gonna get my item in time.
A couple of short minutes after finally getting this done, after spending my entire last day in the US on phone calls with them and being sure everything is fine - they called me from Verification and said "Your order is back ordered, it won't be available to ship". WHY THE HELL WOULD YOU OFFER 1-DAY ON BACK ORDERED ITEMS?? This is absolutely unacceptable! and INFURIATING! Why move a customer through all of this frustration and phone calls for no absolute reason? Why commit to 1-day shipping if you're going to take 2 days to even reply to an e-mail. Just ridiculous. DO NOT DEAL WITH THEM.

Worst company to deal with via their online department. Customer rep is like talking to a brick wall. Cannot comprehend the issue I was having and seems like she was trying to find the solution in the Q&A book. Will never use them again. They offer flex shopper as a payment option but most reps don't even know how it works.

EBay item description did not match item description on company's website. Company blamed eBay for posting it wrong and offered no rectification at all. Told me to contact eBay to return, but I had used before I noticed the discrepancy. Blamed the whole thing on eBay. Never get my business again.

I placed a gift order for a Phantom 4 drone package and was distraught when I saw it was being shipped UPS Ground. Checking company reviews, I came across the email address for Helen, the Adorama Camera Customer Service Ambassador, and emailed her at 11 pm California time. The last thing I expected was to get a reply within minutes - when it was after 2 am New York time. But that's exactly what Helen did. We exchanged further emails at that wee hour of the morning. Helen explained that since Monday is Memorial Day, the shipment would still arrive in the 3-business-day window promised. She said to contact her at any time, that her goal was to provide fantastic customer service. Getting a reply in the middle of the night shows how seriously she takes her job. I couldn't be more impressed.

These guys brag about giving you top dollar, then have you ship your gear to them and offer you a bottom rate so they can sell it off at a much higher price. They claim 70% of "market value," send you an already low offer, then once they have your gear, they give you 70% of what THEY are offering for it, not the real market value. Avoid these people. Rude and pushy.

On April 24, 2016 I decided to purchase a Westcott 7ft umbrella bundle, but I only received the stand & the umbrella was backed ordered. On May 16, I called Adorama and I was informed that it could take two months before I receive the umbrella, so I canceled the order. While I had Trixie (the sales rep) on the phone, I decided to place another order. So, I had Trixie verify that the items were in stock and I gave her my credit card information, (BIG mistake). I checked my credit card account and I noticed that I had been charged $1121.56. At this point, I am thinking that my order was being processed and Adorama would soon ship my order. Later on that evening, I received a confirmation email showing that only two of three items had shipped. In the email, I opened the invoice and I noticed that I had been charged again for the amount $953.20. I rechecked my credit card account and there was another charge pending.
I called Trixie the next morning and she gave me the runaround. She told me not to worry that everything was fine. I asked her again about the second charge, but she kept ignoring my question. Finally, I was very upset and I told her to get a supervisor on the phone and that is when she told me that she would cancel the first order. I receive a cancellation email with a copy of an invoice, but it had another name & address on the invoice. She was trying to scam me! I tried calling her again and I ended up talking to another rep. He never answered any of my questions and the only thing he said, "It happens a lot, sorry sir." I will never buy anything from Adorama and I will never give my credit card information to anyone else. I called my credit card company and they are aware of the problem and they will be reversing the charges. Buyers BEWARE!!!

I ordered online two cameras at least from them up to now. One was as described the other was not working since listed as ranked E. Camera did not recognize the stock lens that I had. I returned the item next day, Adorama responded in very slow fashion. It took almost month and half to get money back after having at least 4 times call. I don't feel easy to order another one. Another thing is that they don't provide shutter counts for the camera. Shutter count relies on your luck.

My used but in good working condition Sony HVR Z5U camera was mailed to Adorama for evaluation under their trade in for cash or for gear. When the camera was mailed back to me from Adomara it was damaged. I telephone called and explained to the Used Department Manager Jack ** that nothing was wrong with my camera prior to me shipping it to Adorama. He said that he would look into the situation and call me back that evening. I did not receive a call or an email from him. The next morning, I was reading reviews posted about Adorama. I read how Helen ** an Ambassador for Adorama helped an unhappy customer.
I emailed Helen around 11:00 am and shared my frustration with receiving my camera back to me in damage condition. I received an email back from her within that hour saying, "I was concerned to read that this was your experience. I just discussed with the Used Department Manager, and he assured me that a member of his team will be in touch with you directly. Please accept my apologies for the inconvenience caused, and don't hesitate to come back to me if you need any additional help." Manager Jack ** contacted me and he offered for me to send my Sony z5u camera to Sony for repairs.
The camera was sent to an authorized Sony Repairs Center, but I opt out from getting the repairs done to the camera. Jack ** suggested to me, that since I was trying to buy the canon 5d mark 111 camera; he would subtract the repair cost plus subtract additional money from the price of an out of the box used canon5 d mark 111. This suggesting made it affordable for me to purchase the Mark 5d 111 camera with a 24-105 Lens. I was very happy with Helen ** and Jack **. Adorama is one of the nation's largest photo, video and electronic retail and mail order suppliers, because of people like Helen **. Thanks.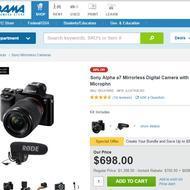 They say that was a price error and receive a cancellation email saying "We are writing to inform you that the order for the Sony Alpha A7 Camera / Kit has been canceled due to the fact that it was listed with an incorrect selling price." But the price was wrong on all 5 bundles that include that camera? With different percentage discount??

I purchased a drone from their website a few months ago and have been waiting ever since for a replacement battery. They were alerted from the drone company that the drone batteries were defective and they made no attempt to notify me of this problem. I had to find out on my own and call in and put in a tick number. I have had to call in over 20 times trying to get a new battery and have already even sent in my old one. Every employee tells me they have processed the replacement and then I get an email stating they are still looking for a battery that works.
I have requested a refund as well as to return the item for a new one and they said they don't have any more drones and will try to figure out the battery and maybe I should wait a year until it is out of warranty and then go through the service plan I paid for. However the service plan won't warranty something that has an open ticket so I have a $600 drone that I have never been able to use and no one from Adorama will assist me.

I would like to thank Helen for getting me in contact with Jack @ Adorama, one of the managers, after a long conversation with Jack on the phone a mutually beneficial resolution has been offered.
Original Review
When I purchased a camera from them in July 2015 they never stated or informed me that the ex1 camera was not updated with the latest firmware. I missed my first photo shoot because I had to send the camera in for update. I get the camera back 6 weeks later and 5 weeks after that I used it for a shoot and put 10.5 hours on it. 10 weeks later used it for another shoot. Worked ok but I had to use manual focus. Put 12 hrs on it and lost revenue because of it. Sent it to another photographer and he took a look at it and told me to send it back. I sent a email to Adorama and they told me I was out of luck and to send it back to sony for repairs. This company knowingly sold me faulty equipment and refused to fix or exchange the camera. Mind you it only used for 30 hrs. They are crooks and shysters that should not be allowed to sell damaged goods over the internet.

I purchased this camera for a trip to China a few months before my trip. Upon opening it, the camera never worked! I went through 4 packages of film trying to get it to work. I called Adorama and because it was outside of their 30 day policy, I have to send my camera back to Fuji - when it arrived in a defective condition! BEWARE and make sure that you open your products and try them immediately so you too will not fall victim to receiving defective products.

I have an issue with Flashpoint StreakLight 360 battery, a few weeks ago the light stand fell and the battery broke so it no longer hold the bottom part secure... Because I also purchase the NewLeaf Accidental Damage coverage I contact NewLeaf first and for several days they told me the same answer that, "A supervisor has to approve the claim and I have to send the unit for "SERVICE". Since the battery was still under warranty I contact the customer support at Adorama and they said the battery or any Flashpoint product has to be replace, not repair, so Adorama told me to send the unit back to them.
A few day later also NewLeaf call me that demanded that I have to send the unit back to repair center... I tried to explain to the supervisor that there was no repair only replace according to Adorama. So I contact Helen ** from Adorama and explained the situation and she told me that they will deal with NewLeaf and that I should send the unit back and she gave me an order number... Two day later even before I send back the broken battery, a new one already was on my doorstep... That was the best customer service I ever have of any American company.

I bought a camera and they misleading call you and tell you that the battery and charger aren't included so you have to pay extra for those. I was sticker shocked by the new total after adding in the battery and the guy hustled me to make a decision on the spot. I said "I needed to think about it and I'll call back". He said "then go to the store and pay more because I'm cancelling your order and you can't call back". Then he hung up!!! The most unprofessional business I have dealt with. If this is how they treat you when you're trying to place an order, imagine how bad the customer service is when things go wrong.

I purchased a photo album for Adorama. It arrived without problem, was very nice album but NOT what I was needing. I inquired about returning the album and was told it would be no problem as I was well within the 30 day limit period. I paid $39.00 + tax for this album. I was given instructions on how to return it etc. It cost over $18.00 to return the least expensive way via U.S. mail. Yesterday I received an email telling me they had credited my account with $31.00. I called & ask WHY was I NOT given FULL credit including tax etc. The album was returned in perfect condition. I was TOLD they DEDUCT $8.00+ for the prior 'free' shipping on the album... So now, I have a LOSS of $26.00+ in this album.
The woman I spoke with on the phone seemed to care less about what I had spent to return the item PLUS my LOSS of $8.00+ for the 'FREE" shipping. This experience just reminds me why I need to NEVER shop online unless it is with AMAZON. Adorama lost what would have been a VERY GOOD customer on this deal. Live & learn.

I've been given a roundabout and redirected to the sales department because the supervisor of returns didn't know what to do with my situation. The fact that they would send me over to sales when I'm trying to explain a situation to them is not only frustrating but also disrespectful. There were some departments who wouldn't even listen to my issues before sending me somewhere else. Not only that, I've had one department (I can't even remember which at this point) even use language addressing me in a way that's inappropriate. Very disappointing service.

On January 7, 2016 I order and received a DJI Phantom 3 Pro from Adorama. I spent the next couple weeks preparing to fly the Phantom, but other than removing it from the box never flew it. As I did more research into the Phantom I found that the item sold to me was a older version of the same model and was prone to shell breakage. I emailed Adorama asking if I would be able to exchange the Phantom for the newer model.
The next day I received an email along with a return UPS label saying they would exchange the Phantom. The day Adorama received the Phantom back, I received a phone call saying they would not exchange the item. No explanation was given, and the person I spoke to didn't even know they had the Phantom back. The person I spoke to said they would ship the Phantom back to me that day or the next.
After 5 days of not hearing anything about the return shipment I called Adorama back. The person I spoke to said the item would be shipped that day, and then changed what he said, and said he didn't know when it would be shipped. I don't understand why they said they would exchange an item when they had no intention of making the exchange, but just as much why they won't ship it back to me. I think Adorama should honor what they said, exchange the Phantom for a new one, but at this point I just wish I had my Phantom back and never heard of Adorama.

Update 3/28/16 - received my rebate after Helen ** read my review and stepped in. I am pleased that I finally got my rebate and have no problems with the Samsung Gear S2. I am not pleased that it took a bad review to get my rebate paid.
Original Review
I purchased a Samsung Gear S2 Classic from Adorama online as a Christmas gift. They were offering a $50 rebate MasterCard with purchase done between Dec 15 and Dec 21. I immediately tried to file for the rebate online but could not proceed because I needed the serial number. No big deal I thought. I would get the number before I gift wrapped the present. Once I received the item, I filed the rebate online - but WAIT. The rebate is not processed unless they receive a signed rebate form, the physical receipt (even though you've already had to attach a copy with the online submission), and the original UPC.
I mailed everything in on Jan 19th. On Jan 20th, I got an e-mail reminding me to send the physical forms in. A few weeks later I got a reply that the rebate is not valid since I took more than 30 days from the original purchase date to mail in the documents. ARE YOU KIDDING? I called the rebate headquarters, just to be told that it was Adorama's policy and to call Adorama customer service. I talked with Adorama's customer service and they said that there was nothing they could do since they did give you time to submit everything. (30 days minus 5 days for shipping plus having to wait until after the present was given and then having to wait to get the original UPC from the gift recipient does not equal a lot of time.) On top of that, since they ask for the original UPC, you can not return the item either. LOUSY CUSTOMER SERVICE. Will NEVER recommend.

Bought a Fuji X-Pro1 camera from Adorama. Love the camera even though it came with a burnt pixel in the viewfinder. Returned the camera for a replacement and received, in its place, what was clearly an open box or a used camera. Box was beat up as if it had been shipped around the world 10 times. Very disappointed with Adorama... received better service from e-bay sellers!!

Spoke with Mike ** directly during the week prior to Thanksgiving for advice on this camera bundle (Canon 7D Mark II). Adorama is a real store in New York - not just an online retailer from another country. He was intelligent and resourceful. I got an amazing deal on the camera and Mike took the extra time - not once, but twice - calling me after the item was delivered to ensure my satisfaction. He answered questions and guided me on future needs/purchases. Then, sent me an e-mail with his contact information in case I ever needed anything. I was amazed at the level of service and the professionalism of Mr. **. Because of my experience with Adorama I will continue to purchase all my photography equipment from them. Great company to work with.

I have (had?) a wonderful camera - a Leica M9 with a Summilux 50mm lens - value of about $6,000 usd's. I am now a stay at home dad some time does not allow me to use the camera like I'd like. I decided to send the camera into Adorama (should have chosen B&H) to get a quote on what they'd pay me for it. I sent the camera to the company about a month ago.
Received an email 2 weeks ago saying they had received my camera and someone would be contacting me regarding the value. I've tried and tried to get a response from Jack ** on the value... and to just let him know to please send my camera back. It's been over two weeks and nothing. I fear I'll have to contact a lawyer to get my camera back. I never complain or take the time to submit a review but I will now and try and spread the word about how terrible this company really is. I wanted to give a business other than B&H a try but was stupid to do so. Please, never use Adorama for anything!!!

Although the product I received was as described, upon receiving it, I decided I wanted something else. The return policy for Adorama is where my complaints begin, however. After emailing the prescribed address, I was contacted saying that I would have to pay for return shipping, AND I would be charged for the "free shipping" I had received upon the purchase. The item was $10, and paying shipping two ways means I would get $4 back from the purchase. It was not worth it, and will, therefore, be keeping the product.

I bought an item from adorama seeing the rebate offer of $30. After purchase from adorama I had corrected the address with adorama. I first send the form as they instructed but missed the UPC code. SO it was rejected saying that UPC code was missed and mismatch in address. Called them and to confirm on the things I need to send for resubmission of rebate. I was instructed on the correct UPC code I had to send and I was told that my address will be updated by the customer care agent as I had already corrected them in adorama. After the confirmation I resend the rebate form with updated UPC code.
After 2 weeks I did not get any update and when I contacted the Customer care I was told that it will be rejected as there is address mismatch. I informed them that I was told that the updating was taken care by the customer executive while I called, but she was saying that I denied address updation by customer agent when I called. I dont understand why would anyone deny correct updating of address? I did contact adorama and update the address in my invoice and why wouldnt I update the same in rebate form? The agent was too rude to me saying that address in their database was different from my invoice. But the contradictory part was that when I called them I was asked to verify my address, and it was verified with new address which they said that is correct.
After some time when I asked for the status of rebate I was told that they have old address in their database and said it was rejected. I dont understand then how I was verified with new address. Its a kind of scam where adorama advertise saying all kind of rebate to get sales and rejects the rebate after selling the item... All should be aware of this scam and keep away from these. Go with amazon which offer far better customer experience.
Adorama Camera Company Profile
Company Name:

Adorama Camera

Company Type:

Private

Year Founded:

1975

Address:

42 West 18th Street

City:

New York

State/Province:

NY

Postal Code:

10011

Country:

United States

Fax:

(212) 463-7223

Website:

http://www.adorama.com/