Adorama Camera
More Than a Camera Store Adorama Camera has been providing services and products in Imaging - and Beyond, since 1975.
We have on hand an incredible staff team of experts who are anxious to share with, and learn from, our customers. We've earned our reputation for exceptional service and integrity - one interaction, one sale, one gem of advice and one respected customer at a time.
We shop long and hard and thoughtfully to make your shopping experience a wide-angled panorama of the very best in photographic/visual gear. Smart buying on our part means savvy saving on your part. At Adorama, we pride ourselves on keeping the cost of remarkable photography remarkably low by constantly comparing and competing to keep our shelves stocked with the best equipment at the best prices.
Whether you're looking to add the latest gear to your bag, enhance your visual experience or just share a camera-friendly word with people who care — welcome to Adorama.
We love photography. We love the art and science and passion of photography. We love the photographers, both well-known and well-intentioned, who create works both famously and anonymously great.
Our store brings it all together — a wall-to-wall, floor-to-ceiling photographic overload (take your time, you could get a bit lightheaded!). Experience the very latest, the proven workhorses, the must-haves, the smart add-ons and the unexpected surprises.
Consumer Complaints and Reviews

I placed an order for a $30.00 pair of binoculars which said on the page ordered from shipping was free, but when the order went through it included a $5.00 shipping charge. I contacted their customer service and told them of this but they said that the item I bought didn't qualify for free shipping and they wouldn't refund the shipping charge. It was on the page for that item that it expressly said shipping was free so they are effectively stealing my $5.00 under false pretenses.

I bought a Canon camera from Adorama Camera store. Adorama advertised the camera as not being a used camera. I spent about $1000.00 for the DSLR camera. Thank goodness I have good vision up close. When I opened the package I immediately could see that the camera was used and abused. There were nicks and scratches on the camera on the glass part of the view finder and elsewhere all over the camera. It even had dirt on it. I was horrified. I took the camera to a reputable store that actually carried new cameras (Best Buy) & Best Buy was very helpful and reputable. Not only was the Adorama camera very withered but the new camera lens from Best Buy would not go on the abused Canon camera that Adorama sold me!
Do not buy from Adorama camera. I wonder how many used cameras they have sold as new? I have good vision up close and many people do not. My other used camera that I have had for over 15 years was in much better condition than what Adorama sold me. Thank goodness that Paypal is a very reputable company and helped me get my money back.

I purchased a Pen-F camera that I was having an issue with. Adorama's customer service rep. Helen ** was so very kind in her assistance, following up with me, asking me how things are with the camera, answering all my questions. I felt she just went more than that extra mile to assist me. A customer service representative is the only link you have regarding the product and the company you purchased it from, and knowing that there is someone there that mediates for you, especially in a kind and caring fashion is very reassuring. Helen ** is that customer service representative. She even went to the trouble of searching information that might help me with the issue I was having. I have never had that kind of help before with a service rep in any company.

I ordered a lens and I promised it would be shipped out as soon they get them in. I called their so called customer support... Bad would be an UNDERSTATEMENT. THEY HUNG UP THE PHONE ON ME... THIS COMPANY SUCKS... BAD SERVICE... I ask that my account to be deleted. I do not want to do business with them anymore. Good bye forever.

Almost impossible to speak with someone in their office. Bought a new laptop that they shipped in a box 4x too big with no padding. The box is destroyed when UPS left off. They said not their problem, call UPS. Need new laptop to take on vacation. Don't have time for UPS and them to sort it all out. People in Philippines (call center) know of my problems but not NY.
How do I know I can trust these reviews about Adorama Camera?
851,205 reviews on ConsumerAffairs are verified.
We require contact information to ensure our reviewers are real.
We use intelligent software that helps us maintain the integrity of reviews.
Our moderators read all reviews to verify quality and helpfulness.
For more information about reviews on ConsumerAffairs.com please visit our FAQ.

First off, I definitely cannot understand so many negative reviews, as my experience with Adorama has been nothing but positive. First purchase was an iFi iCAN Pro amp that was on sale for $1299. It arrived extremely fast with tracking, brand new with no issues. One week later, I was notified via head-fi.com that Adorama was offering a combo of the iCAN amp with the Audeze LCD-4 headphones for the same price ($3995) as the LCD-4's alone. I called up Adorama, and they immediately discounted $1299 off the price of a new pair of LCD-4's for a total of $2696. I was amazed at their customer service. My third purchase was for a 7.1 setup of Polk LSiM speakers at an extreme discount during a 1-day sale. The speakers arrived fast & in perfect condition, and I saved $4900 off the retail price from an authorized vendor. I'll definitely buy from them again.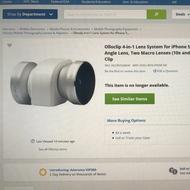 AWFUL. I purchased something for my boyfriend, an iPhone 4 in 1 fisheye lens set. After looking over what this company offered, I dropped 80 dollars, with 3 day UPS shipping. I awaited my email, and decided to check on the order. When I looked at the details, it said my item was on backorder. I then got in contact with their online customer service and asked about how long it takes for an item to be shipped out when on backorder. She informed me it should ship out in 1-2 business days. Well time passed and still no update on what I ordered, I looked again and it still said on backorder. I used the online customer service again and spoke with someone new. He then informed me that they didn't have the item in stock at their store, but would get the manufacturer to directly send it to me, so then I wouldn't have to wait for them to receive it, then send it out to me.
Happy with this I said "okay I would appreciate if we did that." He said he would get back to me in 1-2 business days. That felt a little shady to me so I decided to go back and look at my product I had purchased just to see all I was getting. The product then said ITEM NO LONGER AVAILABLE. It did not even have it as an option to buy anymore. I called customer service, and someone named George, a woman, informed me that yes they no longer are selling that item, and the manufacturer is no longer making it either. I was FURIOUS. At the time I purchased it, the product said in stock. As soon as I gave my information, the product went on backorder and I kept being told wait 1-2 business days. I was never going to receive an email stating what I had ordered wasn't available at all. I am very disappointed.
This was supposed to be a surprise after he broke his, and it is hard to find this exact one, because the ones they make now are for the newer iPhones, and they have changed. The woman didn't even seem to care, and I am just curious, if I hadn't have pushed the subject, would I never have received anything? Don't waste your time. After doing more research you see they have more complaints than compliments. But because people don't look before purchasing, they end up being screwed over. Awful company, needs to be put out of business.

Bought a 2T hard drive and it arrived in an envelope without any padding. The box has an open face so you can see the hard drive - which means something could strike it. Person at the post office recognized it as coming from a camera store and said: "Boy, there's not much padding." Indeed, there was no padding. Tried to "chat" with somebody at Adorama and gave up after being stuff at "two minutes and 44 seconds" for about 10 minutes. So, now I could send it back - which means my work project is delayed - or I can just hope it won't fail.

Ordered an SSD with 4-6 business days for shipping. On day two, tracking said it was going to arrive on day four, which was fantastic - and then it stopped updating and wasn't delivered. Contacted on Friday asking about the lack of tracking, mentioning there might be an error, just got a canned, "We're in the shipping window, please wait." Contacted Monday (day six) after mail had been delivered with no package, got the same canned response, even though mail had ALREADY ARRIVED, and they also tried lying to my face and said that I had selected 7-10 days, until I called them on it and showed I had in writing from them 4-6.
End of day arrives, surprise surprise, no package. I call again, and only THEN does the person actually check anything and say, "Oh, there was an error with your tracking number, it was impossible for you to receive." Offered either a reshipment or a refund, I went with refund. We'll see if it actually comes through. I am never, EVER shopping at Adorama again, and I highly recommend nobody else does, either. They've refused to even glance at an issue, do not provide customer satisfaction, and have attempted openly lying to my face.

Adorama Camera is very bad with customer service. Shipped incomplete order and took 10 phone calls and then they said they don't have it. Then offered a credit. Rejected that offer. They are disorganized. False advertising. No excuses.

I submitted a request for a used lens buying guide (what to look for) when I discovered a link in an old Nikonians post. Helen **, Adorama Camera Customer Service Ambassador, was very quick to reply and generous in digging this document up for me. A true photography community member... sharing and caring!

Helen is the best! Helen helped me a lot, was very kind and answered very quickly. Without their help, I probably would not have been able to complete my purchase on time. No doubt I would deal with her again in the future. Thank you very much Helen!

After having some issues with misunderstandings and "dropping the ball" a few times, I contacted Helen **, Adorama Camera Customer Service Ambassador. Helen handled my problem without hesitation and took care of me right away. I need to give credit where credit is due, Helen, you're the greatest. Thank you!

This was my first time buying from Adorama and it will be the last one. I ordered some screws for my camera on December 27, the screws are marked as "In Stock". After a month and multiple complaints I finally receive the package on the mail, just to learn that they sent the wrong item. I asked for a shipping label to send the stuff back and a refund of my money. I was told they were going to open an "investigation" as if it was my fault. It's February the 3rd today and I haven't received my money back. I don't even know if I'm going to get my money back or if they are going to try another dirty trick to keep my money. Shame on you Adorama. This guys are thieves and they should not be in business.

Bought an expensive Canon Lens with a package deal only offered by Adorama. The price of the lens was on sale with an instant rebate. Everyone was selling this popular lens at this sales price but only until the end of the year. I picked Adorama only because they had the lens with a package where you got a tripod for free as a bonus, so why not. Well I got the shipping notice that my stuff was ALL on its way. However, only the tripod showed up. I then had to log into Adorama to research what happened to find I got refunded for all of my purchase including the on sale Lens minus about $25. It doesn't say why. The tripod was worth more than that.
What upsets me is that NOW the lens is not for sale anywhere and will cost me an extra $150. The Canon rebate period is also over. So now I have a tripod I really did want and should have been free, but cost me $25 plus now the extra cost of getting the lens after the instant rebate or Canon rebate period. They are still selling this exact same package for more money. So the lens was in stock. Is this some sort of rebate scam where they are getting rebates and never selling the product? They never emailed me to tell me of my refund or I would have purchased somewhere else for the same price while it was still on sale. They did this on Dec 31 the end of the Canon rebate. Interesting.

Purchased a used 400-CD/DVD changer for $54 plus $21.75 shipping. Their website says all merchandise is checked to see it's working before it leaves the store. Well, nobody checked this one. Didn't work from the moment I plugged it in. Door wouldn't open half the time, turntable made horrible screeching noise and CDs wouldn't play. Of course, I could return the item, packing it up, schlepping it to the PO, where, of course, I'd have to pay return shipping, which would give me a grand total of $10.50 for a refund. Please save yourself much frustration - and money - and don't deal with this rip-off company.

I was concerned with ordering a camera from Adorama, based on the numerous poor reviews on the Yelp website. I contacted Helen (Adorama Customer Service) and she immediately addressed my concerns via email. One of my main concerns was if they shipped to APO boxes as I am stationed overseas. I also conducted reviews of Adorama on camera specific websites, and found little to no poor reviews of Adorama. I ordered the camera and it arrived in a week, which is very good time. Thank you Adorama.

Ordered used Tamron 150-600mm G2 lens. My order was confirmed and shipped. Received order which included the wrong lens. Customer service provided return shipping information but would not ship lens ordered or provide a pricing adjustment on another lens in stock due to Adorama's error. I offered to split the difference on price on the in stock identical G2 lens.

If you are thinking of buying, trading and/or selling equipments to this company, please head out: DO NOT. Do not trust them with your equipments, and most especially with your time. First, I bought my metabones from them, they also sent brochure about they buy/trade used camera equipments. The metabones was a failure. I talked to professional photographers and I was given several opinions like updating the newer software on which I did but still did not worked. I sent it back. Then, I decided to sell my canon lenses on which I should have not. It took them forever. I emailed 3 times, they tried to call me one time. Then I didn't hear from them. And when I finally talked to one person, the amount that I was supposed to get was not true. So, I'm very disappointed with this company and I will not deal with them ever.

Bought this product that had a $20 rebate offer. This rebate was part of my reason for buying. Product is great. The rebate process is an absolute disgrace. The amount of information required is ridiculous considering this company must have a record of what they need: Original UPC Barcode Label, Original Serial Barcode Label, Invoice or Order form. Am I meant to cut the serial number out of the box which is a gift for a friend? After mailing the product to me and charging my card are you not aware that I am a customer. Don't you have this data on your computer systems... or do you just mail products without any kind of inventory system. Based on what is required, it's clear to me as a customer that the rebate process is so involved and difficult for purchasers that they will not follow through. Congratulations, Adorama you get to keep my $20, but I will never buy from you again or recommend your company to anyone.

I ordered a "wireless" printer from Adorama and got free shipping. The product that I ordered was NOT wireless so I bought another one from them, paid for it and then got my return form to fill out. Come to find out that the "free shipping" will be deducted from my original purchase price. This is in addition to the return shipping I have to pay separately!!! Bottom line is that with my reimbursing Adorama the cost of initial shipping plus the cost to me for return shipping of the product will end up costing me more than I originally paid for the printer. I understand paying for return shipping but also initial shipping is just plain wrong. BOGUS.

Ordered a 27" Dell Ultra sharp that they had described as crystal clear and great for photography. I received the product and was so excited, and as soon as I plugged it in my heart sank. It's a piece of junk. After writing customer service and telling them they sold a product with a misleading description, they basically told me "they strive to provide the best customer service." If that's the case, I should have been provided a return label for the awful product I was sold. Instead, they said to pay for it to be shipped back ($100.00) AND basically what I see as a punishment for returning a crappy item, they would also deduct the cost for them to ship it to me. Seriously, the worst company I have ever given my money to.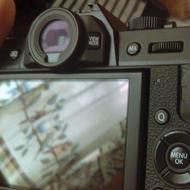 I bought a Fujifilm X-T10 and it came broken without a thumb grip that is supposed to be built in. I contacted them and they said it is supposed to come like that and it was an accessory. Which was absurd since you could go to Fujifilm's website and clearly see it came built within the camera. I felt as if they did not want to admit they gave me a broken product. My photojournalism professor also recommended me this site and said it was reliable but he is also now disappointed. This was a complete travesty for being my first purchase from them. I can tell you now I will not be shopping here anymore.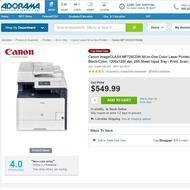 Recently someone posted a deal from Adorama on Slickdeals.net. Normally Slickdeals is very good at vetting these deals before they make it to the front page deals, so I thought we had a winner here with my printer order. Adorama offered the Canon imageCLASS MF26CDW for 274.99 while on promotion. It appeared later that many other retailers were offering this price as well so I went for it. When I checked the item on their website it says that the availability is "In Stock Online" and that it may take 1-2 days to process. Now I don't mind waiting a day or two for my item to ship... However, that's where things went bad!
After placing my order, I receive the email below saying that my item is back ordered. This email came within 15 minutes of placing my order. So, being concerned that the item shows in stock I called customer support. The lady I spoke to sounded like she was not in the USA. She stated that they have an open order with Canon for these printers and they are currently just awaiting delivery. They were expected to deliver within 1 to 2 days to the warehouse and then they would ship. That was the reason for the may require 1-2 days to process. 2 days passed and I still didn't have an update on my printer. I contacted support again, and they stated that the website doesn't update as fast as their back end system and that my item is still on backorder. They offered to get me with a salesperson who could recommend a similar machine that would meet my needs or cancel the order.
First law violation: They sold me a product (bait) and then knowing they don't have the product to sell, tried to get me to switch to something else (switch). For those that don't know it's called a bait-and-switch law and it's illegal. Second law violation: They have now debited my account almost $300 for a printer that they have no intentions of shipping. This would be fraud! Now the item is back to regular price on their website. It still shows as in stock online and they are still taking orders for these machines that they are not shipping. Don't sell to this company or buy from this company if you actually want money or your product. You will lose both! I will not be shopping here again. I am filing a claim with the better business bureau today and I will be contacting the New York Attorney General's Office today about this company and their fraudulent ways. It is likely that he will direct me to the FBI Cyber Crimes, but we will start with these two first.

The verification team at Adorama don't stay behind their shipping policies. The whole point on shopping with them was to have an item being shipped the same day. After made the confirmation or the order, the Verification team messed up and activated the order to be shipped after 8pm EST. The call that I received from that team before 8pm can be reviewed since they recorded them and the time can be verified there. However, since they messed up the item was not shipped that day and until the next one I found out about it. Spend around 30min with Customer Service and they have no solution for me. They offer you a compensation for completely ** with you as long as you don't cancel the order.
There was no point for me to continue with the order since the person receiving the item as a gift was flying out from the country so I could have spent the same amount of the purchase on trying to send abroad this item to that person. An apology just doesn't solve the issue and I have the proof (they as well) of how they are not behind their policies advertised on their website and how someone on their team made a mistake that they should have resolved around the customer.
Think twice before relying on such incompetent resources and hopefully they could train their representatives better so they don't waste their customer's time. I will do my best to discourage anyone I know that is considering Adorama by sharing my experience and provide better options so they don't buy with them. Thanks again to Adorama for messing up with me and the whole story behind this gift. The only thing I got from Adorama instead of a nice gift was nothing and someone that got away with it.

This is my story. Nikon D750 body with just over 1,500 shots. Nikon SB 900 with all blank warranty papers. Nikon 28-300mm Which I just bought from Adorama for over $1,000.00. Tamron 24-70mm newest version the best lens. Canon XA-10, with Mic, and aftermarket Hi cap battery, charger And some accessories. These items are in excellent condition, along with all warranty papers. After I talked to Avi ** He told me that I will hear from him soon, after waiting for a few days I got a reply from Avi that I can get roughly for $3,470.00. I am happy to see this $3,470.00, and I thought that I might get some more after they get all my gears.
A week after I called Avi whether he got my package, they did and I asked Avi that how much more I can get for my gears, Avi transfer my phone to Jack. My first question I asked Jack is how much more I can get, Jack told me that I can get for $2,500.00. I said "No" to Jack immediately. How can I want to sell my gears for that much, when I see the first number $3,470.00 that they show me. If I didn't see that number, I didn't think I will send all my stuffs without questions. Amir told me that Adorama will buy things from customer 70% based on the market price. If doing so my whole gears can get paid over $4,000.00 based on the price on Adorama Website.
Please help me, if Amir didn't give me the number $3,470.00 then there is no way I will send all my photo equipments in such wonderful condition. I told Amir that I want to buy a camera that can do both video and still. This Nikon with big lens banged to my 3 years old daughter a few times, I don't want that to happen again; therefore, I have to let them go.
Now, do you think I can get the price that the first time Amir told me which is 3,470.00 or I can only get $2,500.00. Just think like this. If you sell all my gears for half of the market price, you already make a lot more than you pay for me. I am not a Pro guy, and I am just a Handicap guy. I can get over $1,000.00 a month, and I have four mouths to feed. I love to take photos for my kids, now I think if I sell these to Adorama, I will get more money than selling them on Ebay. Please rethink this matter, and help me.
Please anyone out there can help me, I am so greatly for all helps that I can get. Jack told me that Deal is a deals many time, and He spoke very fast; therefore, I have to make sure that I can get $3,470.00 by asking Jack over and over again. Ok I said. Before hung up the phone I asked Jack that I want to buy a camera which can do both still and video, Jack suggested me that the Sony A7II is good for that and if I buy it then I can get $250.00 off. Wow that is great. A week later I got my Sony along with a check $250.00. I call Jack right away because How can I get that much, Jack told me that I can get that much along with $400.00 in my account? I didn't have any Adorama Account as I recalled, and no one told me that is what I get pay, and I didn't asked them to do so. Jack explained to me that the sony A7II is $1,700 plus $400.00 in my account plus a $250.00 check therefore, the total that I can get is $2,350.00.
Jack, are you out of your mind or you are taking advantage on non English Native Speaker. Please do your math. If someone out there has all my gears and sell them on Ebay for %30 percent of the market value right now, then I am sure they can get a lot more than Adam pay me for $2,350.00 on Ebay right now. I am very scary and sad, because of how can a big company with the Reputation can do such thing for a Disabled guy like me. Jack told me this over and over that our conversation on the phone has been recorded, then there is no way I can do anything about it. Jack, if you are a decent man, please don't do that to me and either you pay me $3,4700. Or returned back all my gears. Thank you.

I purchased a Sony 70-400 zoom lens through Adorama/Amazon. Not only was the lens priced nice, but to my surprise, Adorama shipped me the newer model (G series). I had first ordered through a competitor and when they failed to ship on time, Adorama/Amazon had the lens to me in less than 24 hour. They were hands down the best experience for me. The lens is beautiful!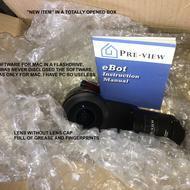 I bought from Adorama via Amazon.com a "Pre-View Ebot System 360 Degree Panorama Images Start Kit for Nikon DSLR". The item came, as you can see in the picture attached, with the box totally opened and destroyed, the lens without a lens cap and full of grease and fingerprints and software for MAC in a flash drive (I have PC). First of all, the box looks like it was found in the garbage. Then the lens, without any protection and all dirty, the software in a cheap flash drive and for MAC. Adorama was selling this item as "New". I would like to know the meaning of "New" for this crappy store.
Adorama did not disclose in Amazon.com that the software was for MAC. As you can suppose, this item is going back to Amazon right away, but you know what? I guess it is all my fault. 4 years ago I purchased from crappy Adorama a professional video camera and I had a similar experience. I swore myself not to buy from them anymore and I did it, I deserve what happened because I already knew them. That time I kept the camera, but now they will eat this piece of garbage they sent to me. Minus 10 stars for Adorama.
Updated on 8/2/2016: This is the second part of my terrible and awful experience with this crappy company called Adorama. After 2 long weeks of dealing with this people, they issued a refund for the item I bought from them via Amazon.com, but they kept the shipping cost. I bought that item because was described as NEW and they sent me a USED, BOX OPENED, INCOMPLETE AND PROTOTYPE item (prototypes are not supposed to be sold). Why do I have to pay SHIPPING FOR AN ITEM I DID NOT ORDER? People, please, do not buy from Adorama. Purchase experiences with them are really BAD and the returns even WORST!!!

I source many items as a part of my work. I have learned that I come out much better if I deal with companies that have exceptional support, rather than exceptional prices. Anybody can offer a low price. It takes a real commitment and integrity to provide exceptional support. The sales person that I dealt with at Adorama did not rush me, was so knowledgeable, that he helped me quickly navigate their vast product offering to the items that would serve ME best. If I only could include a tip for such a salesperson... I would.

In short: Paid extra for express 1-day shipping, took me 14 phone calls with them and 4 emails to actually make the order, only to realize they don't even have that item in stock. Just horrible, horrible overall online service. I've performed a 1-day shipping expedite order since I knew I'm leaving the US on Friday (ordered on Tuesday). The item has been stuck on "Pending" for a few days and I started making some emails. Every e-mail took forever to answer (over a day). Eventually, I gave up and started making phone calls. The representatives on the phone were nice but caused insane amounts of frustration and confusion.
Apparently the credit card charging failed due to MasterCard marking the deal as "Suspicious". After 2-3 calls to MasterCard, it was resolved. She said (the representative) it will be shipped out today during all of our calls before and after resolving the payments. They finally were able to charge me after me making almost 14 phone calls to them overall. I was sure it's all over and I'm gonna get my item in time.
A couple of short minutes after finally getting this done, after spending my entire last day in the US on phone calls with them and being sure everything is fine - they called me from Verification and said "Your order is back ordered, it won't be available to ship". WHY THE HELL WOULD YOU OFFER 1-DAY ON BACK ORDERED ITEMS?? This is absolutely unacceptable! and INFURIATING! Why move a customer through all of this frustration and phone calls for no absolute reason? Why commit to 1-day shipping if you're going to take 2 days to even reply to an e-mail. Just ridiculous. DO NOT DEAL WITH THEM.
Adorama Camera Company Profile
Company Name:

Adorama Camera

Company Type:

Private

Year Founded:

1975

Address:

42 West 18th Street

City:

New York

State/Province:

NY

Postal Code:

10011

Country:

United States

Fax:

(212) 463-7223

Website:

http://www.adorama.com/