WOW! Internet Cable and Phone
Consumer Complaints and Reviews

Wow! dropped Encore/StarzEncore from our list of channels, which for the past 16 months was included in our total price. Not only did they raise their rates over $40 after 1 year, they reduced our lineup by 3 movie channels. Encore was included - Starz was not. Merger of new StarzEncore channel means that none are included. Subscribers pay higher rates and have 3 fewer channels. Yet another corporate decision resulting in profit over service.

I had a salesman (who was let go from the company) make false statements about their contract. I was upset but I contacted the CEO and all was made right within hours. Very satisfied with the prompt customer service that I received. The problem was frustrating but their resolution was more than satisfactory. I was completely satisfied with the internet speed while I had it.

Our cable, internet and phone went out shortly into the Sugar Bowl on a stormy night. It was a Monday. Bridgette said we might get service by Friday! What a load of bull! If service was important you'd get my service on quickly like it was important! WOW service lady basically said because she didn't know other outages were being reported she didn't know if we had a problem! So they "send a signal" to my box, "which can't receive a signal" and "nothing happened." Meanwhile, I've got to act like I'm glad I chose service from a company who doesn't know it's storming outside. If my cell battery goes dead, how do I call for a firetruck if my house catches on fire? I want all the potential customers to know about this godforsaken service. Shall I rely on this team for the championship game as well? Meanwhile I'm paying for service I do not have - cable, internet or phone.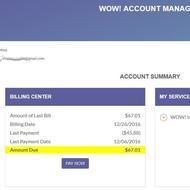 Their business ethics are deplorable when it comes to overcharging and increasing their fees. I have been a loyal and on-time paying customer, but they keep increasing my rates. My latest statement was $67.01 up from $45.88 for their lowest level 10 mbps internet service only. I have tried on multiple calls to try and negotiate this overcharge/rate increase for a service I can accordingly get from their advertised price for my area. I suppose my only recourse is to drop my service and move on.

These clowns came to my neighborhood to lay fiber for the neighborhood. I don't even have their service. They dug up one location and made an error and dug in the wrong place. Then dug in another, did their job, said they would come back and fix it. 2 months later 7 calls and they still haven't come out. I am driving down to their office tomorrow to see if I can get something done. If not, time to go to small claims court to see what I can get out of them. I may even call the police and file a criminal mischief report. As for their service I will never know because I will never use them. If they can't do something as simple as come back out and replace sod, I have no confidence in them providing a service. They are a joke for an organization. If you can't do the simple things, how can anyone trust you to do the complex things like providing internet service.
How do I know I can trust these reviews about WOW! Internet Cable and Phone?
667,311 reviews on ConsumerAffairs are verified.
We require contact information to ensure our reviewers are real.
We use intelligent software that helps us maintain the integrity of reviews.
Our moderators read all reviews to verify quality and helpfulness.
For more information about reviews on ConsumerAffairs.com please visit our FAQ.

Have been a cable, internet and phone customer for over 10, probably 15 years since Cox Cable left North Olmsted. For the past 5 years (since turning 65), I have had difficulty keeping up with the rate increases. I have called and the customer service people usually placate me by offering to eliminate $10-$15 per month for 12 months only. Last year, some nice person gave me the number of a WOW department that helps with these types of problems. I have lost the number and or department name and I guess the perks expired. In June my rates were raised and since then, a few more small rates have crept in. In November, my bill was around $141. This month, the bill has increased to $178. I am on a fixed income and this is TOO MUCH.
I called to see if there was anything the customer service person could explain or help me with. After about 15 minutes, he managed to lower my bill to $158 per month because they are no longer allowed to discount any equipment charges. He was not too willing to help at all. I mentioned to him that I was given a number of a department that can help more and he basically said he had never heard of anything like that. I constantly get mail from WOW telling me of their great packages for $89 (but that is for new customers only). Why can they spend so much money mailing me these incentives instead of checking their current customer list and not mailing that insulting offer. I believe that TWC has offered me the same $89 package with upgraded Internet and free DVR so I think WOW will be losing a loyal older person as a customer. I truly do not understand why they do not have a Senior rate anyway.

Oh! Wow has the most incompetent people in the USA... No communication with their company. 2 months and no bill, kept calling in that duration. Got billed, got late fee, still can't get through the unprofessional, incompetent, imbecile employees and managers... More stupid, you call up the same number, you get rep from every state or overseas.

Multiple problems: Was owed $9.06 and have paperwork to prove but have given up after 3 calls and 4 month wait. Not a lot of money but it's mine, not theirs. Be sure to check on statement under 'Additional Services' for what they're charging you. Was charged for an extra adaptor I didn't have but I had no way of proving it. Adaptor charge was $1.99/month. I was charged $2. Again, not a lot of money for me, but if they're overcharging all their customers by a penny, this is a tidy, illicit, profit for WOWWAY. Again, have the paperwork to verify.

Most incompetent place I have ever had the extreme misfortune of doing business with. The CSRs are beyond ignorant & clueless. The technicians are just as ignorant & clueless, plus very lazy. There should be a picture of this company as an example when you look up such words like deceitful, fraudulent, and liar for they fit it to a T. This week I have had about every free moment of my time monopolized by these incompetent idiots and still nothing resolved. I admonish ALL to heed the warnings and stay away from this company for they will suck the life out of you in their continuous lies. The hold time to get to a human is ridiculous and to get someone in charge... I do not think such a person exist there. I got 2 team leads, Norma & Garrett; both as useless as tits on a bull & according to Garrett, their bosses don't talk to the consumers. So once in, you play hell to get out AND get your money back.
They bought out Knology & supposedly replaced 75% of employees but it is no better, only worse, and Knology was pretty bad. Comcast also was an absolute nightmare. Going to buy new TV and utilize Netflix, Yahoo, and whatever else and get away from the horrible cable companies I have to chose from. I think FCC needs to do some work for what is happening should not even be legal.

My most recent statement shows a $1 charge for "Additional WOW! Cable TV Services". We do not have cable tv, so I called the billing department and asked that this charge be removed. Dashawn told me this charge was for paper billing and if I signed up for paperless billing he could remove this charge. So I signed up for paperless billing, but the charge was not removed. I called again. Ray informed me that the charge could not be removed even though it specifically states on my statement that it is a "Cable TV Services" charge and I have no cable tv.
I then asked to speak to a supervisor and was put on hold for 15 minutes and then told that I could not speak with a supervisor because there were none there. It is possible that WOW! intended to note this charge as a charge to send me a bill for their services, but the fact is that the charge is listed on the front of my bill as "Additional WOW! Cable TV Services." Because we do not have cable tv, WOW! should not be able to charge us for "additional" cable tv services. If they made a mistake on the statement, that is their problem and they should still remove the charge until they are able to print the statement correctly and list the fee correctly on the front of the statement. WOW! has been difficult to deal with in the past. I would not recommend the company at all.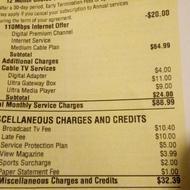 After 3 months of service I finally received my 1st paper statement! I kept calling and asking why my "fees" were $33... no clear answer. First of all, the day they installed my cable they cut all the other cables on my house and left me without a landline from another company. THEN THE TECH WHO CAME TO MY HOUSE said it would be $50 to fix - I sent him away!!! Now I see they have been charging me $4 for a magazine I never got and did not order. They also have been charging me $5 for "Protection plan" I did not want and STILL TRIED TO CHARGE ME $50 to come to my house and repair what they had done. (They said they had to cut all other cables or I would have "interference" which I found out is a lie!!)
I KNOW I was recorded when I made the initial order so why can't they review it and reimburse me all the $$$ for "services" they "volunteered" me for??? I REPEATEDLY SAID I COULD NOT AFFORD MORE THAN $100 monthly bill!!! The service reps are trained to word things in a totally deceptive manner and it is obvious! NOW I am stuck with them for another 9 months!! Why didn't they tell me in the first 30 days I could cancel??? I called complaining many times!! My first complaint was 10 MINUTES after installation when I realized I had no phone! The fact they left a senior citizen who lives alone without a phone and did not even attempt to REPAIR shows us what kind of company they really are! At 75 years old, I can easily attest that WOW is the shadiest company I have ever dealt with and I cannot wait for the day I turn on the news and see a big class action suit against them for fraud!! THEY DESERVE IT!!!

Well after being a customer for 3 years, these people will not give me a 24 hour payment change or call at midnight and then I will get it after they interrupt the service!!! Yeah right like they're going to turn it back on! I know this is what they offered me before!! A 3 day hold call before service interruption!! Now they change it and tell me no they didn't!! On top of the fact I have to request a U.S. Customer service rep!!!

I have been a Wow!/Knology customer for years and I am nearing the end. While the service is decent the prices are insane. $189mo for cable and 30mb internet. I have 3 boxes but still ridiculous. I call to question the lower prices on their web page but are for new customers only, so screw the long time customer I guess. Thought about just canceling my service and reopening in GF's name for 2 year contract saving about $100 a month. They knocked $25 off for 12mos to keep me but I think that'll be the end of this bank draining Wow! experience.

I filed a BBB complaint and got nowhere. The BBB did nothing. What a waste of time. I filed an FCC complaint and got nowhere. The FCC did nothing. Also a waste of time. WOW appears to be untouchable. They do not honor the contacts they agree to over the phone. Their customer service (I use the term loosely) is not reliable. they say one thing and do another. I have spoken with extremely rude people from their so called executive response team.
I spoke with Ashley (employee ID# **) and I have to say she is the most unprofessional representative I have come across in a very long time. She refused to answer my questions and stated the only thing that is relevant what WOW says is relevant. They have called me after 12am when they know what time zone I live in. They have called me at off times after we have agreed on times to return calls. They say they will address issues, but then later say "no" they've decided to not address the issue. Run away for WOW! If you're considering switching to WOW, I strongly suggest you get every detail in writing before you agree to anything. They do not honor what they state on the phone and they will not work with you to make things right. WOW is the WORST!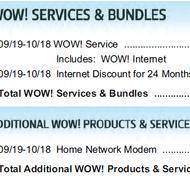 I'm disappointed in WOW here in the Detroit area. I signed up with them about 5 years ago after moving into my new house for a 24-month price. The price remained the same for 24 months. Awesome. 12 months ago, I signed up for a 24-month internet offer. Was told this would be the price for 24 months. Well, last month my statement changed. Instead of just saying Internet Discount for 24 months they added some text below it. 1 to 12 month discount at one price, then a 13-24 discount. If this was the deal all along, why wasn't their statement stating that for the last year. You point out what you were told a year ago. They just say, nope, that's not the deal. Not sure what I can do about it. Guess I have to look at switch providers. Glad I have a couple options. I feel bad for the people that only get 1 provider option. Good luck with your dealing with them.

Was a customer with Wow for 4 year living in Madison AL, got a divorce from my wife in March of 2016 and I moved out of the house in Feb 2016. I cancelled my service with WOW in June over the phone and the representative tells me that I have no remaining balance. So I assume I am free and clear. However I was not. I received a bill the next month so I call in to explain and they said they will look into it, gave me a reference # and told me to call back within 5 days or so. I call back and have to repeat the entire story and again they said they would investigate the call I originally made. They said they would contact me. I wait another month only to receive another bill. I call again and explain the entire story again and they said they would look into it and get back to me. I never hear from them. In the meantime, late fees are accruing, and new monthly charges are building up.
The Supervisor says if the representative on the call I originally made said there was no remaining balance then I assume I shouldn't pay anything until the investigation is complete. Again no call from them. This pattern repeats itself all the way to December when I receive a notice from collections with a balance of $275 and change. I call just today and explain the entire story yet again and he proceeds to tell me the results from the investigation is that I indeed was told there was a past due amount but wasn't told about current charges. He says there's nothing they can do. So in the meantime late fees accrue and new charges mount over the months and I am sent to collections and there's nothing they can do.
I call literally every month to check on the status and it's not until literally 6 months later that a rep says there's nothing they can do to change the bill and collections because I owed the original amount. I ask them how could that be it's been in an investigation phase and I am not going to pay anything until the investigation is complete and beyond that no one contacted me, not once, not one single time even though they said they would several times and now I have to pay this amount as well as being sent to collections. I literally am furious. This is poor customer service.

Awful. Bill goes up $10 this month with no warning. Commensurate with that increase was a drop in throughput from 30M to around <10M. Upload does not seem to be affected but WOW has really gone downhill. You would think a provider company would have a website with real-time status information for the various areas they serve. NOT WOW! No status, so I can only assume they have a problem which only a phone call to their less than stellar tech support will explain. Save the explanation - get with the times by putting real-time info on a web page. I reset my modem and router, which WOW's tech support would have had me do anyway. No change in status. This is a problem with WOW that has shown up in the last two days of operation. VERY DISAPPOINTED. SEEKING ANOTHER PROVIDER. Fortunately my city has four different providers (and growing).

This company is robbing hard working people with their unreliable and overcharged services. I was a former customer of Knology, which offered great services and I never had any problems until this company took over. They offer you a promotional rate for the first year and after that it is downhill, your bill will start to increase on top of all the other miscellaneous charges for service that barely works most of the time. And the reason they are able to get away with this is because depending on where you live, you are only allowed to use a certain cable provider for your area unless you opt for satellite cable or move out their service area altogether. It's a disgrace and bad business and greed eventually has a end. Everyone needs to contact the Better Business Bureau and make complaints on this company.

This is the worse company I have ever had the displeasure of dealing with. They lie to you and change your billing cycle without warning. Then without warning, will interrupt your services. They are rude and barely speak English. I have never been so offended or appalled with a company in my life.

This company has the worst client service ever!!! I work in the client service industry and I would have been fired if I had given this awful service!!! Our cable and internet were out and they promised us service the next day. No show. We called and called and called and they said no appt was scheduled for today. Called again and they said "oh sure we will be there." It's now 9 pm and we are arguing with a supervisor about the appointment. Awful service, awful communication. We will disconnect service immediately.

Worst customer service ever! Service is fine unless you want to stream Directv. But representative signed me up with maiden name that I haven't used in 10.5 years. I assume he got it from background check? When I called about it I was told they don't have access to that information so I must have given it to the rep. But I didn't. The manager said he had no idea who signed me up. If I want my name changed I have to submit a form and my marriage certificate. They wouldn't look at my original papers and literally called me a liar for saying that I didn't sign up with my maiden name.

I have never been so disappointed in a company. The most unreliable, unsatisfying cable to exist. Countless times I have made appointments with WOW, which I confirmed numerous times and they still did not show when I have made inconvenient arrangements to be home from school and work so that I would be there for WOW cable to come. I would recommend to cancel cable immediately with WOW.

What has happened to Wide Open West (WOW) cable/internet/phone services? I have had WOW since I moved into my house. Over the last 5 years, their products and service has gone downhill. For the last 3 years my cable has had digital breakups. WOW fixed that problem at my expense. In order to get it fixed, I had to upgrade my cable box and service from Regular to Ultra. Next issue: now, I cannot seem to get my internet speeds up to what I am being charged for. I pay for a tier 2 package. I have had numerous service men out (at a charge of $50 each time, and it is WOW's own equipment), no one seems to be able to fix the problem.
However, today was the best. (And this is working with what they call a LEAD TECH, Corporate Customer Service Rep and a regular tech.) I was told two things would correct this WIFI speed problem: One, increase my speed package from tier 2 to tier 3. At my expense, then I would get the speed that I was paying for in tier 2, at the cost of tier 3. Two, they would need to connect an ethernet cable? In other words to hard wire the equipment. I will admit, maybe I should have upgraded my computer and TV sooner. However, with a new TV and computer, it seems that WOW still cannot correct this problems. I am beginning to think that Wide Open West (WOW) is an outdated provider.

When I signed up with Wow! for Internet service a year ago I was happy with the promotional offer. Two years for $25.00 a month. Now that I am in one year they suddenly decided to go back on what they offered and increased my bill by $10.00. I planned my strict budget around the rate quoted a year ago. When are companies going to honor what they promise? I can understand a rate increase a year from now, but not now only a year into the 24 months promotion I was offered at sign up. How can you trust a company that does that? Problem customer service at Comcast (Infinity) isn't any better in this area.

A long time satisfied WOW customer, other than their practice of increasing the month cable bill. But over the past few weeks, I have had intermittent cable TV service. The cable TV would go out for a few hours, then come back on. A nightmare of sorts when the WOW technician comes to fix the problem, and finds your service is fine. Just called again today, after a 2 week period of off and on TV... Luckily the On Demand feature still works, and I can catch up on recent missed programs. I have another tech, or should I say Supervisor Tech (whoopee) coming out on Friday. Anyway, it is looking like I maybe be able to solve my problem with a simple switching to another cable company like Xfinity or AT&T. But I see they also have a one star rating like WOW... Can we consumers ever win with these overpriced and under served companies?

We had WOW installed at our new house well over a month ago. I STILL don't have my old phone number yet. I was told originally it'd take about a week to transfer over. You've sent four different technicians out and I've spent countless hours on the phone, as well as a face to face trip to the local WOW office, all attempting to get my old phone number transferred over. Additionally, I have gotten an intermittently fragmented/frozen screen on my TV. Called in once to have it fixed remotely, and then again and service guys were out yesterday. Seemed to work okay until last night's baseball game. Still fragments/freezes up momentarily. I am completely NOT wowed by WOW. I'm ready to go to Bright House, as the reason I came to WOW was because of the bad service at Frontier. This is your last chance. What is WOW going to do for me today?

I've been with WOW for 3 years, many, many issues with the service. Customer service sends out a tech to resolve this, charges the customer $50, then when the issue is not fixed, sends another tech for $50... etc. When you plead with them for a credit, they say the techs must be paid. How is it the customer's problem if the wiring they put in was done incorrectly, or their product breaks? Let me take out my ladder and fix the problem myself? How is it in a customer's control to know if their wiring is done right? They claim it is your home, wires belong to me, even when I did not install them on the outside of my home? Numerous times I've caught errors on my bill and had to get a credit. Well that must be my problem too, that is my bill going to my home? The company is not honorable and the BBB needs to investigate. Too much grief on the customer to deal with this shady corporation.

I moved to AL to be with my fiancee within the past year and a half. Since I have been here I have noticed multiple occasions where the internet's download speed would suffer after a rainstorm. We usually end up having to pester someone to come out. They will troubleshoot stuff inside the house, but when we suggest that it is something outdoors they seem to try to not have to do any actual physical work. The issue eventually resolves itself, but this happens quite frequently and we wind up without internet for a few days at a time.
Recently, instead of having the typical download issues now we're having upload issues instead. It is dropping to below.1 and it's virtually impossible for my fiancee and myself to enjoy our usual entertainment which happens to be a video game (mmorpg). I notice that it happens much more often around certain times of the day - usually in the evening and early morning. It will gradually right itself, usually after a few resets and a lot of patience... a lot a lot of patience. Which right now is running very thin because of these problems. We are planning to see if a tech will come out, but more than likely they will say we need to wait until Monday or something, and then never show up. But if they do show up, it will be the same rinse and repeat response without ever actually fixing the issue!
I would not recommend their services simply for the fact that customer service and their techs seem like they are not obligated at all to help you. They just want to lazily come to your home, fidget a few things, get back in their truck and fidget even more objects, and then go along their way because that's apparently all you get.

The whole experience changing cable companies has been both draining and has made my Mother and myself very upset with the way WOW Cable has treated us as a whole. My sister moved out. She had paid the cable bill. We had decided to change cable companies. Either way, her cable equipment had to be removed. We chose U-Verse as a replacement.
Well, DirecTV showed up the first time, and cut all our cable lines before we could do anything to resolve the mix-up! This led us down the road of no return!
U-Verse misunderstood my Mother and assumed she wanted DirecTV, she did not want DirecTV! Well, after several hours on the telephone my Mother resolved that matter!!! My Mother was able to get U-Verse out to our home pretty quickly, however; we were without telephone, cable and internet services for 24-hours, because of all our lines being cut by the rude man from DirecTV. The man from DirecTV left here in a huff because he "wouldn't be getting paid for the job!!!"
U-Verse came in and installed all their equipment and got us up and running. Before leaving, their representative asked me if I knew our telephone number had been changed to a new telephone number? I explained NO! No one had said anything about our telephone number having to be changed. We have had the same telephone number for 45-years. We have changed cable companies before and had never had any issues! Their rep. gave me a number to contact WOW at to tell them that I want my original phone number back immediately!!
I contacted the telephone number provided before U-Verse had even left our driveway!! After 30 some minutes on the telephone I was assured I could get our original telephone number back. I was told he would put the paperwork through and then he gave me a telephone number to contact on 9-21-2016 to get our original telephone number back. We received another telephone call confirming this information on 9-17-2016.
Then on 9-19-2016, we received a phone call back again from WOW informing us in order for us to get our original telephone number back, we need to plug in the old modem??? Our service must be active, which it still is, but the equipment must be plugged in! Something about FCC regulations??? Well, by this point, we both were blowing smoke out our ears!!!
My Mother is 80-years old and does not need this aggravation at all!! WE JUST WANT OUR ORIGINAL TELEPHONE NUMBER BACK!! But remember, our new cable service had installed their new cables?? So, I did what the man told me. I plugged the modem in!! I told him, "okay the modem is plugged in, do what you gotta do." Now, he says, "plug in the phone line!" At this time, I blew my top, yelled in the telephone... "Give me all the instructions on what we have to do! I want all the instructions!!" The representative, who was supposed to be a "supervisor", hung-up on us!
Now, I have been a telephone bill collector for 30-years and the first thing I was ever taught, you never, ever hang-up on your customer!!! No matter how much they scream, swear, or whatever they do, YOU DON'T HANG UP!!! LET THEM HANG UP FIRST, ALWAYS!! So, about 30-minutes later, their guy showed up to pick up the cable boxes. My Mother quickly told him what was going on. He laughed and said all we have to do is call the sales department at this number and they will help us. My Mother called the sales department number and we have been promised we will have our original old number back on 9-27-2016, no problem!!
I swear the guys on the road know more than the employees in the office!!! And they are nicer too!!! All in all, between my Mother and I, we have spent over 9 hours dealing with this cable service change, just to fix an error on their part. If that isn't ridiculous, I don't know what is!!!??? We didn't receive any order number from U-Verse or WOW? I didn't have to sign an order release or anything once U-Verse had installed everything and had us up and running. We unplugged all the boxes from WOW, so they had no involvement in that aspect.

I'm going to make this short. I planned on keeping Wow for a long time and within 2 months, I had to switch back. They have a 60 day money back guarantee and there are 10 stipulations that they do not even inform you about before you can get that money-back guarantee and you'll be lucky to even get it. (I didn't.) Also, their service is terrible and I had to have someone come out within the first month, which is why I cancelled in the first place. I am looking to start a class action lawsuit against Wow. If anyone else who has been wronged financially by Wow would like to join, please contact me at **.
WOW! Internet Cable and Phone Company Profile
Company Name:

WOW! Internet Cable and Phone

Website:

http://www.wowway.com/