Consumer Complaints and Reviews

Rubber weather seal in driver door window track kept coming out repeatedly, so the dealer finally decided to replace it. A few weeks later the same thing started happening on the passenger side, and so the dealer made the decision to replace the rubber around that window track also. So now, it has been around 7 months since last episode, and this morning 4/19/2017 the driver's side seal has started "falling out again" when rolling window down. When trying to close the window, the loose rubber acts like a block, and the window senses it, forcing the window to open back up, making it almost impossible to close the driver's side window. Have to stop car, get out and cautiously fiddle with window, seal, switch to close window. The first episodes were under warranty, I am wondering if they are going to CHARGE me for THIS fix? (This is my last Toyota, period.)

Many smaller issues exist with the current 2011 Sienna model introduced in Spring of 2010. The fit and finish is well below average with several seals and body components failing. You will likely have water leaking into the car via sunroof or windows at some point, and it's not covered under warranty. Major issues include front axle failure, had to be replaced and it was just weeks after extended warranty expired. Maintenance costs are extremely high! Be aware. Your Sienna will eat brakes and tires. Even expensive, high quality tires with 80k mile warranties will only last 15k miles perhaps 20k at most. Brakes will need to be replaced at same rate. In 7 years of ownership maintenance costs are over $5000, this does not include axle replacement which Toyota honorably fixed at no cost due to initial misdiagnosis by dealership. With all the money we have into this car we're going to drive it till it dies.

My wife and I bought a 2011 Toyota Sienna with about 70,000 miles on it. We have had it 3 years and now has 90,000 miles on it. Been a great van until yesterday when the transmission went out without any warning. We went with Toyota because of the issues with the Honda Odyssey. We will not be buying another one.

Bought the car used from the dealer in 2013. Car has 174K miles (90% freeway). Airbag light came on yesterday. Took it to the dealer today. Says I need to replace airbag ($840). Asked how the airbag could fail, he said that the contacts wear out when you turn the steering wheel. REALLY? I have a 2005 Volvo with 300K+ miles, a GMC Truck that is 17 years old, and a 2001 Honda with 290K miles. I've owned close to 20 cars in my life and NEVER had an airbag failure. Not covered under warranty. My last Sienna (2006) had BOTH sliding door cables snap. I live in California and don't travel to the snow. That was > $3,000 to fix those. What's up with Toyotas? I thought Volvos were supposed to be the expensive car to fix?

I don't know what to do but this is killing me. I have a 2015 Sienna I bought 8 months ago. Within the first 3 months I had to replace 3 of the expensive Run Flat Tires. There was nothing in them or anything else. They just went flat and couldn't be fixed (replaced). Well now yesterday 8 months after buying the van, the 4th one is flat and shockingly nothing in it. Just went flat. I lost my job about six months ago and definitely can't afford all this. I don't there is any recourse for me but was hoping you may have a suggestion on something/anything I could try. Sure can't afford to get it replaced right now.
How do I know I can trust these reviews about Toyota?
788,323 reviews on ConsumerAffairs are verified.
We require contact information to ensure our reviewers are real.
We use intelligent software that helps us maintain the integrity of reviews.
Our moderators read all reviews to verify quality and helpfulness.
For more information about reviews on ConsumerAffairs.com please visit our FAQ.

2011 Sienna XLE - Purchased new in 2011. We have been very disappointed with the quality of material and workmanship. While we have not had any major powertrain problems, there have been so many minor failures and defects that collectively make Toyota a non-option for us in the future. List of issues we have experienced:
1.) Fan in dashboard for heater and A/C had to be replaced in third year.
2.) Speedometer is off by 3 mph (Dealership would not fix during warranty period stating that it was within Toyota's tolerance).
3.) Stem for resetting trip mileage broke.
4.) Top console buttons which control the side doors work intermittently.
5.) Clock runs fast and often has to be reset to correct time.
6.) Leather seats are cracking and have become unsightly.
7.) Rubber seal in rear ventilation window has come loose and cannot be reattached.
8.) Resume function of cruise control system forces an extraordinary rapid acceleration that annoyingly revs the engine and wastes gas.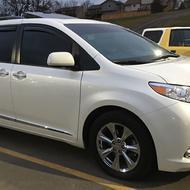 This is my second Sienna. First was a 2011 FWD XLE and I put 80K on it with zero issues. 2nd is a 2011 Limited AWD. Another huge successes! Both of these vans were bought in the 40K mileage range and both are being used in the taxi world for UBER. My vans are driven hard every day and they never skip a beat. Never had a power sliding door issues on either vans nor have I had any transmission issues. Unlike most, I flush my transmissions with Amsoil full synthetic transmission fluid. Perhaps getting out that old wore out fluid is why I haven't had any problems. Who knows. Either way, I will continue to buy Toyota. I love their products!

My 2013 Toyota Sienna minivan transmission was broken at the 65,000 km., and it was repaired by the warranty. Also the 3rd row seat is rattling and got serviced. But it is not fixed. Never buy Toyota again.

Cheap plastic leaves Toyota owners reaching deep into their pockets. Day in and day out, mountains of debris continually accumulates in landfills. Hordes of workers plow vigorously just to create more layers which to dump endless trash upon. Few pay attention to the content of this garbage universe, but me and my fellow Toyota Sienna owners know that an endless sea of cheap Toyota door handles unnecessarily litter these debris fields around the world. Don't be fooled, it can happen to you too. I thought it couldn't happen to me a newer, Sienna owner; but lo and behold, it's 10 degrees outside and I can't open my sliding door. The only way in is through the front door with my children, causing the back breaking experience of loading them in from the front seat. My sister who owns a 94 Sienna is down to one door handle. She can only access her driving experience by climbing over the passenger seat.
The price to have one door handle fixed at the dealership is over $200; the price to put in a quality part upon construction, I'm sure, is far less. Frustrated, I scoured the web for a cheaper fix only to find do-it-yourselfers spending endless hours on the project. Finding no good solution, I'm reminded of Toyota's catchy slogan: "Let's go places." If Toyota had spent a little more time and money, the world's landfills would be a lot lighter and customers' wallets a lot heavier. Toyota should strive to emulate their own slogan, "I love what you do for me."

Car has less than 18,000. Brand new lease. Family with 2 kids under the age of 7 were in the vehicle when we were going down a hill and the brakes failed us. Steep hill during rush hour. I still do not know how my husband stopped the car because I hopped onto the back seat to shield our babies. Toyota does not know what caused this but I have lost all hope for this brand. Will never trust Toyota with my or my family's life. Purchase another brand if you need safety. Car is at the dealers and they loan us a car which I refuse to put my children in. ZERO stars!

Bought my 2009 Sienna used from dealer with 100K miles on it. Assumed the good reputation of Toyota would mean another 100K miles on it. Already had a $1000 repair on something the technician said they had seen on other vehicles, but no recall. Just lately, there was a loud crashing noise in one passenger side sliding door when it was parked. Door still worked, but how long, considering what others have written about the door problems. Reported this noise to technician who didn't even tell the repair guy. When I talked to repair guy, he reluctantly looked at it, opened and closed the door. I insisted that he put this on the service sheet. But now I suspect that they knew all along about door problems and were not going to tell me. Am sorry I bought this van. Now seeing I will be heading for a lot of really expensive repairs. Wondering if I should trade it for something more reliable before anything else goes wrong and it is too expensive to fix.

I own a 2012 Sienna, and the sensor on the sliding door would cause a beeping sound (and would not turn off) even though the door was closed. It is tough to close the door because the latch is rusty. Now we keep the door closed. They want $1,400 to fix the latch. Most other years have recall notices for the doors.

I purchased this vehicle brand new with 20 miles on it. It's been an amazing vehicle until a few days ago. The van has 78,000 miles and while driving, the transmission went out. The RPM's went revving pretty high and would no longer move forward. I was traveling at about 40mph when this happened. I had to coast into a parking lot where the van was towed. The dealer stated that the transmission had blown and needed to be replaced at a price tag of $5000.00. Bad Toyota... bad.

I have owned three Toyota Siennas. In June, 2015, I purchased a two year Prepaid Maintenance Program Extension on my 2013 Sienna for $299. We do not drive a lot, and so when this car was destroyed by a careless driver, and we purchased a 2015 Sienna, I took the paperwork down to Stevinson Toyota on Havana in Aurora, CO to get the maintenance contract transferred. I was SHOCKED when they said all they could transfer was $169.94. None of the contract had been used. That is tantamount to theft of $130 of our money. WE WILL FIND EVERY EXCUSE POSSIBLE ONLINE AND OFF, TO WARN PEOPLE ABOUT THEFT BY TOYOTA.

Our 2008 Sienna CE rapidly lost oil when I traveled from Birmingham, AL to Bloomington, IN last fall (11/5) to see a Michigan football game with my son. It again lost oil when my wife traveled from Birmingham to St. Louis this past December. She took it to Midas (it was an emergency since the car was vibrating severely on the highway) where they charged her over $1,000.00 for various things but didn't fix the oil leak problem.
I have since learned that our engine is essentially ruined because of sludge and other issues. The car still drives but leaks oil everywhere and makes a clanging sound. I just took the van to Hoover Toyota, where (in addition to over 1k worth of repairs) the service technicians say they have fixed the recall (the woman at Toyota called it a "Warranty Enhancement") issue related to the vvt-i oil line. However, now it seems we need a new catalytic converter etc. etc., but the real problem seems to be with the faulty engine, which has been spurting oil all over the place for (I guess) several years. We were never informed of this recall. So we have spent over $2,500 on an engine that was already ruined through no fault of our own. We have regularly changed the oil on the car.

I bought it new in 2005 (it was under my husband's name) for over $35,000. It has the 8-passenger option, winter kit and some window tinting, but it's the basic model for the most part. In 2008, at three years old, the electronic door stopped working. Neither doors work in freezing temperatures. The doors freeze shut. My five children have to maneuver from the front passenger side door and enter through the trunk with one seat folded down. It's a very inconvenient design and I regret buying it. The warranty does not cover this. Using the sliding door handles also loosens the nuts inside the door. My handle fell off and the parts fell inside the door.
The heater only works on the driver's side. When the heat is on, the passenger's side blows regular air. I live in Maine and it gets very cold here. I dislike having purchased an expensive vehicle and riding in discomfort. I feel that I paid more because of Toyota's reputation for making dependable vehicles. I was driving and my gas pedal stopped working. It was very scary. I couldn't move it to the side of the road because the road had no shoulder. I was worried about being in the road. I had a bad ignition coil and have a bad cylinder. This wasn't discovered with the safety inspection which I had the day before.
I don't trust this vehicle. I wouldn't purchase a Toyota again. I have also been unhappy with my dealership service. I scheduled an alignment and they outsourced it to the Ford dealership. I went to my appointment, showed up at the Toyota dealership, and they seemed confused. I didn't even know where the Ford dealership was located. It was a frustrating experience for me. I feel they didn't appreciate my patronage. (I have also had my tire fall off, but I had my tires serviced at a local tire shop, not the dealership. I'm not sure if that was connected with the vehicle or with the service center.)

I've had my 2004 Toyota Sienna XLE for a few years now. 319k miles and still going! Only repairs have been AC compressor and timing belt, water pump, which I consider normal wear. She uses a little more oil but after the undeniable dependability of this van, I don't mind at all. Transmission still shifts like it did when it was new.

I have owned my 2007 Toyota Sienna van for 1 1/2 yrs. I love it. 3rd Toyota I've owned in 6 yrs. Great cars. Only issue is bad design. Last year, extender arm broke while rear panel vent window open and window came out of track and smashed on road. And last week, opposite side wasn't even open and it fell out of track, broke off end of arm and also smashed on road. Both times I was on highway doing 65 mph. Luckily no one was hit by glass. I called my dealer Jim White Toyota in Toledo and they said they would tell the manager and they never heard of problem. This is a design flaw. I'm out about $500 in repairs and thank God no one got hurt. Has anyone else had this issue?

Third row seat rattle. Multiple times to the dealer. No luck. Toyota said it's a design issue, refuse to do anything, won't do anything. Pretty much a design issue since 2011. So much for customer relationship and quality. Do not buy TOYOTA again! I think a lawsuit needs to be started.

This is the worst car I have ever owned! Both power doors immediately broke. $2,600 each to fix? I don't think so! Now the transmission has gone! $5,000 to fix! Are you kidding me! I will never buy a Toyota again and I want to be part of the class action lawsuit that all of the Sienna owners should be a part of!

I heard a rattling noise near the serpentine belt in my 2012 Sienna. I was hoping it was a bearing in the idler pulley. It turns out it is a bearing in the water pump. 15 hours of labor to drop the engine to replace the water pump, total cost for the repair is $1750. The water pump should last longer than 3 years, but to have to drop the engine to replace it is ridiculous. What a poor design. It is my first Toyota and will probably be my last Toyota.

2008 Sienna AWD Limited Van - Bent Rear Axle: When I had my tires rotated in spring they told me I needed an alignment. Took my van to Les Schwab for alignment. They aligned the front but told me they could not align my rear axle as it was bent. They asked if I had been in a severe accident or gone airborne in my van. I am a 60 year old women that has not had a accident or gone airborne in my van. Needless to say I took it to Toyota for some recall work and had them look at my rear axle. They said only one side was bent, where Les Schwab and my husband who has been a mechanic for over 45 years said both sides were bent. Toyota would not cover my axle unless 2 parts have failed. Excuse me but I was not very happy. They told me I must have gone in a big pothole or someone backed into my wheel.
No damage to any wheels and no potholes the size of a large sink hole. My husband just took the back right wheel off of my van up on our lift and showed me how bad they are bent. He said worst design he has ever seen and would bet Toyota know all about it. It is basically designed after a motorcycle swing arm and is suppose to hold up that heavy van. He spent over $40,000.00 on that van when it was new and can't believe the shoddy workmanship it has. I am sure there are a lot of people out there that have had the same thing happen. I am basically the only one that drives my van and all I haul are groceries. Don't get me wrong I love my van, but it has lost it reliability with me. It also has an extended warranty on it up until 100,000 miles, it is nearing that right now. You can call me anytime and I will be glad to give you receipts or verify anything. Thanks for listening.

I have a 2007 Toyota Sienna with 153,000 miles. Two days ago on the way home from work, my vehicle started hesitating when I went to accelerate. As I was emerging off of the expressway it made this horrible sound and stop accelerating up the hill. No engine lights or other lights were illuminated on the dash. I immediately called AAA and the driver immediately said, "It's your transmission." I couldn't believe that's so.
In any case had the vehicle towed to the Toyota service center. The service center had my vehicle the entire day and called the following day to say that my transmission fell apart. What?? How does a transmission just fall apart? They told me that they didn't know and couldn't tell me because they would have to charge me man-hours to research. I am so upset. Toyota vehicles should get more mileage. And considering the fact that it cost $5717.00!!! That's more than what the van is worth. I called Corporate and no one has returned my calls. Outraged!!

Toyota Sienna 2005 - We bought this vehicle from Toyota dealer in 2009 and it has been problem after problem! The engine knocked after and had it rebuilt and it has engine problems again. We have spent so much on this vehicle that it's a shame we have to junk it after just 10 years of its existence! Shame shame! I thought Toyotas had long life! Wrong! I am so disappointed the power doors jammed as soon as we bought it! Will be taking it to the dealer for a trade in as a last result! Hoping for some good news!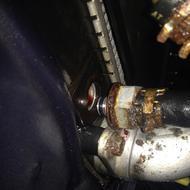 2006 Toyota Sienna Van. Wife driving vehicle when van started to act weird. Van started losing power and engine revving at the same time. Van felt like it was going to stall. Drove a short distance and parked in a parking lot. Got out of vehicle and noticed pooling of red fluid and a trail of it from where I just drove. Turns out transmission line from the radiator just detached. Not broken or leaking from seal but literally detached. I could easily see the nut, thread, and gasket at the end of the transmission line, but cannot see any reason for it just to simply pull away from the radiator. Lost all our transmission fluid and majority of radiator fluid. The extent of the damage has not yet been determined.

My driver reported his 2014 Sienna has a bad water pump. Toyota will not cover, under warranty (over the 25,000 miles). We do not mind paying for repairs but this vehicle is only 17 months old. Come on Toyota. I have 80 plus of these vehicles in our fleet.

Waiting and waiting for spare tire cable replacement. Nothing happens. Have a Corolla with a water pump leak for which a technical services bulletin has been issued, but will not replace free of charge in the Sienna. Have had Toyotas for 20+ years... These will be the last!!! Dealers do not stand behind, meaning also Toyota does not.

The electronic rear passenger side sliding door stopped working approx. 5 years ago on my 2005 Sienna. It would not opened manually or electronically. Since it wasn't covered under recall or warranty I just opted to not use it. Recently the rear driver side manual door stopped opening. Door won't open at all. My children have to climb through the front to get into their seats. I took it to my mechanic who had to remove the door and take it apart in order to make the repairs. The cost is $600. I'm beyond annoyed having to pay this much but I need to transport my children. The fact that neither door opens is a safety issue that Toyota is not addressing. I called Toyota and filed a complaint. I also called National highway traffic safety administration and filed a complaint. If enough of us complain, maybe it will be recognized and hopefully corrected.

Honestly, my last Toyota van went 347K miles and I traded it in on my 2012 Sienna XLE AWD. I now have just over 32k miles, it has been un-Toyota like. First, I had issues with upper strut mounts, they are now plastic, and shrink and expand in the weather, which causes noise in the front end over time. The interior quality is terrible, I have a fraying of the armrest, which my last one after 12 years never had any of these issues. The dash creeks as well, which is not Toyota like.
Now I have an issue with the power doors, which randomly open themselves up at 75+ MPH on the highway. Which since I bought it because I like vans, not because I have kids, if I had kids, I would have flipped out because having doors open at highway speed should probably be something that shouldn't happen on a 50K+ dollar van. Next Toyota I buy is a 2000 - 2006 model, never buy anything past that point. They have not only taken queues from GM on style, they have started to follow them with quality. Garbage.

The spare tire assembly in my 2009 Toyota Sienna (mounted under the car) was found to rust in the area of the country where salt is used (in winter months). The danger is that the spare tire can fall off causing accidents leading to possible injuries and even death. Toyota knew about the problem and was corrected in the later models. Galvanized steel of vinyl coated parts can prevent rusting (5th grade science student can tell you that). Toyota is dragging their feet telling owners they are working on the fix.
The "temporary" solution was to clip the cable holding the spare tire and place the spare tire in the trunk. This basically eliminates Toyota's liability. I have been riding with the spare tire in my trunk for almost a year. The spare tire in the trunk prevents me from folding last row of seat into the floor. The feature that allowed easy folding of the last row of seats into the floor was important in my decision to buy Toyota Sienna. I have contacted Toyota with my plight. Their answer is they working toward the fix and will get back to me later this summer (no date).
Toyota Sienna Company Profile
Company Name:

Toyota

Website:

www.toyota.com