Lincoln maintenance: cost, plans and service schedule



Written by

Edited by
Find Extended Auto Warranties near you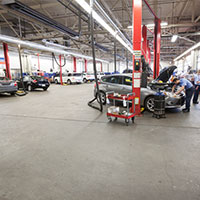 Whether you're in the car market for the first time or you're a veteran buyer, deciding what to buy can be overwhelming. Not only do you have to consider the initial price tag on your new ride, but you also have to think about the cost of keeping it on the road.
If a Lincoln vehicle is on your shopping list, keep reading to learn what you may spend on maintenance and repairs, how those numbers compare with other automakers' and ways to protect yourself from paying for repairs.
---
Key insights
The cost of maintaining and repairing a Lincoln is significantly higher than the industry average, according to data from RepairPal.
This data also indicates that, although Lincoln owners can expect to need an average number of repairs, the repairs they do need are more likely to be severe.
Lincoln offers multiple warranties to keep its new vehicles on the road, but an extended warranty can offer similar protection as your Lincoln ages.
Are Lincolns expensive to maintain?
According to RepairPal, the average Lincoln costs $879 a year to maintain and repair, which is about $200 more than the $652-per-year industry average. This earned Lincoln the 24th slot out of 32 automakers in RepairPal's reliability ranking. However, among other luxury brands, Lincoln doesn't stand out as much.
How Lincoln compares with other automakers
"In the realm of luxury vehicles, Lincoln tends to draw middle-of-the-road expenses," said Amelia Nolan, a mechanic with experience working on high-end cars. "Not as much as Audis, but more than Acuras."
Although the average Lincoln driver visits an auto shop about as often as the industry-average vehicle, the likelihood of a Lincoln requiring severe repairs once it's there is considerably higher (12% for the industry vs. 15% for Lincolns). This is one of the reasons for the brand's higher upkeep costs.
| Make | Average maintenance and repair costs* |
| --- | --- |
| Lincoln | $879 per year |
| Honda | $428 per year |
| Toyota | $441 per year |
| Ford | $775 per year |
| BMW | $968 per year |
*According to RepairPal
These figures represent averages for each brand's entire lineup, so it's important to note that upkeep costs for individual models tend to vary.
Lincoln maintenance and repair costs by model
Different Lincoln models have a wide range of pricing and dependability scores.
For example, RepairPal ranked the now-defunct Lincoln Town Car second out of 30 full-size luxury cars for reliability, thanks to its $635-per-year upkeep costs. However, Lincoln Navigators are considerably more expensive ($1,089 per year) — in part thanks to their 19% chance of a given repair being severe.
| Model | Average maintenance and repair costs* |
| --- | --- |
| Town Car | $635 per year |
| MKS | $886 per year |
| Navigator | $1,089 per year |
*According to RepairPal
RepairPal's figures above combine costs for maintenance and repairs, which are generally separate expenses in real life. While maintenance costs go to preventive services, such as oil changes and tire rotations, repair costs cover fixing your vehicle when something goes wrong.
We'll explore both categories in a little more detail to help you budget appropriately.
Lincoln maintenance schedule
It's vital to pay attention to your car's maintenance schedule to keep it in good shape. To find out what services need to be performed on your vehicle, you can type your vehicle identification number (VIN) into the appropriate page on Lincoln's website or consult your owner's manual.
We've included a general maintenance schedule from a Lincoln dealer below, but just remember that your vehicle's maintenance needs may vary.
| Interval | Service |
| --- | --- |
| 15,000 miles | Change oil |
| 15,000 miles | Check all fluid levels |
| 15,000 miles | Rotate and balance tires |
| 15,000 miles | Check air filter |
| 30,000 miles | Check brake pads |
| 30,000 miles | Check suspension and shocks |
| 30,000 miles | Check fuel filter |
| 60,000 miles | Replace battery as needed |
| 60,000 miles | Inspect brake rotors |
| 60,000 miles | Check for wear on belts and hoses |
| 90,000 miles | Inspect vehicle top-to-bottom |
| 90,000 miles | Check spark plugs |
*According to Camelback Lincoln
Lincoln maintenance costs
Lincoln doesn't provide free maintenance for its vehicles, so you'll generally have to pay for maintenance out of pocket. Luckily, maintenance is easy to budget for since you can see what services your vehicle will need ahead of time and calculate your costs based on whatever your mechanic of choice charges for those services.
While Lincoln no longer provides free maintenance on its new vehicles, it does offer other perks. For example, when your car's in the shop, Lincoln may provide you with a free loaner car so you can carry on with your day (as long as your Lincoln is still in its powertrain warranty period). Check with your local dealership for deals and rewards in your area.
Example: 2016 Lincoln MKS maintenance costs
We got estimates for some common maintenance items on a 2016 Lincoln MKS in Austin, Texas, to help you get an idea of what you can expect to pay. Just remember that your expenses will likely differ somewhat based on your vehicle and mechanic.
| Service | Cost* |
| --- | --- |
| Tire rotation | $69-$88 |
| Oil change | $169-$221 |
| Brake pad replacement | $229-$600 |
| Spark plug replacement | $351-$437 |
*According to RepairPal for a 2016 Lincoln MKS in the 78705 ZIP code
Lincoln repair costs
While Lincolns are relatively reliable vehicles, owners have reported a few common problems. For example, some models may develop a cosmetic crack in the plastic liftgate trim panel, but Lincoln is aware of the problem and has released a service procedure to fix it.
Lincoln owners also frequently have concerns about harsh shifting from their automatic transmissions. (If this happens to you, your mechanic may need to update the software in your powertrain control module.)
Repair costs are harder to predict because breakdowns are somewhat random, unlike scheduled maintenance.
"I've had my Lincoln MKC for four years now, and within the last six months I've started to experience transmission problems," reported Sandra, a Lincoln owner and ConsumerAffairs reviewer.
"I owned a Lincoln 2009 LS before this car and experienced the same type of transmission problems. Love the Lincoln brand and what it brings to the table, but really disappointed in experiencing two failed transmissions on their brand of cars."
In a worst-case scenario, replacing a transmission can cost you thousands of dollars. The good news is that most repairs cost considerably less than that.
Example: 2016 Lincoln MKS repair costs
To give you an idea of what less severe repairs may cost you, we got estimates for various repairs on our sample Lincoln MKS. These are just a few of the possible repairs your vehicle may need — the point is that repair costs vary considerably and can come due when you least expect them.
| Service | Cost* |
| --- | --- |
| Headlamp alignment adjustment | $53-$67 |
| Serpentine belt replacement | $74-$83 |
| Valve cover gasket replacement | $178-$210 |
| Intake manifold gasket replacement | $333-$353 |
| Knock sensor replacement | $354-$447 |
| Power seat switch replacement | $426-$440 |
| Radiator replacement | $796-$893 |
*According to RepairPal
Lincoln provides several warranties for its vehicles, including the New Vehicle Limited Warranty, the Powertrain Warranty, the Corrosion Warranty, the Safety Restraint Warranty and warranties for both diesel and electric vehicles. These plans protect you from paying to fix factory defects, though for varying lengths of time.
The Powertrain Warranty protects your vehicle's engine, transmission and drivetrain for up to six years or 70,000 miles, while the more comprehensive bumper-to-bumper coverage of the New Vehicle Limited Warranty lasts four years or 50,000 miles. Once these expire, though, you could be on the hook for expensive repairs the next time your Lincoln breaks down.
» LEARN: What is a manufacturer's warranty?
How can an extended warranty or maintenance plan help?
Purchasing an extended auto warranty can help you steer clear of repair bills, but you'll have to pay for coverage. Basically, whether this type of plan is financially worth it depends on how much you expect to spend on repairs without coverage.
When we looked into Lincoln's official extended warranties, we found that they were unlikely to pay for themselves, but getting quotes from third-party warranty companies showed that significant savings were available.
Meanwhile, prepaid maintenance plans can help you save on maintenance costs by shielding you from price increases and inflation, and Lincoln offers a Premium Maintenance Plan that keeps you on track with a variety of services.
» MORE: Car warranty vs. car insurance
---
Article sources

ConsumerAffairs writers primarily rely on government data, industry experts and original research from other reputable publications to inform their work. Specific sources for this article include:
Did you find this article helpful?
|
You're signed up
We'll start sending you the news you need delivered straight to you. We value your privacy. Unsubscribe easily.