Car warranty check by VIN
Learn how to see if your vehicle is still under warranty



Written by

Edited by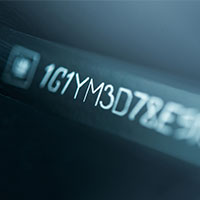 If you're unsure whether your vehicle is still under warranty, you can find out using its vehicle identification number, or VIN. The VIN acts as the vehicle's serial number. It's composed of 17 characters, with both numbers and capital letters. This VIN is used to identify specifications and features. It's also helpful for tracking recalls, looking up warranty claims and getting car insurance.
---
Key insights
You can check the details of your car's warranty with its VIN.
There are various types of auto warranties, each with a specified length of service.
A powertrain warranty generally lasts longer than bumper-to-bumper coverage.
It's possible to void a warranty, which can leave you without coverage, so make sure you know the restrictions.
How to check your car's warranty
To see how much time is left on the manufacturer's warranty, you want to follow these easy steps:
1. Find the VIN
Before you can look up the car warranty information, you have to find the VIN. The 17-digit number is found in multiple locations:
Dashboard on the driver's side (look through the windshield)
Driver's side doorjamb
Front of frame (older models)
In the engine compartment, near the front
On the underside of the hood
Rear wheel well
If you're having trouble finding the VIN, you can also get it from your car registration, title or insurance paperwork.
2. Check the odometer
Car warranties last for a specified mileage and number of years. To determine if the warranty is still valid, you'll need to know the current mileage.
Write down the mileage as displayed on your car's odometer (this is found on the instrument cluster behind the steering wheel).
3. Contact a dealership
Once you have this information, you can contact a local dealership to check on the warranty. Unfortunately, you can't tell strictly by the model year — many models are released for sale before the year they're labeled with.
For example, you may have a 2021 vehicle, but you might have purchased it in 2020, or in 2022 as a leftover model. The warranty starts when you purchase the vehicle. Here are three options for contacting the dealership:
Contact the dealership directly: Call the dealership to see if the warranty is still valid. You can also email the dealership or stop in as you're driving by. You don't have to contact the dealership where you bought the vehicle, but find one that sells the same make.
Use an online system: The majority of dealerships provide an online portal to look up service dates, recalls and warranty information. If the dealer doesn't have one, you can find it on the manufacturer's website.
Read purchase paperwork: If you still have the paperwork from when the car was purchased, you can figure out how much time is left on the warranty. Look at both the length of the warranty and the mileage.
There may also be information in your owner's manual. If you don't have an owner's manual, you can get one online or through a local dealership.
What about using Carfax?
Carfax provides a complete vehicle history report for a specified fee. If you don't mind paying for the report, you can learn a lot about your car, including the warranty information.
Carfax also provides a history of any accidents that have occurred and notifies you about any open recalls. You can also see how many people have owned the car and get an estimated value for the vehicle.
However, not everyone is pleased with Carfax — like Andrew of Nevada, who said: "I feel like I was scammed because charging $45 for practically free information is ridiculous. It's a decent service for what it is, but there's no value for the price they are offering. Some of the information was missing, and I tried contacting their support but no luck getting my money back."
Understanding your warranty
As a former ASE-Certified master technician in dealerships for decades, I can assure you that warranty protection can be incredibly helpful in reducing out-of-pocket expenses on a car. If you can't afford to pay for major repair bills, an extended warranty can cover these costs.
But what kinds of warranties are available, and what does a car warranty cover? It depends on the type of warranty you have. New cars come with several warranty protections, including powertrain and bumper-to-bumper warranties (also known as exclusionary warranties). Here are a few worth noting:
Bumper-to-bumper: The most comprehensive coverage; covers most vehicle parts and systems
Powertrain: Covers the engine, transmission, drive systems, drive shaft and transaxle
Rust and corrosion: Covers any body sheet metal that's rusted through
Federal emission control or California emission control: Covers emissions-related components, with added protection in California
Hybrid battery: Hybrid and electric vehicles have a separate warranty for their traction batteries
You can also purchase extended warranty protection to use after the original protections expire. These protection plans are typically offered at the time of purchase, or you can go with a third-party company at any point after the sale.
Factory warranties by manufacturer
| | Bumper-to-bumper | Powertrain | Rust and corrosion | Hybrid battery* |
| --- | --- | --- | --- | --- |
| Toyota | 3 years or 36,000 miles | 5 years or 60,000 miles | 5 years (unlimited miles) | 10 years or 150,000 miles |
| Honda | 3 years or 36,000 miles | 5 years or 60,000 miles | 5 years (unlimited miles) | 8 years or 100,000 miles |
| Ford | 3 years or 36,000 miles | 5 years or 60,000 miles | 5 years (unlimited miles) | 8 years or 100,000 miles |
| Mercedes Benz | 4 years or 50,000 miles | N/A | N/A | 6 years or 62,000 miles |
| Kia | 5 years or 60,000 miles | 10 years or 100,000 miles | 5 years or 100,000 miles | 10 years or 100,000 miles |
| Hyundai | 5 years or 60,000 miles | 10 years or 100,000 miles | 7 years (unlimited miles) | 10 years or 100,000 miles |
*Hybrids sold in California must have a battery warranty of at least 10 years or 150,000 miles
You can find standard warranty information from any automaker by looking at its website. The site should plainly show what kind of protection you're getting when you buy a vehicle.
Some vehicles provide extensive warranty protection, which can lead buyers to believe the car is made better. While this isn't necessarily true, it's helpful to have a longer warranty term, just in case something goes wrong.
What can void your warranty
Checking your warranty using your VIN tells you how long your coverage should last, but keep in mind that it's possible to void your warranty early if you aren't careful.
Even if you're still in your warranty period, your car might not be covered if you've made aftermarket modifications or neglected to maintain it.
These are the most common ways people void their warranties:
Neglect: If you don't take your car for regular maintenance, the warranty may be voided. The automaker isn't going to pay for a new engine if you haven't been changing the oil.
Misuse: Using your vehicle for something other than what it's intended for is a surefire way to void the warranty. Don't go off-roading in your compact sedan or start racing with your pickup truck.
Salvage title: If the vehicle was totaled in an accident, you won't get warranty protection.
Aftermarket modifications: Adding aftermarket parts won't immediately void the warranty. According to federal law, the dealer must first prove that the modification caused the failure. Therefore, if you put on a new exhaust and the brakes fail, it's clear that these have nothing to do with one another.
Odometer tampering: You can't mess with the odometer in hopes of getting more warranty coverage. This practice is considered illegal.
Environmental damage: If the vehicle was damaged by a hailstorm, flood, fire or other environmental problem, the automaker doesn't need to honor the warranty.
It's important to read through the warranty paperwork to familiarize yourself with all the rules for keeping your car under warranty.
Bottom line
If you have a car warranty, it's important to know what's covered and for how long. The factory warranty is easy to figure out with the steps above, but these don't apply to extended warranty coverage.
As you determine whether to get an extended warranty, consider the various pros and cons. It's also important to look at the extended warranty cost versus what you can afford to pay for repairs. Knowing your terms and what you're entitled to (and how to get it) can help you avoid costly problems in the future.
Did you find this article helpful?
|
You're signed up
We'll start sending you the news you need delivered straight to you. We value your privacy. Unsubscribe easily.