Land Rover maintenance: cost, plans and service schedule



Written by

Edited by
Find Extended Auto Warranties near you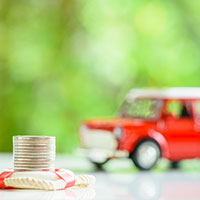 If you're in the market for a new ride, there's plenty to consider beyond the leather seats and horsepower. Not only do you need to pay attention to a car's price tag, but you also have to think about what kind of bills it'll bring your way later on.
We'll give you the lowdown on what you can expect to spend on Land Rover repairs and maintenance, how this compares with other brands and a few ways to curb ownership costs long term.
---
Key insights
The annual cost of Land Rover maintenance and repairs is nearly double the industry average, according to RepairPal.
RepairPal also ranked Land Rovers second to last in terms of reliability due to their frequent problems and high likelihood of needing major repairs.
Land Rover's New Vehicle Limited Warranty lasts for up to four years or 50,000 miles.
You might want to consider an extended warranty once the factory coverage expires.
Are Land Rovers expensive to maintain?
RepairPal, a site that estimates car repair prices, claims that the average Land Rover costs $1,174 each year in repairs and maintenance. That means the Land Rover owners spend nearly double what the average driver does ($652 per year). RepairPal also ranked Land Rover 31st out of 32 car brands for reliability, and it's not alone in that opinion.
"If I … had all the money in the world, I still wouldn't buy a Land Rover," said Nathan Myers, a mechanic with experience working on off-road-ready vehicles. "Why? Oil leaks and electrical problems. No, please."
How Land Rover compares with other automakers
According to RepairPal's data, these cars visit the repair shop almost twice as often as other vehicles, and the likelihood of one of these visits turning into a "severe" repair is 16%. (The industry average rate is 12%.)
| Brand | Average maintenance and repair costs* |
| --- | --- |
| Land Rover | $1,174 per year |
| Honda | $428 per year |
| Toyota | $441 per year |
| Ford | $775 per year |
| BMW | $968 per year |
*According to RepairPal
We should mention that the figures in the table above are useful for comparing brands, but they're not very precise because they combine data for the different models in each automaker's past and present lineups. Let's see how some different Land Rover models vary.
Land Rover maintenance and repair costs by model
Of the models that RepairPal has data for, the LR2 is the most budget-friendly Land Rover, costing owners an average of $895 per year in maintenance and repairs. However, that doesn't mean much in the grand scheme of things — it ranks eighth out of 11 compact SUVs.
Meanwhile, the Range Rover averages $1,258 per year in upkeep, which is above average even in its class of luxury full-size SUVs.
| Model | Average maintenance and repair costs* |
| --- | --- |
| LR2 | $895 per year |
| Range Rover Evoque | $1,102 per year |
| Range Rover Sport | $1,179 per year |
| LR4 | $1,241 per year |
| Range Rover | $1,258 per year |
*According to RepairPal
Before you put this information to use for budgeting, though, it's important to note that these figures combine statistics for maintenance and repair, which are actually two separate categories. (While maintenance refers to preventive care, repairs cover any unexpected malfunctions.) To give you a more accurate idea of where your money is headed, we'll help you understand these costs below.
Land Rover maintenance schedule
Regular maintenance is key to keeping your Land Rover in good condition. You can find your vehicle's recommended maintenance schedule in your manual (and we recommend you follow that schedule), but we've included a general Land Rover maintenance schedule below to give you an idea of what kinds of services you may need.
| Interval | Service |
| --- | --- |
| Every 5,000 miles | Change oil and engine filter |
| Every 5,000 miles | Check tire pressure and tread |
| Every 5,000 miles | Inspect car batteries and cables |
| Every 5,000 miles | Lubricate chassis |
| Every 10,000 miles | Check coolant and transmission fluid levels |
| Every 10,000 miles | Inspect steering and suspension |
| Every 15,000 miles | Inspect drive belts, exterior lighting and exhaust system |
| Every 15,000 miles | Check hood latch assembly |
| Every 15,000 miles | Inspect brake system, onboard diagnostic system and underbody |
| Every 15,000 miles | Replace windshield wiper blades and windshield washer fluid levels |
| Every 15,000 miles | Check wheels and tires |
| Every 30,000 miles | Inspect brake lines and hoses |
| Every 30,000 miles | Change brake system fluid |
| Every 30,000 miles | Inspect drive shaft, fuel lines and seat belt restraint system |
| Every 30,000 miles | Check steering system and power steering hose |
| Every 30,000 miles | Inspect wiring harness and suspension |
*According to Land Rover San Antonio
At 60,000 miles, you should repeat all of the services above and then bring your Land Rover in every 7,500 to 15,000 miles after that.
Land Rover maintenance costs
While some brands offer complimentary maintenance for new vehicles, Land Rover doesn't currently have a similar program.
Maintenance may cost you now, but it should save you money later on.
On the upside, maintenance is relatively easy to set a budget for because you know what preventive services you'll need ahead of time. Prices for individual maintenance services can vary based on your vehicle and location, but all it takes to learn what each service costs is a call to a service center. With that information and the schedule in your manual, you should be able to calculate how much Land Rover maintenance will cost you over the long term.
Alternatively, you can use generalized information (like we've included in the table below) if you don't need an exact number.
| Service | Cost* |
| --- | --- |
| Tire replacement | $150 to $500 |
| Oil change | $392 to $417 |
*According to the insurance company Jerry
Land Rover maintenance is usually expensive compared with other manufacturers because of the specialized labor and parts these vehicles require. For example, Land Rover oil changes require Castrol synthetic oil instead of regular motor oil. (Kelley Blue Book puts the average cost of an oil change between $35 and $75, but with a Land Rover requiring synthetic oil, it will fall between $65 to $125.)
Land Rover repair costs
The need for specialized labor and parts also applies to Land Rover repair costs. (This rule of thumb is true for most luxury brands.) However, calculating an exact number for how much you can expect to spend on repairs is tricky.
For broader applications, RepairPal's data-driven approach works well, but accurately predicting what will go wrong on a given vehicle over its lifetime is much harder, with a much higher margin of error.
The best approach is often just to be aware of common problems for your vehicle and budget accordingly. (Every make comes with its own setbacks, and Land Rovers are certainly no exception.)
It's tough to anticipate what will go wrong with newer model years because they haven't been on the market long enough for word to get around.
For example, the most commonly reported issue from LR3 owners on RepairPal at the time of publishing is defective vehicle height sensors, which can cause the vehicle's air suspension to deactivate. RepairPal reports that the average cost to fix this issue is upwards of $750.
Meanwhile, the most commonly reported issue for Range Rover Sport owners has to do with their parking brakes screeching or failing to release. The fix reportedly averages between $1,119 and $1,262.
Some repairs (like replacing your engine or transmission) are less common but far more expensive, setting you back thousands of dollars if you want to get your Land Rover driving again.
These expenses can be intimidating, but Land Rover offers factory warranties to help mitigate the price of repairs. New Land Rovers come with a New Vehicle Limited Warranty, which covers them for up to four years or 50,000 miles. (Land Rover's warranties, like most warranties, will pay to fix manufacturer-made errors but not damage from accidents on the road.)
» MORE: Car warranty vs. car insurance
The problem with relying on your Land Rover's warranty to protect you from paying out of pocket when it breaks down is that, eventually, your warranty period will run out. When that happens, you may find yourself wondering if you're better off dipping into your savings for repairs or simply selling your Land Rover and replacing it with a vehicle that's still under warranty.
However, there is another option.
How can an extended warranty or maintenance plan help?
Purchasing an extended auto warranty can protect you from catastrophic repair bills after your factory warranty expires. These vehicle service contracts are available from both Land Rover and dedicated car warranty companies, and it's worth shopping around for the right deal before you buy.
When we looked deeper into Land Rover's official warranty program, called Land Rover Vehicle Service Protection, we found that its plans were likely too expensive to be worth it for most Land Rover owners, but they (and third-party options) could still be helpful if you're unlucky enough to get hit with a massive repair bill.
» MORE: Pros and cons of extended auto warranties
If you're looking to save on scheduled maintenance (which could prevent those large repairs in the first place), Land Rover offers two prepaid maintenance plans that may be able to help: regular Prepaid Maintenance and Prepaid Maintenance Plus. Both of these options feature scheduled oil changes, spark plug replacements, battery inspections and brake fluid refills. You can add brake pad and windshield wiper checks with the Plus option.
Just be careful to compare the price of these plans against what you would spend out of pocket. Some dealerships offer discounts on prepaid maintenance because they like having a guaranteed income, but they're not always cheaper. If the out-of-pocket cost and the cost of a maintenance plan are similar, though, you may want to go with the prepaid option as a bet against inflation and rising prices.
---
Article sources

ConsumerAffairs writers primarily rely on government data, industry experts and original research from other reputable publications to inform their work. Specific sources for this article include:
Did you find this article helpful?
|
You're signed up
We'll start sending you the news you need delivered straight to you. We value your privacy. Unsubscribe easily.