Jasper Engines and Transmissions
Consumer Complaints and Reviews

Bought a 6.4 Diesel engine from Jasper. Didn't even get 20000 miles out of it. The Jasper installer told me it had a 2 year warranty. 13 months after having it the crank goes out in it. Call on warranty. They said it was out a month ago. They do not stand by their warranty. They rob people of their money. Mine was 14320$. My advice is to never buy from them.

I purchased a Jasper engine at 157323, because my stock engine failed. The Jasper engine failed at 196232 miles and 41 months of service. Jasper pointed out that my warranty expired at 36 months and now the engine is "too old " to cover. I was also told that "41 months of service is an acceptable amount of life for a jasper re manufactured engine". I babied this motor, not allowing rpm's above 2500. Turns out something fell apart in the engine causing the #2 & #5 cylinders to have 25% compression. At this point it's cheaper to buy a new engine for me. Something caused the pistons to contact the valves.
I contacted Jasper engines knowing that they would not cover this. I asked them if they would buy the core back so they could take the engine apart and find out the problem to help them prevent this from happening in the future. I was told no. If I owned a rebuild company I would want a failed product back so I could have that issue studied. Nevertheless I am not a Jasper engine again. I'm thinking about ATK. Just remember when you purchase an engine, you have several companies to choose from. I do not recommend Jasper if you want an engine to last more than three years.

I purchased a completely rebuilt Chevy 6.0 liter engine installed by a local garage. The engine runs perfectly. It's the first motor I've ever owned that idles perfectly without the expected miss now and again. Freeway mileage with my 2011 Silverado 2500 Crew Cab is 20+ mpg.

The block on the original 5.7L engine on my '93 Suburban cracked at around 225,000 miles; water in the oil = ruined engine. I arranged for a Jasper Engine from my local mechanic. That engine also had a crack in the block that was "repaired" with steel epoxy. It failed after only a hundred miles or so. Jasper completely covered the engine, and sent another engine within a week. I now have about 60,000 miles on that engine and it's running very well, doesn't use oil, doesn't leak, has plenty of compression, and I would trust it to drive across the USA.

I purchase a turbo for my F-350. My claim were not paid because of the turbo. The metal on the turbo came apart and ruin my engine. The engine only had 100,000 low miles for a diesel. The metal shaving from the turbo caused the problem. Scarring parts inside the engine. Now I have to replace my engine. Even though the turbo ruin my engine. I called Jasper. It didn't do any good. Please don't purchase any parts from them unless you want to purchase a new engine. Turbo are garbage. DO NOT PUT YOURSELF THRU IT.
How do I know I can trust these reviews about Jasper?
849,102 reviews on ConsumerAffairs are verified.
We require contact information to ensure our reviewers are real.
We use intelligent software that helps us maintain the integrity of reviews.
Our moderators read all reviews to verify quality and helpfulness.
For more information about reviews on ConsumerAffairs.com please visit our FAQ.

I bought a Jasper transmission through my local mechanic, who raved about them. It was significantly more expensive than my other options, but I was sold. The transmission failed, and since I was FIFTY MILES over the mandatory trans fluid replacement interval, they said no.

Jasper Engines & Transmissions are awful, awful engine rebuilders. DT466 Reman lasted 18 months before injector cup blew out, head needed to be pulled. 3 years in rear main started to leak. 4.5 years completely imploded. Asked for a discount on a new Reman. Would not give a nickel. Awful company, never again.

This is a rebuttal to Southern Cranes review and issues with a Jasper Engines unit. I am the shop that had to replace the Jasper unit you installed. The vehicle was towed to us from your customer with the engine running rough and smoking. Diagnosis found that there was a hole melted in one of the pistons. Tear down inspection of the engine found extreme heat evidenced by discolored exhaust piping and discolored turbo inlets from very high temps. Further diagnosis found that the truck had an aftermarket performance programmer installed on it at time of sale from you to your customer. Any search online of the Ford 6.4L diesel engine will show that engine is notorious for cracking or melting pistons when aggressive performance programmers are installed.
The cause of the damaged Jasper Engine was excessive heat due to the extra horsepower the performance tuner gave the engine combined with the heavy weight of the truck. The failure was caused by an aftermarket performance device, Jasper does not cover damage caused by aftermarket devices. As far as you stating Jasper will not call you back I will state bluntly you are lying sir. I have been in contact with Jasper many times on behalf of your customer and they have contacted and documented many calls to you.
As far as you saying they will not do anything for the customer again that is untrue. Jasper extended them a 60% discount on a replacement motor even after the original unit was damaged by the aftermarket programmer. Since the issue occurred we have installed a new engine at a discounted price, reprogrammed the engine's computer to bring it back to factory oem horsepower and have been in contact with your customer and have had no issues since. Had you removed the performance programmer in the first place no issues would have occurred.

I own a 2006 Mazda MPV Mini Van which I purchased new. The trouble started when the MPV hit 110,000 miles, the engine died! I was sitting still in a construction zone and the MPV just quit, would not start back up. So off it goes to the Mazda dealer (Knoxville, TN). This dealership sucks, but it is the closest to where I live :( I have learned to dislike them as much as the junky jasper engine, that they put in my MPV at a cost of $6100.00! First the Mazda dealer told me they were putting in a "New" engine. Well its not new, it's refurbished!!! I had the choice of a "refurbished" for $3800, but I said no, that I would go with the "new" one, at $6100 hoping it would last a few years?
Well fast forward 2.4 years and 42,000 miles, yep, you got it, a valve cover gasket oil leak (so back to the Mazda dealer that put this "New" refurbished engine in), which I felt sure that Jasper would be covering seeing as I have a 3 year warranty. So Mazda calls Jasper, wallah, yep you guessed it. Jasper will not cover it. So service writer tells me a story about "certain" things are not covered and that Mazda only warranties it for a year, no surprise here.
Mazda service writer wants to charge me $450 with tax for his workers that put the engine in it to go in and mess up something else. I tell him no way am I having it done there (oh yeah, I didn't mention that 2 days after the "New" refurbished engine was put in my van broke down, back to Mazda on a rollback, and this Mazda dealership wanted me to pay the tow bill! They could not even put the engine in correctly! Heck no, I was not paying for something they screwed up! I'm an old lady for gosh sakes and they acted like I did something to a two day old "New" refurbished engine to make it conk out).
OK back to the oil leaking from the valve cover gasket, Mazda service writer that I spoke of earlier, (when I told him that no, I was not getting the leaky valve cover gasket done there for $450) very rudely tells his mechanic, "put it back together!" (Not professional) I will get it done right :) Moral of the story... Do not go to the Mazda Dealer that I mentioned. And under no circumstances do not have a jasper engine put in your vehicle!!! Run like the wind. Do not look back! Their warranty is not a warranty at all!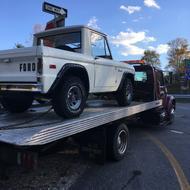 I purchased a 1976 Ford Bronco in July with under 3000 miles on a Jasper motor. Within 400 miles, the motor failed. I was advised to take 'Pearl' to a Jasper dealer which I did. Over a period of months, the motor was sent back to Indiana to be rebuilt, parts failed during testing there, delivery delays. Jasper refused to pay labor costs indicating that I was somehow to blame. It's my new company truck, I need it on the road, so I paid labor, $1800 and change. All the while thinking I'd have a NEW Jasper motor with another warranty. That's what Jasper is in the business of doing, right? WRONG.
So I pick up Pearl on a Friday smiling ear to ear!! She's back home, YAY! Two days later on Monday I drive about 1 1/2 hours away to pick up equipment at Woodcraft. As I start back, the motor fails yet again, UNDER 200 MILES. Towing was $307.56 to get her home and back to the shop. After another month of waiting, Jasper responds that I have no warranty at all now and accept no responsibility for their workmanship. But they are in a generous mood so, they offer to rebuild the exact same motor for the THIRD time in its short life but offer no guarantees that I won't end up stranded on the interstate and take a ride in a tow truck again. Wait. What? And I have to pay another $1800 or so on the same labor on the same motor? This MOTOR HAS NOT EVEN CLOCKED 3200 MILES in two rebuilds, second time not even driven for 2 hours? Jasper makes the Made in USA proud once again.
I'm so outraged that from July to November I've driven my truck a total of 5 times with zero confidence now that Jasper can actually keep a vehicle on the road. I'll not stop filing complaints with Better Business Bureau, Chamber of Commerce in Jasper, Indiana, the FTC and any other watchdog consumer outlet I can find. It's all documented and I will file suit. As with any legal battle, I may lose, who cares at this point? If I'm forced to buy a new motor, not a penny of my money will again go to a Jasper product. They have no pride or confidence in their products either as it turns out. And they are indifferent to the fact that actual people drive and need the vehicles they build motors for and dislike being disabled on the interstate.
I'm having Pearl towed home this week. It's the holidays and Jasper lost interest in us long ago. I'm sure we wouldn't get any attention until after the first of the year anyway. She's become a part of the family at the local Jasper shop and they don't mind her hanging out there, but I'll cover her in the garage and wait it out.

Jasper Engine: I purchased a Jasper Engine for one of my customers and the engine was installed and ran for 6 months -- the engine locked up and Jasper says they have a 1 year parts and labor warranty -- they covered neither my customer is faced with installing another engine at his cost. They did nothing -- so now either he will have to take Jasper to court -- the problem is the time and money it takes to do that in the meantime his work vehicle is down and it is a $80,000 dollar vehicle -- that would cause hardship on him. Jasper Engines will not cover anything and it is the engine itself that broke or has a hole in it.
I am sure somewhere there is some loophole they will try and not pay for it. TRUST ME. NEVER BUY A JASPER ENGINE. YOU WILL WASTE YOUR MONEY. I THINK I WILL GO INTO THE ENGINE BUSINESS. A lot of big businesses are formed because of someone like jasper screwing a business owner like myself or my customer.
THEY WILL NOT CALL ME BACK. They were all about me buying from them. They called really fast but when it comes to a problem they want call. I have been calling darren ** from orlando district manager and they will not call back. Trevor with the warranty side - they blame it on something that you didn't purchase from them that they say caused it. If there engine had been in good shape there would not have been a problem. SOUTHERN CRANE TRUCKS 704-288-8494
and this is my personal experience with them. I have called Jasper Engine and they will not call back.

I have been doing business with Jasper Engines and Transmissions for over 20 years. Jasper supplies the highest quality products. I HIGHLY recommend them.

Excellent company to work with. Always very friendly and knowledgeable. Would highly recommend their products and services.

In July of 2014 I was on my way to Mount Rushmore in my 2002 Jeep Grand Cherokee when the cooling fan went out in Sparks, Nevada and ruined the engine. I took the car to Wayne's Automotive (who are super to do business with). They said the engine was shot and recommended a Jasper engine as a replacement. With all the parts and labor the cost was over 9000 dollars. The follow August a very loud racket started under the hood. I called Wayne's and they said no problem bring it in and they would fix it because it had a 100000 mile 36 month on the engine. They replaced the engine for no charge. I drove the car with the second new engine about 5000 and again the engine failed in Las Vegas.
I had the car shipped to Wayne's because in a conversation with Jasper Engines they said the first replacement engine was not their fault so they were not covering the warranty unless they proved it was their fault. They blamed Wayne's or possible problems with the car for the burnt piston. I ask the repair shop in Las Vegas if anything the installer could have done or I could have done that would cause the problem. Jasper Engines ask the Las Vegas mechanic to run test and I would be reimbursed if it was Jasper's problem. They also said I would have to send them payment for over 1800 dollars until they could verify the problem. I elected to spend 400 dollar to have the car shipped back to Wayne's and they could fight it out.
Again Wayne's were super to work with but they stated they have had nothing but trouble with Jasper for over a year. I just got a call from Jasper and they said the problem was not theirs but they would cover the new engine but not the labor. Wayne's automotive fixed the car and told me they are done with Jasper because of their recent work quality. I think Wayne's Automotive is getting ripped off for their work and I am getting ripped off for the testing that Jasper required the mechanic in Las Vegas to do.

I am looking for an engine for my 96 Chevy truck and when I read all reviews about Jasper Engines I see a big red flag. My best thought is to turn, run far and fast and hope the rest of us who are in the market for auto parts read the reviews first. You will save a ton of money. Less gray hair.

I bought a 2001 Chevy 3500 Express Cutaway in 2014 with supposedly 40,000 (original) miles. At 56,000 miles the transmission went out. The mechanic was under the impression it had a great warranty on it, and after checking, discovered it was a 3 year/100,000 mile warranty. In checking with Jasper, I found out that the transmission had been replaced in 2012, which meant that the transmission had to of gone out in less than 30,000 miles both times. I will never own a Jasper transmission, nor buy another vehicle with one in it. If a transmission can't last 100,000 miles, it is total junk and is faulty in all aspects of the word. Obviously they will not replace it in any way shape or form.

About five or six months ago I bought a Jasper differential. It came with a warranty. 100000 mile or 3 year the differential went out. I needed it replaced. They told me they would not have replaced the part if they knew it was for a lifted truck and upon going over the morning to you before I got the part they said that my labor would be reimbursed. They have not reimbursed my labor and I am almost sure the second if we'll go out and cost me another 3000 probably this garbage company will not reimburse me. I have tried and tried but they will not. I am contacting a lawyer and going to try to sue for my money back. Stay away from Jasper parts forever. I am actually probably going to have this one refunded and have to do it all over again if they will even do that because they are stingy and shady. Once they get your money they don't give a ** about you. You are just ** out of luck when it comes to anything Jasper.

My '05 Ford F150 FX4 engine died just over 90k miles. The only cost-effective option at the time seemed to be a remanufactured engine from Jasper. Engine and labor/parts were just under 8 grand. The engine lasted 37 months and 24k miles, 1 month past their 36 month warranty/100k. Jasper agreed to send out another engine but not pay for parts/labor which ran just under 2 grand. Jasper also took their sweet time making the shop run through hoops and tests. Get the customer taken care of and run the tests on your own time Jasper. Once engine came in engine still had problems and cam solenoids needed to be replaced.
The Jasper retailer installed my engine and serviced it regularly during the 3 years. I would be embarrassed if I was Jasper and my product crapped out a month after warranty, and only lasted 24k miles vs. 100k, LOL! Had I known this is how Jasper treats their customers I would not have invested almost ten grand in their crap products/service. Once I got the engine in, I went straight to CarMax, because Jasper would not warranty the replacement. CarMax also said that remanufactured engines actually hurt your vehicle's value because they are unable to determine its actual mileage. If your engine craps out, don't get a Jasper, get a new vehicle! The whole process of getting my truck's engine replaced took 2 and a half months. What a nightmare. Please take this warning and stay away from Jasper Engines and Transmissions!

The motor that was sent was a good running motor, the only problem was it was leaking oil and antifreeze. After following Jasper Engines advice we replaced the valve cover gaskets 3 times. We also replaced the intake gasket. Finally we were told that we should pull the motor out and they would send another motor and upon review of the testing of the motor they would repay for the 2nd installation. Of course they found nothing wrong and told us sorry there's nothing they can do. We're out $1200.00 dollars in labor not including fluids. After doing business for many years with Jasper I would never think of buying another product again. They have no Rep. that can come out to see with their own eyes what the problems are. Terrible customer service from the owners.

I was talked into trusting that Jasper motors was a good choice. Now motor #4 is still waiting to be put into my wife's Nissan. I can't get the Mechanic to call me back and have be told over and over that the district manager would probably call me. This is still under warranty. I'm an old school racer and in the 70's and 80's Jasper was more or less a boat anchor and was told "no, no, they have came a long way now. They are a lot better." I should have left the old original motor in it.

The original transmission on my '93 Sierra died at 126,000. I have read that they typically last to 90K so I decided to replace it with a new unit. The repair shop recommended Jasper toting all their upgrades including steel vs. factory nylon gears and a wonderful 3-year warranty. So $2,500.00 later I leave the shop with my once again working truck. Now it is a second vehicle for me and I hardly drive it unless I need to haul something, which is rare anymore. We just under three years and 1,500 miles later the transmission has totally died! I have lost 2 and 3rd gear and it constantly slips out of gear if I go over 25 miles and hour. So I return to the shop that installed it only to be told that it is to close to the end of the warranty and that I will be expected to pay at least $2,500 in labor. NEVER BUY ANY JASPER PRODUCT!!! BUYER BE AWARE!

Motor in my Son's 06 F150 failed, took it to my mechanic of 10 yrs. Said needed another engine, recommended Jasper over a "junkyard" motor. 7500K later out the door. About a year later with 6300 miles of the motor, the Jasper motor failed while my Son was 15 hrs away in the middle of the TX desert. Towed the truck to El Paso (we live in Houston) and flew him home. Ford dealer said this motor failed as well. Jasper sent another motor down, 4300 in labor, parts later on our way. Just got a check from Jasper for 1000 to cover the costs. WTH?? No phone call, no anything?
So to recap. About 8k in labor in less than a year, two motors. I could have got a NEW Ford motor cheaper. My 10 yr relationship with my mechanic is gone along with a lot of my money. DON'T DO WHAT WE DID, DO NOT GO WITH A JASPER ENGINE. Trade your ride in, or go new motor. Never had to deal with this kind of ** before. And I'm pushing 50 yrs old.

I am the owner of an automotive repair shop in Austin, Texas. I have had the pleasure of having to replace a 4.6L engine assembly in a 2000 Ford Mustang 4 different times because of internal part failure of the 3 engine assemblies the I purchased from Jasper engines. 1st engine had timing chain rattle noise, 2nd engine had noise in #4 cylinder which sounded like a rod bearing and the 3rd engine also had the same noise. Jasper warrantied the first 3 engines but on the fourth (three strikes and you're out!) engine I wanted a full refund of the money that I spent on the original engine.
This is what Jasper said they would do. They would refund only 1600.00 of the 2600.00 spent due to the fact that the engine was in service for a year. Funny the last engine only lasted 3 months not a year. I went round and round with them about this but they said this was all they could do. Well needless to say that I WILL NEVER INSTALL ANOTHER "HIGH QUALITY PIECE OF CRAP MADE BY JASPER AGAIN". I wound up installing a remanufactured unit from Ford and guess what? It works perfectly - no noises, runs perfectly and customer is happy. My advice to all is to stay as far away from Jasper as possible!!

I had a diesel engine over two months ago and it still is not running. I am out over $10,700.00. The engine starts up then unexpectedly shuts off. The mechanic is a experienced diesel mechanic. He has install two fuel injection boxes to no avail. This engine is a lemon. My old engine with over 220k miles ran better than this one.

Last September, I had a Michigan-based Jeep shop replace the engine in my 2005 Jeep Wrangler, with a Jasper engine. I drove the Jeep home to Colorado, and on the way back, the engine developed problems... overheating and no power. I called the installer when I got home, they immediately contacted Jasper, and Jasper helped me make arrangements to take it to a Colorado Jasper installer to have the engine inspected. That outfit, Predator 4 Wheel Drive, turned out to be a disaster. Not fixing anything and charging me $81.00 for the inspection and a new radiator cap. Jasper had me take it to another installer, who confirmed the engine block had a hot spot.
The one issue with the Jasper warranty is that you have to pay for the re-installation up front and Jasper reimburses you when the old engine is delivered back to their shop. I didn't want to do that, so Jasper compensated me for returning the Jeep to Michigan. I had the new engine installed at no extra cost, and again, Jasper also compensated me for the $81.00 the other installer charged me.
Any company can have a problem, it's how they run their customer service afterwards that makes the real difference. I'd like to say that Jasper's customer service is second to none. They were eager to help, and cared about the quality of their product. The new engine is in and running fine.

Have been using Jasper for many years in an automotive shop. We have installed their Gas and Diesel Engines, Auto and Manual Transmissions, Transfer Cases and Diffs. If there's ever an issue with a product under the warranty period, Jasper takes care of the customer and the shop. From the Sales Department to the Tech Department they are easy to deal with and we have never had an issue that wasn't resolved. I'm Proud to sell and install any Jasper product. Thanks Jasper.

18 months ago, Robinson Ford in Baton Rouge sold me and installed a Jasper 302 V8 long block and transmission in my 87 F150. A week after the work was finished, the engine failed and had to be replaced. 3 weeks later the second engine failed and a third was installed. In total my truck was in the shop for 2.5 months to get a working engine installed. After 5000 miles, my engine is now leaking oil and Jasper will only pay one third of the bill to $400 of $600 fix this repair. Do you think Jasper has a process for quality assurance? Do you think anyone at Jasper's cares? DON'T EVER BUY anything from Jasper or Ford Dealerships.

Purchased a JASPER Engine for my 04 Trailblazer, had issues with a hesitation, but several times they said they could not replicate. Finally did and it was a bad gasket which caused oil into the plugs, now will cost me $1000, since JASPER only really warranties the "BLOCK". So to actually have something under warranty your engine basically had to blow up. But then they would find a reason not to. To see a company built on a reputation do this is terrible. Costly Lesson and not one I will ever repeat and will remember this lesson for many years to come and will ensure all I know hear actually how this company has changed!

I recently had a rebuilt Jasper engine installed in my '96 Yukon. After driving approximately two weeks and 600 miles, the new engine developed a major oil leak, serious enough that I couldn't drive the rig any further. I was 300 miles from home, and the tow bill was over $700! The leak turned out to be a faulty "O" ring on the oil filter adapter where it attached to the engine block. The "O" ring was supplied with the Jasper engine.
I contacted Jasper to see if they would reimburse me for the tow bill. The answer was "no" because I didn't spend an additional $300 for their "premium" warranty. If a product is of good quality in the first place, there should be no need to pay extra money for a "premium" warranty. So that tells me the quality of Jasper rebuilt engines is suspect, and I STRONGLY recommend against purchasing Jasper products.

So being a certified auto repair shop and having 40 years repairing cars and trucks. We have a long time client that needed an engine replacement. He compared the Ford dealer to Jasper and on our recommendation we installed the complete Jasper replacement engine. So after 13,456 miles and 15 months after the install, he brought the vehicle back for a fluid leak. It turned out to be a leaking intake manifold gasket. We used the gaskets provided by Jasper when we purchased the engine. I called them and they said sorry the warranty on that is only for one year and is a part only warranty no labor. Well, the warranty on their engines is three years or 100,000 miles. So I guess they don't consider their gaskets something that should be covered. I did learn a lesson. I will never purchase another Jasper product. I have been using their reman products for 15 years and had one issue with a cylinder head about ten years ago, their warranty service at that time was fine, but I guess everything changes. I will use only manufacturer supplied major components from now on.
Jasper Engines and Transmissions Company Profile
Company Name:

Jasper

Website:

http://www.jasperengines.com/