Jaguar maintenance: cost, plans and service schedule



Written by

Edited by
Find Extended Auto Warranties near you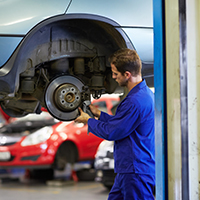 While the allure of a new, high-performance car may be hard to resist, it's smart to think about the long-term cost of ownership before you buy. Maintenance and repairs can add up across a vehicle's lifetime, and Jaguars are no exception.
If you want to make a smart choice about whether a Jaguar is right for you, keep reading to learn how Jaguar's upkeep costs compare with other manufacturers', what repairs you can expect and how you can potentially save on maintenance and repairs.
---
Key insights
Overall, Jaguars are considerably more expensive to maintain and repair than the average vehicle, according to RepairPal.
Reportedly, Jaguar owners can also expect to make more trips to the repair shop than average and pay heftier fees while there.
An extended warranty or prepaid maintenance plan can help you save money on upkeep if you buy carefully.
Are Jaguars expensive to maintain?
In short, yes — Jaguars cost a pretty penny throughout their lifetimes. On average, Jaguars cost $1,123 per year to maintain and repair, according to RepairPal (a site that estimates automotive repair costs).
How Jaguar compares with other automakers
Jaguar owners can expect to pay over $450 more each year than the average driver (who pays $652 per year). RepairPal also placed Jaguar near the bottom of its automaker reliability list — 29th out of 32 brands.
Jaguar owners can reportedly expect unscheduled repairs 0.6 times a year, which is more often than the industry average of 0.4 times per year. Likewise, RepairPal estimates that the probability of a Jaguar repair being a major issue is 14% — that's higher than the industry-standard 12%.
| Make | Average maintenance and repair costs* |
| --- | --- |
| Jaguar | $1,123 per year |
| Honda | $428 per year |
| Toyota | $441 per year |
| Ford | $775 per year |
| BMW | $968 per year |
*According to RepairPal
It's worth pointing out that while these ballpark estimates are helpful to characterize brands as a whole, the cost of maintenance and repairs will ultimately vary by model. Let's take a peek at estimated costs for different Jaguars to give you a better idea of what you might spend.
Jaguar maintenance and repair costs by model
Upkeep costs for the Jaguar models we looked at were far from consistent, but they were uniformly expensive. All three models had estimated upkeep costs of over $1,000 per year, and the F-Pace's estimate was as high as $1,610 per year (with the caveat that it's from a different data set).
| Model | Average maintenance and repair costs* |
| --- | --- |
| Jaguar XF | $1,066 per year |
| Jaguar XJ | $1,232 per year |
| Jaguar F-Pace | $1,610 per year |
*According to RepairPal and CarEdge
Just keep in mind that these figures combine maintenance and repair costs even though these are generally considered two separate tallies. "Maintenance" refers to preventive care, such as oil changes and tire rotations, while "repairs" are larger fixes necessary when something goes wrong. We'll provide a more detailed breakdown of these categories below.
Jaguar maintenance schedule
Following your manufacturer's maintenance schedule is key to keeping your car in good shape. While each Jaguar model calls for a specific service schedule, we've included some general guidelines below to show the services you can expect to need based on your vehicle's age and mileage. Refer to your car's manual for specific instructions.
(We wouldn't base our actual maintenance practices on this generic list, but it should help you understand what a maintenance schedule for your vehicle might look like. You may need to scroll to see the whole thing.)
| Interval | Service |
| --- | --- |
| Every 5,000 miles | Change the engine oil and filter |
| Every 5,000 miles | Lubricate the door hinges and body fittings |
| Every 5,000 miles | Check and adjust all fluids |
| Every 5,000 miles | Check tire tread depth and rotate tires |
| Every 5,000 miles | Inspect the windshield wipers and refill washer fluid as needed |
| Every 5,000 miles | Inspect the lights and replace bulbs as needed |
| Every 5,000 miles | Inspect the belts and hoses |
| Every 5,000 miles | Inspect the HVAC system |
| Every 15,000 miles | Replace the spark plugs |
| Every 15,000 miles | Check the air filter |
| Every 15,000 miles | Inspect and clean the throttle plate |
| Every 15,000 miles | Check the belt adjustment |
| Every 15,000 miles | Inspect the braking system |
| Every 15,000 miles | Grease the wheel bearings |
| Every 30,000 miles | Replace the transmission fluid and filter |
| Every 30,000 miles | Replace the rear axle lube |
| Every 30,000 miles | Replace the power steering fluid |
| Every 30,000 miles | Repack the front wheel bearings |
| Every 30,000 miles | Torque propeller shaft bolts |
| Every 30,000 miles | Lube accelerator linkage, brake pedal, distributor advance mechanism and weather stripping |
| Every 30,000 miles | Inspect all critical components |
| Every 6 years or 60,000 miles | Adjust the drive belt and replace if necessary |
| Every 90,000 miles | Replace the oxygen sensor |
*According to Jaguar Newport Beach
Jaguar maintenance costs
In general, the cost of maintenance is easy to calculate because you know when you'll need it. Simply consult your manual to see what services you'll need and when, then contact local mechanics to see how much they charge for those services. You should be able to get a pretty good idea of your built-in upkeep costs from there.
Jaguar makes calculating maintenance costs especially easy because it offers free maintenance through its Complimentary New Vehicle Scheduled Maintenance Coverage. These free appointments extend through each Jaguar's first five years or 60,000 miles, and they include oil changes and other scheduled services. There is one caveat: you must visit your nearby Jaguar dealership within a month or 1,000 miles of your scheduled maintenance interval in order to receive the offer.
Example: Jaguar XF maintenance costs
Once that coverage expires, though, you'll be back to paying for maintenance. We collected some estimates for common maintenance services on a 2017 Jaguar XF in Austin, Texas, to give you an idea of what maintenance might cost.
Just be aware that rates in your area for your vehicle will likely differ.
| Service | Cost* |
| --- | --- |
| Tire rotation | $93-$119 |
| Oil change | $218-$591 |
| Brake pad replacement | $393-$1,078 |
| Spark plug replacement | $510-$607 |
*According to RepairPal for a 2017 Jaguar XF in the 78705 ZIP code
Jaguar repair costs
"Though Jaguars historically have had dependability issues, the automaker has updated its quality and design in recent decades since the [company's purchase] by Ford," said mechanic Nathan Myers. "They were really bad. Now they're about as reliable as Ford, which is a step up — though not a big one."
Even if modern Jaguars are moderately more reliable, they're still more issue-prone than the average vehicle, and unreliable vehicles tend to cost you more in repair bills. Exactly how much you can expect to spend on repairs is difficult to estimate, though, because repairs are by nature unexpected.
You can potentially get a better idea of what's coming your way by looking at other people's experiences. For example, transmission failure is the most common problem reported on RepairPal by drivers of the now-discontinued Jaguar S-Type and X-Type, and rebuilding or replacing a transmission can cost thousands of dollars.
However, common issues for other models aren't nearly that serious. The most commonly reported problem on even older Jaguar XJ6s is that the central cupholder is allegedly flimsy and prone to breakage. (Taken at face value, that could indicate these models aren't prone to major issues, but we'd guess that sampling error may play a part here.)
Example: Jaguar XF repair costs
Just to give you an idea of what some repair costs might look like, here's a selection of estimates for a Jaguar XF.
| Service | Cost* |
| --- | --- |
| Drive belt idler pulley replacement | $181-$209 |
| Ignition switch replacement | $356-$371 |
| Radiation hose replacement | $693-$759 |
| Intake manifold gasket replacement | $755-$860 |
| Exhaust pipe replacement | $938-$978 |
| Fuel tank replacement | $1,750-$1,864 |
| Catalytic converter replacement | $2,082-$2,128 |
| Turbocharger assembly replacement | $2,520-$2,591 |
*According to RepairPal
Bear in mind that your factory warranty can help keep your costs down if you're buying a newer Jaguar. Jaguar EliteCare provides protection against manufacturing defects for up to five years or 60,000 miles if your vehicle is a 2016 or newer model.
"My warranty was five years or 60,000 miles, whichever came first, and it did cover a great deal on this vehicle," wrote Anthony, a ConsumerAffairs reviewer from Illinois. "This car is beautiful and ran very smoothly, but I physically noticed my engine running quite hot. There were no instruments flagging that it was hot, but it was. From there, I had coolant leakage issues a few times."
» LEARN: What is a manufacturer's warranty?
Of course, not all reviews are as positive, and your factory warranty won't last forever. In the year before this article was published, two reviewers mentioned their Jaguars needing expensive engine replacements that weren't covered by their warranties.
"I purchased my Jaguar F Pace 2016. … The engine blew up in 2021 just out of … warranty," wrote Michelle, another ConsumerAffairs reviewer. "I had the engine replaced under 'goodwill' with no explanation as to what happened to the vehicle. Six months later and the new engine has just blown up. After talking to the service manager, I have learnt that the Jaguar and Land Rover have this known issue caused after an oil change. Going back on my service history, this is exactly what happened."
Violet, another reviewer on our site, reported similar engine troubles, "I purchased a 2018 Jaguar F pace - Diesel - nothin but a lemon. Spent about 20k in maintenance and repairs and 2 weeks ago, the Jaguar's engine blew. My vehicle has 167,000 km. As I did not purchase extended warranty I was quoted over $28,000 to repair this engine."
The good news is that, as Violet pointed out, there are ways to help protect yourself from these kinds of repair bills.
» MORE: Car warranty vs. car insurance
How can an extended warranty or maintenance plan help?
Extended warranties can help protect you from repair bills after your factory warranty expires. Like your factory warranty, these plans can cover the cost of repairs needed due to manufacturing defects, but unlike your factory warranty, you have to buy your extended warranty separately. That means getting a good deal on your extended warranty is key if you want to come out ahead financially.
Jaguar's official extended warranties are an option, but we had decent luck finding better deals from third-party warranty companies (and we expect you might get even better results if you shop around).
Another way to potentially save money on upkeep is with a Jaguar prepaid maintenance plan. These plans can help make sure you don't miss any oil and filter changes, and Jaguar claims that investing in one can help you save up to 25% versus paying for each service as needed.
---
Article sources

ConsumerAffairs writers primarily rely on government data, industry experts and original research from other reputable publications to inform their work. Specific sources for this article include:
Did you find this article helpful?
|
You're signed up
We'll start sending you the news you need delivered straight to you. We value your privacy. Unsubscribe easily.