Consumer Complaints and Reviews

Never buy a Hyundai!!! I bought a 2011 Hyundai Sonata 2.0T Limited and I have had nothing but regrets. Everything that could possibly go wrong, HAS! I had the famous engine failure in December 2016. It just stalled and seized on the highway and the useless Agincourt Hyundai dealership in Toronto that I took it to DID NOT EVEN PRESENT THE CASE TO HYUNDAI CANADA INITIALLY. They just asked me to bring $9,000 for an engine replacement. I had to call Hyundai Canada myself, and they also tried to void my warranty until I threatened legal action. They finally gave me a "new engine" and less than a week later, my driveway was an oil pool, the engine oil leak was so bad that my dipstick dried up in days!
Besides the engine issue, there has been countless MIL (check engine light) illuminations: from 02 sensor to catalytic converter to issues with the gutless turbo the car has. The shocks and struts on the car are so useless too, they have been changed severally. The wheel alignment is the worst, it's like it loses alignment every 3000 km! I do not drive badly, but somehow this piece of garbage always pulls to one side even after an alignment. The sunroof creaks! My backup camera chooses when it's going to work, on other days it just shows me a blue screen when in reverse! The sound system is total nonsense (I have the dimension system)! I REPEAT: DO NOT BUY A HYUNDAI!!

HYUNDAI CANADA WILL NOT STAND BEHIND THEIR VEHICLES. Back in November of 2012 I wrote Steve Kelleher a letter stating my sheer dissatisfaction with the water problems I was experiencing with my 2010 Genesis Coupe. These problems became apparent in October 2009, less than 6 months from when I purchased it brand new in May of 2009. I have a multitude of work orders showing evidence of this water leak as well as my diligence in trying to address these issues. To date the sunroof is still leaking and soaking the back interior of my car. HYUNDAI CANADA is refusing to address this leak as the car is now out of warranty.
In my letter to Mr. Kelleher I stated the following as well as sending him proof of the work orders: Water running down the back speakers after rain. Leaks soaking the trunk as well as interior back panel and seat. The radio cuts in and out after heavy rain when the car is cold. The air conditioner and fan randomly turn on when both dials are off. Thick frost accumulates on the insides of the windows when cold. Windows fog up in the rain. The car smells musty. Back tail lights leaking.
Since then radio cut out when loading CD player, eating my CD and rendering CD player inoperable. Because of a faulty sunroof mechanism the water leaks have caused staining of the interior liner. The interior liner was totally replaced because of extensive water damage. The seals around the back window were replaced springs popping out of the back seat and the leather seat ripping at seams where water was pooling so the backseat was replaced. The passenger window was lifted and reset because it was an entry point for water. The ABS light remained on and was repaired. The passenger window would not close and sporadically after a rain gets stuck. Tail lights leaking both resealed. LeakPro resealed the car (sunroof, mechanisms, drip tray...etc.). Over 1" of water was recently wet-vacuumed out of the trunk.
This car has done nothing but leak and after almost 8 years the water leak has not been resolved. Over the years the dealership has tried to address the problems that the water leak has caused but for whatever reason have not addressed the water leak itself. My car is still getting soaked after it rains. The dealership cannot afford to investigate this leak further and submitted a request to Hyundai Canada which was declined. It is time for Hyundai Canada to step up and back their product and their warranty. Because this has been an ongoing problem that has not been resolved since I purchased the car in 2009, the time sensitivity of the warranty should not be a factor.
I am a single mom who has recently been reduced to a 4 day work week. I saved for and purchased this car because of Hyundai's extended warranty and their reputation of standing behind their product. This car was not cheap and I expected it to last me a very long time. With water damage this car will rust and cause more electrical problems.

I leased my 2015 Sonata Sport in Feb of 2016. It had been a service loaner and had almost 5000 miles on it at delivery. After about six months in Aug of 2016 my car would not start and I had to call Hyundai Roadside to jump it. I brought it into the dealer the following week. They tested the battery, said nothing was wrong, and suggested I did something to cause the battery drain. Well, I continued to have the problem and brought the car back to the dealer in Nov of 2016. This time they said the battery was bad and replaced it. Even after replacing the battery, I continued to have the problem and brought the car back to the dealer in Jan of 2017. This time they blamed the problem on the Allstate insurance device I have plugged into the car and they said the battery was bad too. So they replaced the battery for the second time and I had the Allstate device replaced.
I continued to have the same problems. I brought the car back to the dealer the following month and they said they could not replicate the issue and found nothing. It seems that my vehicle battery dies when I don't use the vehicle for a period of time – often 1.5 - 2 days, but it has died from sitting unused in as little as 22 hours. Since I continue to have this issue without any real help from the dealer, I contacted Hyundai consumer affairs in April of 2017 and they have been slow to take any action. I did not receive any actionable info from them until 2 weeks after I first called... They called the dealer I had been working with and the dealer told them they thought the issue was the insurance device (even though they found no problems the last time I had the vehicle there, with the device plugged in).
So my Hyundai case manager told me they could not do anything until the insurance device was ruled out as a cause. I removed the device and purposefully did not drive the vehicle for a full day and surprise, the car was dead. So I called my case manager at Hyundai and told her what happened and that the device could be ruled out. Now she is checking to see "if or when" (her words) a Hyundai specialist can look at the car. Hopefully, it won't take another two weeks to find that out. It seems I'm not the only person with this issue as a couple other reviews very recently indicate the same problem on the same year/make/model and with even the same time frame the problem began! I guess it's time for me to find a lawyer too.

Very angry with Hyundai Motor America. At the end of February my car had a warning light (the only one ever) "Hybrid battery low, stop do not drive". After 2 days hunting for a battery, we replaced the battery only for it to be completely dead. Had it towed to the dealership. They run a diagnostic on it and tell me that it needs a power relay assembly kit replaced. Ok, so we have that replaced. The next day I call and they say, "Well we replaced it but your engine is locked up!" BULLCRAP! I have been going back and forth for over 2 months with Hyundai Motor America only for them not to stand up to their word!
HMA called dealership to have them drop the oil pan and look for metal fragments, well guess what? They found metal fragments in my oil pan. Even knowing that these metal fragments are in there they are still denying my claim and refuse to replace my engine. They say my car is not part of the recall, imagine that! Is anyone's car actually in the recall... I am so **! They are worthless liars! Would like to have an attorney to contact us all.

I have had my 1st Santa Fe 2002 brand new! Never had a problem with it. Since then went back and got a Tiburon and two other Accents. Great cars. Last month March 25, 2017 decided traded in my old Santa Fe (189,000 miles) for a brand new one. At 600 miles notice a strange sound. Took it in. At this point the dealership telling me it needs a brand new transmission! Haven't had my car for even a month!
I did contact Hyundai Corp. My case lady answers her phone right away and calls back right away along with the dealership and service dept. Yes. They have great customer service. But at this point. They have given me a rental car, but what will they do next? No one wants a brand new car that has already been torn apart. That's why I got brand new. Not a used one. I do hope they buy back the car and just give me a new one. This was the 5th car we have got from Hyundai and from the same dealer. I just made my 1st car payment yesterday on a brand new broken down car. :(
How do I know I can trust these reviews about Hyundai?
762,011 reviews on ConsumerAffairs are verified.
We require contact information to ensure our reviewers are real.
We use intelligent software that helps us maintain the integrity of reviews.
Our moderators read all reviews to verify quality and helpfulness.
For more information about reviews on ConsumerAffairs.com please visit our FAQ.

My daughter purchased a certified pre owned 2013 Sonata limited turbo. She took it to have regular maintenance, so she took good care of the car. On February 2017 she was driving down the road when she heard a noise from under the hood, so her friend told her to pull over so he could check it out, when he lifted up the hood there was a red glow. He immediately told her to get out of the car. Within an minute her car was engulfed in flames. The car burnt so bad, all that was left was the trunk of the car. Had he not told her to pull over my daughter and her friend would have died in that car.
She notified Hyundai about this. For one because it was still under warranty and two her car burnt to the ground for no reason out of nowhere. They took about 2 months to get back to her and when they did they only offered her what they call fair market value, which was way lower than what she paid for the car. With what they offered she couldn't even touch the kind of car she had and is still making payments on. They were rude and the one guy hung up on me when I got upset with his attitude. We have called repeatedly trying to talk to someone in charge but to no avail. We have heard from a friend of hers that someone on Facebook has had their car go up in flames also. Hyundai does not stand by their product and they also have the worse customer relations that I have ever experienced. Never ever would I recommend buying a Hyundai car.

In January of this year (2017) I was on my way home from hockey when my engine failed. I was just turning onto the highway and beginning my acceleration when the engine just about stalled. I was only thankfully doing about 30 km/hr and put the vehicle into neutral and pulled over to the shoulder. I shut the engine off and got under the hood for visual inspection. Upon checking the Oil there was barely any registering on the dipstick (oil is checked during every refuel). Thankfully I carry 2 litres with me at all times. It took both of these to register on dipstick. I turned the engine back on and with no warning lights and smoother running engine, I carried on my way home keeping speeds less than 70 km/hr as the immediate lack of oil concerned me.
About 5 minutes from home both engine and oil warning lights came on, and the vehicle was beginning to run rough again. Once home I again checked my oil and this time there was nothing on the dipstick. I left the vehicle in my garage until appointment at my Hyundai dealer. I do my own oil changes every 5,000 km with recommended full synthetic 5w30. The only leak I have ever found was a very small one around oil pan. The dealer inspected and concluded I require a "new lower block" and that without my receipts they won't honor the warranty.
Having done some research online in days between failure and dealer appointment I found multiple accounts of the same failure happening, some within less than a 1,000 kms of having factory dealer oil change done. So when my service informed of no warranty coverage I asked how is that the cause of my failure and others too. Was given a shrug... So the quote for repairs was well beyond my financial means, having lost my job. The dealer had no additional options for me and left me feeling blamed and written off.
Then out comes the 1.4 million vehicle recall outlining the "possible failure" that I experienced in January. I contacted Hyundai Customer service via email April 8, 2017, they responded with a question April 10, I replied and now all I can get is an "auto-reply" message. I called on April 12, and was told that my VIN falls within the date range affected and that was about it. Asked if I should contact dealer again and was told up to me. I have been without my vehicle since the failure occurred and now without any answers.

I currently own this 2015 Sonata limited and have seen very little of it lately. I purchased this car in October 2015. After around seven months of ownership, my battery went dead. I called service. They jump the car and figured that was the end of the problem since it was a very cold morning. A few days later the same thing happened again. Called the service. They jump the car. This time I drove it to Star Hyundai service. The manager at that time, Mike told me that there was nothing wrong with the battery and they were not replacing it. This was after two hours of trying to diagnose the problem. He tell me if it happens again I should have the car towed in. That is exactly what I did a few days later. He still refused to admit that there was something wrong with the battery.
I then contacted the dealer whom I bought the car from who put the screws to him and he finally changed the battery. I thought this was the end of the problem. Wrong! This problem has repeated itself several times over the last few months. I have had three new batteries since the original battery put in to this car. I only have around 16,000 miles on the car. After the issue had escalated I contacted their customer care department. I was given a case number and a really horrible case worker. He never answered his phone, was very slow to get back to me. Kyle **. They advertise great customer service. HORRIBLE!!!
I was forced to hire a lemon law lawyer. My car is presently in the shop going on 26 days. They could not find the reason for the battery failure. Fortunately for me, I was given a loaner. Now I am just waiting to see what they are going to do as far as replacing the car or offering me a buyback. I certainly don't want a replacement. This was my first and my last Hyundai purchase.

Engine fails to start: I leased my 2014 Hyundai Sonata Hybrid on Sept. 2014 and it has been in the shop 12 times in last year and half. When trying to start, all console warnings beep, the interior and exterior lights flash off and on and the brake pedal goes up and down on its own. You cannot stop it and it continues until it drains the battery. I have complied with everything the service department have told me to do from jumping it and bringing it to them, having tow truck bring it in, turning off lights, radio, and a/c before turning it off but the problem continues and the service techs can find no problem. They provided a loaner twice but am now being told as it sits in shop this time that Hyundai will not pay any more for a loaner.
I opened a case in Dec and was told if problem continued to call. I called again when problem occurred but was told I needed to open a new case. So here I go again. The manager offered the dealer I purchased it from will not return my call and the first case manager will not return my call and the service tech does not know what to do with it. I'm at wit's end. I just want out of my lease with no fees or early termination charges and walk away from this nightmare. I have owned 3 other Hyundais and always praised Hyundais but no longer. I will not be purchasing another Hyundai and I would dissuade anyone I know from buying from this company. I am learning they do not stand behind their products.

We needed roadside assistance since our car stop. The person sent was in a regular car and not under any towing service company. Very unprofessional. The person who gave us a jump start did it backward three times causing our car to set off an alarm and causing a surge charge to our car. Blew a fuse and the IMP box was fried. Now no one wants to take responsibility for the wrongdoing and $520.00 later and to top it off I'm a suspect in this whole ordeal since the car was towed Sunday 2:33 am to our home and not towed to the dealer until Monday morning. So much for trust in services you pay for.
I'm canceling my service with them and make sure that I let people know how poorly I was treated and even accused of tampering with my own car. Really WTH, why would I try to fix something I have no idea how it works especially when the moron who charges my car wrong three times told us it was the alternator that was bad? My trust in Humans right now is not very a good one. I'll trust my dog better.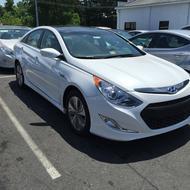 In short: Hyundai has come a long way. As a Honda loyalist, I was nervous about choosing a brand with a "history of reliability issues". I test drove every Hybrid sold in the US and much to my surprise, the Hyundai Sonata Hybrid came out on top of the many categories I laid out for myself. Hyundai really took the time to design the ergonomics, style, feature-set, and accommodations for this car, which I fell in love with. My dealer made buying one simple, straightforward, and pressure-free.
In Detail: CABIN: After driving the gamut of hybrids available in the US (Fusion, Prius [+ IV, C & V], Civic, Avalon, Camry, Accord, Volt, Crosstrek, CR-Z, C-Max...) I was finally talked into "at least test driving" the Sonata Hybrid. My partner had a 2012 Sonata that was recently totaled, (air bags deployed, driver and passenger safe and unharmed) that we both liked a lot, so I put my brand loyalty and pride aside to appease this silly recommendation.
I got in and almost immediately fell in love (with the cabin, at least). Bluetooth connectivity, Pioneer audio w/ subwoofer, 8" screen, automatic dual-zone climate control, 4" in-dash LCD screen, push-start engine, heated leather seats, contemporary (if not ultra-modern) dash design, roomy front and rear seats, tons of storage space, and an overall feeling of luxury car enveloped you the moment you sat down. The real over-the-top, wow-factor element was the panoramic sunroof with an automatic curtain system... it was just, wow.
TEST DRIVE: The dealership gave me the keys and said, "We'll see you when we see you." Instant acceleration? Absolutely. Hybrid? No way. This Hyundai Sonata Hybrid (HSH) drove like a dream. Smooth, peppy, sporty, yet luxurious. I took it around for an hour or so and decided that it was going to be pushed to the top of my "contenders" list. It felt more comfortable than most of the other cars I had test driven and felt less like a Hybrid than all of them (thank you 6-speed transmission). After a day of driving other cars, the HSH felt like a retreat into a luxury condo. Everything about the car seemed to say to me, "How can I make you more comfortable? How can I make this drive more exciting for you? What more can I do for you today." This car was definitely built from the driver's seat outward.
RESEARCH: I was under no pressure to buy a car, so I took my time, researched all of my options and test drove every car that fit my basic parameters. As a car guru, I know most things about most cars, so my researched was aimed at filling in the gaps (i.e. owner experience, changes between 2012 and 2015 HSHs, recalls, future model introduction [at the time of my purchase, the 2016 HSH had been announced, which did encourage me to buy sooner than later, considering the design change was, in my opinion, moving backwards], dealership issues, etc). I joined the Hyundai forum for Sonata Hybrids and extensively read through threads describing issues specific to the HSH I was considering.
PURCHASE: After several weeks of consideration and re-test driving the cars that made the top of my list, I finally decided that the 2015 Hyundai Sonata Hybrid Limited w/ Ultimate Package was the car for me. Then the fun began. I called every Hyundai dealership in the Tri-State Area (VA-DC-MD) getting price quotes, availability, and dealer-specific incentives. I knew that I wanted to buy from Alexandria Hyundai, but after seeing their "price match guarantee", I decided I'd get the best deal possible, then have Alexandria Hyundai match it. The car at the time had an MSRP ~$33,500 (the limited package added upgraded tech, leather seats, some aesthetic features; the ultimate package added the panoramic sunroof and the Pioneer Stereo system) and I was in the market for something under $27,500.
With the new '16 being released in the coming month and gas prices having plummeted, dealers seemed exceptionally willing to slash prices for almost any reason. To cut to the chase, I was able to have two Southern VA dealers battle it out to get my car down to $24,500 out the door (OTD). I was exceptionally happy with that price, brought the lowest quote to Alexandria Hyundai, and they said they would match it. They had the exact car I wanted, so I was ready to buy. I didn't haggle much from that point, because their dealership incentives were far better than any of the others (free car washes, free oil changes and tires for life, free inspections, free loaner with major service, etc). After going through the paperwork, which was a smooth transition, the car was mine (at least physically). Everything about the car was explained to me and I left a very happy consumer.
20,000 mi. UPDATE: Having had the car for 2 years, I am incredibly happy with the car itself and Alexandria Hyundai. I've had very few services, but each time I brought my car in, I was treated very well and work was completed efficiently. The car drives like it did when I drove it off the lot that first day, with some minor wear in conspicuous places (the "SONATA" printed on the floor mat is less silver than it was back then). I'd recommend Hyundai for consideration to friends and family; I'd especially recommend the Hyundai Sonata Hybrid; and I'd INSIST that if they were buying one, they go to Alexandria Hyundai in Northern Virginia.
FINE PRINT: I bought the diamond white pearl model because it's 10x more luxurious than the other colors. It's gorgeous enough to rival my friend's Lexus RX-350 hybrid. I'm still very much enamored with my car and think that 2 years later it is still one of the most attractive vehicles on the road. I am constantly told that my car looks brand new, looks and feels like a luxury car, and is "sooo quiet."

Well, I have now officially scratched Hyundai off my list of car companies I will ever buy from or deal with again. To me, customer service is important and when I find a car company that treats their customers no better than United Airlines I take note and tell others. It all started with a known engine problem with my Hyundai model that was diagnosed at two different repair shops one independent and one Hyundai service dealer. The dealer advised me that even though I recently went out of warranty, it was a commonly known problem and I should contact Hyundai Consumer Affairs at (800) 633-5151 and see if they could help.
I then opened a case and a fellow at Hyundai Consumer Affairs named Christen asked me what my desired outcome was. I was being reasonable and said I would at least like them to cover the cost of the faulty part, and he said he would open a case and said it seemed like a reasonable request and would likely get approved. The only stipulation was that I take my car into a Hyundai dealer for the repair work and talk directly with the service manager. Once the work was completed, I was told we could get this resolved with Hyundai within a week to ten days.
Two days later I was provided with the repair costs from the dealer along with a message that my case # ** that was created with Hyundai was denied. I was then advised by the dealer to re-contact Hyundai Consumer Affairs at which time I now talked with Zira who informed me that the decision was final and there was no chance for appeal or reconsideration. I was at a dead end with Hyundai. She said if I had a problem I could contact the Better Business Bureau which I most certainly did along with writing about my experience here.
At this point, I don't expect Hyundai Consumer Affairs to do what is right after misleading me into one of their service dealers and then leaving me with the full bill payable to Hyundai. I do however want to now share my experiences with other potential car buyers so they know what to expect from Hyundai in the way of customer service moving forward if they ever consider buying a Hyundai now or in the future. After how I was treated by Hyundai Consumer Affairs, I certainly know they will never get any business from myself, my family, and many of the people I know.

I am writing to make Santa Fe owners aware of a problem I encountered which not only was a very costly blow but was a significant inconvenience to my family's Xmas holiday. While driving to the US for a ski holiday shortly after Xmas my engine started rattling. No warning lights but it was significant enough that I knew I needed to pull over. Someone checked it out and told me not to drive it any longer. We checked the oil and it was like tar. Very strange since I perform regular oil changes and my last change was 5,400 km's ago. Turned out Hyundai said it was a lower engine problem and I needed a new engine.
I purchased this vehicle New in 2013 and have taken care of it. How does this happen with a new vehicle. I was out of warranty so it cost me $5,400. I read up on Hyundai's and discovered that many others are experiencing this problem. Primarily the Sonata's in the same year. Apparently a problem at the plant with the cleaning equipment in the lower engine. I wrote Hyundai and they told me that there is no issue with the Santa Fe's. I am certain that there are others who are experiencing this and I feel more need to make Hyundai aware so they can recall these engines. Has anyone else had similar issues???

I purchased/financed a 2016 Tucson Limited AWD in November 2015. In August 2016, I started experiencing issues with my transmission. Whenever I am in traffic, my car will buck and feels like it's going to stall and sometimes barely accelerates. When I'm stopped at a stop sign or traffic light and go to take off, my car barely accelerates. There are times where I'm barely going 5 mph and the RPMs are high and then all of a sudden will start bucking and then go into gear. I've had 3 almost near accidents because of this.
When Hyundai came out with the DCT recall in October 2016, I brought my car to the dealership for service on the transmission recall. I continued to have the same issue, but it recently got much much worse. I brought my car back to the dealership on 4/1/2017 for the same issue. They performed the same exact recall again. As I was driving to work on Tuesday, 4/4/2017 my car started doing the same exact thing. I called the dealership right away and dropped off my car the next day. I picked up my car on Thursday, 4/6/2017 and drove it to work today, Friday, 4/7/2017 and I was experiencing the same EXACT thing. I drive almost 80 miles a day to and from work, always in traffic and I'm terrified to be stuck in traffic, or to sit at a light/stop sign because I'm afraid I'm going to get in to an accident because of this.
I called the dealership again today to let them know that I'm still experiencing this and the service adviser left me a message saying that "there's not much more he can do other than to keep performing the update on the DCT." That update was performed 3 times now and we haven't gotten anywhere. I'm terrified to drive around with my infant in this car let alone myself. I've reached out to corporate and filed a case with them. This car is unsafe!!!!

The battery in my leased 2015 Hyundai Sonata won't hold its charge. Purchased in October of 2015 about 8000 miles and about six months into the lease the vehicle failed to start repeatedly. This went on through September of 2016 with the vehicle having to be towed to the Dealership's shop approximately every few weeks to every two months... I grew increasingly frustrated and angry about the Dealership's inability to identify the problem. Eventually I filed a lemon lawsuit against Hyundai Motors and a small settlement was paid in December of 2016. The vehicle had just come out of the shop 9/26/16 (11 days) before! I breathed a sigh of relief when for over six weeks the vehicle continued to start (it appeared that the problem had actually been resolved).
THEN on the morning of 1/17 of this year when I got in the car to drive to work it failed to start... it was in the shop through 1/30... again on 3/18 and has been in the shop since then while the Dealership continues to labor over the origin of the malfunction (which even Hyundai engineers have not been able to figure out). I am grateful that the Dealership has worked diligently to make sure that at least I am given a renter or loaner vehicle. I am no longer going back and forth having the car towed to the Dealership shop. I insisted that I be allowed keep the loaner until Hyundai Motors buys the car back from me. Fortunately, the Service Manager has been very sympathetic to my circumstance and hardship and has agreed to allow me to drive their loaner (a 2017 Sonata).
Unfortunately, I have not had the same experience with the Manufacturer Hyundai. Eight days after my initial contact with them (3/20) I am told that I must communicate with their legal division through an attorney... I am just livid!!! The Consumer Affairs Division of Hyundai Motors fails to provide accurate and timely important information, fails to return call as promised, and is extremely negligent in the instance of documenting the details of the Ticket the department creates. NOW... I am forced to communicate with an attorney for a second time. In the meantime the monthly payments for the lease of this vehicle are still due...BUT I AM NOT DRIVING IT BECAUSE IT IS IN THE REPAIR SHOP!!! I will update this file as my situation continues to unfold.

First of all. My first mistake was buying a used 2011 Hyundai Sonata. The car was OK but then after some time the car started stalling and I had my 4 year old daughter with me. Just when I was getting off the freeway it stalled on me twice. The car would make a clicking noise. Took it to the dealership and they said it had to do something with the steering wheel after I paid for a diagnostic check. Anyways it was too much and they said it didn't affect the car. I only ended up purchasing a new battery. Then my car totally gives up on me and stalls. Doesn't want to turn on anymore. Had to get it towed to Hyundai in Cerritos on the last week of February.
It needs a new engine and hyundai is taking care of it and a few other cars with the same issue. And it's been quite some time now and still have not received the engine and no update on what's going on with my car. But they did call me 3/25/17 to offer me a SPECIAL offer for this recall campaign due to the inconvenience. And at the dealership they hit me with "yes you can get a new car BUT you need to put $3000 down." I understand I would be receiving a good deal (employee discount) but this is not helpful at all. I'm struggling not having a car and not getting a loaner. and I reviewed all the complaints... it's unbelievable. I should have done research before going with Hyundai. VERY DISAPPOINTED.

From the deceptive pushy dealer at Hyundai to the customer service line to the service department. In all my years of owning a vehicle never have I had to deal with such unprofessional people. I regret so much buying from Hyundai and would never buy from them again. I traded in a brand new Honda Accord paid off and needed more room for my son to fit in comfortably and decided to look at Hyundai. The dealer was cool to take my paid off brand new vehicle and get me a SUV much to my surprise the name brand must be jinxed. As soon as I purchased the vehicle from Hyundai a month later I had a car accident where another person hit me. Taking it back to Hyundai I wanted a authorized Hyundai dealer to repair my vehicle which there wasn't one in my area, they convinced me at the dealer to trade in the crashed vehicle for a new one again and much to my amazement was reluctant after seeing the cost of payment for another vehicle.
The pushy aggressive finance officer upset me to the point that I wanted to call the cops cause he wouldn't give me back my keys to my vehicle in a desperate hope that he would get me into the new Hyundai. I went from a monthly payment of $180 with a payoff balance of $8000 to a another Hyundai vehicle same year to $400 payment with a $20,000 payoff when they finally convinced me at the dealer. It was a good decision I finally took the vehicle and that's where all my headaches began. They are good to take your money quick but as far as customer service on your account through financing with Hyundai is a also a headache, and the dealer well no comment at this point. STAY AWAY FROM HYUNDAI!!!

I bought brand new Hyundai Elantra 2014 and after 3 years my engine failed. They couldn't identify the cause behind engine failure. They ordered new engine from Hyundai for replacement. My car is at dealership since past 6 weeks and still they didn't receive engine nor any updates. Worst service I ever seen for any automobile companies. Their cars are not reliable and not long list. Poor choice to buy any Hyundai car. It's better to walk than having car from Hyundai.

My complaint is against Hyundai USA and Rogers Hyundai for pathetic service. We purchased our car from the deceptive car dealer, Ed Napleton Kia in Elmhurst, with a deceptive warranty sale and forging my name on a document in February 2017. Our Veloster was finally put on the road at the end of February and we hear howling sounds through the roof and found rust throughout the car (engine, under driver seat, and trunk). No floods listed on CarFax through. Hmmmm. The car is supposed to still be under the manufacturer's warranty and Hyundai corp rep, Czar was supposed to be helping to resolve.
We took it to Roger's in the south loop and their service was horrendous and they are liars. (See Yelp!) They never investigated our concerns. They were rude and ignorant and reported back to corporate they was not told about the rust, although it was in the open ticket and verbally told. Their service center was so backlogged. They would do anything to avoid doing their jobs.
After speaking back with Czar at corporate about this, their findings was they were in a mixed state to make a decision, which really mean... WE CAN'T SERVICE YOU without more inconveniences we are going to cause you. This car was taken to McGrath for the rust originally and now Rogers and both have dropped the ball. Now I am being told to take it to another place to run a diagnostics, leave it, and it's your issue to find your way back home since Indiana toll roads are where I heard it and in Chicago, the speed limit is 45 mph and they will not have their service men get a ticket to replicate the problem from an original call back. HYUNDAI CORPORATE DOES NOT BACK THEIR ISSUES, and make many excuses to wiggle out of their warranties.

I purchased a brand new 2012 Hyundai Genesis. The transmission blown at 43000 miles and they had no idea why. Now at 71, 000 the engine had blown and again they have no idea why. I am so dissatisfied. The kbb value of this car is horrible. They have fixed the transmission under warranty and will be fixing the engine, however who is to say that it won't happen again especially since they have no idea why the both blew in the first place. SO DISAPPOINTED IN THIS company.

Terrible cars... worse service. I am the owner of a 2008 Hyundai Accent. It was my first new car purchase almost a decade ago. That's great, except for when I actually took possession of the keys. Within three days the gas cap had to be replaced due to depressurizing. Then about 18 months later there was an issue where the key would go into the ignition, but would not turn. The wheel lock was not the issue. Roadside came out, and said one of the tumblers were jammed. They tapped the key with a rubber mallet, and the key went in without issue.
Fast forward three years later, the original 5-year warranty had expired. This time the key would not even go halfway into the ignition. I had to pay $65 for a tow, $700 out of pocket for a new ignition, plus $200 for a rental car. The excuse I got from Hyundai of Bedford Heights, Ohio was that the weight of my keys were too heavy. There were a total of six keys on my ring. It took about a month, but they refunded me the tow and the ignition, and basically told me I was out of luck on the rental.
Now there was the recall for the undercarriage rust protection in the snow-belt states late last year. Two weeks before I received the notice, the entire exhaust pipe from the front axle to the muffler fell off the car in the middle of the street. Driving it to a Midas down the street, it was found the pipe, and all the welds that attach to the undercarriage were RUSTED out... imagine that! That was $1,000 out of my own pocket.
Thankfully, Hyundai offered a reimbursement program. I get a call several weeks after I filed the claim wanting to know exactly why I was filing the claim. I had yet to hear anything, so I wanted to see if they offered a status update. Sure enough... denied. So magically Hyundai offers to spray the undercarriage to prevent rust under recall, then tells you to stick it when parts have already fallen off due to the reason why the recall was initiated in the first place. I will never purchase another Hyundai again, and I've gladly talked several friends out of purchasing their product in the last few years. I even laugh at people driving Hyundai vehicles with new tags on them, because I know the world of pain they are due for.

Purchased new 2013 Hyundai Elantra Limited, do not recommend buying this new or used. Driving highway 100 miles daily, at 60,000 miles had to replace all struts and shocks. Have since replaced all 4 wheels. On 4th set of tires, at 90,000 miles had to replace rear struts and shocks again. Replaced brake calipers as well because they lock up causing the rear tires to be dragged creating flat spots rendering the tire useless. 100K warranty means nothing when everything besides the motor is breaking down daily. I will never purchased a Hyundai again. Honda here I come!!!

I purchased my 2015 Sonata in January of 2016. After 3 days of ownership I noticed the panoramic roof was rattling, I returned to the dealership and the sales person said the car was just having some growing pains (this is the 3rd car I have owned with a pano roof - 05 Scion Tc and 14 Sonata Limited). I took him for his word and took a short road trip and the rattle only got worse. At 1822 miles I returned to the dealership and complained about the roof, and I was rewarded with the services manager telling me the 15's have been having issues with their pano roofs. They lubed everything up and told me they would call me when they had a fix.
At 3998 (3/17/16) miles I returned to the dealership with the issue growing worse, once again Hyundai lubed the seals and said it was fixed. At this point I had enough and contacted Hyundai's customer hotline and filed a complaint, and Hyundai didn't bother to respond. Shortly after my roof sustained some damage from debris and the dealership refused to work on it. They even joked around about maybe once the insurance company fixed my roof the rattle would go away. Once again I contacted customer care and filed a complaint warning of a lemon law violation.
My case was passed on and I called back every single day for almost a month until I had someone return my call. Hyundai agreed to replace my entire roof under warranty, this was done in 8/8/16 at 10161 miles. Hyundai agreed to place their best warranty on the car at no cost to me and assured me the roof was fixed. A few weeks later the rattle slowly started to come back, it slowly got worse and the dealership in several undocumented occasions lubed up the seals. Once again I called customer care and spoke with their regional person who was helping me and raised my concerns. He agreed to send a engineer out to check my roof and if he determined the rattle was there Hyundai was going to buy back my car.
On 3/6/17 I dropped my car off with an ever present rattle and picked it back up on 3/7/17 only to be informed that the rattle was not found by their engineer. On 3/8 Hyundai denied my claim for a buy back stating the roof was working as it is designed to do. Now I have to file a BBB complaint to get this issue resolved.

Anyone who has a 2012 Hyundai Elantra please have your coil springs checked. I could have been killed today has I been on the autoroute instead on the service road. The coil spring on the front driver side snapped, blew out my tire and Hyundai only has a recall on the 2011 Elantra. It is not normal for a vehicle with 59,000 km have this issue unless there was a factory defect. I can't stress enough the importance to have the coils checked and if there is an issue make a complaint to Hyundai Canada, Transport Canada and whichever consumer protection agency in your area. I'm going to fight this one with Hyundai and post to every social media site possible. This is a very dangerous issue.

Nothing but problems from day one of this loan; first month wrong contract information entered that I fought for 39 months. At month 36 of my 39-month lease, I learn they made an error and it's a 48-month lease, We went around and around. Then turn in car at end of lease (48 months not 39-months mind you!) to have termination fees, return fees, mileage fees (I expected those), and had a $1400.00 bill. HMF tells me I can pay it incrementally via the same account. I pay $400. then $100 each month at the suggestion of the HMF call representative. I did this on principle because I was so mad about how I was treated so I decided to pay it slowly.
Yesterday, I get a phone call from a collection agency saying I owe $1400.00. I explain I have the payment confirmations from my bank showing $900.00 in payments my husband has made--the agency says (quote) "well he's lying. No payments have been made and you owe it." I call HMF today and the representative, Tanya, with a heavy Indian accent, tells me she sees the $900.00 and it's in collection for $402.21. Again, I tell her that her Hyundai co-representative told me to pay it that way. She says, "I'll make a note of that on your account but you have to make arrangements with the collection agency to pay it." I have never had collections on this or any car loan! OMG I was NEVER LATE NOT ONCE. It was auto-pay from my bank! I requested a statement with complete billing history and told "Tanya" I would pay Hyundai the full amount directly. I have been switched and mislead over and over. Buyer beware!

All I have to say is that the description provided by the sales person of this vehicle Tucson 2017 I leased is so inaccurate. He described this vehicle as good gas mileage, features, and speed. First of all he said 25mpg in city and 29mpg on highway, I travel a lot and it takes way less than that. Second of all key fob does not open the trunk even though it has a picture of the open trunk on it, I believe it is false advertisement, as it show that pic. I will read the manual and see what it say, to take further actions on this. I just don't know why would it have that pic if it will only unlock it, makes no sense for that use the unlock button.
Third people are not trained well as when I called in to check if it was an electric problem the person who answer said that she checked the user's manual and it was supposed to unlock it. Ask me to bring it to service to check. When I took it there, the service guy cut me off and said "nope it only unlocks it" and walked away, not even let me finish my question, so I had to leave, because no one will pay attention to me after they heard him saying that. Then they call me for my plates, the receptionist completely ignored me for a while, they gave me the plates and ask me if I want some one to help me put the plates. I said yes gratefully, and she page someone in service, after waiting for 30 minutes decided to leave as no one showed.
This is the first time I ever review someone, so I don't know what else to put, but what I can tell you is that it is the WORSE purchase/contract I ever did. I wish I can return the car, but it will kill my credit so I have to stick with it. I hope you read this before buying/leasing a car and don't go for a Hyundai or not go to that Hudson Hyundai in NJ. I will read the manual and see what it says about the key fob, maybe it is false advertisement, and I will post it here. Don't get stocked in a car like this, it REALLY SUCKS, to live with it for three years.

2005 Hyundai Santa Fe - May 2016 I call Hyundai with concerns about my airbags not deploying and I explained everything to the lady I spoke with and was told they should have deployed. I was offered a new Hyundai. I provided all information, documentation and pictures and everything to my knowledge. I receive a letter from Hyundai consumer affairs in July saying that my case would be closed if I didn't provide information asked for. So I provided it to them at the email provided on letter. David ** called me and stated that if I sent anything else to them he would no longer speak to me and close my case. I provided again which he stated he didn't receive so I called and he wouldn't return my call.
I called the number in his email asking for an address to mail the pictures and documentation to and the lady I spoke with told me that she wasn't allowed to give me that information and according to the police report that I was at fault and got what I deserved which most of my phone calls I have witnesses to which was stated because I couldn't really stand or walk so it was put on speaker and held for me. Then once all information was provided I no longer heard from David, could not get in contact with. It took months of complaints and calls which was aggravating. Then I received a call after the car had been auctioned off that I told David I had retained an attorney which was untrue and that I never signed and returned the release.
So he closed my case when I provided original release and proof. I never said that which Hyundai consumer affairs had in their records. Also he called me back and said according to the pictures and documentation that the car didn't perform as it should have, that Hyundai wanted to settle to provide medical bills and all cost. This was October 2016. He said it was approved for partial coverage which he would not explain meant and then said they were leaning towards full settlement and December 1 2016 was last contact I received where David asked me what would it take to make this go away and to take in consideration that my vehicle was not equipped with side airbags.
Once I proved that it was by the vehicle documentation he said, "Wow okay that changes everything", that he would call me in a few days, that they were going to have a settlement offer and then called back that evening saying that he needed the police report which a month before stated it wasn't needed to proceed and even tho it was provided in july 2016. After that he would no longer return my calls or emails. I finally got one response saying they got the police report and was waiting on last sheet that goes with it that they requested nothing else. Now last week he called saying my claim was denied, that the officers statement stated that I was in vehicle not restrained and specifically that side airbags deployed even tho they already got statement from my insurance company saying they didn't and will not provide this report.
I supposedly signed saying my airbags deployed and I wasn't wearing a seatbelt. I have pictures proving nothing deployed. The way this was handled and how I was treated being told from day one I got what I deserved, the constant threats to close my case, the remarks that if Hyundai felt that my case was worth it they would investigate, constantly being called a liar and the excruciating pain I was and still am in just doesn't seem right at all. I expected better treatment and respect from a company.

I always had a great experience with the Hyundai dealer/service department by my house, but dealing with Hyundai directly is another story. At around 65,000 miles, my engine light went on and my fuel sensors stopped working. I did research and found that MANY other 2007-2009 Hyundai Santa Fe SUVs were having this problem. The dealer kept telling me that this would most likely never become a recall, even though I felt like it should be, since it isn't usually something that fails on a car. I decided that I had no problem using the odometer to track when I needed to fill my gas tank because I didn't have $650 to spend. I did this for just about 2 years and I planned on doing this for the life of my car. Then, I took my Hyundai Santa Fe in for the most recent recall (rust on the suspension). The dealer told me that I needed to get the fuel sensor fixed because otherwise my car wouldn't pass emissions.
I called Hyundai to see if they would cover the cost since many other cars seem to be having a similar problem and fuel sensors aren't usually something that goes wrong on a car. The lady I spoke with said that I would need to get the work done, but then I could submit the paperwork for review. I said, "so I could pay and you guys may or may not cover it". She said, "I would suggest getting the work done and submitting the paperwork". To me, this sounds like I am going to be reimbursed. So, I got the work done and submitted the paperwork on Jan. 25.
I received an email saying that I'd hear from a case manager in 2-3 business days. I waited over a week and a half and heard nothing. So I emailed again, and received an email saying I'd hear from a case manager in 2-5 business days. Five days later I was told that they weren't going to pay for anything. Beware of buying a Hyundai vehicle. They don't take ownership for things that should be recalls.

I have two Sonata 2015, which I have taken in for recalls and both days which has taken a total of five hours and ticking, and I was not impressed with how you come in for these services and you are not forewarned of the waiting time and, they keep bringing you a problem that you say no way. I haven't had this car two years yet. I had work done on one of them on yesterday and by the afternoon, it was running okay before I took it in. Now the front end is shaking. Thinking of taking it to another dealer, and see what they say, and trading it. Too many problems for a car not owned two years yet and hours to fix and no replacement in doing it.

I am the original owner of my 2011 Hyundai Sonata. There has been recall after recall. In August of 2016, Hyundai completed the Campaign 143 Recall (Power Steering). Within a couple of weeks after, my steering wheel starting making clicking noises when I turned. Right after that, my air bag light came on. Shortly after, my steering wheel started shaking when I went over any bumps. Now it is so bad (the shaking) that my steering wheel acts like it is going to pop off of the car when I go over a speed bump! So between the clicking, air bag, and violent shaking, this car feels incredibly unsafe to drive!
I called Hyundai and they asked, "What exactly do you want us to do?" I asked if there was a recall since thousands of people are having the same issue, and the customer service rep said, "There is nothing regarding a recall for this issue." I am so fed up with Hyundai. Every time I get my car back from the dealership after a recall, something else happens. I take excellent care of my car and yet it comes back to me from the dealership worse than when I take it in. When will Hyundai finally issue a recall on this as it is clearly a Hyundai faulty part?
Company Name:

Hyundai

Website:

https://www.hyundaiusa.com/