National Auto Shipping
Dania, FL
Consumer Complaints and Reviews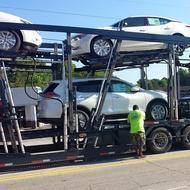 I had an extremely excellent experience with Manny & National Auto Shipping. I bought a car from a dealer that I've never met from Connecticut. My son and I bought it together for his older brother who needed one. It was my job to find the person who'll transport it, and it didn't take very long before I realized that it is the transport organizer's job to pick out the right transporter. National was more expensive than the other people, but my son wanted to get the best one out there and it wouldn't have mattered what anybody else would have offered to do it for. The price they gave me was very fair. When it was all said and done, it was only $20 more than one of the other people that didn't have near the reputation that National offered. Their pricing was competitive.
The person that I talked with on the phone was courteous and polite. My son wanted to ask them if they could do any better with the price so I did. The rep said he'll find out and then gave me a callback and said, "Here's what we can do." He was willing to earn my business. Then they got the carrier there the day after I called, which I was ready to wait a couple of weeks if need be and he got the car here two days later. So it was three days from the time that I called their rep and we were fortunate, we got a good carrier. I also watched their videos prior to even talking to anyone on their website and those are very convincing. We had a good experience with them and we certainly would use them again if we had anything to move anywhere. Everything went better than I thought it might. I will personally recommend National Auto Shipping since they are very upfront and do what are contracted to do.


DO NOT USE THIS COMPANY!!! STOP. STOP. STOP. They damaged my vehicle and DID NOT make good. Delivered the car at night. Didn't notice a scratch. Called first thing in the morning and after 3 weeks of phone calls (with very unprofessional and rude people), they are denying that they damaged the vehicle. It is so clear that they did. Don't give this company your money!!! Horrible company.

I contracted National Auto Shipping on 12/8/16 to transport my daughter's car from Pittsburgh to Minneapolis to arrive on 1/5/16. I paid a deposit and $500. was to be paid at delivery by cash or cashier's check. The car was picked up on 1/2/16 at 9:30 pm. My husband met the drivers about 4 miles from our home. The drivers told him the car would be delivered on 1/4/16. There was no one to accept the car in Minneapolis on 1/4/16 so I called the driver to tell him that. The driver was Russian and very difficult to understand. He said they would leave the car at a "terminal" if they couldn't deliver on 1/4/16. On 1/3/16 the driver called and said they had driven through the night and the car would be delivered at 8:30 that night if acceptable. I told him that would be fine.
Later in the day, he called my daughter to tell her they wouldn't deliver the car until 10:30 or 11 pm. When they arrived at 10:30 pm they would not accept the cashier check that she had to pay the balance. They were giving her a bad time and would not give her the car. After back and forth phone calls from her to her dad in Pittsburgh, it was decided that she would go to an ATM and get $500. which she did. When she came back with the money, they told her she owed $625. dollars.
At this point she told them she would call the police. They took the $500 and left. National Auto Shipping advertises as not being a broker but that is exactly what they are. I called to lodge a complaint and the dispatcher I spoke with said they are not brokers but must have had to subcontract my order, perhaps because they had a truck shortage maybe due to mechanical reasons. I am waiting for a call back from the company owner. I certainly wish I had read other reviews before I hired this company. The only positive is that there was no damage to the car. My advice is to never, ever consider National Auto Shipping for transport.

Less than 1 STAR rating, worst company I have ever dealt with in my life. The supervisor doesn't know her company and or what is going on. I didn't receive an update for 5 days as to where my car was. Then after contacting the Better Business Bureau magically my car was dropped off at 10:00pm that night. Not only that the driver text me several times stating he can only take cash on delivery in order to receive my Vehicle. Once I received my vehicle it had several scratches. PLS. DON'T USE THIS COMPANY!!!
How do I know I can trust these reviews about National Auto Shipping?
697,993 reviews on ConsumerAffairs are verified.
We require contact information to ensure our reviewers are real.
We use intelligent software that helps us maintain the integrity of reviews.
Our moderators read all reviews to verify quality and helpfulness.
For more information about reviews on ConsumerAffairs.com please visit our FAQ.

I booked with them even though I saw these horrible reviews because they had the best price and allowed up to 100lbs in vehicle. Unfortunately everything in these reviews is true from my experience. The quoted timeframe for pick up has been delayed 3x as of today. They say they will call back with updates and have yet to get a return call. Therefore, I end up calling them back repeatedly during my workday trying to figure out what is going on. The car was supposed to be picked up yesterday and as of today they still have no confirmed driver for pick up.
As referenced in the other reviews the initial drive had "mechanical issues" that would be unresolved indefinitely. It's surprising how many times the reviews reference mechanical issues, I am thinking these are unfit and not properly maintained vehicles that are doing the transporting. The whole experience has made moving exponentially more stressful. If I could go back and pay the extra couple hundred more for another shipper I would. I deeply regret my choice to book with this company.

I shipped a 2013 Equus with this company based on a recommendation of my moving company All State Moving and Storage. If I had seen the reviews I would never have contracted with them. They picked up my car on July 17 and was told I would receive it in about 5 days. They allowed for a window but they contacted me again that I would receive the car on July 22. It is now July 29 and still no car. The information I got every step of the way was wrong. I was told multiple times that the truck that broke down 100 miles from my house was fixed but it never was until today July 29. If you need to move a car, this is not your company. I have moved cars coast to coast 2 times before. This is my first bad experience and it is really bad.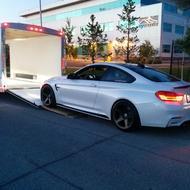 I went with this company based on the assurance they provided me. I did noticed their reviews here and I still decided to give them a chance regardless of their ratings here. The driver was nice and took care of my BMW. He did have a delay due to mechanical problems and I totally understand, they kept me informed on what was going on so they have a good customer service. The sales person ** was nice and followed up with me. I didn't give them a 5 star due to the delay. Overall I'm happy with their service and the way they took care of my car.

Horrible experience using National. They never returned any of my calls even when they said they would and they never called to let me know the initial pick up was having mechanical issues. I kept getting the run around and every time I would call back I got the same response "I was just about to call you back." I set up my quote and pick up schedule weeks in advance so it wasn't anything last minute. The ONLY time I got a call when I didn't call them first was when they told me it was going to be $295 more than what they quoted me. As a service member I move vehicles every 3-4 years and this was hands down the worst experience in my 19 years of service.

The quote process started out great, and the company was responsive. I've used NAS before, so we used them to ship a car from Cali to Minnesota even though they were $300 more than the other bid we received. Big mistake. They were three days late picking the car up. The subcontractor lied about being in touch with us (repeatedly) then missed several appointments to pick the car up. He was three days late, and I had to have a neighbor meet the truck as I was moving. On the drop off the driver showed up on Sunday and demanded to be paid cash. After going to the bank and playing ATM card shuffle to get the money out of several accounts, he wouldn't give me a receipt for the payment. I will never use them again, and am making sure they are never used by my company's relo department.

I never knew about this business until I brought it up to my moving company that I needed my car shipped since I didn't want to take that drive alone across country. They referred me to National and they took care of my car. The driver was nice and polite. My wife received the car undamaged and all items inside. I enjoyed working with them. Thanks for the follow up today.

Be aware that no matter what they say on the phone (first words is they have their own trucks), this is a shipping broker and they are finding other companies to deliver your car for the price quoted.
For me, they were scheduled to pick up my vehicle on a Monday but my drivers company was not even notified about the vehicle until Tuesday and it wasn't picked up until Thursday. I called several times to ask about status and whenever they say they will call you right back, do not count on a call back. Overall, my car was delivered clean by the company that delivered Kwik Trans Inc. so I will try direct with them next time.

I contracted for 1 motorcycle and 1 trike to be shipped. I was assured they were experts and possessed the appropriate equipment. First attempt, a Budget Rental truck showed up with a make-shift ramp, incapable of loading either of my bikes and with an unlicensed truck driver. Second attempt, after they explained that a truck with a gate lift would be sent another, Budget Rental truck showed up with an unlicensed truck driver.
This company is a scam, a fraud. And it should not be allowed to conduct business as they do. Please consider any other company first before doing business with them. The scam is simple; they hire people to drive rental trucks, loaded with merchandise other than motorcycles and then load your cycle. They represent their selves as "transporters."
Absolutely, despicable way of doing business! There's so many other great companies out there that really care about what they are doing. Forget about this one. I am currently resolving my dispute with this company through my credit card company. Hopefully, I will not need to hire an attorney, but I will if I have to.

I had booked a pick-up with National Auto Shippers on July 1st, 2009 and paid a deposit of $295 and was to pay the balance when I met the driver. My car was to be picked up in California no later than July 9th and delivered to the Montana border where I was to meet the driver on July 11 or 12th. July 9th came and they could still not get anyone to pick up my car. Due to the time frame and national Auto not being able to pick up the car as per the contract date, I was forced to cancel the contract and find another shipper. It was critical to get this car picked up. They charged me a $100 cancellation fee because they could not fulfill the contract. Do not - I repeat - do not use this company. As far as I'm concerned, they shouldn't even be in business. They will take your money and not fulfill their end of the contract as they did with me.

Do youself a favor and don't ship through National Auto Shipping Company! I have never experienced such a disgraceful business transaction in all my life. Original quote was $575.00 and miraculously it went up $100.00 for an "oversized" vehicle and another $200.00 for "disassembly".They, Manny and Gabe, were well aware of the dimensions of this golf cart when giving me my quote. It was a Golf Cart for goddness sake!
This company lied, overcharged and never responded to emails, or phone messages. They were terribly late with pick-up even after booking two weeks ahead and being given a 3 day window for pick-up. They fraudulently charged my credit card for charges I never authorized, were rude and very unprofessional! There are too many episodes for me to even type of my experience with this compnay. Please contact me if your even thinking of booking with this company or just simply move to the next....it will save you a world of money, harassment and headaches! Trust me!
National Auto Shipping Company Profile
Company Name:

National Auto Shipping

Website:

http://www.nationalautoshipping.com/