Consumer Reviews and Complaints

KLM refuses to allow me to select my business class ticket until 30 hours before departure giving no reason for this. Economy passengers are allowed. I found this unacceptable as I require an aisle seat on doctor's orders and they be taken by the time I am allowed to select a seat. I live in Panama and KLM makes it very difficult to even book a seat here. They have one flight a day and it is important to be able to select your seat in advance.

We arrived on June 22 in Amsterdam from Bangkok (KL0876) to learn that, after a few hours of waiting and kept in the dark, our connecting flight from Amsterdam to Brussels (KL1733) was cancelled. This was obviously not the only flight cancelled. In fact, we gradually learned that most flights out of Amsterdam were cancelled that evening. We were advised to queue at one of the Transfer desks to get a hotel and other flight booked. Around 10.30 pm (after queueing with about 1000 other people) we were told that the desk would close at 11 pm, and that we should also try to rebook online. We would have to get accommodation organized ourselves, because most hotels were already fully booked by that time. Great service by KLM resulting in chaos at the airport, and another two-hour wait for a taxi! We were fortunate to being able to rebook another flight online for the next day (many people could not do so) and could book a hotel in Amstelveen.
Once in Belgium I tried to lodge a complaint online by logging in with my FF number and completing the form. The website refused the document after several attempts. So we were not given a 'dossiernummer'. I tried to call the service desk, again several times, but was put on hold indefinitely. On the return trip on July 16, I went to three different Transfer desks in Schiphol Airport to file a hardcopy of my complaints. Nobody was willing to accept this, arguing that it was not their job and Customer Service is independent from KLM (???. Therefore, we herewith file our complaints via email. We expect an answer and compensation.

On a flight connecting from Dublin to Amsterdam with the ultimate destination of Salt Lake City in the US, I was listed as standby from Amsterdam to SLC even though I had booked this flight months previously. It turned out that I did have an assigned seat, but the short layover and the confusion caused by KLM personnel on the ground misdirecting me (because of the STBY status) caused me to miss my flight. I had to stay the night in the airport at a cost of $125 US. I have appealed to KLM to make right on this and I have NOT HEARD A WORD!
I have plenty of documentation for the boarding pass mishap and the bill for the hotel. I forwarded all of this to them and I have not gotten even an acknowledgment of receipt of this claim. To be fair, on flight service was quite nice. It was the ground crew in Amsterdam and the IT component of this airline which is worth complaining about. My advice and a course of action I will pursue in the future, I will avoid KLM at all costs and pay a bit more for another airline. Delta, take note.

Nonsense delay on a domestic flight made me miss the big flight on connection in Paris. Luggage wasn't forwarded to alternative flight and additional connections even after they confirmed everything was ok. Got to destination next day and luggage was still in Paris!! WTF. Luggage only got to the destination 5 days later. I came back home shortly after that. Now CS that doesn't even take responsibility for any of this: "Oh it's someone else's fault." In fact it doesn't matter what query you ask them, they will always return the same robotic bla bla answer. It's a waste of time and patience. KLM was the first and last time for me.

We had a flight from Amsterdam to Salt Lake City. The boarding crew were extremely rude to us when we showed them an employee website with a listing that showed that were 11 business class seats left and we were number 4 and 5 on the list to get a seat on business class. They just said there is no room on business class and the system is wrong. We called Delta Airlines headquarters in Atlanta and they confirmed we should get seats. Well the KLM gate agents operating the Delta flight were letting on KLM employees before delta employees. Wow!!! Delta needs to do something about this!!
How do I know I can trust these reviews about KLM?
882,235 reviews on ConsumerAffairs are verified.
We require contact information to ensure our reviewers are real.
We use intelligent software that helps us maintain the integrity of reviews.
Our moderators read all reviews to verify quality and helpfulness.
For more information about reviews on ConsumerAffairs.com please visit our FAQ.

My flight from Amsterdam to Vancouver was cancelled. We had to get off the plane and wait in a long line for 5 hours to see our options for an alternative flight. It was lunch time but they only gave us water while we were standing there for 5 hours. Since the hotel in the airport was full, we were told to book hotel in the city and afterward airline will refund us. We still haven't received anything. Although they even didn't offer transfer to hotel from the airport.
The worst part was that somebody stole my bag pack with every important thing I had (laptop, Money and some piece of gold). It happened right before our next flight, I was so desperate and didn't know what to do. I asked KLM people who checked my ticket to help me to report to the police, but they not only did not help but also misinformed me. I had to leave it without reporting to the police. The food was disgusting and they had only one option. Every time we try to reach the customer service we have to stay online for a long time and they are not responsive at all.

KLM lost our luggage (2 suitcases). We were promised delivery the next day. One bag turned up after 2 days. The other was not found for 6 days. Eventually we went to Buenos Aires airport ourselves to collect the bag as they kept promising it would be delivered but it didn't arrive. We had to purchase some clothes to wear and had big worries about whether we would have to purchase replacement sleeping bag and other clothes and equipment before we left BA for good. We lost a day of sightseeing in BA because of chasing up our luggage.
After a 33 day tour of Patagonia in which we had limited and poor Internet access and a full program of sightseeing, and an Ecuador jungle trip where we had no Internet access, I submitted a claim for the clothes purchased, only to be told that I put the claim in too late. In talking about our problems with fellow travelers, I have come across other people who have had lost luggage with KLM (one couple in both flight directions) and not had a successful outcome with a claim. Their management of luggage is bad and their attitude to people affected by loss of luggage is bad. I will never fly with them again.

Well, they had very good service on board, but their customer service is the poorest I've got from an airline company, along with their sister company, Aeromexico. In December, I had bought a plane ticket for a trip from Oslo to Cancun with KLM. The ticket included two transits, one in Mexico City, one in Amsterdam. KLM gave me a ticket with Aeromexico for the flights between MXN and CUN.
My scheduled return date was February 22nd. Suddenly, I received an SMS four hours prior to my first flight informing me that my flight from Amsterdam to Oslo was canceled, due to a storm in Amsterdam. According to that SMS, they were working on finding a solution. Soon after this, received an email informing me that I could book another flight for free.
I clicked on the link, but couldn't get a ticket for free, the system was charging me for the ticket change as usual. Then, I tried many times to call them, but got no response. I sent them a msg about that on Facebook, but after 50 mins. I hadn't got any response and couldn't reach them on the phone either. This is the first part of my complaint.
Then, I rushed to Cancun Airport in the hope of changing my ticket there. I contacted Aeromexico, since my first flight was with them. They looked indifferent and impolite from the very beginning: they told me they didn't have access to the database of KLM and couldn't do anything for that. I ask if there was any representative of KLM in that airport, they said 'no'.The only thing the did for me was to call Delta, another sister company of KLM.
When the Delta employee who tried to help me asked for the flight number of my Aeromexico flight, I asked the employee of that company about it. She said in a rude way that she doesn't have access to my passenger information and that she couldn't help me. I told her many times in Spanish and English that I only need the flight number of the next Aeromexico flight to Mexico City. She kept on repeating that, although I was trying to make clear that she didn't need my passenger info to find that. At the same time, she wasn't working with anything else, she was playing games on her smartphone and listening to music.
In the end, I was threatened by another Aeromexico employee that he would call the police. I had to walk 30m and see the flight number myself. then, the Delta employee had hang up and I had to start over again rebooking my flight. The whole rebook took me over 45 mins in the end. This is the second part of my complaint: if KLM sells me a ticket with another air carrier, they needed to guarantee me that the other company would give the same service as KLM would give to me. This means full access to my passenger information, helpfulness and politeness.
My negative surprises don't stop there. When I would finally fly back to Oslo, on Feb 27th, got the same msg, that my passenger info wasn't available. After 10 mins, the employee finally found me. However, she gave me a new boarding pass with another seat than the one I had got the day before when I checked-in online. The new seat was much more uncomfortable for a big-sized man like me. Again: if KLM sells me a ticket with another air carrier, they needed to guarantee me that the other company would give the same service as KLM would give to me. This means full access to my passenger information, helpfulness and politeness.

My husband and I are very disappointed with this airline. Had we read the prior reviews we would have never booked with them to begin with. We had to cancel a flight and $500 in seat upgrades due to an accident my husband was in two days prior to our scheduled departure to Italy. They promised a refund for the flight and the seat upgrades less the $350 cancellation fee. They even gave us a confirmation number. We received the refund for the flight (-$350) but not the upgrades. Weeks later we called and they told us they don't refund seat upgrades. Gave them the confirmation number and names of people we spoke with and they said it means nothing. They are very disorganized and some of the people you will speak with are extremely rude. The company my husband works for constantly uses them but after this they may lose some business.

I was flying from Amsterdam to Detroit on Delta. I arrived at the gate 15 minutes before departure time unfortunately the flight (apparently they close the door 20 min before departure). I was referred to KLM customer service for an alternative flight. At the KLM service desk, I was assigned to work with one of 5 female agents, all middle-aged and blonde with no name tags. The agent was verbally abusive from the get-go and repeatedly badgering me about why I was late to my flight adding that "You made the decision to be late, so you will have to purchase another ticket".
All I was asking in the most professional way to be was to be rebooked on another flight to the United States. She then went on a rant telling me the ticket shows that the boarding time was 12:00 and why did I not show up at 12:00 (3 times). Then she moved on to whether I went through Delta security, which I assured her I did. This didn't prevent her from asking the same question again. I refocused the discussion on my request for rebooking to the US. "Yes", she said, but since "You decided to be late, you will have to pay a whole new ticket". I expressed surprise because my ticket was unrestricted and asked if I could speak to a supervisor. "We have no supervisors" she said adding that I could reach KLM via the airline website. When I asked her for her name, she told me "At KLM, we don't give names. It's company policy".
With her continuously belligerent tone, I asked another agent sitting next to her if she could help me. Her answer was no because allegedly the first agent was the only one among the five who handled credit card transactions and asked me to move to another KLM help desk because "We can't help you here". I went to the other KLM help desk and it was a totally different attitude. Very friendly and helpful. When I requested the name of the agent on this unit to compliment her on her superb service, she was very reluctant to give it but did reluctantly so (initials R.B).
In a nutshell, KLM policy of not allowing employees to give their names - so I could file a complaint about someone's terrible customer service while complimenting the most professional Mrs. RB raises serious question about management's commitment to serving their customers. They may as well delete "customer service" from their ads and website. KUDOS Mrs. RB. Thumbs down KLM.

I would like to express my disappointment/outrage for the way I was treated in the flight (Delta) DL 9438 Delhi - Amsterdam operated by KLM, Jan 30. I was not served food in the flight and when I asked the flight attendant, he told me my tray was not opened. Then I asked him twice for some water I needed for my medication. He never showed up. I then pressed the button to call the attendant, no one came to my seat for about 1 hour. I had to walk myself and get a glass of water. I will file discrimination charges against the airlines and promise never to fly KLM in my life.

Prior to now, I have flown KLM more than 10 times, but am sure that today will be the very last due to what I understand to be a racially motivate ill treatment from one of your staff named: Valerie in Terminal 4 of Heathrow Airport. In the early hours of 28/01/2017 (4:00 am), I arrived at Heathrow airport to do my check in for a 6:30am flight bound for Amsterdam. At the check in counter I met a lady named Valerie who appeared very visually upset at the time she called me over.
As soon as I arrived, she asked me to show her my carry on, and I did, and she complained it was over weight, and advised I go and redistribute the weight. I left to do as advised and returned 15 minutes later, only for her to come up with the complain that my check-in luggages were bigger than the size limit for bags for the aircraft (Even though the bags did clearly fit tightly in to the reference benchmark for acceptable baggage size). At that point, I became confused about her juggled between weight and size constraints, which she had not mentioned before.
When I asked her for some clarifications she simply said: "You either pay for excess size and excess weight or get out of here!!!" At which point I lamented about such harsh words and called a member of her management team to lay the complain. Rather than the manager listening to the case and investigating properly, the both joined hands to continuously threaten me with the following words:
1. If you keep talking, I will stop checking you in and you will not fly.
2. If you keep complaining you will run out of time, so keep quiet and pay the money.
3. Just pay the money and go.
At some point during the whole fiasco, I got very infuriated because my bag is clearly a zipper bag which is here-in attached to this message for clarifications. Being a zipper bag means the bag can be reduced in size as per needed. I offered Miss Valerie the option of reducing the bag size so I can pay only for the over weight charge and she was adamant about her claim and started being very insulting, asking me to pay 610c Euros or leave her desk. She then went on to order the immediate removal of my items from her scale. At which point, I asked her what I did wrong to necessitate such treatment, and she turned round to say: "I don't care what happens to you, if you don't want to pay the money, then leave."
The manager further added insults to injury by telling me the following: "The airport is a place for travelling, not where we cater for your baggage needs. It is either you pay or forfeit the flight." When it became clear that no one was going to listen to me, I paid 610 Euros cash for which according to her was the cost of one extra bag and an over sized baggage. My major grievances with the way I was treated this morning are:-
1. Valerie was very insulting and was supported by her manager, without him bothering to understand and listen to what the issue was.
2. Even when I offered her the option of reducing the size of the bag, she was adamant about my paying the money and constantly insulted, and threatened me to that effect.
3. She felt it was not her responsibility to explain what the charges were for, nor seek to listen to other options I can explore to reduce this cost.
4. She clearly had a visual upset as soon as she realised it was me she called to serve. Right off the bat, I got a very nasty treatment from her.
5. If she was willing to stop threatening me with uploading my bags and was willing to listen to me and seek to understand that it was possible to reduce the size of that bag, my total cost would not have exceeded (300 Euros).
They were at least 4 passengers (3 ** and a Chinese girl - who literally screamed and cried for the same treatment this morning). On a summary basis, this would suggest a negative racial bias in the way your staff approaches customers. I have sincerely lost faith in the willingness of KLM management of handle my complains, and if I don't get a reasonable level of closure in this case, I will take my case to the press including the audio exchange which was recorded unknown to your ranting staff who were very abusive. This is not the right way to treat even the least of your customers. No matter way, we the customers matter.

I flew back to the UK EDI 23rd of Last Dec. My flight was via Amsterdam and due to delays on my original flight we just about made our connecting flight. When we arrived in BUD we were told our bags didn't make it but would be delivered this evening. I advised the customer service rep that I would be traveling next day for xmas and new year and wouldn't be at home, so they asked me for an alternative address. I gave them my mum's address in Liverpool. The same evening I got a call and was told the bag couldn't be delivered on the evening of the 23rd and should be delivered next day. I asked for am (before 11 am) delivery before I travel. No call or contact that day until about 2-3 pm on the 24th when I got a call from Liverpool airport advising that my bag was there and ready for me to collect.
I couldn't collect and couldn't get my mum to travel to the airport so I called KLM and this was the kicker, they told me I was mistaken my bag was in Belfast and would be delivered that evening, I said "I just got a call from Liverpool airport and they could see my bag." The woman told me "be patient sir. Your bag will be delivered this evening." As expected no delivery took place.
On the 26th I got a call from Liverpool airport saying my bag was there and ready for me to collect. I asked if they would deliver and charge KLM. They asked and their carrier refused as they said there was no agreement between KLM and Liverpool airport. I called KLM on the 26th and they advised that I'm mistaken as my bag is in Amsterdam. Despite what I said about Liverpool airport I was ignored and told they are looking into it. After that I called multiple times and was told to fill out forms online, forms that didn't actually work and they had to send me a working link. I filled out a form with details of my bag contents so they could locate the bag (at this stage I had to just play along as they stop listening when I say it is in Liverpool). Seems like they have system and process limitations preventing them from getting the bag back from Liverpool or onward delivering from there.
Then I decided to write a complaint. The missing baggage helpline said to contact the customer services dept online so I did and was referred back to missing baggage forum. So after 3-4 weeks without my bag I decided to just email every email address I could find of KLM employees. A day later I got a response from the customer services team saying "thanks for contacting our CEO and please fill out a claim form and provide receipts so we can process a claim." I then sent a mail to Liverpool airport how sent me a photo of my bag and confirmed it was there. So I mailed KLM asking for them to arrange a delivery to my home from Liverpool. Hopefully now it is in writing they can't ignore the fact anymore.
Then about an hour later my mum got a call from an unfriendly employee. I she thinks was from EDI airport and didn't get her number but the employee was basically implying we have left our bag in Liverpool and should pick it up ASAP. I have flown KLM for years for my work and this is the 1st time this has happened to me. So it seems things work well in KLM as long as process is correctly flowing. But as soon as there is an problem in the process no one at KLM can get things moving quickly and it seems to even include their CEO.

I wish I wasn't writing this review, but I feel obliged to share my recent experience with KLM. I would actively deter friends and family of flying with Delta/KLM, hence I thought I should let the general public know too. Overall, we were delayed 5 hrs on the way over, and 4 hrs on the return flight, and the outbound flight resulted in lost baggage for my brother, and the inbound flight lost luggage for all of us. It has been two days and counting, and I still have not received my suitcase.
The customer service has been appalling, nobody seems to care about your possessions' whereabouts, and keep relocating the responsibility to other departments. Upon 2 days later, they still have not been able to tell me if my suitcase is still in NYC or Zurich, perhaps both by the sound of their confusion. Excuses have ranged from Schiphol Airport being very busy, to Zurich being busy, to "perhaps it's the fault of JFK Airport." But then others say all the luggage from the airport has been cleared, and Zurich is so organized they would have send it over already.
I just wanted to make everyone aware that this airline, for which you have to pay premium price, does not provide any value. It provides you with a massive headache, and the feeling of not being valued as a customer whatsoever. I always held KLM/Delta in high regard, but I have never experienced anything like this. A 100% strike rate of losing my brother's suitcase for instance, how is that even possible? I have flown around the world, including cheap/budget airlines, and I have never lost luggage until this day. If you can help it, make sure never to fly with KLM/Delta. I have contacted them regarding remuneration, but to no avail.

I've had a very bad experience with KLM. Their customer service gave a bad advice that messed up my booking. I booked a trip from Leeds Bradford - UK to Amman - Jordan. The trip has 2 transits, 1 in Amsterdam and the other in Paris. However, I'm not an EU citizen but have UK residency. So, before I go ahead and book the flight I had worries about whether I'm going to need visa or not as I'm transiting through EU! So I called KLM customer service and I spoke to one of their agents.
I explained the trip route and my worries and mentioned all the relevant information that could affect her advice like my passport etc... She replied and said that "You can transit through EU, it won't be a problem as you are staying less than 24 hours in each transit." She said that I won't need visa and it's totally fine to book the flight. On the trip day I went to Leeds Bradford airport and at their counter, their agents refused my ticket saying that "You need visa for this trip. You can't transit through 2 EU countries," so I left the airport and now I lost the money and the reservation.
I tried to put in a complaint and inform them that my booking was based on their advice. They said "Sorry, we cannot assist you as it's a visa problem and you're responsible on it." They kept repeating the same sentence, whatever I say they just repeat it until I gave up. I'm wondering that how can you advise a customer with something and whenever I book the flight you give me a whole different rules and conditions. Where is the accuracy and professionalism in that?? In conclusion, KLM is horrible option to travel with especially within EU. It's all about surprises!!!

KLM finally did respond to my concerns. It appears the refund did go through but was processed to the wrong credit card number so hopefully, we will get that resolved. Accordingly, I can say without reservation that KLM does not rip you off when it comes to refunds and I retract my original comment.
Original Review
My wife and I booked a return flight from Toronto to Amsterdam in January 2016 scheduled for October 1st 2016. We had to cancel so on August 31st, 2016 I immediately used their online cancellation form to get as refund minus their outrageous cancellation fee of $350 each. Two months later NO REFUND despite numerous calls to their North America call center for answers. The excuse is always the refund comes from Europe which of course I cannot access because we booked from Toronto. In the digital age of electronic payments it is inconceivable that KLM cannot provide refunds as quickly as they take your money. Do not book with KLM, they will rip you off if you cancel and expect a refund.

For all of you who cared and UNcared about our trip from Bangkok to Barcelona on Sunday 14/08/2016, we would like to share the events. We had to travel in flight KL876 at 12:05 belonging to KLM Royal Dutch Airlines. As acquainted tourists, we arrived at Suvarnabhumi Airport on time and at 9:50 we already had our luggage checked-in. We passed the corresponding controls, and finally, around 11 we got to passport control. Either because of weak organization, or because of the recent attacks, document processing was really slow. Around 11:20 we began worrying because of the advancing time, but our ease came from the fact that we were immediately behind a group of people from our flight. Besides, we paid attention for last calls from the company. However, they did not come!
Anyway, after a tremendous sprint through the airport, we managed to arrive at the boarding gate at 11:57, needless to say – late. The plane was there, the jet bridge too. And Mr. Punnavit ** too… He said that we were not getting on that plane because we were late. He asked for our tickets with a smile, and we still thought that we would fly. He scratched off the tickets and refused to give them back to us, although we demanded them. His explanation about why we were not flying was that he was the SUPERVISOR and he decided so, i.e. that the impossibility to fly did not come from other circumstances, but him. After this several-minute conversation, he ordered our luggage to be removed from the plane.
We charge KLM represented by Mr. ** of an absurd behavior towards their clients. Even as we were crying, which would be understandable for those who want to put themselves in our place, he was manifestly enjoying, and believe us, his smile was not provoked by his kindness, but the celebration of His Mastery. The humiliation and the impotence were crushing.
We charge KLM represented by Mr. ** of personal attitude towards us, because we were not the only ones who did not meet the deadline for boarding (as we previously mentioned, there was a group of Dutch tourists immediately in front of us who definitely did not meet the deadline either). If Mr. **'s decision was not subjective, but principle, he would have taken off our luggage before he saw us (because baggage cannot travel without a passenger).
We charge KLM represented by Mr. ** of inactivity and inflexibility in work organization in emergency situations, and disinterest about passengers. It is natural that employees know the distance between the passport control and the gate, and opportunely inform their passengers with a last call, so that they can ask for a quicker passing.
Now we are going to count the days until someone appears and humanly explains what led to this situation. The answer that we were late we have already heard it by KLM representatives in their office in Bangkok and on phone calls. Please, do not suit us with PR and jurist replies. All they can say, we had already read it in provisions. Please, give us at least one reason in order to convince us that we did not depend on the favor of one and only person: for instance, that the retention of the jet bridge for a minute costs the company a lot of money, while luggage removal is free. Or that your company policy is to discipline your much too relaxed passengers after their holidays, (by the way, aside from having travelled around Thailand, we also took part in the project "UVolunteer").
So, we start counting the humans in KLM and their reactions. Or all of you will pretend that you have not read this and you will secretly think what your supervisor said aloud: "You are welcome!" Yet, it does not matter how much it cost us (not only financially), the formal cause – our delay, will comfort your consciousness.

Racial awful comment By KLM flight attendant for my child. Carry on baggage issue. Racial Flight Attendant. Lost our baggage - trying to locate.

KLM suddenly decided that all Indians are vegetarian... I traveled in their flight from Delhi to Amsterdam and back and in both flight they announced that they "proud" to serve only vegetarian food as if all the Indians are vegetarian, or at least if they travel in KLM they are forced to be vegetarian... KLM people please understand more than 70% people in India are non-vegetarians. You can very well make a meal where the main item you can switch from veg and non-veg. In that way you can satisfy the total group. In my trip when I pointed out this to the hostess, he rudely told me "This is the food for you... eat or starve." I am frequent international flyer, and my experience tells me that if you are a vegetarian and can tolerate racial discrimination then only think about KLM... otherwise it is better to avoid them.

I am writing this to explain the horrible experience that I faced because of your staff at Indira Gandhi international airport India. I planned to travel India via KLM Royal Dutch KL871 flight on May 27 with ticket no ** and reservation code ** with my two kids from Toronto Pearson YYZ. At the Toronto airport, staff inquired me if I wanted to take my hand baggage with me to the cabin or wanted to check it in with the other 23 kg bags. I agreed to check in my hand baggage with the big suitcases so I did not need to worry about carrying them with me.
Now all of my baggage were according to the standard measurements as explained on your site. I had no problem in check in from Toronto to India. Problem started when I was returning back to Canada on June 27, 2016 from Delhi. We took the same flight KLM ROYAL DUTCH AIR LINES KL872 and I had the same luggage with me as I had when I took off from Canada to India.
When I went to check in at Indira Gandhi airport, I found that the staff was very rude and non-cooperative with the passengers. They said that I could not carry these hand baggage in cabin as these were oversized. I told them that these bags were under measurement (25 pounds and 43 inches) and they could measure it with the measurement tape. She said they had no time to measure it. This is weird for the same flight taking off at different airports and following different policies.
The staff member also said, "Policies are different at different stations for the same flight." We were shocked to hear that. She said not to argue with her and if I have to travel then l have to pay $180 for two bags to be checked in. I told her that I was not carrying that much money at the moment. And she replied back and said, "Either pay or miss the flight." I felt being harassed by the staff. I was traveling alone with my kids and had no contact with the family at that time as I did not have any cellphones on me. I was scared and was feeling helpless. I did not want to miss the flight and did not want to spend $180 which I didn't have anyways at that time.
After a while, one passenger who was also traveling in the same flight with us guided me and said that I should wrap two handbags into one baggage and pay for one bag instead for two. He said that I have to pay anyways so why not pay less? I asked the staff person and she said yes. Thus, I end up paying Rs.350 to wrap my luggage and another 4760 rupees ($90) with receipt no **, dated June 27.2016 to get my baggage checked in. I also checked online and found that the fees for extra baggage is $75 CAD not $90. That means she could have checked in my handbags but she forced me to pay or miss the flight.
Also, I want to draw your attention on another incident. At the same time when the same staff member was harassing me, she was doing the same thing with one other family. She forced them to pay extra money for hand baggage. She was telling them that their handbag and laptop bags all in together should weigh 12 kg. As I know laptop bags are never counted in as baggage to pay. She also instructed other staff member to not give boarding passes to that family until they pay that extra money. I witnessed that the other family was even ready to take their tickets back and miss the flight because of the behaviour of that particular staff member. They were even ready to have hand to hand fight with that staff member. Their kids were so afraid to see all that. In the end, that family also ended up paying extra money.
Unfortunately, I forgot to get the name of that staff member. Time was passing by and we had to get in the plane on time by passing through immigration and security line in one hour. However, your record can tell you the name of the staff person that was working that day. This incident has led me to never choose KLM airlines for future destinations and would recommend my friends and family to not take it because of their rude behaviour and non-cooperativeness. This is one complete issue of harassment. I would appreciate if you can look into this matter and take strict actions against that particular staff member.

Since when does a major airline allow you to only check in ONE SUITCASE weighing only 50 POUNDS on a TRANSATLANTIC FLIGHT? Since KLM started to behave like a low cost airline, apparently. I paid around 800 euros (NOT low cost!) to fly from Amsterdam to Brazil round trip, and realized the night before that I was only allowed to bring one suitcase. So I had to repack everything, and was still a little over weight. So when I got to the airport, I hoped to find someone nice at the counter, but instead a computer was weighing my bag and telling me I had to pay 100 euros (!) for 2 kilos overweight. So I was forced to throw away protective packing, stuff presents for my friends into my pockets, and layer up my clothing in order to get the suitcase weight down and please the machine. I'll definitely skip KLM next time -- unless, of course, their fares are low enough to justify low cost airline behavior.

My parents were travelling from Mumbai to Vancouver. Mumbai to Amsterdam they had Jet Airways and Amsterdam to Vancouver they had KLM Airlines.They had booked Business Class Tickets and had requested for wheelchairs for both of them. At Mumbai Airport they were provided the wheelchairs but at Amsterdam Airport they were told that there is no request for wheelchairs. Upon showing them the ticket which mentioned wheelchair request printed on it, they said it is not showing in their system, and hence they had to walk all the way. In a telephonic talk from Amsterdam Airport, my parents told me to reconfirm about the wheelchair provision at Vancouver Airport. I called up KLM office Vancouver and they said there is a booking for wheelchairs so it will be provided when they land at Vancouver Airport. At Vancouver Airport similar story repeated. There were two wheelchairs but there was no one to drive those wheelchairs.
After waiting for 30 minutes my parents walked through the airport. Later on I raised the issue with the KLM and in a response to which they provided me 2 vouchers each one worth 200 Euros. I called KLM office several times and each time I got a response stating "Sorry we are unable to pull up the voucher". I even put the issue on their Facebook portal but there is no response solving the issue. It is almost 24 hours since I put the concern on the Facebook. I WILL NEVER BOOK ANY TICKETS WHEREIN KLM IS INVOLVED. ALSO I WILL NOT RECOMMEND ANYBODY TO TRAVEL USING KLM AIRLINES.

I bought a direct (non-stop) round trip flight (New York - Istanbul). You changed my flights to 1 stop (Amsterdam). Big problem is my returning flight (New York to Istanbul). There is a incredible waiting time. (11 hours!!) Although that tickets was not cheapest, I bought those tickets because they were direct flights. When I was realized that change, I called your customer care service but they didn't find a real solution for me. They gave me a 100$ coupon for next flight but I don't care this coupon because I never use Delta again. Please take it back!
It didn't end with that. When I was arrive Amsterdam I ask to KLM responsible people more comfortable place for waiting because I had to wait 11 hours! Because that was fair! BUT they never help me. IN FACT a KLM responsible lady (I don't remember her name) said to me: "here is a very big airport, you can find a place for waiting." This is not acceptable!! This is a impudent behaviour. As you know KLM has a lounge in that airport and I give 45 euro for using that. You are profitable! Congratulations!!! #neveragaindelta #neveragainKLM

First, when I attempted to book tickets for two passengers on KLM, it repeatedly refused to recognize that there were indeed two of us, so I had to do it over the phone. Then I was told I could join their frequent flyer programme by phoning a certain number. That number had nothing but a recorded message telling me to go to their website, so I did so, and filled in the registration form. The website then kept highlighting my perfectly ordinary first name and telling me please to fill in my name as it appeared on my passport -- which I had, of course, done.
I tried five times, starting over each time, and got the same response. When I then phoned their so-called complaints line, and pressed various numbers to get through to someone I could speak to about the Frequent Flyers programme, I was put on hold for a few minutes, then told that if I wanted information I could go to the website... and the phone went dead. No mention of a complaints person or department anywhere in the process. They really do have the most bizarrely uncooperative website and the rudest customer service of any organization I have ever dealt with.

We bought a ticket online, that said it had ONE stopover, in Amsterdam, so we bought it, thinking we could get a hostel and rest with our young daughter. When we purchased the ticket, the itinerary didn't match, saying that the 18h flight had a 2 hr stop over in Amsterdam. So I wondered where all those travel hours were to be spent, surprised to see only two hours stopover in Amsterdam! I called customer "service" and got attended to by the rudest girl I have ever talked to. Zero customer service skills. Informed me of a stopover in Cali (Bogota-Cali)!!! Which was written nowhere on any itinerary!!! I tried to explain the situation and was cut off and told to hold, which she cut the call. It said "all personnel are busy attending other customers."
So I called back, thinking, this airline must have a bad apple working for them. I tried to explain the situation and the bad service to the next "service" agent, and he was not at all apologetic, rather super rude. Made me retell him the reservation code five times, and then proceeded to tell me that there was no stopovers, and that the 18 hour flight was direct from Bogota to Amsterdam with a two hour layover in Amsterdam then to Madrid, our final destination. Well mathematics lets me figure out quickly there is something not right in that, 18 hours of travel, direct flight Bogota to Amsterdam, two hour stopover in Amsterdam, then two and half to Madrid, so I said "where are all the extra travel hours, if that totals to 15 hours of travel and it tells me online that I have 18 hours of travel?" His answer? "I don't know." And puts me on hold. Comes back with no information, and I asked for his name, and he hang up.
WORST customer service I have ever experienced. No one recognizes the errors on our tickets, nor apologizes, nor says anything understanding or comprehensive of our situation, now we have a surprise stopover, maybe? I am not sure because no one will tell me anything. 18 hours of travel multiple stopovers, not sure where, false advertising, bad customer service. Anyone reading this I advise you to AVOID this airline at all cost. Not excited to get on an airplane with absolutely no philosophy, no service, wow. Lesson learned.

We found a good price for a specific flight, decided to book right away. We gave all our details, but couldn't complete it because of an error. We tried several times over several days, finally we spoke to a KLM representative. He could see the same flight and same price on his screen. He couldn't book it either. There was a price issue. We could book that same price but for a couple of hundreds dollar more per person. Our daughter had exactly the same experience half a year ago. If KLM doesn't want to sell for the cheaper prices they shouldn't have them online. The flight was offered for USD 840, they could book it for us for €1177, almost double!

My wife and I are frequent traveler between USA and Europe. January 2016, we were traveling from New Delhi to Amsterdam. We had confirmed adjoining seats. At the New Delhi airport, the issued boarding passes showed our seat to be ten rows apart. KLM apologized and said the flight is oversold and there is nothing KLM can do. We insisted to be seated together. KLM gate crew advised that once we were in the plane, the cabin attendants will try to find us adjoining seats. KLM cabin attendants were helpful, however very snickering about it. This seat changes confused the flight attendants, and our special diet meals were lost, hence no food for the 9 hours flight. The 747 economy class seats seem to be designed for the people weighing less than 100 pounds, definitely not for the normal adults, it was like being stuffed inside a cardboard box for the 9 hour flight. We will never use KLM again.

KLM stole my laptop. A completely untrustworthy company. Do not use them. No one at KLM helped me. No one at KLM looked into the theft or bothered to find the KLM staff that stole my laptop. When I emailed them it took weeks-months for them to reply, if they bothered replied at all. My last emails were completely ignored. So rude, arrogant, unhelpful, and unprofessional. More to the point. Someone that works for them stole my laptop and was not held accountable. So that person still works for KLM. I was flying with KLM around 16+ times a year for work, and I will not ever fly with them again. I highly advise that you fly with an honest company that won't steal your belongings.

This below experience is shared by my sister and brother in law and I am filing this on their behalf. Their itinerary starts from Mumbai to Delhi via Jet Airways operated by KLM, which was really a smooth journey. The next flight was KLM flight number KL0872, scheduled by 2.35 am on 28th January from Delhi to Amsterdam and the final flight was KL0685 from Amsterdam to Mexico city.
The actual problem started when we were boarding KLM flight number KL0872. The ground crew of KLM gave us the boarding pass, where we gave one of our cabin baggages to the crew so that we can receive it in Mexico directly. There we were told that our bassinet request has been accepted and were allotted seats accordingly. Considering a smooth and safe journey, we were about to aboard the flight. Before entering the gates, we were told by the KLM officials that we need to deposit all our cabin baggages and moreover they said that the flight has less space, it is mandatory that we have to submit the baggage. "Anyways you will get them directly in Mexico and this service is free of cost" as if we are beggars asking for free services.
We simply told them that we are carrying infant with us and the baggage has all the stuff required during the long journey of 10 hours in the flight. The second problem started inside the flight when we found that we have been given different seats rather than the family seat where bassinet facility is available. We then had a talk with officials, especially the purser of the crew, asking for the bassinet seats. She replied in plain words that "we cannot give you the bassinet. Moreover your child is looking overweight". We told them that my daughter's weight is 10kgs, and asked them what is the maximum allowed weight of the infant? They said "10kgs is maximum but we do not consider that she is 10Kgs". We thought as if we were standing in front of the court of law. There was a huge argument just to tell that my daughter is 10kgs.
Then the purser checked whether I had really given a request or not and found that I was availed with the bassinet facility, but the seats are wrongly placed. They simply gave us the answer that "we are sorry, this is a mistake of the ground staff. We are not at all responsible for that". We were given too much of mental torture for next 30 minutes after boarding the flight. Finally, they allotted us 3 seats and told us that "you can place your child in between." Helplessly, we had to accept the offer, but during the 10 hour journey, we were always stressed that at any moment of time my daughter may fall since the seat belt was not completely fitting her.
The next problem is that flight crew took our stroller which was a brand new one. But when we received in Amsterdam, it was damaged, such as the handle was bruised and there are many scratches on it. The whole stroller was in damaged condition and we complained about it we were simply told that "you can make an online complaint". In the final journey from Amsterdam to Mexico in KL0685, we again confirmed with the ground staff whether the seats allotted are having bassinet facility and then they replied us positively. Inside the flight, when we asked for the bassinet, then we were told another important news, that the maximum weight bassinets can carry is only 9Kgs and not 10Kgs.
We again told that according to standard weights of infant between 0 to 2 years, my child exactly falls in the range and she is just 11 months old. Again the purser of the flight said that we are only considering the safety of the child. But then we asked them that it is a 10 hour journey and how is it possible for us to carry the child on our lap. If this would have been one or two hours, we would have simply done that, but this is really a painful journey of 10 hours. Moreover we have already travelled for almost 23 hours, it will be difficult for us to travel like this.
There is also no rulebook which specifies the dimensions of the child like a luggage. Then the purser simply said that we can give you the bassinet but you must keep that on the floor. We asked her if you keep it on the floor in front of our seat, how can we sit. She simply said "that's not my problem". If on one side she is talking about the safety, how can she make us to stand in the flight, which is totally ridiculous and unsafe. Kusum started crying on such an abusive answer and this mental torture again continued for next 20 minutes.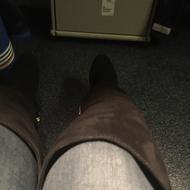 PLEASE SHARE IT if you have been ever discriminated against. I had the worst flying experience of my life! I'm a very disappointed frequent flyer! I get to Midway Airport and find out my flight is delayed and it's OK; but due to many problems with my flight delays and multiple cancellations with connections, the check-in counter upgraded my ticket to Business class seating throughout my entire 3 flights out of courtesy, and issued me my ticket--yet with unconfirmed seats in my flight from Atlanta to Amsterdam. I got to the boarding gate in Atlanta and was told that I cannot sit in Business class and there is no seat for me there. I showed the lady at the boarding gate my ticket (which said BUSINESS) and she disregarded it and called for a supervisor. Eventually, I was reassigned to a Comfort Zone seat, which I appreciated. Yet, as I walked through the plane, I noticed that the business seats were entirely empty except for one seat.
I still continued to the Comfort Zone, yet when I sat down in my aisle seat, a very large lady sat next to me, and she literally occupied half of my seat plus hers, pushing me so far that carts, people, bags, coming and going were hitting me. I got up and kindly told the flight attendant about my problem--a flight attendant passing by agreed and said she saw my dilemma. I told them I'd sit back there while they found me a different seat as to not offend the fellow passenger. Later I was moved to a new seat. When the lights all went out, I attempted to sleep but there was a light above me shining in my face, which I tolerated for 4 hours before I got up and notified someone. They came to turn it off and as soon as they left, it kept flickering on and off. I called someone twice to fix it, same issue. It had already been 4 hours and I hadn't had sleep in over a day because of many issues with Delta leading up to this.
I went to a Business class seating, where a supervisor came and told me to move immediately, and took me to the kitchen to speak. She was extremely rude and condescending from the beginning. I showed her my ticket and pointed to where my ticket said "Business" with my finger. She took a pen and SHOVED AND POCKED my finger aside, talking over me and telling me that Delta doesn't have anything to do with KLM and they did something wrong giving me a Business seat. I asked her if she just shoved my finger, and she said she did no such thing and stuck her finger in my face "imitating" me and yelling in my face. Then she told me to either move back to my seat--the flickering light one--or "sit here in the kitchen". I sat on the kitchen floor until she walked away, crying for a few minutes. She came back a few minutes later after talking with her coworkers and gave me an eye cover and ear plugs.
I put on the eye cover and while I was adjusting it, she SLAPPED my forehead and slapped it off and boldly said, "go back to your seat!" I was appalled and asked if she'd just slapped me. She said "I am going to call security on you." I asked what did I do wrong to call security on me, when I'm the one who has been poked and slapped and abused for 5 hours and all what I am asking for is to relax the couple hours I had left in the trip so that I'm able to function the 14 hours left to reach my destination, and she's the only one who can help. She said "not everyone has to be comfortable." I said "I haven't slept in 36 hours." She said "I don't care what you went through." I told her I want to file a complaint and asked for her name, she refused to give me it and said she doesn't have to give it if she doesn't want to. Furthermore, she said I can use the site to complain. I went back to my seat and put up with the light for the remainder of the flight.
To sum up, this was the WORST customer service I've ever seen or been through in my entire life! I cannot stress that enough. It was absolutely terrible from the minute of boarding @ KLM in Atlanta I booked until I landed in Amsterdam. Only very few people tried to help me. As a frequent flyer, all I asked for was comfortable seating. As a supervisor, she demonstrated the worst possible customer service, leadership, communication, and people skills. She was being completely racist and prejudice. If I was a European flyer, she would've just helped me and would've never acted so terribly even though I'm an American citizen.
Worst of all, she couldn't even be humane. I had to put up with all of this, terrified of security and the possible unjust outcomes that could come of this, especially on Christmas Eve. Unjust outcomes seem to be the style of this flight when supervised by this leader. Enough messed up family plans and disappointments happened because of this service, leading to having the first Christmas gone wrong in my life. What can I do about this?? Or what can you do for me about this inexcusable experience I've dealt with?! My family is in a world of hurt knowing I spent my Christmas Eve crying on the floor of KLM's flight service section.
Company Name:

KLM

Website:

http://www.klm.com/