Consumer Complaints and Reviews

I am writing this review to deter anyone else from using this service... I have given them one star because I had to - they shouldn't receive any!! DO NOT USE THIS COMPANY UNLESS YOU WANT TO BE RIPPED OFF. I booked the car at 11.46 am not noticing that the pick up time had defaulted to 12 pm. By the time I go to the showroom and cancelled the hire - as not needed - and told by the person there it was cancelled it was past 12pm - I AM NOW NOT ENTITLED TO A REFUND!!!! The car hire was for 7 days at £105.00. No wonder they are cheap if they rip everyone off. Avoid at all costs - could you imagine if you had an accident?? This is just a cancellation!!

Horrible experience in Southampton Airport. Had to wait 40 minutes for a shuttle to arrive and take us to the pick up location. Easirent office at Southampton Airport said that there is no car available for us to rent. After 1 hr and 30 mins calls and complaints to the Customer services office they provided us with another vehicle and charged extra 48 for insurance coverage in addition to AXA full coverage paid when we booked. Dodgy car rental company and agent ruined our bank holiday weekend. After 2 hours of arrangement for the rent, we missed our ferry. The official complaint has been issued. Now we are waiting for the compensation.

DO NOT USE THIS COMPANY. First, I'm shocked that Thrifty allows this company to use their website to deceive people into thinking they are booking directly with them. This is a total scam. They accepted my Visa debit to prepay, then when at the airport counter, Thrifty would not accept any form of payment I had. Never rented a car, and they would not refund the amt prepaid. Shame on CarTrawler and shame on Thrifty!!

CarTrawler is an AWFUL company. Just read the reviews. My spouse traveling abroad booked a car thru Hotels.com & was directed to an AVIS rental agency, however the third party booking agency was thru CarTrawler. She was denied her car & fully charged for services not rendered, which made her trip more difficult. They required a $2500 security deposit, she tried to cancel but since she was 48 minutes past the pickup time they fully charged for the car.

Booked a car from AirAsia site, in Thailand. Didn't know CarTrawler were the middle agent used with AirAsia. Took a day before I got a reply. Two days later my credit card number had been compromised and USD items began to appear. I hadn't used the card for a while before the booking and didn't use it after. I assumed it was either AirAsia or Avis that had ripped my card off. Only when a customer survey arrived in my inbox from CarTrawler, later on did I realise CarTrawler was used as the agent to find the hire care. I had no idea since when you select a car on AirAsia it goes straight to Avis or some other company I assume. I've booked flights with AirAsia many times and no problem.
After having to cancel my card, sort out with the bank all the USD transactions, order and collect a new card, I used this clean, unused card, to leave the THB 8000 (you can't leave cash!) deposit with Avis when I collected the card (It took more than 2 weeks for that to be refunded - Avis did reply today - over 2 weeks later to say I would get it back), however they didn't seem to be the company to rip off my card. That only leaves CarTrawler. Given the nightmare accounts posted on this site, I think they are the prime suspects.
My advice 1. Don't hire a car through AirAsia, 2) Don't use CarTrawler 3) Try to find a local car hire company who will take a cash deposit. I normally always use local (not the big guys) to rent cars, less hassle, less paperwork and either no deposit or you can get it back quicker. BTW, my system for booking is clean, so I know it is not my computer. This is compromised.
How do I know I can trust these reviews about CarTrawler?
789,262 reviews on ConsumerAffairs are verified.
We require contact information to ensure our reviewers are real.
We use intelligent software that helps us maintain the integrity of reviews.
Our moderators read all reviews to verify quality and helpfulness.
For more information about reviews on ConsumerAffairs.com please visit our FAQ.

Myself and my son were traveling to a little town near Figeac. Staying with friends. We had to take a taxi for some unknown reason to Brive town to collect our car. We booked through Ryanair who have refunded me the cost of the car hire. To them I am very thankful. However - Cartrawler have done nothing. We were literally stranded in a little French village by the train station. My son was 9 years old at the time. We always drive to our holiday location - it's roughly a two hour drive from Brive airport.
We ended up begging for help - one taxi driver was available but had clocked off and was due home for his family. A lovely lady and her granddaughter who were in his cab felt sorry for us and we went 20k out of our way to drop them first - just to keep ourselves in a taxi. We paid over 200€ to the taxi driver who was an angel on earth and obviously charged us that because we had no choice. He took the Michael and I tipped him because he literally was our only help? Mum and son of 9 years old. Stranded. Cartrawler. Take this as a warning. Next time it could be a horrific outcome.

CarTrawler the worst company in the world! This Company will take your money and leave you empty-handed. They won't even refund you your money, after you explain to them that the car that you've paid for wasn't delivered. After filing a complaint, they even tell you that they hardly ever pay a refund, let alone any compensation for the costs that you had to make. All in all a bunch of crooks!

I booked a vehicle for the usage on the above dates. Strictly for the Jazz weekend. When we arrived at the airport at 20h45pm we were not given a vehicle since I forgot my driving license and I had my credit card. My partner had his license but not credit card. We were told a credit card and a drivers license should belong to one person. We were not given the car. We had to use taxis. I asked for our Refund and I was told to go back online. I did send the email the very same night but NO RESPONSE HAS BEEN GIVEN UP TILL TODAY? Kindly Refund the R434.00 that was paid in advance for the vehicle. I sent emails to Woodford and they are not assisting with my refund. Bad service. Booking was under: ** Nathaniel. Pick up 31March Cape Town Airport. Drop off 02 April 2017. We did not use the vehicle. Please refund my credit card.

This is the worst refund and complaint issue I have ever had to deal with, If I could I would not give any stars. After numerous complaints, calls and being subjected to rude and unprofessional manner. I am sending this to a law firm to review and hopefully get my money back. After I write this review I will appoint the massive complaint tally to the CarTrawler Main US Office and hopefully they will hire individuals that know how to address and speak clearly when dealing with consumers happy or not.
This was an awful experience for my children whom had to be ejected out of the terminal, where the Paid in FULL rent a car was to be given to us. No one allowed to loiter, stand, sit or use facility if you are not a Rental Customer. This was after 1 hour of back and forth between manager and CarTrawler. I had to pay out more funds to get a ride back home. Never again! I have chosen to use Amtrak, Cabs and Bus services. CarTrawler needs to realize that more and more people are being swindled out of funds that do not state anywhere in the agreements of non-refundable. Just all of you beware. CarTrawler will take your money and leave you stranded while laughing to the bank at you and whoever else is with you.

I booked a prepaid reservation through CarTrawler for a car rental through Thrifty. This was for vacation purposes with my kids. The day I went to pick up the car, the agent declined me due to having a visa debit card. I let the agent know that had prepaid the car. They extended the apologies but it was their policy that they could only accept major credit cards.
I left and immediately emailed to CarTrawler and in hopes to get an immediate response I ended up waiting 2 days. They let me know that they would not be refunding me $280 for my rental because I didn't present a valid card for the deposit. In responded to Luke who was in charge of my case that I did in fact have a valid debit card with the deposit needed to cover the rental ($300) for the duration of my rental time. I let him know that what information was given to me in my confirmation email was covered but again according to the agent was incorrect in regards to Thrifty's policies. I got a response immediately letting me know that even with new information that it may not be in my favor of a refund. I would have to wait 5 business days to hear of a new verdict.
I finally got that verdict and it is still no on the refund but now I have to provide a returning flight number which I don't have because I was renting from the city I lived in for a vacation in which I was driving to and would return back to my home city to return the car. So all in all because CarTrawler's policies don't mirror those of the rental companies I am out my prepaid amount of $280! Please don't rent from here! Just go straight to the business itself and avoid any surprises. I finally got a car directly from another car rental place nearby but doesn't help that I was out that money I spent.

Possibly the worst car rental company and car booking agency we have ever dealt with, it took them 2 hrs to pick us up at the cruise terminal (after 5 international calls to them) and when we arrived they had already rented our rental vehicle to someone else, despite the fact we had prepaid three months earlier! They offered us the van that had picked us up, which they then had to take to get insured for renting, it smelled, was in very poor condition, and had extremely high mileage. They offered us one day free rental (we had an 8 day rental) for the inconvenience as they did not have another car to offer us, we refused and canceled. The car was canceled but the manager did not mention that we would not get our money back, $910.00 CDN through CarTrawler.
We booked through CarTrawler and had to spend 6 weeks fighting with them, we ended up only being reimbursed $610.00 CDN. Do not book with CarTrawler or Ace car rental in Auckland, New Zealand. Possibly the worst experience we have ever had with a car rental company anywhere in the world. FYI this company was directed to us from Hotels.com website. Beware!!

I booked a flight from Pegasus Airlines and as I understood in Turkey, CarTrawler and Pegasus work together. I reserved a car from Hertz via CarTrawler. CarTrawler took the payment but they can not issue an invoice. Hertz can not issue an invoice because they did not take the payment. I work in an American company located in Istanbul. I need to provide my expenses but I can not get an invoice. There is a miscommunication between CarTrawler and the car agencies.
As a customer, how can I get an invoice?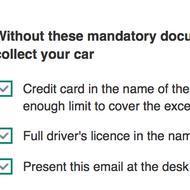 Booked a car through CarTrawler for Locauto and got the confirmation (see below). When I arrived at the counter, they could not give me the car under the pretext that 2 credit cards were needed which was never specified by cartrawler except after I talked with them regarding this issue. They only specified to bring a credit card, the credit card with which the booking was made, a driving license and the contract. As such Locauto could not deliver the car under these conditions. I call cartrawler and they refused to reimburse me.
I booked directly with Locauto right there at the counter and it was almost $100 cheaper for the same car and same conditions. So not only is CarTrawler a ripoff but they are also misrepresenting their services, inducing customers into renting, not giving the full information and now are refusing to reimburse when the car was not rented. I talked with them at the same time the issue was arising and they could not promise any reimbursement or cancellation due to their misrepresentation. I checked TripAdvisor and they have hundreds of bad reviews. They have to be stopped... Hundreds of complaints.

I did a prepaid reservation with Thrifty on Thursday March 2, 2017 to pick up my rental on Friday March 3, 2017. I paid with a debit/VISA card and $84 of a $94 rental was taken from my account. I showed up to the Thrifty rental location in MD to pick up my rental and they refused to take my VISA card. They told me they did not accept pre-paid debit VISA cards but nowhere on the website or in their paperwork did it specify and they sure didn't refuse my prepaid debit VISA card at time of reservation.
I spoke to a representative from their Dublin office named Victoria who advised me that next time you should book directly with Thrifty versus online... Maybe this would not have happened! Just the arrogance this company has in what they do irritates my soul. Now I have to rely on my bank to help me get my funds back. This issue is their policy... If you don't pick up the rental then they can keep your deposit. That would make sense for customers who do not show up or who are late and do not call ahead. But CarTrawlers are literally putting people in situation to not be able to pick up their cars and then they pocket their money! THIS IS FRAUD at its finest. I also printed out their legal notice and it also does not state Pre-Paid VISA debit cards could not be accepted.

Online to the Dollar Rental Car to secure a rental for a trip to Las Vegas, Nv. Nothing mentioned of the "CarTrawler" being the company that was taking the down payment. Get to Dollar Car Rental at the Las Vegas airport, end up getting a bigger more expensive car for a total payment needed of nearly $600 for 5 days of car rental. Ended up returning the car 2 hours after renting it as not happy with the vehicle itself and not needing to rent it after all based on a friend/family emergency that allowed us to use one of their vehicles during our stay. Dollar car rental (as far as I know as I haven't seen the credit card statement yet) refunded all but $60 for the rental car.
This is when I found out that CarTrawler was involved for the initial down payment on the car rental. Contacted them informing them that the car had been returned, was not going to be used, and requested a full refund. They did not and have not yet honored this. This company is going to be turned into the Better Business Bureau and the Attorney General's office will be contacted, as well. Any third party company that gives you deals on hotels, cars, flights, whatever... are fraudulent and are not cooperative in refunding payments when the service is not used. These companies need to all be shut down, completely... not allowed to do business.

To whom it may concern, I booked a car transfer from Bcn to my hotel on Friday, February 10th. The shuttle's driver never showed up. I stood up at the airport for two hours, called the number provided with my voucher and no one would answer. What a disrespectful behavior!! I sent an email to complain and to ask for a refund. So far, I have received no reply!! I try to cancel another booking on the portal. Obviously it's impossible. To me, it's clearly a fraud!!!

Horrible experience with these people. Whatever you do, do not book your car rental thru them. I tried to change the pick-up location on my reservation. After entering the new pick up location, I had to give my card number for extra fees. My pick-up location change never came thru and after being on the phone with them for a really long time they refused to refund my money and hanged up on me. My reservation never changed but they still took my money.

I have been dealing with this company since November 2016 and it has been a nightmare. I booked a car rental through them and they took a deposit to secure it. When I showed up to rent my vehicle they were having issues with their credit card machines and I couldn't rent a car through them. I was sent away and I ended up renting a more expensive car at the airport. A few days later, I noticed that the deposit was not credited back I called the company and they referred me to an email address where I needed to open up a complaint form. CRAZY right? You would think that the deposit would have been returned to me. This was in fact their error not mine.
In the end they still refused to return my deposit saying I had used a debit card. In fact, I sent them a photocopy of the credit card showing that it's not a debit card and still took them 2 months to get back to me I had to file two complaints. I requested to speak to a supervisor and I have yet to hear back from one. Beware, they will do anything to keep the deposit even if it's out of your control. Never booking through them again!

Upon arrival at the airport - we provided flight number - there was no one at the HERTZ rental desk. We had to rent another car as we had to go to our accommodation 80 km from airport. We NEVER got a refund from CarTrawler. We had to rent a much more expensive car. They do not respond to my emails and I never got a refund, not even in the form of a voucher. So NEVER rent a car through AIR ARABIA or CarTrawler. Customer service is very bad.

Booking voucher told me to go to Union Station, Washington to pick up the car. Went there and was told company had not operated there for several months! Had to trace across town to find the car, some 90 mins later. Loads of hassle, phone calls and rubbish customer service. Don't use this firm!

Do not book anything through Arguscarhire (CarTrawler). I booked a car online and had to make a payment before the booking would go through. The booking went through Easirent in Glasgow City. I went down to the location and no cars were available? I was not able to get a car that day and after two weeks of phone calls and emails I am still trying to get my money back. Both companies seem to just be giving the runaround now, so unfortunately the next step will have to be a Fraud report to my credit card company.

I was booking a flight through Webjet and decided to take up the option to book car rental at the same time. A few days later I took my flight and arrived at my destination. Looked through my emails and could not find any car rental agreement. Panicked a bit and then went around all the rental companies in the airport and asked them if I had made a booking with them. I had not. So we had to get driving and so had to rent a car with someone else. Later I saw a credit card debit from online cars. I disputed this with my credit card company. They followed it up and today I got an email from "Car Trawler" about my credit card dispute.
I have written an email to them explaining the lack of a confirmation and information as to who I was renting a car from. After reading your emails I am not confident as to regaining my $196.00. It would be nice as I thought WEBJET would be using a reputable company to be associated with. If I have no joy I will be emailing WEBJET and telling them about my dissatisfaction and disappointment that they are using this company. Let's hope Car Trawler are honest this time.

I prepaid CarTrawler for a one month Europcar Rental in Puerto Vallarta for the guarantee of no surprise extra charges at the pick up desk. Surprise! Europcar says I need letters from my bank and from a Mexican government Agency named CNSF validating my credit card car rental insurance coverage. (It took me 2 weeks to find this CNFS contact info: soporte_ma@cnfs.gob.mx... good luck getting a response.) This appears to be a scam whereby (since these letters are impossible to get in under several weeks if at all) you are now forced to pay the rental agency's exorbitant $20 US/day in spite of the fact that the credit card company you've paid with fully guarantees collision damage loss costs.
Six courteous emails to CarTrawler telling them that they need to update their on-line and contract information and that if they are ethical they will recognize that failure to inform me caused me to reduce my rental period by half, gave me a HORRIBLE start of vacation experience and that a fair settlement at the very least would be a refund of half their rental charge yielded nothing. "Customer Care" people hit stock response buttons that indicated they weren't reading or understanding the situation. All car rental customers in Mexico are now likely to discover the new scammy costly wrinkle too late, at the desk, because unethical brokers like CarTawler are unwilling to inform you ahead of time. Go to the Expedia site and you will find the appropriate warning.
I had asked Cartrawler to work with me on a solution for my one personally horrible experience but for the sake of future customers too. Nada. Do you think your nice-looking CEO and Chief Customer Officer want you to ignore this situation I asked "Sarah" and "Juliet"? Apparently they think their job is to make me go away. If Cartrawler is the kind of business their website claims it is, they will want to fix this problem now instead of taking people's money and leaving them to the horrible experience of being ripped off by not one agency but two.
If one broker and one car agency would emerge and provide car renters with a guaranteed seamless, scam-free, fairly priced service, they could capture the market. CEO Mike McGearty, Chief Customer Officer Brian Ingarfield are you attending to all of your stakeholders' best interests, including yours? Judging by how CarTrawler handled Booking # ** and all subsequent related communications, the answer is no.

I purchased from CarTrawler through Vayama two weeks of car rental with CDW and TW insurance in Israel for $160. The renting company was Enterprise/Eldan.
The CarTrawler contract explicitly stated that any additional insurance proposed would not be required and should be declined and that the company would put a credit card hold of no more than $450 for the Excess Damage.
But when arriving at the airport, the company would not release the car to me till I paid $240 of compulsory Liability Insurance, and it put a hold of $2,500 on my credit card for Excess Damage. I was lucky to have the funds to cover the unexpected Liability insurance expense and a card with that much line of credit. If I had not, I would not have been able to get the car I was counting on when booking with CarTrawler through Vayama. Additionally, the car was full of undocumented scratches - which caused me some concern considering that a hold of $2,500 had been placed on my card. CarTrawler has sent me no request to fill a customer satisfaction survey for this transaction.

I purchased a voucher through CarTrawler as a broker (third party) for Dollar company to rent a car. I ended up not getting my rental car or my full refund back. I contacted Dollar in order to get my money back and they told me to contact CarTrawler to ask for my refund. I want my full refund back to my card.

My partner and I travelled to Cape Town in July and we rented separate cars for reasons of convenience as we both had different friends and family to visit. Rented through CarTrawler and the car would be picked up at Tempest Car Hire at Cape Town International – this was in July 2016. Upon arrival, I got my car through a company I always use (thank goodness – no hassles) and then found out that there was no car in my partner's name even though she had booked (with additional insurance). After numerous phone calls from Tempest staff and visiting all other car hire companies along the line still no luck. An hour and a half later she gave up and hired a car instead from Woolfords (great help they were!) Upon return to the UK and numerous emails and phone calls (almost 3 and a half months down the line) and chatting and repeating the 'story' to almost all of the ladies in the call centre - no luck!
The amount of times emails were requested and documentation – all sent soon after arriving back in the UK have been resent and resent. We have kept a record of the number of calls, emails to the CarTrawler Support Team (!) and private emails forwarded by staff... we are on the verge of suing for stalling, time-wasting, phone calls, stress... I shall never ever use them and will be writing a far firmer statement to their directors (nameless soles) shortly and to the Ombudsman. Angry? You bet! They (CarTrawler) even had the cheek to say that it was a 'no show' at Tempest. Ha! Arrived at the airport at 1.10pm and proceeded to Tempest at approximately 1.40pm. Car then hired at Woolfords at 3.10pm.

I rented through CarTrawler a car with Thrifty. The contract included protection for the car (CDW) and third party liability. I HAVE IT IN WRITING. Upon arrival at Thrifty, they said that protection was NOT included and that I had to speak to CarTrawler despite having everything printed out. CarTrawler are liars and do not honor their deals. I had to pay AGAIN to Thrifty and lost my money. Of course trying to contact CarTrawler (should be called CarLiar) is impossible, it's obvious from reading other comments that they have it set this way to fool and steal from the customer.

Arrived at the correct time at Reunion Airport Sixt Car Hire. With ID, credit card and English language license in Roman letters and CarTrawler voucher. Sixt Car Hire would not give vehicle as they wanted International Driving license. I could have provided but the CarTrawler voucher stated "if your driver's license is not in Roman alphabet" which it was. As a result I had to hire from an alternative company which accepted my license at my cost. To date after requesting politely several times on their website CarTrawler have not even had the grace to respond. The distress caused by this incident after a long flight was intense. You would think that this company, which comes off TripAdvisor platform, would be on top of the rules of the companies they subcontract the car hires to.

Avoid this site at any cost. I reserved a car from their website, was debited 200. At the appointment of the 3rd party company, the office were closed. Waited 2 hrs still close. So I got out, took a picture with the time of the day, and asked them to refund me. After 4 week, they told me they cannot refund me because I didn't have all my documents in the day I was supposed to get the car, when I never meet anyone as the company was closed!

The car rental Company (Thrifty) refused to give the car therefore requested money back from CarTrawler but it's not possible. Since CarTrawler is 3rd party for the car hirer they can refuse and there is nothing to do.
CarTrawler Company Profile
Company Name:

CarTrawler

Website:

https://www.cartrawler.com/ct/