Consumer Complaints and Reviews

Bought a 2014 Honda Odyssey with new ProContact Continental Tires. The dealership said these were new tires. The car only had 17,800 miles on it when we purchased it. Only 3 weeks later, while driving my daughter to a field trip, my back rear tire blew out. When I pulled over to the side of the road my tire was completely shredded. I've never seen a tire so tore up before! When the tire blew out I got to the side of the road asap. I did not continue to drive on it.
I'm thankful we did not get hurt, but the tire caused damage to my car. I'm trying to figure this out with my dealership but I am worried to continue to use these Continental Tires! These are completely defective and dangerous.

I purchased a new 2016 Volvo XC90 in January. Unfortunately this vehicle comes standard with Continental Sport Track tires. After several visits back and forth to the Volvo dealer here in Syracuse NY due to excessive vibration and no real resolution, I finally decided to replace the tires with a new set of Michelin's. The difference is incredible. No vibration and the ride is exponentially better. I am convinced that despite several attempt to road force balance the Continental tires they are fundamentally flawed. The dealer was respectful but likely put in a difficult position. If Volvo is looking to revamp their line and create a new image... start with a decent... Safe set of tires.

April of this year I purchased a new Honda Civic Coupe. It came with Continental ProContact TX tires size 215/R50/17. Last week after driving 2800 miles the low pressure light came on. Checking tire pressure I found the right rear tire was 8 lbs low. I added air and 2 days later the light came on and the same tire was low. There were no visible marks on the tire. I poured soapy water on the tire and found a tiny leak in the sidewall. I took the car back to the dealer who told me it was a puncture and charged me $155,00 to replace the tire. I'm sure it was a defect as I didn't hit anything. The dealer said tires are not their responsibility. They also said good luck trying to convince Continental it's a defect. I'm considering replacing all the tires. It will cost me approx. $700, but, I'll have peace of mind.

I have a 2014 Acura MDX and a 2015 Ford Transit Van. Both came OEM with Continental tires. I had to replace both sets at 20K miles due to chipping - LITERALLY chunks falling off the tires. First NEVER buy Continental replacement tires and second ALWAYS make the dealer take them off and replace with Michelins as a condition in your new car deal. These tires are junk, pure and simple. Hope this helps!

I bought a 2015 Jeep Renegade. I had only driven the car approximately 10K miles when 1 of the tires started going flat. I aired it up and it went flat again. So I took it to the dealership where I was informed that I need to replace 2 of the tires and that wasn't covered by my extended warranty and would have to contact Continental tires. So I contacted them: The first time I was put on hold and no one ever came back on the line so after 20 minutes I gave up. I called them back the next day and they said they were going to put me on hold again and then hung up on me. I called them back a third time and they were extremely rude and told me that there was no warranty on those tires. Lucky for me when I purchased the vehicle I had bought insurance for all the tires at Discount Tires, so I went there.
They told me that 3 out of the 4 tires on the car were bad and needed to be replaced. So they were unfortunately replaced with 3 new Continental Tires. Then 2 of those went bad before the Jeep had even reached 25K miles on the odometer. They were replaced by Discount Tire again and I bought the insurance for the new tires. Now the 4 tire has blown out and my Jeep hasn't even reached 35K miles. There is no reason for a tire to be that bad and blow out at every opportunity. I will never be buying this tire again.
How do I know I can trust these reviews about Continental Tires?
609,643 reviews on ConsumerAffairs are verified.
We require contact information to ensure our reviewers are real.
We use intelligent software that helps us maintain the integrity of reviews.
Our moderators read all reviews to verify quality and helpfulness.
For more information about reviews on ConsumerAffairs.com please visit our FAQ.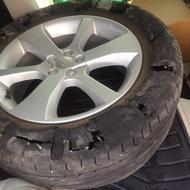 Did not hit or run over anything and had a massive blowout on highway on a tire that has less than 13,000 miles on it. I was able to have my dealer replace the single tire but it seems that there are numerous similar complaints. Is there another action or site I can visit/do to register my quality complaint so that this company is looked at for possible recalls? My daughter also has the same model Subaru I have and had her Continental tire bubble.

I bought a 2014 nissan altima in June of 2014. This car had Continental Tires on it. Size 205/60r/16. On August the 4th 2016 the car has 11000 miles on it and on the evening of the 4th we were exiting a ramp off the interstate and the rear drivers side tire blew. We pulled over and changed the tire and proceeded to go home.
The next day I went to the tire shop and they told me that the tire could not be repaired. I was concerned about my family safety so I told the tire shop to change all of them. 505.00. I notified the dealership who told me that I have to notify the tire company. I notified them and they told me that that was not covered under the warranty. I believe that the dealership has forgotten about how many cars that I have bought from them. Neither the tire company or the dealership want to remember me so I am going to forget them when I buy my next car. Let the buyer beware that continental Tire company does not care about anyone or anything else but your money.

I bought a 2015 Jeep Renegade. On February 6th 2016, it came equipped with Continental Tires. During my 2nd vehicle service on July 22nd (5-1/2 months later) I was told that at 15,241 kms that my tires were worn out. At first the dealership though the vehicle was misaligned but it wasn't, but they called back a short time later to say that it wasn't. I don't use the 4x4 feature except for travelling in snow due to my job, but none of the travelling is off-road. I'm waiting for a resolution, I'm hoping for the best, but expecting the worst. At any rate, a new vehicle should never have to have its tires replaced after 15,000 kms (9380 miles).

I bought a 2014 Subaru Outback two years ago. I have been the first and only owner of this vehicle. The vehicle came with Continental Tires, size 17. Since owning the car I have taken it in a few times for losing air pressure on them tires. Two times a nail was found in a tire. My vehicle has been undergoing regular servicing and tires rotated accordingly. At my last vehicle service at barely 24,000 miles I was told I would need to replace my tires as they have lost thread badly. Three days ago I found my vehicle with one of its tires with the air completely gone.
As a result I had to take the vehicle to the nearest tire center for repairs. There I was told all my tires have to be replaced. My spare tire was put on my vehicle. I pondered on this whole situation over the weekend wondering to myself why should I have to replace all four tires on a vehicle that only racked up 24,000 miles. The lowest quote I was getting was $640.00. I got on the phone and called Subaru and spoke to them about it. I was told there is nothing they could do and I would need to contact Continental, the tire manufacturer, and they provided me with the number.
I called Continental and spoke to a rep and went over the history of my vehicle and what was currently happening with my tires. Continental took my information and asked me to take the vehicle to the Subaru dealership for the tires to be inspected and if the problems with my tires have to do with normal wear and tear then they Continental will work with me on some form of discount to get the tires replaced. The rep told me to have the dealership call them with a report. I took the vehicle into the dealership and explain the whole situation to them. The service rep told me they will take a look and she told me not to have high hopes because she has never seen Continental pay for tire replacements.
Subaru looked at the tires and the Service Rep called Continental Tires with their report on the tires. The rep came back to the waiting area and with two thumbs up told me that Continental tires has agreed to pay 40% on the cost of each of the four tires. That came to a total saving of $208.00 and I call that a sweet deal. I gave a 3 rating because even though I was happy with the sweet deal I got on the replacement of the tires, I was not so happy with the durability of the original tires on my vehicle that I have to replace at barely 24,000 miles. Most of the tire centers I contacted during this experience were all quoting me tires that were warranted for up to 60,000 to 70,000 miles. I got Continental tires back on my vehicle due to the sweet deal. I hope they last me another, at least 50,00 miles.

I purchased a 2014 F-350 Super Duty pickup 2 years ago which now has a mere 32,000 miles on it. The tires, Continental light truck - LT275/65R18 are literally disintegrating on the vehicle. I contacted the Ford dealer I purchased pickup from and per their Continental information these tires don't "hold up well" on something such as a 1-ton pickup that gets even a minimal amount of travel on non-pavement roads (gravel).
Now the tire manufacturer won't stand behind. Ford won't stand behind nor the dealer that was so accepting of over $60k for a diesel pickup and at 2 years and barely over 30k miles I get to spend yet another over $1k for tires already. Pathetic tire and pathetic customer service from all involved! If it's known a certain brand of tire is not suited for a specific type of vehicle why in the hell does the manufacturer use them on their new trucks? I will never buy this brand again and will consider other dealers on my next trade. Thanks for nothing!

In march I got a new tire, Continental Touring Contact. Yesterday driving down the road I felt a severe vibration then the tread came off as the pictures show. I had to drive to a location to change it so I didn't get all pieces of the tread. I don't know if I ran over something to cause that or it just failed from use.

Last October, I purchased a used 2009 Mazda 6 with virtually new Purecontact, 215/55R17 94V tires installed. The car initially felt like there was a small wheel imbalance, but nothing to be concerned with. By December, the vibration was becoming a bit more noticeable, so I took the car to a tire repair center thinking it was an alignment issue. They stated the car's alignment was perfect.
Two months later, the vibration was disconcerting, therefore I went back and it was reported that one tire/rim could not be balanced. I therefore purchased a new(used) rim and they were able to balance the tire/wheel combination. Within weeks, the vibration came back. As it was winter and there are good amount of pot holes in New Jersey, the fact that the other tire/rims were becoming an annoyance didn't alarm me, I just assumed the OEM rims from Mazda were the problem.
I replaced the rims in May and still had slight vibrations, but nothing like before. Two weeks later the car was once again exhibiting the severe vibrations. I finally ordered four new tires from Tire Rack, had them installed and the car is absolutely perfect. The tire service facility stated that there must be shifting belts within the tires, but as I didn't purchase them new, they had no recourse to file a warranty claim with Continental.
I asked Continental if there could be any reimbursement available for the replacement of these tires. I had saved the service receipts and have had my tire facility save the tires. I was quite annoyed at having spent over a $1,000 (new rims, alignment and multiple balance procedures) to diagnose a tire quality issue. Continental's response: "To be eligible for warranty, you will need to present a new vehicle registration form, new vehicle sales invoice showing date of purchase or proof of purchase of new tires." In this day and age I guess one can assume that tire manufacturing is a perfected art... at least not by Continental.

Bought a new Ford Focus with Continental Tires. A bubble appeared on the side of one tire, brought it back to the Dealer. They insisted that it was damage from a pothole or curb. Took it to a tire dealer, they said there was something wrong with the tire. Before I could get back to the dealer, the tire went flat. AAA came to change the tire and was AMAZED at how bad the tire was. Brought the tire back to Ford of Tustin (CA) and dropped it off and asked for a refund. They will send to Continental. I don't write reviews, but after my experience and reading reviews about Continental Tires, I want everyone to know and car dealers will start to change brands.

After having read all the reviews posted on this forum, I realized that these Continental tires are poorly constructed and it has nothing to do with luck or driving conditions etc which was my original thinking. In my case, the tires (P275x40x19) are 2-1/2 years old but I drive very little so these tires were driven less than 10,000 miles since I got them new installed by the Hyundai dealer. In fact, when I switched the tires last November to snow tires there was nothing visibly wrong with the tires.
Having kept them in storage over the winter, I recently re-installed these for the summer. The dealer informed upon coming to pick up the car, that both rear tires have bubbles on the sidewalls. Each tire has 2 bubbles within a couple of inches from each other. Since they were purchased more than a year, Continental has asked me to purchase 2 new tires and send these back to them for their inspection and at their own discretion they may offer a partial refund. FYI the tires have according to my dealer nearly 70% of the original thread.
I am sure these tires are poorly engineered and that they are definitely a hazard and should be pulled off the market. Just in case anyone wonders, I am a 64 year old driver. I drive very little and only drive maybe 4 days out of a whole week and then maybe 5 miles or less. I never drove over any potholes, construction sites or any other uneven or rough surfaces and hardly drive at speeds above 40 miles per hour. These tires are dangerous!! Continental's policy is consumer unfriendly. Their position is that all that take the time to complain are trying to take advantage and get something for free. In my opinion they should take complaints seriously, investigate closely these tires and pull them off the market and as a gesture of goodwill, offer new tires (Not the ProContact). Continental will lose more in the long run, by rejecting all these legitimate claims that consumers have with these tires!

Have a 2015 Nissan Murano with Continental Cross Contact Sport LX and had a blowout yesterday. Luckily I was not on interstate and was only traveling less than 40 MPH. I am 66 and have never had a blowout on any of my cars and realized that all my other tires were Goodyear or Michelin and this was my first Nissan that came with these type of tires. I am now petrified that I will have another blowout and thinking I will replace these with new tires from Goodyear or Michelin ASAP. Leaves a bitter taste in my mouth! I am glad I did a Google search on these tires and see that there are issues.

Lost card, called #, said it was expired. So apparently Continental Tires does not offer new replacement cards nor do their cards last longer than 6 months. I will never go through them for any future purchases. I remember when customer service was a top priority with companies. It has become a lost practice.

On January 9th, 2016 I leased my 4th Volkswagen, a brand new 2015 Volkswagen CC from Serramonte VW in Colma CA, which has Continental 235/45 R17 Pro Contact tires. The car only had 60 miles. Within 2 months of driving with less than 2000 miles I had an impact bubble on the sidewall of the front driver tire. I have been driving for 24 years and I consider myself to be a cautious driver. I did not hit a pothole! I was told by the Serramonte VW service department that I did not purchase road hazard warranty and I would have to pay for a new tire plus installation and if I wanted to I could call the tire manufacturer, CONTINENTAL, to see if they would replace the tire.
I have been bounced back and forth and neither the dealership nor the Tire Manufacturer wants to take ownership of the defective tire. I have been a long time VW customer and I feel disappointed with the level of service I have received from the Dealership. After reading all of the negative reviews regarding Continental Tires I am surprised they are still in business and more surprised that a large corporation such as Volkswagen of America, is selling their new cars with defective tires. Someone needs to be held accountable for the millions of dollars lost due to poor quality and poor decision making from the Automotive Industry. Cutting corners by using cheap tires is not the way to do business!

I just bought a brand new 2016 Chevy Tahoe on 4/19/2016. The truck came equipped with Continental cross contact LX 20 Eco plus tires. The day after I bought this truck I drove it to Oregon. While traveling over Highway 26, we encountered a severe rainstorm. The truck began to hydroplane at 45 MPH. The entire trip over the pass was a white knuckle drive to say the least. Nothing quite as confident shattering as having your brand new $70,000 drifting back and forth in unfamiliar territory over a mountain pass.
I called the dealership from where I purchased the truck. No they said they would look into my options for me. That's not comforting considering that I will be driving back over the same mountain pass in another rainstorm. I took my Tahoe to my preferred tire dealer, and they spoke to the Continental rep, who informed me that they would be willing to compensate me at 50% of retail for a new set of tires. This was my first dealings with Continental Tires and will definitely be my last.
I purchased a set of BF Goodrich long haul tires for my brand new Tahoe. It's a shame to have to spend a thousand bucks on new tires for my brand new truck with only 1,000 miles on it. But you can't put a price on the safety of my family and the comfort of peace of mind. I will NEVER deal with Continental Tires, and will tell each and every person I deal with about them. My experience was horrible and I was quite surprised that they would not stand behind their product, especially considering that they came equipped on my Chevrolet who will also be hearing from me.

I bought my brand new car 2013. Had it for maybe 6 months. Hit a pot hole and a Huge knot pops up on side wall. Had to buy a new tire at 300.00 and 2 months later same tire a cut on the side wall. Needless to say we bought real tires to replace the junk tires. Continental should be ashamed of making such trash and ripping people off!

Bought a new car. It had 2000 miles on it. I've owned it for a month. While making a right hand turn rolled over a pothole. Both right side tires ruptured and split. Dealer stating because I hit a pothole they have no ground to stand with quality of the tire. But the damage to the tire should be reflective in the rim. The front inside rim had small dent back outside had small scratch that could of been there. Again the damage that occurred to the tire. Splitting and gashed side wall.

I just bought a new 2016 Toyota Corolla LE Plus with Continental tires 29 days ago. Less than 700 miles later, got a flat tire, hole in the sidewall.

I only had 1,219 miles on my 2014 Ford Focus. We discovered a bubble on the right rear tire. We thought the belt was separated. I took it to the Ford dealer, thinking it would be covered. But they said, No! They told me I hit a pothole, and that was the cause. Potholes don't do this! I'm out $186.00! This is my third car. Never happened before!

Bought 4 Continental Tires for my Mercedes 1 year ago and just experienced a sidewall blowout. This is a big issue because there are many other people having similar problems. See what happens on Monday when tire dealer is open?

I own a Mercedes E350. It has 4 Continental tires on it and what a mistake. I experienced bubbles in the 2 front tires so I needed to replace them in the last 12 months. Three weeks ago I got bubbles in the front two tires again. Then the front left tire blew a week later. I had both front tires replaced AGAIN! Last week I had another blow out on the front right. I replaced that tire and now yesterday the front left blew out again. I can't believe this company is still in business!!!

I have a 2015 Buick Encore and had to replace a tire 2 weeks after I had this vehicle. Today one year later another tire just popped. These tires are junk. I will not buy another vehicle with Continental tires on it.

Tires started to flake after less than 1 year. Refer to pictures. There is clearly something wrong with these tires. I have complained about these tires several times and I am still not satisfied with the outcome.

I lease a 2014 Mercedes Benz 4Matic with Sports Package. Last night I hit a small bump on the road at 45 MPH, right away the tire pressure went to 0. However I was tailing a friend who hit the same bump, and nothing happen to her tire. In the Last 8 months I've had to replace 3 tires due to similar instances, this case being my third.
Continental ContiProContact 245/40 R18 97V these tires are terrible. I've written to Continental, had numerous conversations with Mercedes and the Dealership to no avail. The Dealership told me that he would discount my last tire. I was excited only to notice that it was a 15 dollar discount. These tire if bought from Dealer run well into the $290s. So do the Math $290 X 3= $870. That's what I have dished out in the last 8 months on tires for a leased Mercedes. This is Ridiculous!!! My next lease, will be changing all my tires.

I changed my front tire with the Volvo dealer for nail. It was a Continental tire. I didn't even run 2000 miles. The tire got a bubble and I went to a couple of tire places and they told me it's the defect of the tire. The Volvo doesn't want to listen. I went to another Volvo in Palm Beach County and changed the tire paying from my pocket. Now what to do? Fight with the Continental Tire company?

My tire went flat driving down the road. I have a 2015 Buick Encore that is only 5 months old and has 14,000 miles. No one will go good for the tire! GM will not cover under warranty and when call Continental you get a monkey that reads what is said on her paper. Three times she would not answer my questions and only would repeat exactly what was on her paper. What a joke! The new tire cost 190.00, it's just terrible GM would continue to sell sub par tires, when they know there is clearly a problem. I certainly will not purchase a new car with Continental tires on it again.

Lauren FixAutomotive Contributing Editor
Lauren Fix is an automotive expert who earned the title of The Car Coach, and is recognized throughout all forms of media as a woman with in-depth knowledge on vehicles, technology, automotive finance, repair and trends. Founder of Automotive Aspects, Inc., her understanding of automobiles has made her the "go to" person on TV, radio, print and the internet. She writes a column for multiple outlets including Parade Magazine, NewsMax and Car Coach Reports. She is a regular guest on all the major news and morning shows discussing the latest updates on cars that will help drivers of all ages learn to about cars and make smart decisions. More about Lauren→

Continental Tire is a division of the Continental Global Corporation. In the United States, Continental Tire manufactures tires under the brand names of Continental and Uniroyal.
Many locations: Continental Tires are sold through most major tire centers and through smaller, independent retailers.
Online tire search: Easily find the right tires by using the online search tool. Consumers can search by several methods, including vehicle and tire size, or browse by category such as performance tires or winter tires.
Online tire education: The Continental website provides in-depth tire education articles. Consumers can learn not only how to buy the right tire, but also safe driving tips and tire maintenance information.
ContiComfortKit: This kit is a tire inflation product, which is stored in the trunk and provides a fast and easy way to fix a flat tire. This is one of the solutions for vehicles that don't come with spare tires. The kit temporarily repairs flats that can then be driven under 50 miles per hour for up to 125 miles.
Customer support: Customers can receive support directly from Continental Tire through phone or email.
Best for Sports car and high-end vehicle drivers, extreme performance, touring, winter, run-flats, light truck and SUV drivers and passenger vehicle drivers.
Continental Tires Company Profile
Company Name:

Continental Tires

Address:

1830 MacMillan Park Dr.

City:

Fort Mill

State/Province:

SC

Postal Code:

29707

Country:

United States

Website:

http://www.continentaltire.com/