How do solar lights work?
As renewable energy becomes more accessible to homeowners, solar lights are lighting up lives



Written by

Edited by
Find Solar Energy Companies near you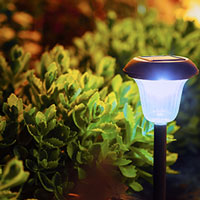 Solar lighting mainly refers to outdoor lighting that's powered by natural energy from the sun. There are indoor applications, but they're just starting to become available.
Outdoor solar lighting has come a long way and is a popular homeowner solution for lighting up a garden path, deterring prowlers or simply providing ambient lighting to cozy up outdoor living spaces. Before you start shopping for solar lights, you should understand how they work so that you can choose the lights that best fit your needs.
---
Key insights
Solar lights are mainly for outdoor use, although indoor applications are starting to become available.
Solar lights are an easy way to help businesses achieve green certifications.
Federal, state, and local solar incentives may be available to help cover the cost of installation.
Solar lights: How do they work?
The main thing to consider is how these lights are powered, according to Jeff Brandlin, the owner of an electrical services company specializing in solar installations in Arizona. There are two ways solar lights are powered:
Passive solar lighting refers to lighting that doesn't require equipment to convert the sun's light into energy. A sunroom, for example, takes advantage of passive solar lighting to keep a room bright during the day. You can also passively light your home through a skylight.
Active solar lighting is the more common solution. This type of solar light is generated through a process of capturing and converting sunlight into energy. Active solar lights utilize a battery to store energy that's collected from sunlight during the day. Then at night, the battery operates the light for as long as there is energy stored to power it.
» MORE: Solar energy pros and cons
How to choose solar lights
Before you go shopping for solar lights, ask yourself a few questions. Brandlin advised, "Think about what your purpose is for using solar lights. Are you looking to use them for general lighting around your home? Or are you looking to use them for specific tasks, like accent lighting or security lighting?"
He continued: "Once you know what your purpose is, you can start to compare different types of solar lights."
Types of solar lights
As solar lights have become more commonplace and homeowner interest increases, companies are responding to consumer demand by offering attractive and affordable options for every design, style and budget.
There are many types of solar lights available for both residential and commercial applications.
Residential outdoor solar lights
Outdoor solar lights use the same technology as solar panels but on a much smaller scale. For example, if you open up an individual garden pathway light, you'll see that each has a tiny solar array and battery embedded.
Residential outdoor solar lights are easy to install and come in a variety of styles, from garden stakes and lampposts to lanterns and string lights. You can also find solar emergency lights and camping lights too.
Commercial outdoor solar lights
Lighting manufacturers are starting to offer solar lighting options for commercial use, including:
Solar street lights
Solar sign lights
Solar traffic lights
Solar parking lot lights
Indoor solar lights
The technology exists for indoor solar lights, but they're a bit more expensive to purchase and install because you need to install a PV panel (or two) on your roof to power them. If you already have a solar array on your roof or are thinking about installing one, your vendor can work with you to include lighting solutions.
Some homeowners who don't already have a solar array but want to use solar lighting in a specific area, such as to light up a garage or shed, may install just a few panels to power the lights.
Other solar lights
Some manufacturers are starting to offer individual solar light fixtures, such as a desk lamp that operates on energy from the sun. These fixtures need to be placed and operated near a window to work effectively.
Benefits of solar lights
There are many benefits of solar lights, from the ease of use for homeowners to the increased green credentials for commercial builders and landlords. Solar lights cut down energy costs for both residential and commercial properties.
David, a ConsumerAffairs reviewer from Florida, is a property investor who has realized the value of solar lighting.
"We have a lot of properties. And we just thought, 'Let's give solar a try,'" he said. "We have a lot of solar lights on our own house too."
Depending on the way you use solar lights, you may appreciate some or all of these benefits:
Energy savings: There are no electrical bills associated with solar lighting systems, so your power bill will decrease.
Easy to use: It doesn't always take an electrician to install solar lights.
Environmentally friendly: Many homeowners like solar lighting because it's a sustainable solution.
Affordable: While powering a whole house using solar energy can be expensive upfront, using outdoor solar lighting is a green solution that's within reach for most homeowners.
Stylish: As demand for solar lighting grows, manufacturers are offering many styles for both home and commercial use.
No wiring or trenching: Traditional outdoor lighting requires expensive wiring and trenching. Solar lights do not because the technology is self-contained. Using solar lights can save time and money.
Helps with green credentials: For businesses striving to achieve green business certification, installing solar lights can help.
Drawbacks of solar lights
There are a few drawbacks to be aware of before purchasing and installing solar lights:
Operating time varies: Depending on how much sun is available to charge your lights, you might get 10 hours of run time one night and half that amount of time the next. That's because operating times depend on sunlight exposure during the day. According to the U.S. Department of Energy, operating times during winter can vary by 30% to 50% unless the lights are designed specifically for winter use.
Specific sun requirements: Outdoor solar lights require good direct sunlight. If your home or layout doesn't allow for that, you can hire a professional to run wiring to roof panels, but this will increase the overall cost.
Replacement parts: Not all makes and models of outdoor solar lights offer replacement batteries and bulbs. This means you might have to replace a whole fixture at the full purchase price. Be sure to check when you're comparing brands and options
More expensive: Solar lights are often more expensive than standard lights, but they eventually pay for themselves. This is especially true if you live somewhere with solar incentives.
FAQ
Are solar lights worth it?

If you're looking for a cheaper overall solution for outdoor lighting, going solar is usually a good idea, as long as your property can accommodate it and you understand the limitations. If you have a lot of bushes or overhanging trees or if you live in an area with variable sunlight, solar lights may not be a viable solution for you.
Do solar lights last only a year?

Most solar lights last anywhere from six months to 10 years, depending on the type of system. For battery-operated systems, you'll likely need to replace the battery after a year. For self-charging bulbs, the lifetime is usually between three to four years.

» MORE TO CONSIDER: How long do solar panels last?
Can you leave solar lights out in winter?

You can leave solar lights out in the winter if they're rated for outdoor use. The product description on the packaging should outline how the system should be used. Just know that dark winter days will impact how much light they can produce.
Bottom line
Solar lights are becoming more common, especially for outdoor uses like lighting a garden or walking path. And more municipalities and corporations are starting to use solar energy to power lighting in order to avoid expensive wiring and trenching. But the upfront cost can be a deterrent, especially if you're unsure about eligibility for local, state and federal solar incentives.
Before investing in solar lighting, understand your options as far as products, costs and incentives. This will help you decide if investing in solar lights makes sense for you.
» GOING FULL SOLAR? Solar panel installation guide
---
Did you find this article helpful?
|
You're signed up
We'll start sending you the news you need delivered straight to you. We value your privacy. Unsubscribe easily.