Consumer Complaints and Reviews

When you first arrive, you have no idea where to find your item. They have no floor plan and when you ask for help, no one reaches out. One time I had a cashier ring me for help. I waited for 10 minutes. 10 MINUTES! I left. Forget about getting through any of the checking lines quickly. They are unbelievably slow, so come mentally prepared.

I am a frequent Hobby Lobby shopper, but if their customer service headquarters can't fix this I will never step foot into a Hobby Lobby again! I came to Hobby Lobby today to return some things with and without a receipt, the return was ok, if they were a bit confused about the policies etc... I was upset that on a $15 item, I only got $6 back, but hey, I get it, I had no receipt. Anyhow, I was looking at possibly learning a couple new crafts to add to my repertoire, crafting can get expensive, and I am a thrifty shopper, so I perused the clearance stuff too. Before I knew it, this happens to me frequently, I had a bunch of stuff in my cart.
I started to put stuff away and noticed that the manager who signed off on my return earlier was following me around. I engaged her in conversation and I tried to walk away from her, but this woman became my shadow. Ugh... I was getting really upset. I did everything I could think of to show her I wasn't doing anything wrong, as I was getting really uncomfortable and felt like I was being harassed. I even turned my purse almost inside out in front of her. I went to check out and she was right there, I almost wanted to say, "Are you ready to go to the front of the store now?" But I refrained. I handed the cashier my free fliers (I always get any I don't have, they're great for inspiration) and told her that I might have something stuck in them, and please check for me. The manager reiterated what I had said and told her to check between each one... Crazy. I left with such a bad experience I don't know what to think or do.
The manager even told me to have a good night. What a joke. Their 1-800 number isn't open until the AM, I am so upset to have been treated this way. I am a Christian, and I would have been ashamed of myself for behaving like this if it was me. I even called the store, asked for a manager and got the one who followed me. Her excuse, when someone gets stuff and puts it back it raises a red flag, and when someone picks up lots of fliers. Also when someone has a large purse, and gets into their purse. I was astounded by her excuse. I understand the need to protect your merchandise, but I also know when someone has crossed the line and should back off. Maybe I am wrong, but this is by far the worst treatment I have dealt with in a store and I am just ticked enough to raise all kinds of crap! I think my next stop will be a Google review. Happy to see I'm not alone in the terrible customer service experience.

Went to the store today and bought upholstery material. Went to the cutting table so I can have the yardage I needed, we laid the material on the cutting table and there was an associate over there but she just kept on doing what she was doing and ignoring us. Finally, she asked us if we needed help and she even has the guts to say "I was wondering why you guys are standing here" but she saw us there waiting. Anyway, we finally decided not to get any more stuff and just go pay for our stuff. Got to the register and the cashier didn't even put our merchandise in the bag, she just handed us a sack and want us to bag it ourselves. The thing is that, the sack wasn't big enough. Employees in these store are so rude and no respect at all. I am just glad that there are other places I can go to buy what I need. I know I will not go back in these store anymore. I will take my business somewhere.

After purchasing a stretched canvas print online for $109, I visited Hobby Lobby to have it professionally framed. A week to ten days later I returned and paid $376.90 for the framed artwork. I thought the price charged for framing was ridiculously high, but given the fact that the framed print would hang on the wall behind the couch for years to come, I somehow managed to justify the amount that I paid.
After taking it home and hanging it on the wall, I noticed that the canvas had several ripples in it. So I returned to Hobby Lobby and showed them the defect. The problem, they said, was that the stretch frame that the print came in was warped. I thought that this should have been noticed after the print was framed, if not before. I also felt that Hobby Lobby should make it right without charging me another dime. However, I was charged another $75.62 on top of what I had already paid for framing. My complaint? It's back on the wall behind my couch, but the canvas is still rippled in two spots. And while I love the variety of things offered for sale at Hobby Lobby, I will never give their framing department any more of my business.

When I got to the register I noticed they did not ring up at the sale price, she told me they were not on sale. I explained, "they were next to a 50% sign". The cashier called the manager over and the manager showed me and the sign says in fine print, "$22.99 and up". I again explained, "the sign was right next to these" and she quickly dismissed me with a "well, I'm sorry" and then looked at me as if I was Crazy. Just another example of why you make my shopping experience hard at Hobby Lobby.
Why do I always, or most of the time see 3 to 4 employees standing up front doing nothing but talking while you have customers in line? Well, I ask one day and was told they were all department managers and were not assigned testers. As a guest in your store, it is very disappointing. That you have people just standing around who cannot open a register. I doubt I will return to Hobby Lobby. The sad thing is, I really do like your products, but it's becoming less worth the effort.
How do I know I can trust these reviews about Hobby Lobby?
851,761 reviews on ConsumerAffairs are verified.
We require contact information to ensure our reviewers are real.
We use intelligent software that helps us maintain the integrity of reviews.
Our moderators read all reviews to verify quality and helpfulness.
For more information about reviews on ConsumerAffairs.com please visit our FAQ.

Placed an order for hinge clips. Padded envelope weighed 8 ozs. Was charged $7.95 for shipping a first class envelope. USPS charge on their site is $3.39. Hobby Lobby charged a whopping $7.95! OUCH!!! Nice profit on a handling charge.

Went to the Elizabethtown, Ky store. I purchased 9 skeins of yarn on sale to make a project and got a rain check for three more. One of the colors didn't match and I returned the 3 unneeded skeins to exchange for a different color. I was told when I tried to exchange the wrong color that I would have to pay the difference since it was no longer on sale. It was the same brand, same type of yarn, with the only difference being color. I pointed out that I've never had that happen at any other store and the manager there got on the phone with another manager and finally relented. Why should I have to make an extra trip to the store when my rain check product would not be in until the next week? The only reason they received two stars was that they did relent and do an even exchange and the cashier was nice. I don't see my money heading their way again.

Went into Coral Springs location. Wanted to purchase 2 kid's writing books at listed price $1.47 each. Got to register after waiting in line for 9 minutes with only 2 cashiers and 8 people waiting. The sales associate rang up both books for $3.99 each, I showed the associate the price tag that was listed on the both books at $1.47 each. The sales associate called the manager over, the manager clearly saw the Store Error and stated, "Well the books are suppose to be $3.99 each not $1.47, sorry for the misunderstanding." There was no meet in the middle with price since it was clearly a store error. The point is there was no managing of the situation, clearly customer service sucks! Next time I will take my business somewhere else. Shameful???

I recently purchased a new home and have been spending a lot of money on new things for this home that is nearly three times the size of my previous home. I say this so Hobby Lobby knows they could have made a nice little penny off me if they had their "stuff" together. I found the perfect little end table to sit next to my new chaise on their online store. I jumped on it and added it to the cart and the site had a banner that said 40% off highest priced item. Now I'm not dumb and not going to take advantage of that, who wouldn't. The problem is that after applying the code the discount amount was "deducted" but strangely enough the subtotal was exactly the same after the $21+ discount. Now I don't claim to be a math genius but I'm pretty sure when you subtract 40% off something the price is generally, oh I don't know, at least 40% lower, not the same as when you started.
So I thought maybe it will fix during checkout so I hit checkout hoping to see my new total. Nope, same price. My thought on this is how many times have they done this to people who weren't paying attention and just checked out and then realized their discount was no disciplinary not at all... I would have paid the full price as I loved the table but after that I thought "no, I'm not giving my money to a company that is one, either blatantly trying to rip people off, or two, so incompetent they can't maintain a website cart capable of subtraction.
So sadly I'll continue the search for those perfect accent tables, vases, wall art, throws, pillows, lamps and other trinkets. I'm still shopping for at ANOTHER STORE. I already have several things I purchased from the local Hobby Lobby and I'm a crafter so I think from now on I'll take my business across the street to Pat Catan's. I don't like being made to feel I'm being taken advantage of and this experience left a foul taste in my mouth for this company.

1st off, I'm not normally a complainer. It takes a lot to even get me rattled. I am a mother of two teenagers so this bothered me. I'm at the checkout counter and next to my counter an older woman employee answers the phone. I'm assuming for her to answer the phone maybe her position is higher than a cashier, I'm not sure. Obviously someone called to ask if they were hiring. The employee rudely answered "No, we're not", and hung up. Then she said to me, another lady in line, & to a cashier or 2, "We're hiring, but if they're too lazy to get their butt up and come in here and asked if we're hiring and come get an application then I'm just gonna tell them we're not hiring!"
I couldn't help but respond to her, since she was speaking to us, that I have two teenagers at home that were not yet driving because it cost $400 per child to get a driver's course in Louisiana. And added, truly I make my teenagers call and ask if people are hiring so I don't have to waste my time and gas I have little of driving them around. I was pleased that the other customer also chimed in the same.
Regardless, I would think that if you are especially a Christian family store you would not TRY to OUTWARDLY be rude to people because you ASSume are being lazy. Also, the reasons why my teenagers aren't driving, I do know other teenagers whose parents just don't let them drive yet, but expect them to work. And you can work without a driver's license. When I was younger the only way to get a job was to call or look in the paper & send in resume. Many businesses these days ask for an internet application on their site, which scares me, because I'm afraid my child will miss out on an interview if not present. Things have changed drastically but our attitude about anyone wanting your work these days shouldn't be because it's few & far between that want to or even have to. Let's not stomp them just from picking up the phone.
I've owned several furniture stores in the past, in a very small town where most people rented to own their furniture. They walked in off street, even my 2 employees who delivered for me didn't own cars. I KNOW how hard it is working with the public especially when they always want a deal or they always want something free, etc. but your business will be so much better and flourish so much more if you are kind, you do not have a chip on your shoulder, and/or take out your personal views on everyone else. You have no idea what's going on in everyone else's life so be kind. In a Hobby Lobby I always expected that. Maybe I shouldn't have.

Horrible service. Long shipping time. Called one week later about the status of my order, they still had not processed, said they will ship it that day and will take another week in transit. 2 weeks after placing the order for me to receive the items. Said I can return the items if I do not need them anymore, but only online. They do not allow me to return them to the store near my house. Plus people who took the calls sounded as if they were with drugs or sleepy, called at 1:30 pm. Avoid suffering, do not buy from this online store.

The checkers at this establishment do a good job. The management however DOES NOT. After waiting over half an hour to speak with someone in management I was told the same answer and not treated as a person. It is ridiculous that even if you have your receipt you are unable to return items that you purchased at the price that you bought them. The entire situation was completely unprofessionally handled.

I shop weekly at Hobby Lobby for craft supplies. I just want to recognize the 5* service I experience at HL in my area. Vicky **, Christine **, Diana, Alice, Carol, Annie, Barbara and others make my shopping needs easy. They are knowledgeable of products at the store. My spirit is always lifted higher when I buy one thing or a cart full of items. They love their job and it shows. It very different at some stores you go in and the employees walk right past you like you're invisible. Doesn't sit well with me. I can go elsewhere and do. Please keep these wonderful employees!!! They work hard but still have fun. One of the crafters in the last craft festival told me they don't have a Hobby Lobby where they live. Oh, that's sad. I'd move. Lol. They enjoy stocking up on their craft supplies during the craft fairs in the mall. Thanks again. Keep up the great work.

I went to Hobby Lobby in Maplewood MN to return 2 items with no receipt that my 15 yr old daughter had received for her bday. They gave her 40% of the actual price on a in-store credit card which came to $115.42. 9 days later when we went to use the in-store credit it was declined and said there was 0.00 on it. I contacted customer service the next day and got a run around and never heard anything since that day which was Sept 23rd! How can a store not only rip people off when the items hadn't been on sale in the last 90 days by only giving 40% but also return items and then keep the items and the $ that was supposed to be on the in-store card?
This place is ridiculous and they lost a great customer as I have spent hundreds of dollars in that store!!! I have let many of my friends know of the scam they are pulling and hopefully no one continues to shop there and they get shut down. They rip people off all the time. Also when a neighbor of mine had returned some things they only gave her 20% of the purchase price on a in-store card!! I guess the more money you spend the less $ they're willing to give you back or do an exchange for. Smfh.

Is it a prerequisite that you must be haughty, rude, and completely void of any customer service skills at all to be employed at Hobby Lobby? I frequent the College Station, TX location at least three times a month, spending anywhere from $50 - $150. Today, I actually just needed to pop in to grab some jewelry making items. The aisle had two women working in it and of course they had a huge cart blocking the area I needed to look at. When I asked the lady if she could move her cart a little so that I could grab what I needed, you would have thought I had six horns and on my head! I mean seriously, if you want your customers to shop, then let them shop! Stock or rearrange the items on the aisles, after hours!
This is not the first time I have taken offense to the way the employees act there. No, it is not very Christian-like behavior for a company that seems to promote and thrive on that note! If there was anywhere else, I could find what I needed without having to step foot inside the Hobby Lobby door, I would do so in a nanosecond! HL, you need to get your act together. We, the customers, are what make you successful. Without us, you would be nothing but a garage sale.

I have been to this store at Daphne, AL location for many times and never once I have been treated fairly. I always give everyone the benefit of a doubt and seeing the positive side of it. But, unfortunately and as much I hate to write this bad review, I have to say something about this store to let the public know the ugly side of it. So here it goes. Firstly, the staff act like they were so annoyed whenever I asked a question or whenever I pull out a coupon. Secondly, it is hard to find any staff around whenever you needed help. It is very known that this area is very prejudice against the minority and this store making it even worst. The staff would be very friendly to the majority race of their customer but to a minority like me there is a strong sense of resentment and they are not worried to show it.
It is very disheartening to know that the company are base on a very strong religious belief but they had failed to carry it to their own staff. Not very Christian and shame on them for having such a double standard on customer service. I will avoid this store as much as I could from now on and for those who are the minority race in US, I advise you do the same. I've been to too many parts of the world and never in my life being treated so bad like this before. I'm not the person who like to write a bad review but this store left me with no choice. It is so bad that you can hardly meet any other minority race shopper in this store and I thought I was being paranoid. Yes, not even any minority employees. I hate to bring the race issue but it is too obvious and it's just getting really ugly. Never again Hobby Lobby.

I get HL promotional emails. They say "Free shipping" but when you open it, it's free shipping only on orders $59 or more! What's the big darn deal since that seems to be their normal requirement anyway. Other stores like Joann or Michael's, they send out Free shipping subject line heading emails ONLY when it's actually free with minimum purchase. Often, they have free shipping for just $29 purchase or even less. HL however constantly misleads customers with their "free shipping" no big deal emails. The fact that other stores accept competitor's coupons but HL doesn't, it turns me off. They think high and mighty of themselves which turns me off. As someone else has said, some of the staff in my local MI store have an uppity attitude towards non-white customers. The younger ones are better.

Went into Hobby Lobby in North Myrtle Beach SC two days ago. The employees acted like they would rather step over your dead body than help you. I finally called them from the parking lot to get some help. No numbers and signs on the aisles so I still had to look for what I wanted but at least I knew what aisle it was in. So, I find what I want, 6 half sheets of paper for $11.99 (20 full sheets for 19.11 on eBay). Ok, off to the checkout. One cashier and one other customer. Not a problem except they're talking about receipt and not moving anytime soon. After five other customers pile up behind me, they open a second cashier and suddenly I either, in a non-moving line or behind those five people, that came in AFTER me. I took the third option, walked out.

Today I returned two packages of river rocks, with receipt and unopened, to the local HL store. I had no trouble receiving a refund for the full amount, and the two ladies that took care of it were friendly and polite. It seems if items are returned within the parameters of the return policy, in saleable condition, you will have no trouble.

Shopped at Hobby Lobby, spent close to $300, check was declined due to recommendation by Certegy. Paid with ATM same acct. Called Certegy who could not state why declined. They don't check with bank for funds available, couldn't state what guidelines they use to decline, but wanted to sign us up for VIP status to make it easier to clear. Told them absolutely not, that the only reason to decline a check is insufficient funds and how would they know if they don't check with banking institution. As far as we are concerned this business is a huge scam and committing fraud daily. Won't shop at Hobby Lobby again.

Rapid City, SD store had a clerk AND a manager lie to me in one day!!! Walked out unsatisfied, pissed, and disgusted. Clerk broke my lamp, lied about it right in front of me then manager told me how he would make it better, then went back on his word!!! No longer loyal customer unless someone can put this all right.

This was my first experience with Hobby Lobby and it was 5 Star all the way. I called the Lakewood, WA location to locate an HO scale train set for Christmas and was told they had one set left. The sales person indicated they would hold it for me so I drove to the store to purchase the item. I couldn't believe how helpful and friendly the staff in this store were! The train set was actually $20 less than the price advertised on their website. They also had the best selection of Bachmann train sets in town. The set I purchased, was of high quality and exactly as advertised. It was easy to assemble and everything worked perfectly right out of the box. I highly recommend Hobby Lobby as a great place to shop. Great selection, very customer friendly staff, and easy check out.

I have had the honor of using your free classroom to teach decorative painting and seldom does one of my students leave the classroom without buying supplies and more. I had prepared a TOTALLY FREE GINGERBREAD ORNAMENT CLASS which I paid for all supplies, brushes, basins, paper, palette paper, ran off over 100 flyers and posters and completely arranged. I was informed by your manager that she would post posters and hand out flyers. When I got there the day of class, no posters were up until after I approached her and informed her how that would impact the class. She also handed me over 60 flyers which I myself tried to pass out but I had to get to class to teach the one student who had showed up. She was a friend of a member of our chapter. I expected at least 20 who probably would have gone out and bought more supplies to make more.
In the past Robin has been most accommodating, but the middle-aged woman who would not give me her name or her district manager's name was of absolutely no help. The whole endeavor took months to arrange and was dismally carried out by your store. My chapter suffered, your store suffered, and your customers hearing that I was getting no help from your manager suffered. Price the items I need to chalk paint, paint, graphite paper, palette paper, brushes, paint, alcohol, chalk pencil and copies. A small fortune and I hoped to get members for future classes and you future customers. Evidently, not the goal of your manager.

I am absolutely disgusted with my purchase from this company. I was better off going to the store an hour away instead of purchasing online and waiting over a week to receive an order that was clearly damage prior to shipment. I ordered the bloom acrylic beads which clearly the container was dropped, cracked, the beads swept up and then taped shut prior to shipment. I guess their packer "Irene" thought I wouldn't notice the qty missing or much less the dirt and wood chip inside the container? I have taken pictures of my order if anyone would like to see! I went to their Facebook page and couldn't post my review but I did send them a message with a photo. My suggestion to those who order online use PayPal so you have a better chance at getting a refund!

I love to shop at Hobby Lobby, however 99.99% of items are only Caucasian. You would think that all nationalities shop there, and they would cater to all... not just to one race. I'm not prejudice by no means, however would like a variety to choose from. For example out of all the angels they have up for Christmas, I only found 4 African-American angels. I spoke with manager at store today, and he said they can't suggest items. He stated that I would have to call customer service with request. The store is located in Greenville, South Carolina off Woodruff Rd.

Don't get caught in this store 30 minutes before closing. The staff flicks the lights on and off to run you out and the manager stands by the door nodding at everyone as they exit. Rude trained staff!

My family and I went into the Hobby Lobby store in Goodyear, AZ. My children became thirsty while we were shopping and I asked an associate if they sold drinks for my children. She replied "no, we do not." It is currently 110 in Arizona and you have a store that does not sell drinks nor offer water to my children to make up for it. Due to this we gather the small amount of things we wanted to purchase (we would have bought more items) but had to get the children drinks. We went to make the purchase and I asked the cashier if they had military discount where I was once told again, "no, we do not." So not only do you not sell drinks in one of the hottest places but you do not offer military discount. I will not be shopping at any of your stores again. I'm very disappointed that you want everyone to know that you are a Christian company and you do not support the soldiers who are out there fighting for YOUR freedom!

I have been crafting for the last three years and do well for myself. I stop at Michaels, I shop at Joanna, Flower Factory and so on. Everyone that crafts know how expensive everything is for no reason. I had two 40% off coupons. Like Joanna, as long as the codes after different then you can use both or however many you have. When I asked the young lady if I could do that and she said, "only one coupon a day." I laughed a little and told that even Joanna has started honoring all the competitors coupons. She was a young girl and really didn't know what to say to that. And I love Hobby Lobby, I would shop there more than all of them, but I went Joanna and with my text messages and the coupons on my smartphone at Hobby Lobby and Michaels I was able to use them all. Now that makes me happy and want to keep coming back and I tell everybody.
Then I went back late later in the evening to get a bow maker from Hobby Lobby. It wasn't the same girl that waited on me but she was still there. The little girl rung me up. And before I could get my bag in my purse, she looks at me and tells me, "I'm going to order it this time but you know only one coupon a day." So the little girl, behind her of course, "That's something. It shouldn't be like that. Everything is overpriced, you should be able to use more coupons and they need to tell their workers not to throw jabs at customers."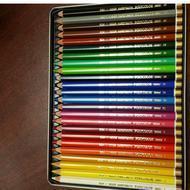 Bought a set of expensive colored pencils - got home, realized they're oil based not wax like I was supposed to get. Had receipt - store won't take it back, manager wouldn't either. Only 9 days later... They said because they don't sell that particular package anymore - they won't return. These are 30 dollar pencils! There were only 2 items on my receipt and they said they couldn't find the price to refund me since they didn't carry this package size anymore. Though they did bring up the same brand pencil package - but a 12 count. The manager even said no. I spend a lot of money in Hobby Lobby and I won't anymore because they do not honor their word. I'll also be telling everyone and anyone that comes within 3 feet of me and that walks in my business doors.

I went into Hobby Lobby to return some bracelets with a "receipt" but when I tried to get a refund I was told I need the original packaging. Who saves original packaging? I always save my receipt but I buy a product with the intent on keeping it. I bought the bracelets, put them in my drawer, and threw the package away. When I went to wear the bracelet, discovered the latches on them all were super hard to open, so difficult to open that they cut my fingers trying to open them! That is a defective product. Why on earth do you need original packaging for defective product? To repackage them and resell them to some other sucker? Is Hobby Lobby that hard up? Buyer beware!!!
Hobby Lobby Company Profile
Company Name:

Hobby Lobby

Website:

http://www.hobbylobby.com/