High Tech Pet Store
Ventura, CA
Consumer Reviews and Complaints

This company has saved my family's "Pet Problems" many times! They always have the products we need and they are always top notch. Customer service has been wonderful every time we have called in to ask how to set up a product. They have even given us great training tips. I am posting this review because I am shocked to see bad reviews for this company. They have been nothing short of excellent and I would recommend them to anyone!

High tech pet 30 acre in ground dog fence - This product is junk. twice now the collars battery has leaked and burnt my dog's neck. The company never returned phone calls or email. They totally ignored my first attempts to resolve this problem and get a refund. Now again this collar battery leaked and has burned my dog's neck only worse this time. The collar was not tight yet the probes burned into his neck. This company does not stand behind their faulty products. They don't even try to solve the problems and have no regards to what harm their product is doing to the dog.
This is not a reputable company. DO NOT WASTE YOUR MONEY ON THEIR JUNK PRODUCTS AND SAVE YOURSELF THE AGGRAVATION OF HAVING TO DEAL WITH THIS COMPANY. All they do is take your money. This company is a scam. I read reviews prior to buying. I did my research at that time there were no bad reviews. Hope this saves someone from buying from this company and the hassle of having to deal with them.

This has to be the worst animal door EVER. Knobs broke first week, batteries so expensive do not last 6 months as stated and problems began after 3 or 4 months with door not closing just going up and down for 20 minutes when I just couldn't take it any longer. A huge waste of money and this company has NO CUSTOMER SERVICE WHATSOEVER. STAY AWAY. Check out Solo Pet Door. The owner and developer is there to talk to you and is so helpful and knowledgeable.

Buyers beware! Our family is absolutely shocked and disgusted with High Tech Pet. Let me explain. We purchased a X22 Bluefang 3 in 1 from this company. It was understood by High Tech Pets, as advertised, that if the product doesn't work for us we could return the X22 Bluefang 3 in 1 and we would be completely refunded. We packaged it up and returned it immediately after a customer service representative confirmed that there would be no problems per their web site. This was one of the reasons we purchased it since High Tech Pet advertised this option. We returned the product to High Tech Pet in good faith. In fact, we returned the Bluefang 3 several months before we even began questioning High Tech Pets of as to why we had not received our refund. We had to begin asking tecsup@hightechpet.com, many times, requesting them to send our refund of $454.94.
It was understood by High Tech Pets and us that we needed to return the X22 Bluefang 3 in 1 before they could send us a refund check. The refund never arrived. We patiently waiting for the refund check from High Tech Pets. Finally we were forced to question High Tech Pets about this problem. We made many phone calls and communicated via emails to High Tech Pet. We now realize that High Tech Pet has fraudulently refused to refund our money. This is downright fraud. This is outright stealing! We are reporting them to the Better Business Bureau and anywhere else we can. We hope that customers who read this will think twice before doing business with High Tech Pet. In our state this would considered a felony. We intend to check with their state regarding this crime. It is a shame that a company would take advantage of its customers in such a deceptive way!

Unbelievable junk that they sell. Their products are junk. When you call for a refund you get the runaround. Their automatic pet door did not work correctly. The dog collars are pieces of junk as well. They fall apart all the time and often won't signal the door to open. They sent replacement parts for me to install and they still did not work. I am still waiting for a refund. Customer service will not respond to my phone calls or emails anymore. They do not honor their warranties and their products are so poorly designed that they fail immediately or soon after the warranty expires (1 year). They also charge outrageous fees for battery replacements and made their collars such that you can't use an over the counter battery, rather they take an over the counter battery and install it in a proprietary case so that you must buy it from them at a 1000% marked up price compared to normal retail, just so they can screw you even more. I hate this company.
How do I know I can trust these reviews about High Tech Pet Store?
881,173 reviews on ConsumerAffairs are verified.
We require contact information to ensure our reviewers are real.
We use intelligent software that helps us maintain the integrity of reviews.
Our moderators read all reviews to verify quality and helpfulness.
For more information about reviews on ConsumerAffairs.com please visit our FAQ.

I purchased the PX-1 Medium Power Pet Door on 5/25/2015 and 2-days after installation the door (from the inside) would not open with the signal from the dog collar. I notified High Tech customer service of the problem on 6/1/2015 using their specific email address and again ten days later and never received a response.

Bought a BT-2 bark collar last year. I LOVED the fact that it basically had a microphone so the metal probes did not have to touch my dog's skin. He would bark, the collar would beep, and he hated the beep so much it kept him quiet without the probes touching and without being shocked. Worked great for about 8 months then stopped working. Filled out a tech support ticket which is very easy to find on High Tech's website. Well, that was 1 month ago. They claim they normally get back to customers in 24-48 hours, sometimes longer if they are busy. But ONE MONTH?
I've already purchased a replacement bark collar from another brand so now I'm just continuously sending them emails every week for fun to see how long it takes for them to respond. I'm a busy guy, I don't have time to talk to someone on the phone during business hours. If you can't answer the email ticket system you clearly represent on your website to back up your warranty, then ** you. I've already told all my friends with dogs (which is almost all of them) to skip High Tech Pet and go somewhere else.

Original Review
*WARNING* This company will scam you with both lousy products & awful (really awful) customer service. Go look at them on the BBB & AMAZON. You'll SEVERAL complaints/issues. LOADS! And most remain unresolved. The company (High Tech Pet - which is laughable) has its OWN rep JUST to work with the BBB... which should tell you how terrible they are. There is a reason they have their products & collars are ON SALE.
First of all the collars don't work more than say 10-15 feet from the smartphone you use. The link/connection continually gets lost. And if the dog is outside? It barely works, through even a window. Super annoying. There is no 200/300 foot radius with these collars. Barely 20 & that is being generous. And the batteries? They last maybe 2 to 3 weeks... so be prepared for that cost to maintain these collars. Oh & the smartphone/device they are linked to? You'll need to leave it both on & the app OPEN. Yes, open. If the screen fades away, the collar won't work. Yeah, handy. The auto shut off most phones/devices use to preserve battery life means the app won't send any messages to the collar. That is fine if you only use it for training... as you can open it & use it. But if you use the anti-bark feature? Won't work once the phone/device auto shuts off.
We used an iPod, kept it plugged in & ON. Like turn off the auto shut-off feature ON & awake so the collar worked. (If you use the anti-bark feature on the collar, it needs to be active & ON & open to work if you are away & want it to stop your dogs from excessive barking. Kind of the whole point... as it offers both training & anti-bark.) Super handy? Not so much. You will need to also buy another device JUST for running this collar, to keep it on & open to work. Not very handy or cost-effective. The best part is if you try to return the products to this company, (not Amazon), they will continue to return the items back to you & say they never received them.
Oh & good luck trying to phone them. They either don't answer, or the number does not work - if you are calling from any country outside the US. Most companies with a 1-800 number are worldwide, especially if you offer shipping all over the world. Why make the customer pay long distance to call your company? (Makes no sense.) I wish I had bought the collars on Amazon, as returns would not have been an issue. Amazon is amazing in providing fantastic customer service (seriously) & keeping the sellers they work with honest. My mistake for buying outside of them, as now it's a fight to get the products returned back to the company that sells these collars. SO if you do decide to buy one, go through Amazon only... not the High Tech Pet Products company itself. You'll regret it. If I could do ZERO stars, I would!

I certainly wish I had read these reviews before purchasing the HighTech dog door and putting a big hole in my wall. I ordered the 100% WATERPROOF collar as we live beside a lake. This collar is NOT waterproof. Within one week, it stopped working and when the collar was opened, it was soaked with water. A replacement collar was sent after MANY phone calls (at my expense as the 1-800 # does not work from Canada) and many more e-mails, and that collar also failed after one swim in the lake. Customer service is nonexistent at this company. NO ONE answers the phone or e-mails. NO ONE returns phone requests. It is the worst customer service I have ever experienced and I will certainly discourage my interested friends to avoid purchasing from this company. There is NO HELP suggested.....
I guess they will just keep replacing the collar until the warranty is over and then expect me to pay for new ones every few weeks. Luckily, winter will come in 6 months and I won't have the problem until next summer.

I downloaded the app (for Android) today (Feb 21, 2015). No problem downloading. But when I went to start the connecting process, it does not have a "Main Menu" to start the process. I CAN'T EVEN GET STARTED! So far, I am very disappointed in the technology aspect of this product. I have a Samsung S5 which is the best Android out there! Why do they only work on iPhones? There are MANY more Android phones out there than iPhones. Can someone help?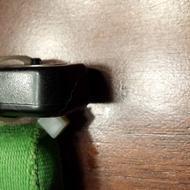 I've owned my PX-1 electronic dog door for about 7 years. We bought it because we were tired of getting up in the middle of the night to let the dogs out, and we travel several times a year, so having the electronic door has been a life saver. While I can't imagine using another type of door I certainly wish this product was better made or another vendor would produce one like it. I agree with the many complaints about this product. I'm in the Air Force and have worked with electronics most of my life. I don't know if it's the constant use or the limited exposure to the elements, but I will say that I've never seen a piece of electronics fail as often as this product does. Our aircraft are constantly subjected to changes in temperature and pressure and in most cases hold up for 30 plus years, not to mention I have a $5 alarm clock that has worked faithfully for over 25 years.
In the time I've owned this door I've replaced the collars twice, the main circuit board once, and I just ordered new sensors. While the repairs are easy, the parts are somewhat expensive. The transmitters fall apart easily and the collars really suck, so I used a couple of plastic cable ties to keep them together and secure them to a regular collar (see attached photo). Exposure to water and snow is obviously an issue, so I'd recommend purchasing the water-proof ones upfront. The batteries only last about 6 months, and you can only use a specific type of battery, so stock up.
My biggest frustration has been the unreliability of the door. Most of the time it doesn't just outright fail. My wife will mention that it's not working most of the day, and when I get home it operates just fine, making it hard to identify what's failing. If you do some searching on their website you will find that you can buy refurbished models. While most people are afraid of purchasing refurbished products, in my experience they hold up better than new ones and of course cost a whole lot less.

As I write the description for the Blue fang Phone Controlled Collar (BF-16) states that the unit is compatible with Android Phones - "Works with iPhones and Android." IT DOES NOT WORK WITH ANDROID! Not Yet...My wife purchased the "World's first smartphone controlled collar" for me last week and it arrived quickly enough. However, inside the package was just a basic invoice and the box with the product inside. Inside the box was just the cheap looking collar... that is it. No paperwork, no instructions or manual, nothing. As this unit is controlled by a "free downloaded app" I wondered how I was supposed to obtain the app. But there was nothing in the box that mentioned this, so I went back to the website.
Eventually I found a link, though I don't think it was on the product page but elsewhere, only to find the link sent me to a page where I needed to download iTunes to get the app. I then started to wonder where I could get the app from that worked with Android, and searched the web and Google Play Store, nothing.
Then, *Sigh* I tried to call the customer service telephone number, and was asked to hold on for an agent that never came, twice! I later found another telephone number for High Tech Pet on another unrelated website! I called and talked to a guy named Neil. This guy instantly realized my problem as soon as I mentioned I couldn't find a link to download the app...he said, and I quote, "Oh (little laugh) don't tell me, you are using Android, who uses Android? The app is not available for the unit but should be in a week or so." I asked for a guarantee for this and he replied, "There are no guarantees I'm afraid." This was just the beginning, and there's more in between, but I'm going to jump forward until a day and a half later when I finally tricked their phone system and got an agent named "Liz" who didn't like the fact that I was upset because I had been lied to, that I was sold something that I was told would work with Android but which absolutely did not! I had a $150.00 worth of erm..well NOTHING!
What did Liz say? Oh, she said "What I can do is send you some free batteries for the collar." I said, "Now why would I want spare batteries for something that doesn't work!" I mean seriously, is that not the most crazy thing ever? Let's collect batteries everyone. She did tell me the app would be ready on December 1st. However, when I talked to the other guy the day before he told me that, even when the app becomes available it will probably not work on ALL Android devices. So BE WARNED if you are buying this to use on Android devices.
I could go on... but it's pointless, these people should be ashamed of themselves, but, well they ain't. I noticed they have tonight put up a little note that you have to really look for stating Android available on Dec 1st. But they probably only did that because of my threat to complain. I did keep a copy of the original webpage though and so I can prove they are a bunch of liars because I have the image of the webpage that clearly shows NO mention of the Android App not being available.
****************************
This review is a continuance of an early review I wrote recently. I have not included all previous information but felt that because these guys have continued to ignore me and blatantly make claims on their website that simply are not true, I had to write again. I am also concerned that during my own investigation into these people I have found a link to another company "High Tech Pets" and bearing the name "Nick **" which were involved in a civil case in California in 2007. I believe these are the same people doing the same stuff they did before under a different name and that they appear to be getting away with it. If this is the case then I intend to report them, and provide all the evidence I have collected regarding this company.
My original purchase was for the Bluefang Phone Controlled Training Collar. I received it, with no information, and I have yet to get the collar to work due to the unavailability of the promised "App" and lately because the provided APK that they are now advertising, simply does not install.
Here is what has happened recently...
12/04/14 - Approximately 5pm EST. Received a call from 'Liz" this evening. She was very apologetic, explained that their Android App was going to take longer than expected, perhaps beyond Dec 10th. I explained to her I was not interested in excuses, nor did I wish to argue. She then offered to send out a additional collar system, which I can use while I wait for the app to become available for my purchased Bluefang collar. This will be at no charge to me and it will be shipped out the following day. I agreed to this and await the package in the mail.
12/06/14 - Received package with replacement collar. Again there was no manual inside the package and two short hair prongs were not present in the box. The contents were inside the shipping box. No product box was included, no product information. The antenna was already attached and appears to be damaged. I took photographs. I found a link to the Express Collar Manual on the High Tec Pet website which I downloaded. I followed instructions and could not get the unit to function. I thought maybe the unit needed charging, so charged using the dual charger included.
12/07/14 - Removed collar and transmitter from charge and made several more attempts to get the unit working. After this I determined I have just another non-working dog training collar.
12/08/14 - Call the company hotline twice today (10:30am & 3:30PM EST. ) Both times left a message with Liz on extension **. I reported that the Express ET-1 Collar I received did not work and contained no paperwork, and damaged antenna etc. I asked for 'someone to call me back ASAP' but have not heard anything as yet. Between 5pm and 6pm. Cheryl sent a message to various HTP email addresses, because there appears to be a problem getting through with them (An auto-block message is returned quickly after.) She also sent the same message through the "Support Ticket" function on the website.
12/11/14 - 7:28pm EST. No response from company in any form. Checked website for App, but still only Apple iPhone App available for download. Saved webpage which still states that the App will be available "Dec 10th." Too busy with work to mess with these guys, but will catch up soon. (Also noticed that the same product is available on Amazon at $199.00. The description there also states that the unit works on Android. Have saved that webpage too and intend to inform them.)
12/13/14 - Checked http://www.hitecpet.com today and noticed that a new bar code scan image was available for Android and I downloaded the apk. It didn't install, mentioning "Parse error" which probably means it is not working for my device. As the company are choosing to make the app available this way, I can only presume it is not yet verified by Google Play Store which requires the the App to work on almost ALL Android devices. Maybe it does not yet work on any? Once again, another waste of time, and I'll send another message to them via their website tomorrow. However, as they have not yet responded to my earlier attempts to contact them, I doubt they bother to contact me this time either. File Info: Bluefang_1_0_7.apk (Copied Webpage as of 5:45PM EST)
******************
If anyone wishes to contact me in regards to taking legal action I would be happy to hear from you.

I purchased the high tech pet door in September 2010. The installation was easy and I have had NO PROBLEMS with this door. The original collars were problematic and the batteries did not last very well. Since that time they completely re-figured the collar making installation of the battery simple and easy. The ONLY time I've had a problem with the collar was my own fault. I forgot to take it off when my dog played in a baby pool and it got wet. My one suggestion I made to the company was to use a snap on collar for ease of removal. I've been making my own. I purchase a regular collar and cut off the snap ends and sew them on. This is such a great idea! This door has been one of the best purchases I've ever had and I don't want all of these bad reviews to influence someone considering buying one. I LOVE IT AND SO DOES MY DOG!

I have had the high tech collar for my 60 lb boxer for maybe 3 months. Just had the 1st battery die out and bought replacements, Poor design for collar/battery can only buy them for that collar. But the issue I had was when I replaced the battery it immediately started beeping with low battery lights so as I had bought a 12 pk of them I went through them all and had the same issue. But before I called the company I remembered when I had my pet safe collars I needed to sync the system.
Step 1 remove battery, hold test button for 3 sec.
Step 2 go to control panel, SHUT off system and Turn it back on.
Step 3 turn system strength to high then to low and then to the setting you prefer.
Step 4 Put new battery in collar and check at the wire to make sure all is correct with distance and sounds.
I hope this helps some others because after checking 12 batteries and having the same issue I was ready to call and shout at someone at high tech. Luckily I didn't have to because of this reset I remembered..

Buyers beware. The expensive but poorly made dog collars will need to be changed every 90 to 120 days. I have gone through at least 25 and I'm done with this company. I am going back to the flap door. At least it is reliable. High Tech Pet products is a scam.

I wanted to write a review on this website because I felt like all I read were horrible, negative reviews that really made me doubt our decision to purchase from this company. I won't lie... I felt a little anxiety over whether I'd have a hole in the wall and be out $400 when we had an issue after reading all these complaints. I know that usually if people have a normal, good experience, they don't take the time to comment but I wanted to share my experience with the thought that maybe it'll put someone else at ease.
We bought a doggy door in January (we purchased it through Petsmart.com). Over the past 5-6 months, we've had little hiccups here and there such as the door going up and down repeatedly one night (I just needed to reset it) or the collars not working (good thing I bought extras). But recently, it stopped working altogether. I called and got a live person right away who told me it was probably the sensors on the door and that once I sent a receipt verifying it was purchased within the past year, they would send out a new set. They offer a one year warranty on all of their products. I originally had sent the receipt to the wrong e-mail address but when I called back, a man gave me his e-mail address and told me he would ship them out that day.
I was skeptical because of all the bad reviews I had read but 3 days later, I received the sensors and my dogs are happily enjoying their freedom again. I have also recently submitted receipts for the two collars that stopped working. But none of this issues make me personally feel like this is a bad product or a bad company. Some people may say that having sensors and collars go out within 5-6 months warrants it a bad product but with the amount of times my dogs use this door, I didn't feel that way.
I've read reviews for all three of the main doggy door companies and there's negative ones for all of them. I just want people to know that while this door and the collars are not perfect, we are very happy with this door. I want people reading these reviews to know that most of the negative reviews were written a couple years ago (at least) and it's possible that over the past few years, things have changed. I want that person out there that's like me reading these reviews and wondering if you should've purchased something else or if the door will get fixed that I had a good experience and to not count them out yet.

Do not be fooled by this company's claim that they want to make you their biggest fan. I purchased this door and had a large hole cut through stucco to have it placed. Soon I was having trouble with the collars not working. They sent several replacements before I had one that worked. Shortly after that I had the sensors in the doors fail and had to replace the sensors. At $35 per collar, you would think I could get one that would hold together. After all the companies make the product for a large dog. Finally, I purchase their MS5 collar which works only with the company's batteries, but at least has a screw to hold it in place with a large Boxer's play. That collar is at a considerable higher price of $69.00.
I don't know what I would have done if I had lost a dog to heat or cold exposure like I have read has happened with other unhappy customers. Obviously I consider my dog a member of my family or I wouldn't be spending over $500 for a doggy door. I worried about the power going out so got the entire back up battery system. Little did I know power outage would not be the problem but rather High Tech Pet product outage. Now I am stuck with a hole in my wall. I would love to convert it to a manual doggy door but I don't know how I would do that. This product sounds like a great idea but it is nothing but a pit in which to throw your money.

If their response to me as a customer is any indication, this company flat out does not care about its customers. They will not respond, even the link on their site that takes an urgent message to the President of the company. What a joke. After multiple attempts seeking help - there is nothing. If you can find any alternative to one of their products, I highly recommend you seek it out. High Tech Pets clearly preys on the likes of me who are too stupid to read the warnings of others.

This past summer was very hot in Maryland. The door had been working okay. I had a 2-year-old Rotty who knew how to use that door any and every time. We were gone for about 2 hours on one of the hottest days. My dog used the door to go out and go to the bathroom. As usual, she stays out there for a little while. Well guess what? The door did not work to let her back in and she died of heat stroke. I emailed the company and tried to call and received no answer on the phone and no reply to my email other than their auto reply email that someone would contact me. I purchased another collar for our new dog but now have a rule. On hot or cold days, we turn the door off and would rather have the dog mess in the sun room or kitchen than to be caught outside to die.
The installation of the door was pretty simple. We followed the instructions perfectly and it seems the door was too high for my first dog though she knew she could jump out the door.

I bought this underground wireless fence system (Humane Contain X-10 dog fence) several months ago and installed it. It worked great, for about a month. Then the collars started malfunctioning. They would either not shock the dog when they ran to the fence line, or beep and not shock the dog. My dogs quickly caught on to this and learned they can run right up to and through the fence without fear of shock.
I ordered new collars from the company, which they gave me free of charge. I am pretty sure I got refurbished collars because neither of them worked at all, let alone beep or shock. So they replaced them again, and again they were probably refurbished ones and they did not work. I finally tried to return the whole fence and collars, but they would not take them or refund me saying that it was past my 30-day return policy. It was probably 3 or 4 days past this time.
I said, "screw it," and shut down the whole system. Recently, I decided to give it another go since it was already installed and when I turned the system back on, it said there was a break in the loop. I checked the whole loop, tried with a test wire, etc. like they recommended and it was faulted out. I can't believe I spent over $300 on this system. I am completely, utterly, and irrevocably dissatisfied with this system. Do not waste, and I do stress, waste your money! This is how a company loses customers for life.

The door comes with the MS-2 Ultrasonic Collar. After several months of use, the top popped off the MS-2 Ultrasonic Collar and the battery fell out. My dog was trapped outside all day in the Florida heat. I'm lucky she didn't die from heat stroke. I called customer service. They told me that my dog had removed the lid! I explained that my dog was unable to remove the cap/lid. The lady in customer service said to me, "Are you saying the lid jumped off?" Perfect. I have to hear that when my dog is panting and drinking water like crazy due to a flaw in their product.

I bought this on 10/20/11 for a new dog. I have had multiple problems with collars. I can never ever get anyone to answer High Tech's phone, but there is a company off Amazon.com who sells this product and they are very, very helpful. My door stopped working right now. I've tried plugging other items into it and they all worked. This has been nothing but trouble since the day I got it and if I still lived in CA, I would drive out to them and toss eggs all over their window. I don't understand how they can still be in business with such hideous customer service. What the hell do I do now since the dog cannot get in and out?

We purchased an electric pet door from this company less than a year ago. The door works well but the collar which is required to operate it continues to malfunction. We have replaced it three times in less than a year, at 40 dollars or so each time (plus shipping). Now the company does not even answer the phone, even though I have called during their stated business hours. My door is useless without the collar and I cannot even get them on the phone to order a new one. Yet, the website appears to be up and running and they are taking new orders, so someone must be there.

I bought the Large Automatic Pet Door. It has been nothing but trouble. The sensors keep failing. The internal mechanisms fail. The collars/transmitters will fail all the time. Even the upgraded one fails. I have been through 20 of them. At $36 each, do the math. Don't buy this, it is garbage and it will drive you crazy. Oh and by the way, the customer service is rude and unresponsive. I opened a ticket recently and nobody has responded.

It was stated that you were suspicious of some of the good comments, so I'll preface this by saying: I bought my system from samsclub.com and have gone through them and through High Tech with problems with the collars. (I also reviewed the system on Amazon.com, noting that I had bought it elsewhere. ) The electronic pet door and the underground system work great. I've added two other pets since I first purchased it, so I had to add more collars, which are expensive. When the first one stopped charging, I called Sam's Club as directed, and they sent another one out right away. Today, I called the High Tech customer service line, because a second one stopped taking a charge while the other was on the way, and I hated to call Sam's Club back, even though you ship the old one back. They immediately looked up the info and said they'd ship another collar. I asked if replacement batteries were available, and the lady said no, they're sealed in.
So, I've gotten immediate satisfaction with my problems, and think that's worth mentioning. It seems to be a very good company, and I love the automatic dog door you can get to work with the same collar as the underground fence. I added a battery to it, in case they manage to unplug it one day. It's impressive, I worried that if one dog with a functioning collar went through, and the next pet went through without a collar (or with a dead battery) whether the door would close. It's like an elevator door, it senses motion. I tried it with my hand before I'd let them go through it. It even says it's bulletproof.

Over 3 years ago, I purchased my first HC-8000 system. I am now on my 3rd unit except this time I purchased it directly from Hi Tech Pet. I received the system with no problem, but the collar was bad. I called and they shipped a replacement out to me. There was an attitude from the rep, but the collar came. The system still did not work so they said it was the base and they would send another one. I have not seen this base yet, and the original order was now over 3 months ago. I have been given every excuse under the sun as to why I have not received the base including tonight's call when the rep advised me that USPS is unable to locate my residence.
Odd, since I had received batteries and the original unit. Don't ask to file a complaint or speak to someone of authority, as you simply get patched through to an answering machine. I cannot tell you how many phone calls I have made to this company with absolutely no result. The staff has no clue generally about me even making an order. I repeat my situation each time I call. Once they said they got my entire address wrong. I constantly have to repeat myself to get a flippant attitude in return.
I have never been treated the way they treat me each time I call and can honestly say I have yet to have a good experience with them. I like the system overall (it has its bugs), but the staff, service and company attitude has resolved me to not recommend this system. I am a K-9 handler and have had many people ask about appropriate, safe and acceptable fences. I have told them about my experience with this company. All I want is this to be fixed. I have no trust that it will be done. I have put a lot of money into this system and it has tremendously inconvenienced my family and pets.

I bought a power dog door from High Tech Pet. It has been a problem from day one. The remote collar is the problem. It doesn't transmit properly and I even bought the more expensive one. I have put multiple sets of batteries in it and it still acts up. I'm about to be on my third and fourth collar.
Not to mention they do not ever call people back. I have asked for them to call me over 30 times and still no call. I have even put it in bold writing. They will send emails but that takes forever and you don't always get them. Not to mention the owner is completely rude and hard to deal with.
This company has the worst customer service I have ever seen and their product is substandard.

I purchased the large dog pet door and within the first month, two out of three dog collars stopped working at the same time. They were good about sending out two replacement collars. Soon thereafter, the collars failed regularly about one a month. Sometimes, they were good and sometimes not about replacements. The real kicker was when I noticed every replacement I received was the lesser collars and not the waterproof, higher cost, Microsonic-2 Plus (MS-2A, the one recommended on their own site as a fix for multiple collar failures). I have seen no difference in the lifespan of either collar. I contacted them and despite acknowledging none of the replacements were the correct model, all the warranty department could say was that since my warranty was up, there was nothing they could do.

A couple of years ago I bought 2 Bark Terminator 2. Since that time they last about 2 months then just stop working. The good news is that most of the time they promptly sent me replacements. Of course for a product that costs $100, it shouldn't last just 2 months. Half the time one of the two collars would not be working upon their arrival. This time when I sent the two collars back, they sent back only one, are telling me I sent only one, and tell me they won't do anything more until I show them my original receipt - which of course I don't have because I had to send it back the first time I needed a replacement. The little devices are clearly simple electronics and do not warrant the price tag they carry even if they did work. Their customer service is abhorrent as they just want to fight with me on the phone.

I have a PX-2 dog door purchased in 2008. I am on my third dog door. The first two were so hard to get parts or anyone to answer the phone that I just gave up and bought entirely new doors. This newest door has a built in battery so if power failure the door will still work. We happen to be sitting in our room where the dog door is and we have a new puppy. Well, the dog was playing with one of its toys and hit the adapter that was on the wall. Smoke started coming out of the buttons and you could see a flame flickering inside the panel.
We hurried and got a screw. My husband tore out part of our wall to get to the battery because it was still powering the door. We were very fortunate we were home or not sleeping because we could have lost our home. We emailed them right away to tell them. Never got a response back. Husband called, the rep said never heard of such a thing and only one year warranty. Just want consumers to be aware this could happen to their door as well.
High Tech Pet Store Company Profile
Company Name:

High Tech Pet Store

Website:

http://www.hitecpet.com/