Consumer Complaints and Reviews

I have a subscription for myself and one for my relative. I rec'd from CR mail that requested me to renew both. Evidently last year I did this also not realizing that both accounts were current. Now, my account is good until 2020 and my relative's acct. is good until 2018. This is sleazy work in sending 'renewal' mailings to customers who are already not only current but "paid up" two or three years ahead. I don't keep a ledger showing me what subscriptions I have and when they need renewal. I trust the company to send such things when the current script is coming to a close. Shame on Consumer for doing this. I've been a customer for many years. This is shabby and should be changed.

I signed up for a single month to see if this site was helpful. They continued to bill me without authorization. Tried to cancel subscription online, but the site kept saying unable to cancel and to call customer care. I think this is outrageous behavior for a consumer protection group, to behave in such an unscrupulous fashion. Hypocrites.

I just received the 2017 Buying Guide and the used cars reliability presentation is horrible. Everyone is in black and it's difficult to discern the reliability of used cars from model to model. The old reports were clearly identified with red markings and it was very easy to show the various problems.

Yesterday a payment of $30.00 was made to Consumer Reports from my PayPal account. I have an online subscription to the magazine, and have lately received numerous email requests for donation to their company. However, I have not responded in any way, and most certainly did not authorize this payment. I don't even know what it's for, because I haven't gotten an acknowledgement from Consumer Reports. I have filed a complaint with PayPal, but am wondering how they were able to access my account without my knowledge or consent.

I have been a Consumer Reports customer for 30 years but in the last few years, the service has been sub-par and I may not renew again after the current subscription expires in 7/2017. Several times, as recently as 10/16, C/R refused to allow me online access unless I agreed to give them my current charge card number. Since my subscription expires in mid-2017, there should be no reason for C/R to refuse me access but they did and have done that twice before over the past 2 years. This company is so desperate to renew subscriptions, it will withhold access to current members unless they agree to surrender their charge card number. I had to threaten legal action to have the account unblocked. What a shame... C/R once provided a valued service but current management has taken the company in the wrong direction and I question their business ethics. Can see why the company rating is only 1+.
How do I know I can trust these reviews about Consumer Reports?
668,037 reviews on ConsumerAffairs are verified.
We require contact information to ensure our reviewers are real.
We use intelligent software that helps us maintain the integrity of reviews.
Our moderators read all reviews to verify quality and helpfulness.
For more information about reviews on ConsumerAffairs.com please visit our FAQ.

Why, without fail, does Consumer Reports accidentally double bill its subscribers every year when they renew their subscriptions? It's a common practice in the magazine industry, but I would think that CR, of all organizations, would stop engaging in this sleazy practice. This year, without fail, I was billed for a renewal of my subscription and a gift subscription for my sister, which I paid on August 1. The check was deposited by your subscription department and debited to my bank account on August 16.
On August 22, I received a Second Renewal Notice with a request to return the payment by September 1. The intent, obviously, is confuse the subscriber and induce him or her to extend the subscription period by making a double payment. This practice is blatantly unethical, and the reason usually given by the subscription department is that the time period between receiving the original payment and stopping the second notice was too short. I hope Consumer Reports will acknowledge and stop this unscrupulous practice.

I have purchased 3 appliances recently based on high ratings from Consumer Reports. All 3 were unsatisfactory. How independent is Consumer Reports these days? I am wondering how independent Consumer Reports product reviews really are. I will never consult it again. In any case CR seems to have outlived its purpose given the possibility of getting buyer product reviews online. RIP.

I received an advertisement in the mail which looked like a renewal for Consumer Reports magazine. I went online to take advantage of what looked like a good offer ($12 for a year), only to find out it was a subscription offer for Consumer Report.org, their online extension of the magazine. I immediately pressed the cancel button. The account online then said my credit card has been refunded $11. Cheap shot, CR. However, it made me realize I'm not sure I ever disabled Auto-Renewal on my magazine which expires Nov 16. So I went back on-line to do that since I definitely do NOT want to auto-renew. The account access system I found there is completely fouled up. Every time I use the Submit button, I am directed to an Error page. I tried using a different browser. Same result.
I called "Customer Care". After listening to endless irrelevant menus, I reached an assistant who "spoke" English, but only well enough to read from a script. He told me he couldn't access my magazine account because CR computers are down. Right. His supervisor was not surprisingly not available either. The only remedy he would offer is taking my personal contact information so someone could call me back. Seriously? Why on earth would I trust them with my personal contact info that could then be used to add me to a thousand unscrupulous calling lists? Based on comments at this ConsumerAffairs website, I'm a little nervous now that stopping my CR subscription is going to take a lot of time and effort on my part.
Needless to say, I'm finished with Consumer Reports, they are not the company I respected and relied on 30 years ago. Not only will I not recommend them, I will go out of my way to warn people not to subscribe either to the magazine or the online service. I do have some leverage perhaps if my efforts to get the auto-renewal feature disabled go unanswered within a few days: I can notify my bank to disregard any attempts by CR to auto-bill my credit card, and I can contact the legal advocate at our military base. What a sham. Consumer Reports is seemingly protecting us from everyone but themselves.

I signed up for Consumer Report magazine in 2015 and everything was fine 'til time for renewal. I was ready to mail the renewal form when I noticed my Amex had already been charged. Yet they were not sending the issues. So I called customer service in April & was told that "I" called in January to change address, which I've never did, so the issues were being sent to the new address. They stated they would send the old issues and would correct the address. I received the previous issues plus the month of May. Soon after I received July. So I called asking about June issue and was informed it was returned as undeliverable address, but was assured it would be sent to me, much to my surprise, I received two issues - May and July, but no June. Unacceptable. Will be calling Amex to cancel this.

So we pay for an annual subscription to your service for the Consumer Reports magazine, but in order to view the same data ONLINE, we have to pay you MORE money? Just incredible. Especially for a company built upon finding businesses and products that produce great products and services; it may be time to look in the mirror. Quite unbelievable in today's day and age. I'm sure the web will put its final nail in your coffin soon. RIP Consumer Reports.

I was prompted to join hoping to research "Convection Microwave ovens" and continue using the service throughout the year. I was devastated that they had no separate search options for that appliance. As I told the Consumer Reports when asking to cancel, even Walmart offers that separate category. Their subscription options quote both the $30.00 annual fee, and the effective monthly rate (2.50 per month) implying that the fee is deducted monthly rather than a lump sum. First the rep told me I was liable for a pro-rated use of the service! What, fee for a frustrated and UNSUCCESSFUL 20 minute search? Finally relented and credited back the "prorated fee" then gave me the "happy news that I'd have to wait UP TO THREE MONTHS for the full refund???
I am a 79 year old living on the Social Security which I have paid into for WELL OVER 50 YEARS! I have spent 12 of the last 40 days in the hospital and have very limited resources. Since my old microwave went kaput I am severely limited in the kitchen. I will never again feel the respect I used to have for Consumer Reports. I see from other reports on this site that I'm not the only one to get the "up to 3 months" refund scenario. It only took them 15 MINUTES to draft the charge against my checking account. In my wildest dreams I could never have imagined having to say "buyer beware" about Consumer Reports!!!

4 May 2016. I have been charged on my credit card 39 Canadian dollars, I did not receive any notice to renew my subscription. I did not sign anything or check any boxes to be renewed automatically. I am very disappointed on Consumer Reports' billing method.

Consumer Reports were bought by "big business" and now serve the rich elite of the world. Don't believe a word that is printed in their mags, or on their website.
They have been corrupt for a couple of years now. At least that's when I started noticing a lot of contradictions from their previous "scores" of products/companies. Many companies I know for a fact make inferior products suddenly went to the top or near top of CR's scoring, with overall scores that were WAY better than they deserved. I also noticed that the opposite occurred with companies I know to be quality companies. With so much money (and power) going to so few greedy people, I knew it was only a matter of time. Best to get your info from social media. But even there, beware of the source!

I have subscribed to Consumer Reports in the past with positive satisfaction. Upon receiving a discount I renewed again, however it did not provide online access. Why would you charge an additional fee to access a database you already have in place? It cost considerable more to print magazines and mail them than to allow a client access the web base. As a retired consultant, I can visualize bean counters that do not understand business.
After speaking to family, they could only be amazed at your inept concept of marketing. What good is a magazine full of items you are not interested in? We, as consumers only or mainly seek purchasing advice which is becoming easier to obtain online. I am sorry do not have the time waste on you or your magazine. Financially you should be good for around 5 years if another recession doesn't occur in the interim. Our local newspaper is almost now almost extinct due to a similar practice.

On 8/19/15 I subscribed to Consumer Reports for a one year subscription. I received 5 issues then on 2/9/16, they charged my credit card for another year without any notification or permission. When I called to inquire they were very rude and at first tried to get me to keep the subscription as she was not sure about a refund. I told her I was denying the charge with my credit card company and then she said "ok but it would take 3 months." I have a lot of magazine subscriptions and have never run onto this problem, Consumer Reports is a rip off. The 5 subscriptions I received were mostly on cars, very little else, stay clear from them as the problems with their billing is not worth the little information you get from this lousy magazine.

I've been a paid subscriber to Consumer Reports for over 25 years. I have relied heavily on the paid car dealer costs reports. I knew since Consumer Reports accepted no advertising, their information was unbiased and I was willing to pay for that. I've bought 6 different cars this way. Now the only way to get "dealer pricing" from CR is to go through TrueCar. Why has CR done this? These are not the lowest prices. It's well documented that TrueCar is affiliated with dealerships, working in their best interest. It's well documented that TrueCar changed their pricing model under pressure from dealerships and manufacturers.
Now the previous incorruptible CR is affiliated with them. Worse yet, they've made this the ONLY way to get "unbiased" pricing information. Consumers used to be able to trust this CR, but this calls everything into question. It is really sad that I have to end this 25-year relationship. I've saved thousands of dollars over the years purchasing better products. Now, I have no idea of the ratings are based on which manufacturer has paid CR the most. Cars, appliances, you name it. So sad.

I see all the negative reviews, but my experience with Consumer Reports for the past 18 years has been GREAT!! Any billing problems resolved fast, and they don't happen often. I subscribe to the monthly magazine and I get the online service. I am considering not renewing simply because we don't buy new cars ever or appliances much. There is so much more in the reports that keep me renewing. I will probably renew again. I found that by renewing for a long time like 5yrs, I get a great deal.

I noticed today I'm being charged $30 for a subscription to Consumer Reports. I haven't used the service in years, but perhaps I failed to cancel. I log in and am informed I do not have access as I do not have a subscription. Weird. I reach out to Consumer Reports to inquire and am told I'm on auto renewal and that I was sent an email notifying me. I did not get that email. I'm told I have an active account, which I do not. I attempt to cancel and am told I can only get a prorated refund. I argue that I wasn't notified of the renewal, I haven't had access to the service (for months or years) as it says my subscription isn't active, but yet I have to pay for the days I've "used" the service that I can't access. BEWARE when signing up for auto-renewing subscription as you may get stuck with the service whether you use it or not!

Last year I signed up for 1 month of access to the Consumer Reports website. Later, in October I discovered they had been charging my card each month, not once, but twice each month! I called them and was clear, (1) I was being double charged [6.95 x 2], (2) I authorized charges only for one month and did not use nor authorize charges for the service after the first month's use. They told me charges would cease and I would be credited for the current month and the previous two. I subsequently learned they canceled only the duplicate monthly charge and were still charging me for a monthly. I was clear in my original complaint to them, and they assured me I would receive no further charges. But, the monthly charges persisted.
I called again today, and they insisted my original complaint was only about duplicate charges. This from Consumer Reports, of all people! I see from others this sort of treatment of their customers is not uncommon. Smells a lot like rank dishonesty to me. My advice: Do not do business with them, and watch any account they once have placed an authorized charge against.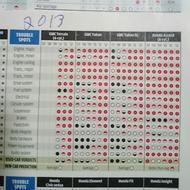 I have been buying and using the extremely useful data compiled by Consumer Reports, in my auto repair business, to help my customers and myself in buying good used or new vehicles. Based on compiled data from real world people & their experience with cars & trucks as far as repairs needed and performed, there have always been sixteen areas that were reported. NOT judged. Then in the 2014 magazine, there was only ONE. A total average called VERDICT based on the 16 prior areas. And online now there are eight areas covered, instead of the sixteen areas previously reported. See the picture showing 2013 and 2014 pages in the same area of the magazine. QUITE a difference.
This is, frankly, disgusting, and in today's market, with so many more vehicles from around the world to choose from, with such a varied choices of style, function and reliability, lacking this PREVIOUSLY AVAILABLE data is a real hindrance to being able to assess whether a vehicle is worthy of purchase, or worth the prices asked. I am a verified buyer, as I purchased many more than the Consumer Reports magazines in the picture.

It was an unwanted auto renewal. Seems it's almost impossible to get it reversed. If they do, it's prorated! If you don't want it, why not a clean easy refund on the credit card??

I called Consumer Reports last year and cancelled my subscription so I was surprised to see a $30 "auto renewal" on my credit card yesterday. I called the office and was told that the ONLY approved way to cancel the subscription was online. I was refunded $27.50 (pro-rated for the 15 minutes that I had the subscription).
I will NEVER use Consumer Reports or recommend this anymore. This once was a good organization but is now just a bait & switch to try and trick consumers, charge them, and then try and keep whatever they can justify in their 2-point type terms and conditions. What a sad state of this company.

I see CR reviewed the 2015 Chrysler 200. They gave it a bad review. I own a 2015 Chrysler 200. I have over 30,000 miles on it, and absolutely love this car. I believe it is the best car I have owned. I have the 3.6 liter V-6, and it has a great amount of power. Plus I get 34-36 mpg on the highway. I get tired of CR badmouthing the American manufacturers. American cars are just as good, and reliable as Japanese models. I have started to wonder if the Japanese own this magazine.

These people are crooks. Canadians... Do NOT give them your credit card number. Over a year now they have been taking $10 CA out of my credit card each month.

Consumer reports have been charging me for a online subscription since 2011. They say they send you emails that they are charging your account. I have never received a single one. Checked junk, deleted mail never received a email. Just noticed it on my C. Card statement this month. They confirmed that I have not signed onto the account. They said they will provide me with proof that the emails were sent, that I will be billed. (Have not received any proof yet.) If you ever had any subscription to consumerreports.org. check your C.C. Or call them to verify your account had been canceled and contact your C.C. Company.

Signed up for 1 mo. for $6.95. No indication it would be auto-renewed -- but it was. When I saw another banking account debit 30 days later I called them to complain. The best they would offer is a refund that will take 1 or 2 billing cycles. Ouch!

CR was once unbiased. Today, it is an advocacy organization for social democracy. CR was once member oriented. Today, I can't even login to get the information I paid for without CR trying to trick me into paying another $30. We need an unbiased product testing, product safety organization. That used to be CR. It's not Consumer Affairs, which takes ads. It simply no longer exists and today's consumers are on their own.

I had an online subscription for a number of years with Consumer Reports. I didn't realize I had signed up for auto renewal and had thought it was just 1 year. Not until I saw the charge to my credit card did I realize it was auto renewal. I paid for this auto renewal for 2-3 years. I then contacted them a few years back because I wasn't using the service and I requested to stop the auto renewal. They said at expiration they would stop charging me. I never received any further charges to my credit card or any email notifications of auto renewal.
This past weekend I decided to login and sign up for a 1 year subscription. When I entered my credit card information, which was the same credit card account number as previously, they indicated my expiration was Feb 2016 but I would be charged the entire $30 annual subscription fee. My previous subscription ended in Feb 2015 and they were back charging me. I then tried to cancel the auto-renewal online. They said there was an error and I would have to contact customer service. When I contacted customer service and spent 40 minutes on the phone, they informed me there were two pending charges to my credit card for $30 each on Feb 2014 and Feb 2015. They refused to stop my auto renewal until these pending charges were resolved.
I told them they didn't contact me regarding outstanding charges and they said it wasn't their responsibility. They told me to contact my credit card company to resolve. I did so and the credit card company said there were no pending charges relating to Consumer Reports. I emailed Consumer Reports back and told them to cancel my subscription and remove the "pending" status on these old charges. They emailed me back and basically said they would not and I was to contact Customer Service again and handle these pending charges.
So now they are going to continue to charge my credit card every February because they won't stop auto-renewal because there are 2 years of pending auto renewal charges in their system (although I requested auto-renewal to stop 2 years ago). I'm very frustrated with the lack of assistance I have received and feel this has been nothing but a way to steal money from people. I feel like they have me over the barrel and there's no way for me to get out of the auto-renewal nightmare but pay the $60 in back auto renewals. I've requested for a supervisor/manager to contact me directly but there has been no response.

I have lived in Canada for over 15 years, and my first contact with consumerreports.org was through its paper magazine, which I thought it was phenomenal. And as soon as I could I subscribed to both its magazine and online ratings, and I have been using its recommendations ever since. The main problem at the time was that they did not have enough info for the products available in Canada, however I extrapolated from the USA information and the Canadian info to have a guide. And It worked, or at least I thought that until this year that I started having issues with all the items bought using consumerreports.org recommendations. Then I started thinking of all the stuff that I got from the very beginning and I have nothing. Everything is gone, because they stopped working long time ago.
Let's start with the most recent purchases, A Car GPS rated second and CR recommended, I did not buy the first one because it was sold out and waited for three months and never came so I went and bought the number two. This GPS GN2595 LMT, has taken me to the wrong places twice and also gives me several addresses to pick which one I want to go, despite of me entering the right and complete address already??? And the address that I want not being among the choices it gives me??? I am using my 8 years old one that still work great. Similar situation with two laptops bought last year, and just this past week an AS Toilet rated second, exactly the same USA model available here in Canada. It was a nightmare, leaking everywhere and the most uncomfortable toilet ever. Thanks God for the return policy of Home Depot otherwise I would had taken a loss of a week's time and CAD $326.
I tried everything to stop the leaking and HD was very supportive, gave me several ideas, and even provided with another brand new tank, nothing worked. At the end they took the problematic toilet, and gave me a full refund, needless to say that I bought the toilet I liked the most, I have been using it for 3 days and I am very happy with it, no complaints at all. The toilet picked it is and AS ranked 12th and it is not recommended by consumers report??? Have trouble with a washer that was top rated by Consumer Report 5 years ago and which started giving me troubles just 3 years after I got it, despite of the reliability given at the time by consumer reports of the manufacturer. Unfortunately I don't have receipts of all the items I mentioned. Just my word, but the toilet's nightmare. I do and they are attached.
On the file 0001, the one with the signature and date it's from the manager, when they exchanged the first toilet tank for another also brand new tank corresponding to the same model of toilet, the second receipt or 0002 file it is when I returned the toilet and the third one it is the new and latest toilet. Regrettably I already cancelled my subscription that expires in August of this year and I will go to the real or online store, look for what they have and then search for people's reviews of the ones I liked the most. There are other issues with the way they recommend and test products, completely lacking of proper statistic methods and wrong analysis, but I won't go into this which would take too long, besides I have written directly to them with not pleasant answers or even open to discussion.

I believe that Consumer Reports has been unduly influenced to change their auto issue in April to make it become vague and hard to discern what is wrong with the various cars. It appears to paint them all in glowing terms or just concentrate on the good things or just a few things wrong. It used to have a very excellent rating system of circles that rated everything one would want to know about a new or used car. It was all in an easy to read format so one could easily compare and find the best cars available. Now I cannot get all the information in a short paragraph that says very little about each one. I believe Consumer Reports has been paid off to make the ratings vague and ambiguous. Thank you.
Consumer Reports Company Profile
Company Name:

Consumer Reports

Website:

http://www.consumerreports.org/cro/index.htm