An end-of-the-year report from the U.S. Labor Department suggests public school teachers are quitting in record numbers.
In fact, the report shows an exodus of public school employees in 2018, including administrators and custodians. An analysis by The Wall Street Journal suggests a tightening labor market has presented other opportunities and public educators are taking advantage of it.
The Labor Department data show that from January through October of last year people working in public education turned in their resignations at the rate of 83 per 10,000 each month. That isn't exceptionally high when compared to other occupations but it's significantly higher than the average among public school teachers.
The Journal interviewed a 43-year old former Oklahoma teacher who protested last year for better pay. After the school year ended she said she quit to become a cardiovascular ultrasound technician because she couldn't live on what the school system paid.
While salary may be a major factor, there is anecdotal evidence that unruly students -- and administrators reluctant to impose discipline -- may also be playing a role. YouTube contains dozens of videos from teachers all over the country expressing frustration and using social media to call it quits.
In June 2017, award-winning teacher Kerstin Westcott turned in her resignation during a meeting of the Green Bay, Wisc., School Board citing violent acts by students directed toward teachers.
Problem in Baltimore
In Baltimore, WMAR-TV recently reported that hundreds of Baltimore city school teachers leave every year. In the report below, school district CEO Dr. Sonja Santelises says the rapid teacher turnover is a problem because it negatively impacts some of the school district's most vulnerable students.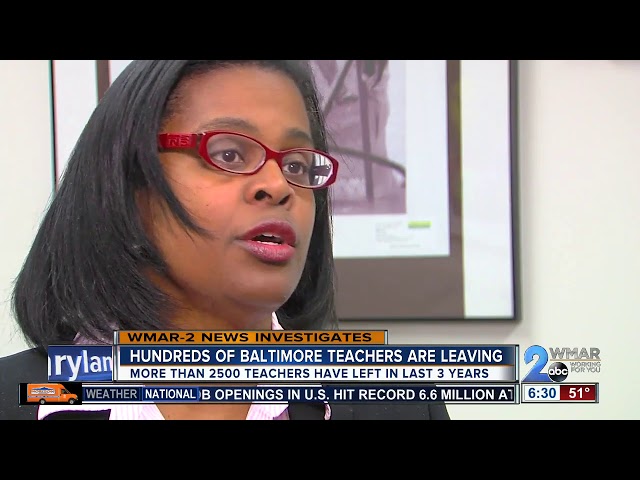 In Baltimore, more than 2,500 teachers have resigned during the last three years. The Journal analysis suggests economics is the main driver behind the teacher resignations, noting that during the Great Recession there was much greater stability within the ranks.
And while private sector jobs have begun to increase wages across the board, The Journal notes public education has lagged behind.