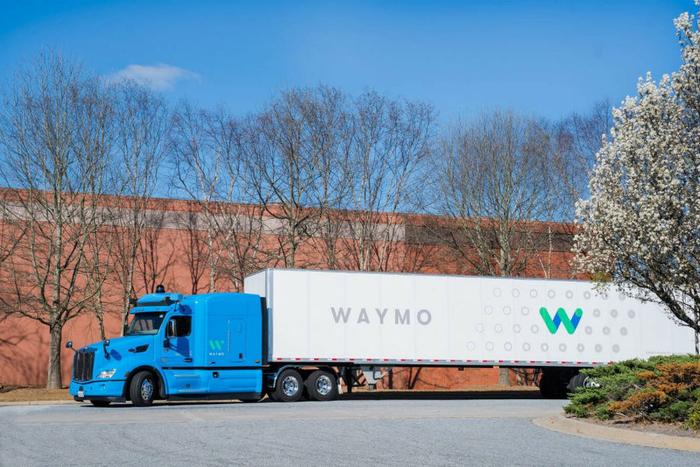 Waymo, Google's autonomous transportation subsidiary, is broadening its self-driving truck beta test and using the Atlanta metro as the hub for the trial.
"This pilot, in partnership with Google's logistics team, will let us further develop our technology and integrate it into the operations of shippers and carriers, with their network of factories, distribution centers, ports and terminals," Waymo said in an announcement. "As our self-driving trucks hit the highways in the region, we'll have highly-trained drivers in the cabs to monitor systems and take control if needed."
It's been a long road for Google's driverless brainchild. The company began testing its self-driving car project in 2009 and only last month did it receive approval from the Arizona Department of Transportation to become the first commercial self-driving minivan service.
Waymo's self-driving trucks use the same array of sensors that power its self-driving minivan. The company claims its engineers and artificial intelligence experts have logged five million self-driven miles on public roads, plus another five billion miles driven in simulation.
Why Atlanta?
Being one of the few American cities served by three major Interstate highways -- I-20, I-75 and I-85 -- makes Atlanta an easy choice for trucking's move into the digital age.
Atlanta is also the home of more than 2,000 scheduled motor carriers, irregular intrastate route carriers, commodity carriers, and contract haulers. The metro is also one of the largest rail transportation hubs, which should help Waymo facilitate an easy interchange of freight from one mode to another.
The race is on
Autonomous vehicles are considered to be a critical component of the automotive industry's future. Since 2011, when Nevada became the first state to permit autonomous cars, the list of states has grown rapidly, now totalling 21.
Not wanting driverless technology to move forward without direction and safety for anyone on the road, the National Highway Traffic Safety Administration (NHTSA) released federal guidance for Automated Driving Systems (ADS) in its A Vision for Safety 2.0.
In writing about its vision, the agency laid out six levels of driver assistance technology advancements it wants to see achieved. Those levels include everything from no automation (a fully engaged driver is required at all times), to full autonomy (automated vehicles operated without a human driver).
Not to be outdone by Uber
Waymo announced the news only two days after Uber's self-driving semi-trucks hit the road in Arizona.
But the Google subsidiary claims its "near-decade of experience with passenger vehicles has given us a head start in trucking."
Waymo and Uber aren't new at being in the ring with each other. In 2017, Waymo sued Uber and its self-driving trucking subsidiary, Otto, for purportedly stealing Waymo's trade secrets and infringing upon its patents. The companies settled their differences last month, with Uber paying Waymo a reported $245 million in Uber stock.