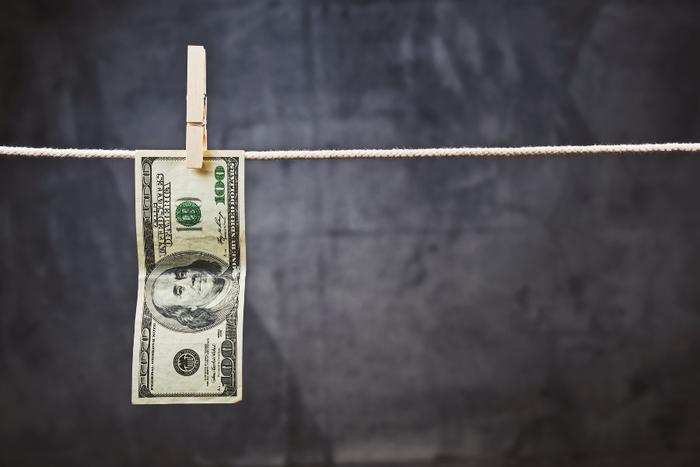 If you're looking for a job, you know you have to watch out for scam artists who'll try to sucker you with fake employment offers. Many of these turn out to be some form of "check-cashing" or "advance fee" scam, where the scammer's ultimate goal is to persuade or trick you into giving him some of your own money.
Those scams are bad enough — they can cost you your hard-earned savings and even destroy your financial security. Yet potentially even more dangerous are the "money-laundering scams" where thieves trick you into becoming their accomplice. If you fall for such a scam, you could possibly face federal criminal charges, or have your own bank accounts shut down for fraudulent activity.
Last January, the FBI issued a warning specifically to college students with school email accounts, about money-laundering work-at-home scammers offering too-good-to-be-true "jobs:" 
The "position" simply requires the student to provide his/her bank account number to receive a deposit and then transfer a portion of the funds to another bank account. Unbeknownst to the student, the other account is involved in the scam that the student has now helped perpetrate. The funds the student receives and is directed elsewhere have been stolen by cyber criminals. Participating in the scam is a crime and could lead to the student's bank account being closed due to fraudulent activity or federal charges.
Pretty much anybody
Students are not the only ones targeted by such scams; pretty much anybody with an email account might be. This month we heard from "Barry" (not his real name), a retiree who thought he'd found a nice part-time gig to supplement his retirement income and ended up getting entangled with a ring of Ukrainian identity thieves.
Fortunately for Barry his story has a relatively happy ending, at least by scam standards: he cooperated with the authorities, wasn't charged with any crimes and didn't even lose any of his own money — although he did spend a few days with his bank accounts frozen for security purposes, and eventually had to go through the hassle of canceling all of his pre-existing accounts, since they'd all been compromised by the money-laundering scammers.
Here's what happened. In mid-January, two weeks before the IC3 issued that warning to college students, we published a story about a reader named Jaime who got an email telling him he'd been hired for a "Travel Coordinator" job with an Italian travel agency.
Jaime actually had been looking for work – though he couldn't recall applying for that job. Like most jobseekers, Jaime has sent out so many different applications that he can't quite remember them all. So when he received an email, allegedly from a hiring manager named "Loretta Bocelli" who'd seen his resume and wanted to offer him a job, the fact that he couldn't recall applying for a gig with that particular company didn't ring any alarm bells.
Though Jaime did respond to that initial email, his resulting correspondence with "Loretta" set off his personal scam alarms, so he soon broke off contact with her and wrote us instead, hoping that others would learn from his near-miss.
Loretta again
Six weeks after publishing Jaime's story we heard from Barry, who like Jaime thought that "Loretta Bocelli" wanted to hire him for a Travel Coordinator position, presumably helping clients plan vacations — but, unlike Jaime, Barry actually took the job. Here's what he told us:
I hope this email finds you well.

To make a long story short I regret not finding your article while I was researching, negotiating and accepting (end January) the subject position ... offered by Loretta Bocelli.
Barry's initial "job offer" email had identical wording to Jaime's (no surprise, since the scammers obviously send the same initial come-on spam to everybody). When he expressed interest, "Loretta" explained via poorly written email that, as a Travel Coordinator, Barry's duties would be to allow wire transfers to be deposited into his bank account, and then he would use some of that money to wire Bocelli a MoneyGram, on the same business day.
"A seemingly legal and detailed contract between the buyer of the tour package … would legally support the transactions to be processed: the initial deposits, and later the MoneyGram transfers, all in US Dollars... as specified in the tour package detail in said contract," Barry explained in an email to ConsumerAffairs.
In the first week of February I was assigned the first task to process the 30% advance payment of a tour package, $8,400.00. It took over 24 hours for the deposit to clear into my account, I would not process it before it cleared; so it went swiftly and the eventual MoneyGram transfers were successful. This initial task pertained to tours in Kiev – Ukraine.

One week later I was assigned the second similar task, for another Ukraine tour but for a minor amount, $ 920.00, and it went as swiftly as the first one. So this Travel Coordinator legal employment contract was resulting as good as true! For me the $2,200.00/mo. salary and 3% commissions per task it included were the perfect supplement to my semi-retirement!!
Going well
It all seemed to be going well until Barry got his third "assignment," to accept and send $5,000: "a bright red flag appeared as my bank called with the news that my accounts were being frozen, and investigated!"
Barry called Loretta on her mobile phone. "She sounded surprised, but promised to have [the company] conduct a 'serious investigation and immediately clear the situation with the clients'," he said. And he never heard from her again. "From that point on Bocelli disappeared, blocked calls from my mobile and has not responded to various degrees of email content from me."
Right away, Barry closed his affected bank account, gave his bank all documentation related to his "job," and filed reports with his local police.
A few days later, Barry learned that "My bank researched and found the money's owner, and today I released the funds to his account. It appears that this person's identity was stolen, his savings account hacked, and his money was transferred to my account, and you know the rest of the story."
That anonymous bank-account holder isn't the only identity the scammers stole; they also lifted photos and content from the website of a genuine Italian travel agency (with a .it address) in order to make their scammy -- and as of presstime defunct -- website with a .com address.
Still at large
Unsurprisingly, "Loretta Bocelli" the Italian travel operator turned out to be one or more identity thieves wiring stolen bank account balances to Ukraine.
It's pretty much certain those thieves are still at large and still stealing money, but there's no way of knowing whether they're still pretending to be "Loretta" … unless you happen to see a job offer from her the next time you check your spam folder.
The easiest way to protect yourself from the money-laundering scam and other work-at-home scams is to remember the Internet Crime Control Center's advice: "Never accept a job that requires the depositing of funds into your account and wiring them to different accounts."