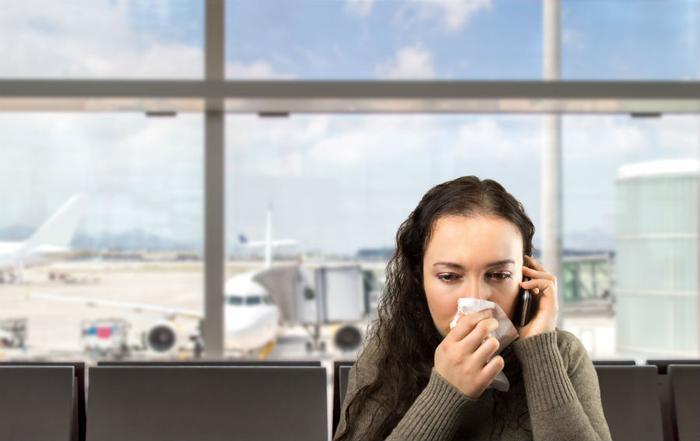 If you haven't gotten your annual flu shot and find yourself with extra time between flights this holiday season, you can be immunized at many U.S. airports.
According to a report from ThePointsGuy, most of the major airline hubs have clinics where passengers can get a flu shot. Those include:
Chicago - UI Health O'Hare Urgent Care Clinic: At O'Hare in Chicago, travelers can get a quick flu shot at pop-up kiosks in Terminals, 1, 2, and 3 operated by the University of Illinois Hospital and Health Science System.

Hawaii - Daniel K. Inouye International Airport: Flying to Hawaii? If you're going through Oahu and looking for a clinic, there's one on the ground floor of Terminal 2 of the Honolulu airport where flu shots may be available. To confirm that the clinic offers flu shots, call (808) 836-6643 before going.

Las Vegas - Code 3 Emergency Room & Urgent Care at LAS: Flu shots should be available at Code 3 inside Las Vegas' McCarran.

Nashville - Travelers can get immunized at the CareHere! Walk-in Clinic located at the Concourse C Exit at BNA.

New York City - JFK Advanced Medical P.C.: Many international travelers will find themselves at hubs like JFK in New York City. One of the pluses at JFK is that they offer a shuttle that will take you directly to the airport's medical center. On top of flu shots, JFK's clinic also offers other vaccinations for pneumonia, malaria, measles, and more.

Phoenix - US CareWays at PHX: The US CareWays can be found at Phoenix SkyHarbor's Terminal 4. The clinic offers flu shots and a wide range of urgent care services.

San Francisco - SFO Medical Clinic: The SFO Medical Clinic provides travel medicine, urgent care, and even immigration physicals. It also accepts checks and credit cards and can make sure you leave with the paperwork necessary to file a claim with your health insurance provider.  San Francisco airport has a clinic specializing in travel health and urgent care.
Are flu shots really that important?
Even though protection against the flu continues to improve, we're not out of the woods completely. And if you're flying out to see grandma and grandpa -- or anyone over age 65 -- remember that they're at an even greater risk.
"Annual flu vaccination is important for seniors not only to protect their own health, but also to help protect the health of the people around them," writes Families Fighting Flu.
And the Centers for Disease Control and Prevention (CDC) echoes that.
According to the CDC, people 65+ have a greater chance of flu complications, and the majority of flu-related deaths and hospitalizations occur with seniors. If you're traveling over the holidays and are even the slightest bit concerned about the flu, the CDC offers travelers a detailed list of precautions in dealing with the bug.
Got the flu shot but still traveling?
The CDC's list of precautions doesn't currently include influenza, but there are more than a dozen domestic and international outbreaks and alerts that travelers should be aware of and do their best to protect themselves against.
"People who have not gotten a flu vaccine for the current season and are traveling to parts of the world where influenza activity is ongoing should get a flu vaccine to protect themselves during their trip," warns the CDC.