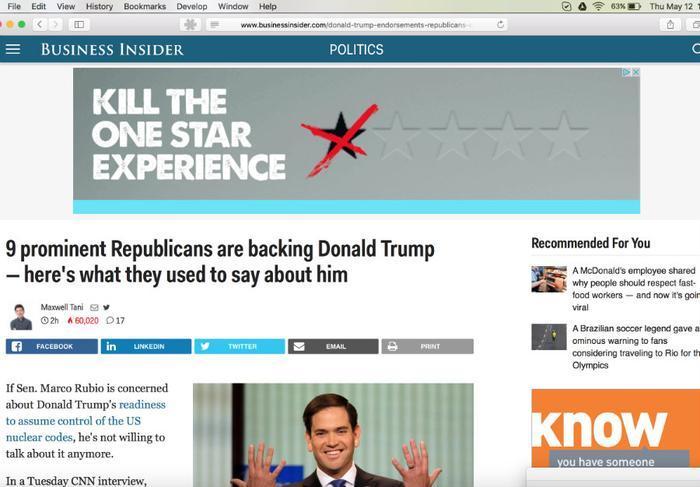 There's been a lot of chatter about Adblock and other programs that remove advertisements from the web pages that show up on your browser. But while we know how publishers feel about those programs -- they hate them -- it hasn't been clear what the prevailing view among consumers might be.
Hoping to plug that gap, the Digital Advertising Alliance (DAA), a trade group, commissioned a study that finds more than 85 percent of respondents prefer an ad-supported internet instead of having to pay for the content they now get for nothing.
Three-quarters said they would reduce their online time "a great deal" if they had to pay. They assigned a value of nearly $1,200 per year to the information they get from the web.
"Tremendous value"
"This survey shines a spotlight on the critical role that ad-supported content and services play in the lives of nearly every American," said Lou Mastria, Executive Director of the DAA. "Consumers see tremendous value in the ad-supported content and services they use, and they overwhelmingly support the current ad-supported model."
In the survey, conducted by Zogby Analytics, 1,004 adults were questioned and asked to estimate how much they would have to pay for 17 different types of online services and content, ranging from e-mail to video and weather, if they were offered only on a subscription basis rather than for free with ads. 
Respondents assigned a combined value of $99.77 per month to this combined package of free, ad-supported services – or $1,197.24 per year.
Nine in ten respondents said that free internet content like news, weather, e-mail, and blogs were either very important (73 percent) or somewhat important (17 percent) to them.
Some find ads useful
Not only did the surveyed consumers say they prefer free content, they also said they often find ads useful.
Eighty percent of respondents said they find ads useful in finding new products, researching a purchase, or assisting with the shopping process.
The types of advertising that consumers found most useful were movies/TV shows (43 percent), technology/devices (37 percent), clothing (36 percent), local restaurants (34 percent), groceries (33 percent), phone/internet services (32 percent), and travel (30 percent).