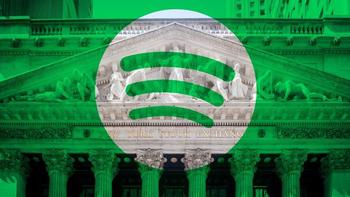 Following its decision to go public via an unconventional direct listing, music streaming service Spotify kicked off trading Tuesday just after 12:30 p.m. ET at $165.90 a share -- up 25.6 percent from a "reference price" of $132.
Share prices dropped as the day went on, ending at $149.01. While early buyers suffered losses on paper, the volatile price swings that many had expected were not seen.
By the end of the session, Spotify's market valuation was $26.5 billion. Investors had initially pegged the company's value at $30 billion when the market opened.
"It's a fair market price. It's not manipulated or set by any puts and takes by banks or institutional investors," Chi-Hua Chien, an early investor in Spotify who is now at San Mateo, California-based venture capital firm Goodwater Capital, told Reuters.
'Our focus isn't on the initial splash'
Spotify's founder and CEO, Daniel Ek, said in a blog post Monday that the listing wasn't supposed to be the most important day for the company.
"Normally, companies ring bells. Normally, companies spend their day doing interviews on the trading floor touting why their stock is a good investment," he said. "Our focus isn't on the initial splash."
"Spotify is not raising capital, and our shareholders and employees have been free to buy and sell our stock for years," Ek wrote. "So while tomorrow puts us on a bigger stage, it doesn't change who we are, what we are about, or how we operate."
Focusing on the long term
Despite reporting a loss of $1.5 billion last year in the wake of profitability challenges, Ek remains optimistic about the future of Spotify.
At the end of 2017, Spotify had 157 million monthly active users and 71 million premium subscribers. The company restated those metrics two weeks ago, eliminating 2 million users from its monthly active user tally to account for fraudulent streams from people using hacked apps.
The company plans to grow its business and make a profit by investing heavily in "developing our two-sided marketplace with new and better product features and functionality for users and creators."
Its growth strategies include entering new markets, further penetrating existing markets, continuing to invest in its advertising business, and expanding non-music content.