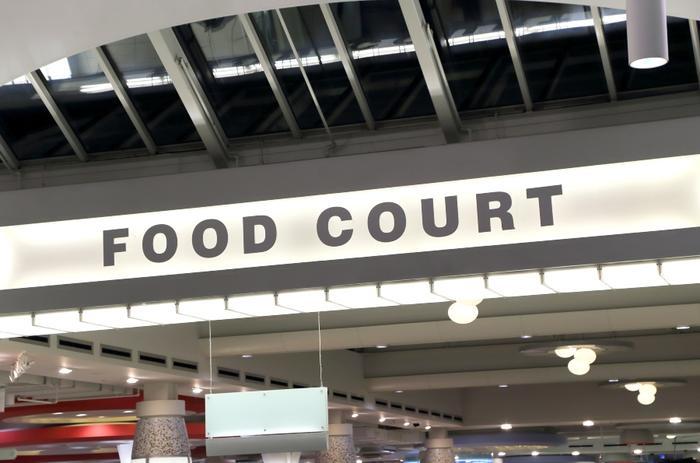 America's shopping malls are in decline, with foot traffic peaking in August 2018. Some experts say the slowdown is just another part of the retail apocalypse. 
But other data shows consumers are still going to the mall, but increasingly they're there for reasons other than shopping in a department store; they're going to the food court.
A new survey from UBS confirms that consumers are spending less on apparel at shopping malls, and that could be a contributing factor in the recent decline of shopping mall anchors like Sears and JC Penney.
"Shoppers say they increasingly go to the mall to eat at the food court or just hangout instead of visiting a big box store," retail analyst Jay Sole told CNBC. 
The UBS survey of consumers showed only 20 percent of people going to a mall are going there to shop at a department store, down from 25 percent 12 months ago. At the same time, the percentage of consumers going to the mall to eat nearly doubled, from four percent to seven percent.
Are malls reinventing themselves?
Some experts believe this change could mean that shopping malls are reinventing themselves to meet new retail realities. Writing in Forbes, Greg Petro, CEO of First Insight, suggests that malls are in the midst of a major evolution. In April, the executive wrote that malls are trying to draw consumers by offering more experiences. 
"The days of meeting friends at the mall and shopping all day are gone," he wrote. "Malls are still considered a destination, but it's because they now offer amenities, experiences, and entertainment to enhance the shopping experience. They are now not only anchored by department stores but with popular restaurants, bars, salons, cinemas, and fitness centers."
But the concept might work better at some malls than others. A recent report by Thasos, a data analytics company, has documented the falloff in foot traffic at malls for most of 2019. It suggests that malls that are focused on selling goods rather than experiences, which tend to do better.
The outlier, however, may be food. Food courts have long been a staple of many shopping malls as a place for consumers to grab a quick bite while taking a break from shopping. The UBS survey paints a changing picture, however. It may be that the food is now the draw, with diners doing a little shopping before they leave.