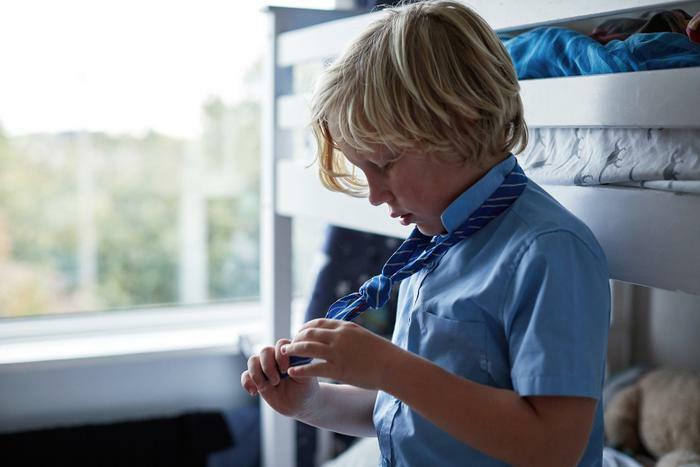 A new study conducted by researchers from Ohio State University explored the impact that school uniforms have on kids' behavior in school. 
Though many schools think uniforms will help students maintain good behavior and create a sense of community, their findings suggest that this isn't actually the case. In fact, the researchers learned that uniforms had no impact on kids' behavior and made them feel more isolated at school.
"A lot of the core arguments about why school uniforms are good for student behavior don't hold up in our sample," said researcher Arya Ansari. "We didn't see much difference in our behavior measures, regardless of whether the schools had a uniform policy or not." 
Uniforms aren't affecting kids' behavior
For the study, the researchers analyzed data from over 6,300 children enrolled in the Early Childhood Longitudinal Study. Their work followed the kids from kindergarten through fifth grade. Each year, teachers reported on the kids' internal and external behavior problems, their social skills, and their attendance. When the students reached fifth grade, they reported on their experiences with bullying and their sense of community and belonging in school. 
Ultimately, the researchers learned that school uniforms weren't associated with any changes in the students' behavior. Wearing a uniform wasn't linked with any major differences when it came to outcomes like aggression, anxiety, or general social well-being. 
However, the study also showed that wearing uniforms didn't contribute to the students' sense of belonging at school. The researchers explained that the reasoning behind requiring uniforms is that they're believed to help build a school community. However, this wasn't the case among the students surveyed in this study. 
"Fashion is one way that students express themselves, and that may be an important part of the school experience," Ansari said. "When students can't show their individuality, they may not feel like they belong as much." 
With uniforms becoming more popular at public and private schools in recent years, the researchers hope these findings provide some insight for school officials.
"There hasn't been much research done on the value of school uniforms in the past 20 years or so, especially given how much their use has increased," Ansari said. "School uniforms may not be the most effective way to improve student behavior and engagement."