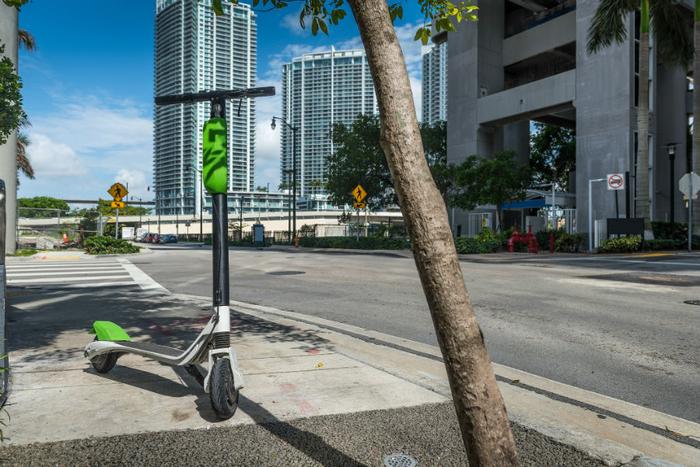 Several weeks after Seattle officials made it clear that they don't want dockless electric scooters in the city anytime soon, Lime is taking its lobbying campaign to the streets.   
The company once known for pile-ups of lime green bicycles reportedly set up a "pop-up" stand in a busy city park last weekend and invited passerbys to try its electric scooters.
The technology site GeekWire was apparently tipped off to the event and reported that 100 people showed up and tried scooters throughout the day. Lime representatives distributed handouts instructing people to email their city officials and demand dockless e-scooters.
The dockless bikeshare and scooter industry has a history of aggressive business tactics and refusing to take "no" for answer. In San Francisco, Lime and competitors Spin and Bird reportedly dropped their e-scooters off in April without going through the city's scooter permitting process, sparking a cease-and-desist letter from the City Attorney.
When it comes to dockless bikes, meanwhile, Seattle last year agreed to let the firms do business in the city provided that they pay an annual $250,000 permitting fee. The new rules sent almost all companies fleeing, as they did in Dallas. Only Lime stayed, though the firm has subsequently raised its rates in response.
Dockless bike companies like Lime are now pushing e-scooters because they say that many commuters are uncomfortable riding bicycles.
But with speeds that can reach somewhere between 15 and 25 mph, depending on the brand, it's unclear where scooter riders are supposed to go. Seattle laws currently ban e-scooters from bike lanes or sidewalks.
A recent report in the Washington Post found that emergency room cases increased in cities after dockless e-scooters were introduced -- perhaps, in part, due to bike-averse people who underestimated the coordination required to navigate a scooter through busy city streets.