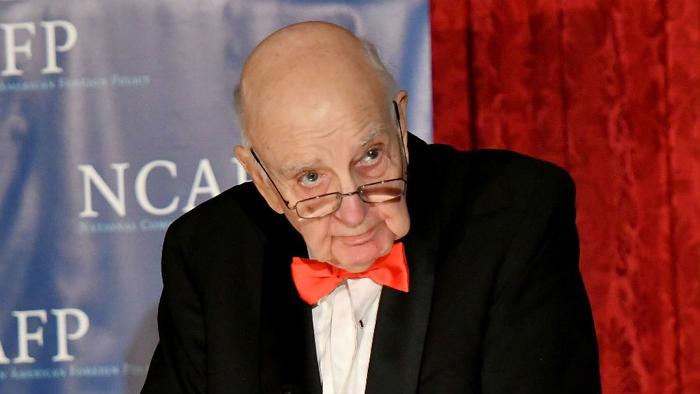 Stocks have tanked in the last few weeks as optimism about the economy has seemed to have evaporated. A former chairman of the Federal Reserve says there may be a good reason for that.
Paul Volcker, who led the Fed as Ronald Reagan assumed the presidency, hiked interest rates to the point the economy fell into a recession. He did so to vanquish the inflation that had dragged down the economy in the last half of the 1970s.
What does Volcker think about the state of the current economy? He's not optimistic. He tells Andrew Ross Sorkin of the New York Times that we're in "a hell of a mess in every direction." What's particularly worrying, he says, is the current lack of respect for government institutions.
"At least the military still has all the respect," he told Sorkin. "But I don't know, how can you run a democracy when nobody believes in the leadership of the country?"
'Monied interests have too much power'
Volcker has a forthcoming book, set for an Oct. 30 release, in which the former Fed chairman laments the current state of affairs, especially what he sees as the monied interests that are chipping away at the American system of government.
"There is no force on earth that can stand up effectively, year after year, against the thousands of individuals and hundreds of millions of dollars in the Washington swamp aimed at influencing the legislative and electoral process," he writes in his book.
President Trump has come under criticism of late for his public attempts to influence the Federal Reserve's interest rate policy. Trump has been unusually outspoken in his criticism of the Fed, saying it should not be raising interest rates as aggressively as it has been.
Reagan tried to influence Fed policy
But Volcker says presidential attempts at influencing fed policy are hardly rare. He recounts a 1984 meeting with presidential aide James Baker at which he was told President Reagan was ordering him not to raise interest rates until after the 1984 election.
Volcker's book is set to appear as the Wall Street rally that began with Trump's election in November 2016 appears to be fizzling out. Stocks fell Tuesday on earnings disappointments from Caterpillar and 3M. But McDonald's shares soared on better than expected earnings.
Analysts said traders are worried about rising interest rates and wages, along with the effect tariffs from an escalating trade war are having on corporate profits.