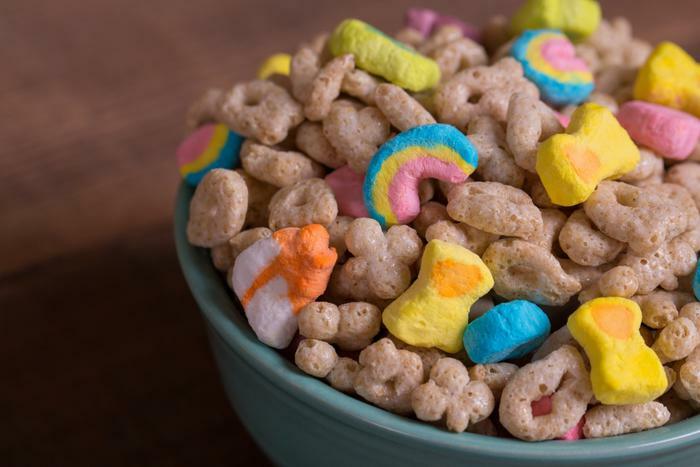 The U.S. Food and Drug Administration (FDA) is investigating a flurry of reports from consumers who say they got sick after eating Lucky Charms cereal, a flagship brand of General Mills.
Over the weekend, the FDA said it is currently "reviewing and investigating" the reports that began surfacing last week. The FDA said it became aware of hundreds of consumers' accounts of illness after they were posted on the iwaspoisoned.com website.
"It happened on April 13, 2022," wrote FK, of Fond du Lac, Wisc. "Our grandson got sick (nausea and vomiting) after eating."
JX of Rutherford County, N.C., reported that Lucky Charms is the only cereal their son likes. They report that their son recovered from his illness after he stopped eating the cereal. They also say the illness began long before last week.
"He has been getting sick for about 2 months now but once I stop buying (the cereal), which is his favorite, he has not had any more problem," JX wrote.
3,000 reports this year
Besides nausea and vomiting, consumers have also reported diarrhea as a symptom related to these sicknesses. Patrick Quade, who operates the iwaspoisoned.com, told the Wall Street Journal that he has received about 3,000 reports this year complaining of illnesses linked to Lucky Charms, with most being posted in the last two weeks. Quade said it's the most complaints the site has received about a single product.
General Mills said it is working with the FDA to investigate the matter. The company, which produces a large portfolio of breakfast cereals, said it has conducted an internal investigation and did not turn up anything that might have caused the illnesses. However, it is seeking feedback from its customers.
"We encourage consumers to please share any concerns directly with General Mills," the company said in a statement.
Favorite with consumers
The Lucky Charms brand was introduced in 1964. The cereal is made up of toasted and sugar-coated oat flakes and multi-colored marshmallow shapes. According to Kiplinger, Lucky Charms is the nation's sixth best-selling breakfast cereal, with annual sales of 86.4 million boxes.
The source of foodborne illness outbreaks can be incredibly hard to pinpoint. In 2006 and 2007, hundreds of consumers reported getting sick after eating Peter Pan peanut butter. 
A salmonella infection was eventually traced to shipments from ConAgra Grocery Products' Sylvester, Ga., manufacturing plant. The company voluntarily terminated production at the plant on Feb. 14, 2007, and recalled all peanut butter manufactured there since January 2004.