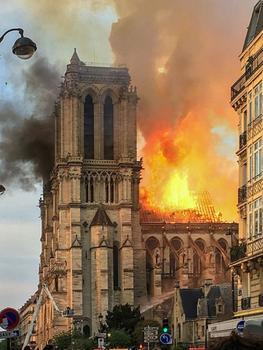 In the wake of the fire that claimed much of Paris' famed Cathedral of Notre Dame, the Federal Trade Commission (FTC) is alerting consumers about scams that might play on their sympathies with the end goal of preying on their bank accounts.
"When a natural disaster hits or a tragic event happens, you might be looking for ways to help the people in communities affected," the FTC's Christina Miranda warns in a video that addresses disaster-related charity scams.
"Unfortunately, scammers are also busy trying to take advantage. You want to make sure your money gets in the hands of charities you want to help."
Tragedies and scams go hand-in-hand
At ConsumerAffairs, we see this almost every time tragedy occurs. It happened with Hurricane Harvey, the Orlando nightclub massacre, and the recent California wildfires.
Now, less than a week after the Notre Dame fire, scammers are out in full force. In a quick search of GoFundMe, ConsumerAffairs found dozens of requests for donations. Odds are that not all of them are legit.
"These kinds of scams are proliferating globally," Alan Brill, a cyber risk expert at global consulting firm Kroll told CBS News. "And the thing that's so depressing is the scammers are so good at taking advantage of tragedy that they have a playbook."
As a real time example, Brill pointed to a page on fundraising site justgiving.org that he has sneaking feeling is phony.
And how did that anonymous user make their plea? Like this: "I am doing this in response to the Notre Dame Fire for Friends of Notre-Dame De Paris Inc. because I want to support and help Notre Dame."
"The nature of the internet is such that bad people can set these sites up within minutes. They can grab photos and videos from news sites anywhere and create a very convincing site and they can lie," Brill said.
How to protect yourself
The FTC says being vigilant is fairly straightforward, but the consumer will have to do a bit of homework. Here's some tips from Rosario Méndez, an Attorney with the FTC's Division of Consumer and Business Education:
Research the organization first. Search online for the name of the organization plus the word "complaint" or "scam." Read what others say about the organization. These organizations can also help with your research.

It's important to ask questions. If you get a call from someone asking for money to help rebuild the Cathedral, ask them how exactly your money will be used. Do some research before donating to any organization you are not familiar with.

Crowdfunding sites may not monitor how donations are spent. Research any charity before you give. Online fundraisers should tell you who gets your donation and how your money gets to the charity. They should also tell you if they keep any part of your donation as a fee. These details should be clear and easy to find without hunting through fine print. If the details are not clear, consider taking your donation money elsewhere.

Donations to foreign organizations generally are not tax deductible. If tax deductions are important to you, make sure the group is established in the U.S. Check the IRS's Tax Exempt Organization Search to see if your donation would be tax deductible. Remember that donations to individuals, like crowdfunding sites, are not tax deductible.
The simplest way to keep from getting scammed is to contact the FTC before you send any money or make any commitment and tell them about the situation by filing a complaint at FTC.gov/Complaint. If you can, give the FTC the name of the charity or fundraiser and explain why you think it is a scam. That kind of input typically expedites a response from the agency.