---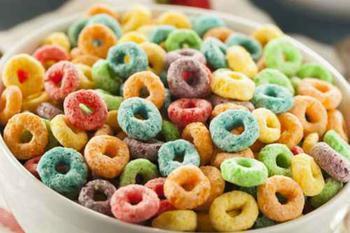 It's no secret that some of the most popular cereals marketed to kids contain more than just a scant amount of sugar. What may be surprising to learn, however, is just how much damage sugary cereal can do on a yearly basis.
One bowl of pre-sweetened cereal per day could add five to nine pounds of sugar to a child's diet each year, according to a new EWG analysis. It's a startling figure, but it's one that could be changing soon.
The U.S. Food and Drug Administration believes that if nutrition labels on cereal boxes reflected the sugar content in a "real world" serving size, parents could get a clearer picture of what's actually going into their child's body.
The EWG is giving the Big Three cereal makers -- General Mills, Kellog's, and Post -- two years to update the nutrition information on their labels to reflect larger, more accurate serving sizes.
Ahead of the impending deadline, the FDA recently announced that the cereal makers must update the Nutrition Facts on their websites to reflect the new standards as soon as possible.
Based on outdated serving sizes
"Breakfast cereals are the fifth-highest source of added sugar in the diets of children under 8," said Dawn Underraga, EWG nutritionist in a statement.
She explains that current labels are based on what the average American ate in 1977. Parents should know that their kids could be eating up to twice as much sugar as the labels on cereal might lead them to believe.
The FDA's new standard serving size will be 40 grams -- a modest estimate of what kids today are actually eating. When the new standards are put into place, none of the 10 most widely advertised children's cereals will meet the industry's own limit on sugar in cereals.
"Cereal makers face a decision in 2018," said Undurraga. "Will they reduce the sugar in their products or raise their self-imposed limit on brands marketed to children and continue to spend hundreds of millions to promote the likes of Cinnamon Toast Crunch as part of a healthy diet?"
Undurraga says the FDA's new rule is an important step toward giving parents more accurate information about how much sugar their kids get in cereal.
She also believes that cereal makers can (and should) take the new regulations a step further by reducing the amount of sugar in their products and decreasing their marketing of sugary cereals to kids.
---