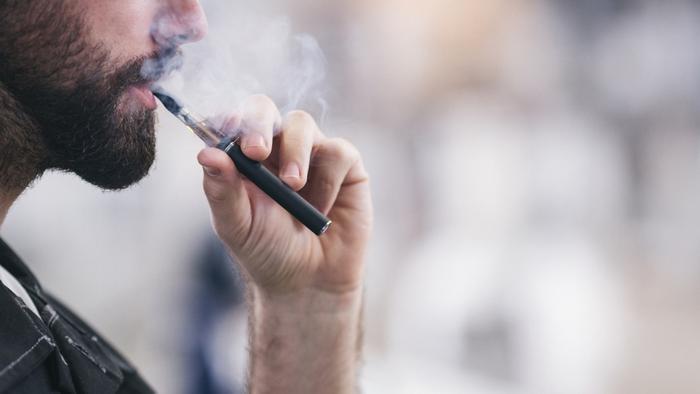 The Centers for Disease Control and Prevention (CDC) has announced that it has recorded the first death believed to be linked to vaping. 
Nationwide, nearly 200 cases of severe lung illnesses have been flagged as being potentially linked with vaping, according to the CDC's most recent figures. The agency said one adult patient in Illinois died over the summer after symptoms from an existing pulmonary illness were exacerbated or caused by vaping or e-cigarette use. 
The CDC said "severe unexplained respiratory symptoms" have been reported after vaping or e-cigarette use. Symptoms reported by patients have included breathing difficulties, vomiting, nausea, chest pain, and fatigue. 
Health officials have determined that an infectious disease isn't causing the illnesses, but they have stopped short of naming vaping as the definitive cause. 
"While some cases in each of the states are similar and appear to be linked to e-cigarette product use, more information is needed to determine what is causing the illnesses," CDC official Ileana Arias said in a statement. 
'Alarming' rise in illnesses
Last week, the CDC announced that it was investigating "a cluster of pulmonary illnesses" in five states (California, Illinois, Indiana, Minnesota and Wisconsin) that appeared to be linked with the use of e-cigarettes and other vaping devices. 
The agency said at the time that 94 cases of lung illnesses associated with e-cigarette use had been reported. Over the last week, the number of individuals who reported similar symptoms between June 28 and today increased to 193. 
Illinois has a particularly high concentration of the unknown lung illnesses among e-cigarette users. As of Friday, 22 people in the state have been hospitalized and 12 more cases are being reviewed. 
"The severity of illness people are experiencing is alarming and we must get the word out that using e-cigarettes and vaping can be dangerous," said Ngozi Ezike, director of the Illinois Department of Public Health, in a statement.
The CDC said it's working on developing a system to "collect, aggregate, and analyze data at the national level to better characterize this illness."