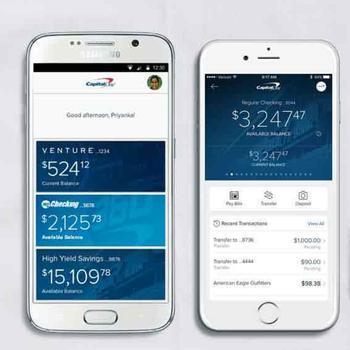 In the last decade, banks have moved aggressively to encourage their customers to embrace mobile banking. Institutions stressed the ease and convenience of banking with your smartphone.
J.D. Power and Associates, however, has found that not all banking apps are created equal.
The company has released a survey that measures the things that sets one mobile banking app from another. For the most part, it's being intuitive and easy to use. Consumers rate that higher than any other quality.
The survey found that consumers who use mobile banking like it better than just about any other way of dealing with a bank. But despite that, Bob Neuhaus, director of financial services at J.D. Power, says adoption is stubbornly low.
Slow to adopt
"The challenge for both retail banks and credit card companies is to establish accessible entry points that ease resistant customers onto the mobile channel where they will, in all likelihood, quickly find that they are very satisfied with the experience," he said.
The survey identified "lack of trust" as a key reason many consumers have not yet adopted mobile banking. It found just 31% of retail bank customers and 17% of credit card customers are using mobile apps. Fewer than half the people in the survey said they believed their financial data was "very secure."
A previous J.D. Power study found that just 32% of bank customers say they trust mobile banking.
The rankings
Consumers rank Capital One's bank app number one overall, with an 870 score on a 1,000 point scale. It's followed by Bank of America with an 865 score and TD Bank with 860.
Credit card apps were judged separately, with Discover placing highest with a score of 895.
"Anytime our company is recognized by J.D. Power it is a tremendous honor," said Julie Loeger, Discover's executive vice president and chief marketing officer. "To rank highest in a first-time category is a credit to our loyal cardmembers who continue to engage with Discover through our mobile app."
Capital One placed second in the credit card app category with a score of 888. Barclaycard was third at 886.
The J.D. Power survey found that even though consumers have been slow to adopt mobile banking apps, younger consumers are more likely to use mobile than their older peers. Seventy-six percent of Millennials and Generation Z have used a mobile banking or credit card app in the last 30 days.