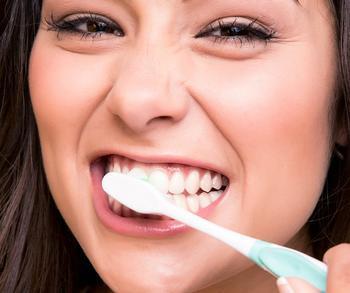 British researchers say they have developed a new toothpaste ingredient that restores minerals lost from tooth enamel, helping to prevent decay and reduce sensitivity that can cause tooth pain and discomfort.
The ingredient, BioMin, slowly releases calcium, phasphate, and fluoride ions, forming a mineral which its promoters say rebuilds and strengthens tooth structure.
"Using remineralizing toothpaste makes teeth far more resistant to attack from acidic soft drinks like fruit juices and sodas. It is also much more effective than conventional toothpastes where the active ingredients, such as soluble fluoride, are washed away and become ineffective less than two hours after brushing," said Professor Robert Hill, Chair of Dental Physical Sciences at Queen Mary, University of London, who led the team which developed BioMin.
BioMin is available in the UK through specialty distributors and online. It's not known when or if it will be available in the United States.
Dental decay is the most prevalent disease worldwide and is estimated to affect 13.5 million people in the UK.
The American Dental Association, which claims to be "America's leading advocate for oral health," did not bother to respond to a request for comment.