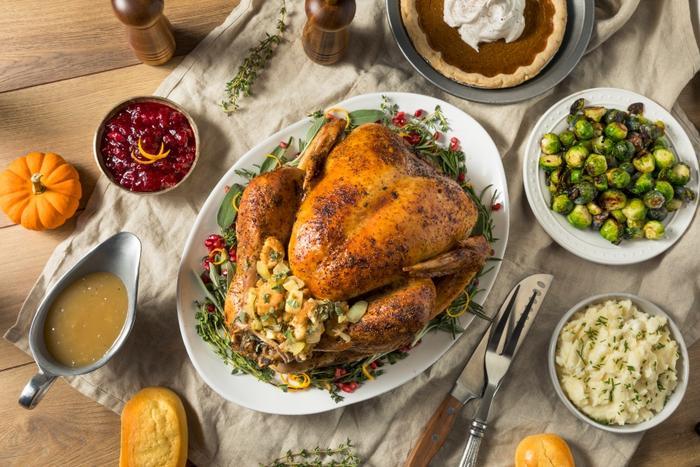 If you're planning to serve turkey at Thanksgiving this year, it will come with a generous side dish of inflation.
Economists at the U.S. Department of Agriculture (USDA) report an ongoing outbreak of avian influenza in the U.S. has devastated both commercial chicken and turkey flocks. As a result, retail prices of breast meat have risen above $6.50 a pound this year. In 2020, the price per pound was around $2.
The price of whole turkeys is also sharply higher. The market research firm Urner Barry estimates the price this year is 57% higher than the latest five-year average.
USDA says avian influenza has been reported in 39 states so far in 2022, reducing the commercial turkey flock by about 6 million birds. In recent weeks new cases have been reported in the major producing states of California and Minnesota, causing concern that the disease may start spreading again in the fall.
When it reported its latest quarterly earnings on Thursday, Hormel Foods said its Jennie-O Turkey Store sold significantly fewer turkeys, with sales volume declining by about 20%. However, profits surged for the division.
"As anticipated, volume and sales declined as a result of the supply impacts on the company's vertically integrated supply chain from highly pathogenic avian influenza (HPAI)," the company said in its earnings statement. "Foodservice and whole-bird sales increased due to favorable pricing, partially offsetting lower commodity and retail sales. Higher commodity prices and food service sales drove the substantial improvement in segment profit."
Availability issues
Dr. Jerry Bailey, a certified nutritionist and functional medicine physician at Lakeside Holistic Health, said the current avian flu outbreak is already causing availability issues for turkey and chicken-based products and lunch meats. 
"With the lack of recovery time for farmers, your Thanksgiving turkey may be 20% to 50% higher than in prior years," Bailey told ConsumerAffairs, adding that going the ham route will cost more, too. "If you choose a Thanksgiving ham it may also be elevated at least 20% to 30% above prior years' prices."
Holiday chefs looking for an alternative to turkey might consider beef. Its price, which rose sharply during the height of the pandemic, has fallen in recent months because of an increase in supply.
For those still willing to pay a higher price for a Thanksgiving turkey, the National Turkey Federation told the Wall Street Journal that there should be plenty of turkeys at the supermarket during the holiday season.