Student moving tips
Study up on what to bring to college



Written by

Edited by
Find Moving Companies near you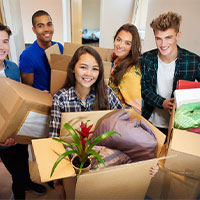 The journey to college marks a pivotal moment as you step away from the comfort and familiarity of home to embrace newfound independence and decision-making.
The transition to a new environment can be difficult, though, as you adjust to new routines, environments and ways of life. When you make the move, there's a lot to handle: packing, unpacking, getting to know the new area, etc. Handling your own money — for rent, groceries and other expenses — might also be new to you.
The good news is we've got you covered, with everything you need to bring along and how to make the transition as easy as possible.
---
Key insights
College is an opportunity to create new goals and shape your identity, with lots of options for self-discovery and growth.
Bring bedding, a few kitchen supplies, toiletries, clothing, school supplies, electronics, medical essentials, cleaning supplies and personal documents.
Use this opportunity to express your individuality — decorate your living space in a way that makes you feel comfy and at home.
Know that while you might experience homesickness, sometimes it just takes a while to adjust to new routines, make friends and learn to balance your studies and personal life.
10 things to bring with you to school
Having the right items on hand — both practical and for leisure — can set the tone for a successful and fun college journey.
» IF YOU'RE HIRING HELP: Best moving companies
1. Bedding and linens
The National Library of Medicine's study of the causes and consequences of sleepiness among college students found that 80% of college students say loss of sleep negatively affects their academic performance. Students juggle irregular schedules due to early classes and (often late-night) studying, social activities and part-time jobs, but quality sleep is essential for cognitive function, memory consolidation and overall health.
Comfortable bedding can promote sleep quality, though. Amid academic demands, exams and other new responsibilities, comfortable bedding becomes a haven for relaxation. Soft pillows, cozy blankets and comfortable bedding can create a calming ambiance and help you manage your stress.
The following bedding is good to bring to campus or your apartment:
Sheets
Pillows
Blankets
Mattress topper
Comforter/duvet
Sleep mask, earplugs or a white noise machine
2. Basic kitchen supplies
With just a few basic kitchen supplies, you can easily prepare meals yourself, saving money and time compared with traveling to on-campus dining spots or nearby fast-food restaurants. College schedules can be unpredictable, but having a few essential kitchen tools helps to adapt your meals to your schedule, whether it's a quick breakfast before class or a late-night study snack.
Take a look at your living space to determine what kitchen items you'll need, and chat with your roommate to figure out what they're bringing.
How much kitchenware you bring depends on whether you have a kitchen of your own (or just a hotplate) or a shared kitchen space, but you might find yourself needing any of the following:
Dishware
Utensils and cooking tools
Food storage containers
Mixing bowls and measuring cups
Cookware set
Cutting board and knife set
Can opener
Colander
3. Toiletries and personal items
In shared living spaces like dorms, good hygiene curbs the spread of disease — it also boosts confidence and aids in social interactions. The connection between personal hygiene and mental well-being is deep; maintaining cleanliness can improve your self-esteem and uplift your mood.
College is a time of growth, and developing hygiene habits now lays the foundation for future professionalism. You're likely to want most of these items:
Toiletry bag
Toothbrush and toothpaste
Dental floss
Face wash/cleanser
Shampoo and conditioner
Body wash/soap
Deodorant/antiperspirant
Razors and shaving cream
Hair accessories and appliances
Sunscreen
Moisturizer/lotion
Lip balm
Nail care kit
Cotton swabs and cotton balls
Feminine hygiene products (if applicable)
Contact lenses/glasses (if applicable)
Laundry supplies
Toilet paper/tissues
Hand sanitizer
Facial tissues
Towels
Flip-flops/shower shoes
Personal grooming items
4. Clothing for all seasons
Before packing, take the time to research the climate and cultural norms of your college town. Having the right clothing for various situations is crucial. Generally, you want comfy clothes for lounging, more formal outfits for events and appropriate garments for cold or hot weather.
Because dorms and apartments have limited space, it's smart to switch out your clothes based on the season. Only pack what's right for the current weather and swap things during breaks. If your college has dress codes, pack accordingly.
Don't forget to inquire about laundry facilities. Typically, having a week's worth of garments should suffice if you have access to regular laundry services.
5. School supplies
Having the right tools and materials at your disposal can make a difference in your academic success and overall college experience. Keeping your supplies organized ensures you can easily find what you need when you need it.
These supplies typically come in handy:
Notebooks or binders
Pens and pencils
Highlighters
Backpack or bag
Planner or calendar
Index cards
Sticky notes
Calculator
Basic stationery
Folders
Desk organizer
Art supplies (if applicable)
6. Electronics and chargers
In today's digital age, electronics facilitate connectivity, information access, coursework management and overall productivity. Especially if you're a big Kindle reader, iPad artist or gamer, you'll want to make sure to bring all your electronic essentials. Consider packing the following:
Laptop or tablet
Smartphone
Chargers
Power strip
Headphones or earbuds
External hard drive
Printer
Flash drive
Graphing calculator (if required)
E-reader
Wireless router (if living off-campus)
Laptop stand or cooling pad
Portable charger or power bank
Camera
Fitness tracker or smartwatch
TV or streaming device
Noise-canceling headphones
Gaming console
7. First aid kit and medication
Packing a first aid kit and basic medications helps ensure you're prepared for any health-related situations that might arise. Use a sturdy container or bag to keep everything organized and protected from moisture (consider using a clear, resealable bag for visibility).
Any prescription medications you take
Adhesive bandages in various sizes
Sterile gauze pads and adhesive tape
Antiseptic wipes or solution
Tweezers and small scissors
Instant cold packs
Disposable gloves
Digital thermometer
Antibiotic ointment
Eyewash or saline solution
Pain relievers (ibuprofen, acetaminophen, etc.)
Antihistamines for allergies and insect bites
Antacids for stomach discomfort
Motion sickness medication
Hydrocortisone cream for skin irritations
Aloe vera gel for sunburns
Throat lozenges or sore throat spray
Any necessary medical equipment (like inhalers, EpiPens, insulin, etc.)
Medical information card or tags with emergency contacts and any allergies
8. Cleaning supplies
College dorms and communal living areas can be hotspots for bacteria and germ-sharing. Bring along some of your own cleaning supplies so you can disinfect and sanitize surfaces, reducing your susceptibility to illnesses and fostering good hygiene:
All-purpose cleaner
Microfiber cloths
Sponges and scrub brushes
Disinfecting wipes
Trashbags
Broom and dustpan
Mop or Swiffer
Window cleaner
Lint roller
Rubber gloves
Air freshener
Small vacuum
Paper towels
Dish drying rack or mat
Storage caddy or bucket
9. Personal documents
Identification, insurance cards and relevant student documents are essential for administrative purposes and for access to campus resources, and you'll need them in case of emergency:
Driver's license or ID card
Passport
Student ID card
Health insurance cards
Acceptance letter and enrollment confirmation
Financial aid information
Course schedule
Housing information
Student visa and immigration documents, if applicable
Emergency contact information
10. Hobbies and comforts
Your living space isn't just for books and studying — it's your new home, so it's your space to personalize and feel comfy in. You can decorate it however you like (after a talk with your roommate, maybe) to fit your personality and passions.
Photos and frames
Keepsakes
Favorite books
Bookshelf
Cozy chair or cushions
Posters
Wall decals
String lights
Command Strips or mounting putty
Low-maintenance plants
Art supplies
Musical instruments
Crafting materials
Other tips
Now you know what to bring — but what else do you need to know to prepare for the big day? We've got a few more pro tips to make move-in go as smoothly as possible.
Go early or late to avoid crowds
Consider arriving at your college campus either a bit earlier or later than the official move-in time. This can help you avoid the rush and long lines, making the process smoother and less stressful.
Use a big car or moving truck
Decide whether you'll need a large car or a U-Haul to transport your belongings to college. Assess the amount of stuff you'll be taking, the distance you're traveling and the convenience and price of each option. If you're flying, check if there are any shipping services available to send some items ahead of time.
Ask family or friends to help
Having friends or family assist you in the moving process can make it significantly less overwhelming. They can offer emotional support, help with lifting and carrying and provide company throughout the journey.
Pack carefully
Pack strategically to optimize space and protect your belongings. Use boxes, containers and bubble wrap to prevent damage. Label boxes with their contents to make unpacking easier.
» DO IT RIGHT: How to pack for a move
Connect with roommates ahead of time
Reach out to your roommate(s) before moving in to coordinate who'll bring what items to avoid unnecessary duplicates. Establishing a connection beforehand can also make the transition smoother.
FAQ
Should I take everything I own to college?

In most cases, it's probably not a good idea to take everything you own to college. Dorm rooms are often small, and bringing too much stuff can lead to clutter and make your living space feel cramped. Focus on bringing the essentials, taking into consideration the available storage space. Leave behind items you rarely use or can easily replace.
How can I save space when packing?

To save space when packing for college, consider these tips:

Make a packing list.
Use space-saving storage solutions.
Coordinate with roommates.
Use every inch of available packing space efficiently (put things in shoes, tote bags, etc.).
Leave non-essentials behind.
Can I buy items after I move in?

You can definitely buy items after you move into your college dorm or apartment. In fact, it's often a good idea to wait until you see the living space and get a sense of what you truly need. This can help you avoid overpacking and wasting space with unnecessary items. Once you're settled, you can make a shopping list for things you didn't bring and realize you need.
Is it better to travel light or bring more things with me?

Traveling light is generally recommended when going to college. Bringing only the essentials and items you know you'll use can help you avoid clutter, make moving in and out easier and create a more organized living space. Remember that you can always acquire items you need later, either by purchasing them locally or having them shipped to you.
Will my school provide essentials?

Most colleges and universities provide some essential items, but this varies. They usually provide basic furniture (like a bed, desk and chair). However, you'll need to bring your own bedding, toiletries, clothing, school supplies and personal items.

It's a good idea to check with your college to see if it has a recommended packing list or if there are specific items provided in your dorm room or living space.
---
Article sources

ConsumerAffairs writers primarily rely on government data, industry experts and original research from other reputable publications to inform their work. Specific sources for this article include:

National Library of Medicine, "Causes and consequences of sleepiness among college students." Accessed Aug. 14, 2023.
Did you find this article helpful?
|
You're signed up
We'll start sending you the news you need delivered straight to you. We value your privacy. Unsubscribe easily.