Can you hire a single-item mover?
You can hire movers — or you can rent a truck and do it yourself



Written by

Edited by
Find Moving Companies near you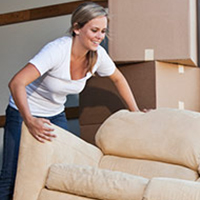 Single-item movers are professional moving companies you can hire to transport individual items or a small number of belongings. This option makes sense when you don't require full-fledged moving services for your entire house or apartment.
If you're moving locally and your item requires two movers to relocate, you can expect to spend about $80 to $100 for a simple hour-long single-item move — but if you're moving an awkward item (like a piano), it might cost around $200 to $550. Read on to see if it might be worth it to hire a mover for your small move.
---
Key insights
A single-item move is a cost-effective option when a full-scale moving service is unnecessary.
You can customize a single-item move to fit your needs — whether your item is bulky, valuable or fragile, movers have specialized equipment to ensure the safety of your things during transport.
You can also rent a truck, which can be a more budget-friendly option. Courier services and specialized moving apps are other convenient alternatives.
How single-item moves work
Coordinating a move — even for a single item — can be time-consuming and stressful. A single-item mover can free up your time and energy so you can focus on other tasks.
In most cases, a traditional moving company can complete a single-item move (sometimes called a "small move") for you. The movers should have specialized equipment to reduce the risk of damage to your things, as well as experience and expertise in moving valuable and unique items. They can properly prepare, pack and transport these items to ensure their safe transit and arrival.
The cost of hiring movers depends mostly on how long it takes them to complete the job, so the price of a local single-item move shouldn't get too exorbitant, unless your item is particularly bulky or awkward (like a piano or hot tub). In recent cost analyses, we found that hiring a crew of two for a small local job typically costs around $80 to $100 hourly.
» COMPARE: Best moving companies
Other ways to move a single item
If you need to relocate a single item to your new home, you have a few options — not only hiring a moving company, but also renting a truck, hiring a courier service or using a platform like TaskRabbit.
» MORE: Moving yourself vs. hiring movers
DIY/renting a truck
Moving on your own can save you money (you might spend as little as $100 for a small truck rental if you're moving locally, or you can borrow a friend's). You can also buy packing materials, like moving blankets and cushioning wrap, from a local moving store to make your move smoother.
If you decide to rent a truck, you'll select a size that accommodates your item and then pick up the vehicle from the rental company. From there, you have the freedom to manage your furniture relocation at your own pace and schedule (though more time will mean more money).
» MORE: How to rent a moving truck
Courier services
Many local courier companies offer furniture delivery services. You can use online platforms to find courier services that are experienced in handling and transporting various types of items, including furniture. Compare quotes and choose the most cost-effective option.
Task-hire apps
You might also consider downloading a task-hire platform like TaskRabbit or Thumbtack.
TaskRabbit connects you with locals who can help with a variety of tasks, including moving furniture. You can post your task, set your budget and choose a Tasker based on their reviews and rates. With Thumbtack, you can request quotes from local professionals, including movers, and then choose a service provider based on your budget and needs.
There are several other apps and platforms — Dolly and GoShare, for example — that specialize in on-demand moving and delivery services.
FAQ
What types of items can I hire a single-item mover for?

Single-item movers typically are best for moving individual pieces of furniture or appliances — especially large, heavy items like sofas, refrigerators, washing machines, pianos and heavy gym equipment.
Do single-item movers provide packing and unpacking services?

Movers often offer packing assistance for an extra charge, but this isn't always the case. If you require packing and unpacking, you might need to inquire specifically about these services or consider hiring a separate packing service.

» MORE: Best packing services
Are single-item movers insured?

Reputable professional movers should carry some form of insurance to cover potential damages during the move. It's best to confirm the insurance coverage with the moving company before hiring; this helps ensure you're protected in case of any accidents or damages that occur during the moving process. Always ask for proof of insurance and details of coverage before finalizing any agreement.
What is the process of hiring a single-item mover?

To move a single item, contact moving companies and ask if they specialize in single-item moves. Tell the mover the item you need moved, where it's located now and where you want it moved to, and it should provide a quote. If you agree to the quote, you can schedule a time to move your item.
Did you find this article helpful?
|
You're signed up
We'll start sending you the news you need delivered straight to you. We value your privacy. Unsubscribe easily.