Consumer Complaints and Reviews

I purchased the above referenced lawn mower (Timecutter SS5000 Zero Turn) in May 2016 from Home Depot. Thought I was getting a good lawn mower, but it has turned out to be a nightmare 1 year later. Just recently I have been having problems with the mower deck falling off. It falls off when you cut high grass. I filed a complaint, of course Toro wants to claim that the deck could only fall if I hit something with it. This is just their way to get out of honoring the warranty. I have truly found out how they appreciate their customers. The design on the zero turn lawn mowers is awful. The mower deck is held up by two open ended hooks, very bad design. But of course Toro's way to take care of their customers is to put the blame on the customer.
Well I have not hit anything with this mower. I am more careful with this mower than I am with my car. Very disheartening to find that when there is a design flaw, that Toro wants to put all the blame on the customer. Really makes me question every wanting to buy another Toro product. Not a good way to do business and definitely not a way to earn consumer confidence.

I tried getting help with an order that Toro made a mistake with. They refused to help me, blamed others for the mistake, were rude and argumentative, refused to let me speak to a supervisor, and hung up on me. Don't EVER give them your business.

I had a Toro self-propelled lawn mower that I bought in Brandon, Florida in 2005 and had it until I moved in June of 2016. This mower was excellent! I maintained it and NEVER had to have it serviced. If fact, it was still working great when I left Brandon, but I just decided to give it to my neighbor since she did not have one. Just about 1 week ago, I bought a 2017 Toro self-propelled lawn mower (model 20377) because I thought I would surely get another Great mower... How untrue this was! I am taking it back today - performance was TERRIBLE - won't buy another Toro.

Every year, at least once and sometimes twice, the drive belt falls off. Dealer fixed it the first time and put a claim into Toro. Great, but it tied up the machine for two weeks. So, I proceeded to re-install it myself. A pain, and because Toro paid the claim, it leads me to believe, this is an inherent problem. Fired it up this season and within 30 minutes, drive belt fell off again. Waiting to see what dealer says but if no related service bulletin and fix from Toro, they can keep their machine. Not the company and product quality they use to be.

I have a Toro Titan 5420 zero turn mower. This is the beginning of the fourth summer I've had it. During the previous three years it has been in the shop numerous times, not counting the times I repaired it myself, and none were covered by the warranty. The idler pulleys are plastic and are not very durable. The fuse block is exposed which allows trash to collect in it which will short out your entire wiring harness. It is now in the repair shop again. When it works it does a good job cutting the grass but it is not dependable. For almost $6000.00 I expected far more quality than I received. TORO - another four letter word for junk.
How do I know I can trust these reviews about Toro?
790,221 reviews on ConsumerAffairs are verified.
We require contact information to ensure our reviewers are real.
We use intelligent software that helps us maintain the integrity of reviews.
Our moderators read all reviews to verify quality and helpfulness.
For more information about reviews on ConsumerAffairs.com please visit our FAQ.

Purchased new Toro electric start, worst lawn mower ever. Won't start after running, have to use bungee cord to wrap around starting arm. Wheel fell off, leaves grass on lawn. Won't stay running on slightly inclined hill. Terrible gas economy.

I purchased this Toro lawn mower one year ago and it has been nothing but a major headache. The mower starts and when I shut it off to empty the bag, it doesn't start again for the next hour. I should be done mowing my lawn in 45 minutes instead it becomes a 2 hour project. Putting it at curbside tomorrow and purchase a product that actually works properly. This mower is worthless!!!

I bought a Toro 50" cut riding lawn mower in November 2016, it is now April 2017. This is absolutely the worst lawn mower I have ever owned. EVERY time I cut grass something has to be fixed. Last month the bearing in the steering column had to be fixed, it cost me $100.00 and took almost 3 weeks to get it back. It is still a major effort to steer. Now the blade won't stay engaged and the backup and cut option won't operate at all. I paid $3000.00 for a real piece of garbage.

I've had this model (Toro Recycler Smart Stow lawnmower) for 3.5 years, and have been dissatisfied with it after the first season. Followed all storage instructions, etc. Guaranteed to start?! Like my wife said, "It say's guaranteed to start, it doesn't say guaranteed to run!" No matter how clean or new the spark plug, it takes 10-15 pulls to start. This last time it just quit after starting up. Proper fuel, regular oil check and change, clean filters, fuel lines OK, etc., none of it matters. I do not recommend this Toro model.

Used my lawn mower twice and it just died. Went to return it to Home Depot as a piece of junk. Home Depot said, "You are a few days beyond our 30 day return limit so screw you." Don't buy Toro; don't shop at Home Depot.

In October 2016 I was mowing when the mower engine exploded. It flew shrapnel in several directions and spewed oil all over. I called Toro and was told to bring it to a dealer who would dismantle it and send in pictures on a warranty claim. It was purchased October of 2015 so I figured it would be covered. I was then told that Briggs & Stratton had denied the claim and said it was my fault due to lack of oil. I always had checked the oil every time I mowed because I knew this mower burned oil unlike the last Toro I had purchased in 2008 which still runs. It's disgraceful to deny claims like these and claim user error. I understand this engine has now been discontinued due to emissions. It's no wonder it has emissions problems as I know it burns oil excessively. Don't buy Toro products. Their warranties are worthless and they won't back their products.

Like most other users here, we had 2 Toro mowers over the years that were extremely dependable. We bought this 2 years ago to cut a half acre. It worked good the first few times last year, then broke down, so into the shop it went. This year it worked a few times and it froze. Back to the shop. The place that sold it, a small shop that works on and sells power equipment, had to order the part which took weeks for it to come in. End of summer, only a few more cuts and the cable broke today. We're ready to trash it due to extreme frustration. Don't buy this machine. It is under-engineered and a waste of good money.

I had my Toro SW5000 for only one season when one drive-transmission went out. It was fixed under warranty with no problem, however my main complaint is the steering wheel gearing is not adequately protected from the elements, clogging the gears with grass, and making it very difficult to turn. You can clean it after use but it clogs again in no time upon using it next. It needs a "fix." Otherwise, quite happy with the mower. It takes some of my steep hills easily.

First, I must say as a previous Toro walk behind mower owner, I'd always favored their product over all others. A recent 8 year old mower quit because it just got old. OK, so I bought the Toro Smartstow via ShopToro in Minneapolis, MN. It ended up being shipped from Dallas, TX. Immediately, I had problems. The right side lever for adjusting wheel height wouldn't budge. Also it wouldn't start despite my gassing it and putting in the recommended and include fuel additive. Took it to Johnson's Small Engine repair in Harrodsburg, KY which is the recommended local shop. Cost 35.00 despite being under warranty. They said they had to flush the fuel system. Thereafter, I used it happily five times. On the 6th use, it was blowing out oil, labored, then quit. I also noticed the engine bolts to the deck on the mower were loose.
Long story shorter, ShopToro reminded me to go to the local dealer for repair. Local dealer wouldn't repair. I advised ShopToro, they said dealers are independent franchises and decide for themselves if they will honor a warranty. Contacted BBB in Minnesota, ShopToro advised that Johnson's Small Engine repair in Harrodsburg, KY would be happy to service me. As before, this dealer refused to service me. You can be certain I will never again nor recommend, and surely advise others to not purchase a Toro mower. They used to sell quality products and provide quality service. These days you might as well buy from one of those cheapo Chinese companies that Toro seems to be imitating now. Minnesota BBB advised me to seek the KY BBB for help. Toro says no refund or replacement mower.

On Aug 19 2016 we bought a Lawn-Boy self propelled mower. After starting, stopped it adjust the height of mower. Never could get it started again. Took it back to Home Depot on Aug 20 2016. Bought a Toro electric start mower. Got home to put it together to find a blue plastic push button to start. It was missing. Called store. Told to come in next day. They would give the part from one on the floor. So on Aug 21 back to store which a 30 min across town from where we live. Worked great, stared wonderful so mower yard. Then on Sept 1 2016 tried to beat the rain so started to mow. Got backyard mowed moved to front. That was when the back left wheel fell off. Husband put it on I finished. But since the wheel was loose it has ruined the gear. Will take mower back & ask of refund. Not sure what to buy now.

My Toro self propelled mower is less than two years old and the other day it literally blew up. They say I let the oil run too low. I have a similar one that's 8 years old I use at my father in law's place and never have a problem with it. I will never buy a Toro product again.

We bought 2 Toro Zero Turn lawn mowers a year ago and they have been in the dealers shop about as much as we've actually been able to use them. Both are very hard to turn, and the starter went out. Took it to dealer. Then mower wouldn't engage and parking brake wouldn't either. It'll work for a little while then next time, it won't start. Can't steer it. Took it back to local dealer, pushed it off in his parking lot and told him "we don't want it back in our yard!" It's like a card game. $10,000 and we lose! If anyone knows about a lawsuit please post to let us know. We'll never recommend a Toro Aka, "piece of crap" to anyone!

On 5-11-15 I purchased the Toro 22-inch from home depot had it for a year and two months kept up all the maintenance. Finally it start smoking and blowing oil out of the air filter compartment. I called Toro and they gave me dealers to use and I did after they checked it. They said, "You have a bent crankshaft and to fix it was $359.89." Because it was not covered under warranty. The dealer said, "You may have hit something which was not true. Not only did I have a two year warranty I bought the extended warranty. So I called Toro back and they said they have to go with whatever the dealer say. Never again will I ever buy a Toro.

Bought a Toro 42 in ZTR mower from Home Depot. Mowed my backyard and thought it was the best thing ever. I backed the mower into the garage and simply shut it off. That night I heard a clicking noise that wouldn't stop so I disconnected the battery. The following day I put the battery cables back on and was planning to mow my front yard. The mower wouldn't move forward or backwards, wasn't able to push it. I read the manual and made sure I was doing everything right. Turns out it was the electronic brake. Had to use a come along to drag it onto my trailer. I returned it and got my money back. What a nightmare. I researched and found it was the better ZTR. Not sure what to buy now.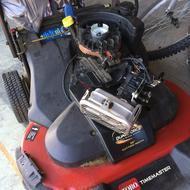 Purchased in August 2012 from Home Depot. When I first got it, it ran and cut beautifully. Probably got 4-5 mows of a 1/3rd acre lot. Then, early in the next season, it began running erratically. Thought maybe it was "bad gas" so I drained the tank and re-fueled. Still ran very rough. Oil and air filter changes, no good. Never ran right for next 3 seasons. Then one fateful day in July of 2016, came out to find engine seized. The lawn mower repair shop found that gas had been leaking into the crankcase, contaminating the oil. The oil was essentially not viscous enough to protect the engine and therefore destroyed it. From what I've read, these 2012 models were shipped with debris in the gas tank, for which there was a technical service bulletin. Since I missed out on that, I'm now left with a $1,049 pile of metal and sadness. I'd never buy Toro again, and I urge you to do the same!

Had push mower 7 months quit running, have to pay $98 for repair of mower.

I would like to report that Toro lawn mowers are nothing of the quality of the previously built older well made Lawnboy mowers. Toro buys Lawnboy, puts out a cheaper version of the Lawnboy, only to funnel future buyers to Toro's product line. I have never had such a terrible cut than the Toro gives. At every corner, when cutting my lawn, Toro drops a pile of grass. This leaves a very unattractive lawn, with clumps of grass all over the lawn. I have talked to other people who own Toro and they report the same problem. I do not know how to get a hold of Toro to give them input. I have an older Toro, maybe about ten years old. On the positive side, it is self propelled and starts with one easy pull. The quality of cut is quite prohibited though. I would sell this mower in a heartbeat if I could find a mower which cuts like the old Lawnboy of years gone by.

I purchased a Toro TimeMaster 30 inch mower in 2012. I understand it is now out of warranty. However, even beginning in the first mowing season this mower has been plagued with mechanical breakdowns from broken belts, cables, carburetor, and now the head gasket has been blown. Since I paid >$1,000 for it, I have been religious about maintenance and service. Toro says they won't do anything to help, even though they said it sounds like the mower has had an excessive amount of repair needs. Just the kind of company I want to do business with. NOT! Last Toro product I purchase and cannot recommend them to anyone.

I've had nothing but problems with the belt pulleys. They keep ringing the center of the pulleys out thus ripping the belt to shreds. Belt and pulleys are about $36.00 each. It's happened once a year so far. That gets expensive plus nothing but problems with the electronic brake. New switch for it was $100.00. It's the worst mower I've ever had and won't ever buy another one.

Apparently, Toro really does mean "bull"! I purchased a Toro self propelled Guaranteed To Start mower from The Home Depot in August 2014. I kept it in a shed and used it about every three weeks, until February 2016, when it wouldn't start. I changed the air filter, and the cover clips abruptly broke off. I changed the fuel, and noticed that the fuel cap was cracked. It still would not start, so I took it to an authorized Toro repair shop. They told me that the carburetor was completely corroded! The so-called 2 Year Warranty did not cover what they called "neglect"! They wanted $175.00 to repair it! (I paid $299.00 plus tax for the mower.)
I told them that I did not want the repair, and they said there was a $30.00 inspection fee! I told them in no uncertain terms to keep the piece of ** and I will never buy a Toro product ever again! This includes the equal piece of ** Lawn Boy! I owned a Craftsman mower for 15 years and would still have it today if it weren't for a small stump hiding in my grass! I'm writing this review now because I need to shop for a new mower, and I was tempted to use my Home Depot card and saw that they sell primarily Toro, and Lawn Boy mowers, which are the same company! I will not give them my money again!

Purchased the above mower 5/31/16 and accepted delivery 6/6/16. On 6/6 the mower was used for less than an hour when the electric brakes failed, resulting in the mower shutting down. Transported the mower to an authorized Toro repair center for analysis. The repair mechanic stated "the electric brake issue has and will continue to be an issue, Toro needs to redesign it". After the analysis: I searched online forums and reviews and found that my experience is synonymous.

Personal Pace Lawn Mower manufactured in April 2010 - My Toro today started up and then shut down after a few seconds. I tried to add fresh fuel with Stabil & same result. I viewed two YouTube videos that showed how to clean the jets, but it was for an earlier model. I don't know where the jets are on my mower. I'd replace the carb, but don't know which one to get. I purchased it new in 2010.
Within 2-3 years the engine ran rough and stalled. I took it to the dealer & who cleaned the carburetor, he said that it was likely bad gas. I started using regular gas (not unleaded) and added some Stabil. I've have no problems since until today when the start-up and shutdown started. BTW - the dealer told me that at the time Toro was providing some help with the carburetors for this model.
One thing that I've done to get it to start easily, is to pull the cord slowly one time with the spark plug disconnected. Then I connect the spark plug, give it a good pull, and it usually starts. I hope that this helps someone. I'm either going to buy a carburetor or a new mower. This is the 7th year for this one. I've had good success with Toros in the past, except that the decks of the two recent models are not that good, and tend to rust. I will probably buy another Toro or a Honda.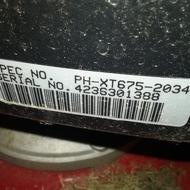 We bought our Toro Recycler lawnmower in the summer of 2013 from Home Depot. The advertisement it was "guaranteed to start" was appealing to my wife and I and was one of the reasons we bought it as our first lawnmower. Our lawn was small, and only took about eight to ten minutes to mow completely. Worked great that first season, although I only used it for half a year. I ran the gas down to almost nothing to minimize the gas that was left in the tank when I stored it in our shed for the winter. Next season I put new gas and let the mower run for a few minutes before using it when I first started it for the season. By the end of that summer the mower was running a bit rough but I didn't think much of it. We stored the mower again in our shed with the gas run down to where I couldn't even see any in the tank.
In spring of 2015 we went to use the mower and it would not start at all. Tried new gas, mechanic in a bottle, checked oil and used carb and choke and even that only got a faint sputter. We were preparing to move so I didn't have any time to get it repaired so we just stored it away and it never worked since. From the amount of warranty complaints it is doubtful we'd have received any help anyway. The "guaranteed to start" thing is a sham as even if you take pretty good care of the mower and use it only for a small yard it still dies after 2 years. Extremely disappointed.

I had a Toro self propelled walk behind for over 20 years and never had a problem with it. The only reason I got a new one is because I couldn't get parts for it anymore. In 2011 I got the Super Recycler 20384 from the same dealer I got my old Toro from. It worked great for the first year, but the next year it would start then quit after about 10 minutes. I took it to the dealer and he said it was bad gas. He drained the carb and gas tank, charged me $60 and sent me on my way. It ran fine for about a month and the same thing happened.
The gas I used was only a month old, but the dealer said try 89 octane from a different gas station (after paying him another $60 for the same fix as last time). Did what he said, mower worked for about a month and started crapping out again. I finally just started draining the tank myself about every 3rd use and put new gas in it every time. I still have to bounce the thing up and down to get it to run, and even then it still runs rough. I decided to take a 10 lb sledgehammer to it this weekend and buy a Honda. I'm so done with that piece ** Toro! I'm definitely no longer a Toro customer!

Bought this mower from Home Depot early 2012 when moved to Florida. What a piece of crap, worked ok for first year or so. Then did not want to start. I found that if you bounce it up and down on driveway several times it would then start. Now it runs half decent for few minutes then starts sputtering. Have been changing oil, air filter, new blade, good gas. This one has a Kohler engine which I thought was better than Briggs. I think I read somewhere that this engine now made in China. And I see that many people are having same problem. Class action lawsuit seems appropriate. Rather than having this lemon worked on I am going to buy another mower and it won't be a Toro or from Home Depot.

ConsumerAffairs Research Team
The ConsumerAffairs Research Team believes everyone deserves to make smart decisions. We aim to provide readers with the most up-to-date information available about today's consumer products and services.
Toro develops cutting edge riding mowers and has a 100-year history.
60-inch cutting deck: This broad cutting deck handles substantial lawn sizes of up to 6 acres.
Lifetime guarantee: These riding mowers have a lifetime guarantee for industry-leading protection.
Focus on durability: The parts used in the Toro riding mowers have a high-quality design with every step taken to increase durability.
Adjustable floating suspension: The suspension smooths out a rough ride and creates a comfortable seat.
Multiple speed ranges: Toro riding mowers offer multiple speeds for full control.
Best for Homeowners and commercial companies get a long-lasting riding mower from Toro.
Toro Lawn Mowers Company Profile
Company Name:

Toro

Website:

https://www.toro.com/en/