Find the Best Sunroom Addition Contractors

Compare Reviews for Top Sunroom Contractors

Four Seasons Sunrooms & Windows
Read 826 Reviews

Founded in 1975 as a greenhouse supplier, Four Seasons Sunrooms is now a leading supplier of greenhouses, screen enclosures, year-round sunrooms and solariums. Headquartered in Holbrook, New York, it provides services worldwide.

Champion Windows & Home Exteriors
Read 105 Reviews

Manufactures and installs custom-built windows, seasonal and year-round sunrooms, siding and doors. All products are made in the United States and backed by a limited lifetime warranty covering repairs, parts, labor and materials.

Patio Enclosures
Read 22 Reviews

Patio Enclosures manufactures and installs multiple kinds of sunrooms and patio rooms. The company was established in 1966 and is headquartered in Ohio. All products are made in the United States.

Fifthroom.com
Read 8 Reviews

Fifthroom.com was launched in 2011, but the company behind it has been in the outdoor furnishings business since the early 1990s. The website sells kits for stand-alone sunrooms, cabanas and other outdoor structures.

Archadeck Outdoor Living
Read Expert Review

Established in 1980 in Virginia, Archadeck Outdoor Living designs and builds sunrooms, decks and other garden structures. They have over 40 franchise locations in the United States and Canada.

Florian Greenhouse
Read Expert Review

Florian Greenhouses, a part of Florian Solar LLC, makes stand-alone greenhouses and sunrooms that can be added to existing homes. They cater to individuals interested in greenhouses for year-round growing and/or in solar energy.

Screenmobile
Read Expert Review

Screenmobile was founded in the early 1980s and is headquartered in Southern California. Franchise owners sell and install screens for windows and doors as well as patio rooms and sunrooms from mobile stores.
What to consider before adding a sunroom
Purpose
Before selecting a sunroom builder, consider how you would like to use your sunroom. Some companies specialize in a particular type of room, so knowing the room's purpose will help you select the best contractor.
Multipurpose room: If you'd like to use your sunroom throughout the year just like any other room in your home, find a company that offers energy efficient building materials and has experience building year-round rooms.
Gardening space: If you are primarily interested in a sunroom or conservatory to give you the ability to have a year-round container garden, look for companies with a history in the greenhouse business. You may be able to save money by purchasing a kit for a standalone structure and assembling it yourself.
Multi-season patio: If you would like to extend the use and enjoyment of your porch or patio, you can select a company that specializes in patio rooms or seasonal sunrooms. These rooms won't be heated or cooled throughout the year, so you don't need to invest in materials that are energy efficient.
Installation
Decide how much construction work you're willing to do yourself and then select a company who is capable of handling the rest.
Manufacturer installation: Some companies manufacture and install sunrooms. Choose one of these companies if you want to work with the same business from start to finish.
Third-party installation: Third-party installers and contractors are good choices if the sunroom manufacturer does not offer installation or if you want additional customization. Contractors can build sunrooms without using a single company's product line, so they may be able to give you more choices.
Owner installation: If you want to save money or enjoy doing things yourself, look for a company that sells ready-to-assemble kits.
Energy efficiency
Adding a room made mostly of windows to your home could negatively impact your energy bills. Make sure you understand the energy efficiency of the products you select so your room will be comfortable when you want to use it, so your heating or cooling bill won't skyrocket.
Proprietary glazes: Some companies have proprietary glass coating, called glazes, that block UV light, make windows easier to clean and help prevent heat or cold from transferring through the window. Make sure these glass products are Energy Star certified.
Energy Star certified: The EPA inspects products and grants them Energy Star certification if they meet certain efficiency requirements. You will save the most money on energy bills by selecting Energy Star certified products.
Seals: If the windows and doors are not joined and sealed properly, you will lose energy through the cracks around them. Ask companies about their installation process and sealing products to make sure they meet your standards.
Warranties
To ensure your new sunrooms is built to last, look for a company that offers a warranty.
Materials: All materials used in the construction of your room should be covered by the manufacturer. If you choose a company that manufactures and installs its own sunrooms, you'll only have to deal with one business if you have a problem.
Installation: All installers should guarantee the quality and soundness of their work. If you use a contractor or third party installer, you will need to handle material problems separately than installation problems.
Transferrable: Some manufacturers and contractors provide warranties that can be transferred to new owners if you ever sell your home. These warranties can add value to your home when selling.
Climate
Where you live will impact the type of materials you should invest in and will likely shape how you plan to use the room.
Mild: In more mild climates, you might be able to save some money by using fewer energy efficient products in year-round sunrooms. If you're only installing screens, you may want to consider ones that have a smaller weave pattern since bugs might be more of a problem.
Extreme: If you want to use your sunroom throughout the year and live in an area with long periods of extremely hot or cold weather, you will need to purchase highly energy efficient building materials.
Solar power: Some climates may be well suited to solar energy, and some companies sell glass that is specifically designed to work as a passive solar energy system.
Customization
Consider how much you want to customize your sunroom. The more customizations you add, the more you likely have to spend. Look for a company that offers the level of customization that you're looking for.
Total custom design: For a completely customized room, consider using a contractor that won't be limited by a single company's products. If you do use a company that both manufactures and installs sunrooms, choose one that offers free in-home consultations to talk you through your choices.
Size options: Kits and preassembled stand-alone structures will be most limited in size. If you're looking for a large or uniquely shaped room, look with a company that offers a high degree of customization.
Materials: Companies that manufacture their own sunrooms will limit your choice of materials to their own products. If you choose such a company, see how many options are available for materials like doors, siding and roofing.
What are the different types of sunrooms?
Patio rooms
Patio rooms are porches, decks and patios that have been converted to screened-in "rooms." These allow homeowners to enjoy their porch without worrying about insects or other pests. Companies might also call them porch rooms or screen rooms.
Porch enclosures
Porch enclosures add screen or glass walls to a porch's existing roof and foundation. These are ideal choices for homes that have large covered porches because they can save consumers a significant amount of money.
Seasonal sunrooms
Seasonal rooms are built to be heated or cooled only during certain seasons. Builders recommend the most affordable and efficient materials for the climate where the home is located.
Year-round sunrooms
Depending on the energy efficiency of the building materials, sunrooms can be comfortable for year round use. These sunrooms are more expensive to build, but they serve the purpose of a traditional home addition.
Garden structures
Standalone sunrooms and other garden structures are not attached to an existing home. Sunrooms can be built as stand-alone structures, but this category also includes arbors, open air kitchens, pergolas, sheds, pavilions and more. Sunroom companies often sell and install these structures.
Greenhouses
Greenhouses have many features of a sunroom. These may be built as standalone structures or attached to a house. Greenhouses are designed for growing plants out of season or in inhospitable climates.
Conservatories
Conservatories, or solariums, are rooms constructed almost entirely from glass. These rooms provide an outdoor-like feeling and can be used to grow sun-loving plants. These can be seasonal or year-round rooms, depending on the building materials.
Pre-assembled
Stand-alone structures can sometimes be shipped pre-assembled, so homeowners do not need to deal with any construction. Preassembled structures must be small enough to be legally transported on public roads.
Kits
Kits are available for homeowners who enjoy DIY projects. These options are usually more basic, seasonal sunrooms. They can allow budget-conscious buyers to add a sunroom to their home for a fraction of the cost of custom built and installed rooms.
Who should consider adding a sunroom?
Homeowners
Anyone who owns their house or a condo with roof access can install sunrooms to add additional space to their home and increase its value.
Do-it-yourselfers
Homeowners who like to do their own home projects can use a sunroom kit to add space and value to their home.
Gardeners
Avid gardeners and outdoor lovers will enjoy the views of their yards from inside their sunroom, and they can use the space to grow potted plants year round.
Retirees
Retirees may enjoy having extra space in their home or being able to enjoy outdoor views without sitting in extreme weather.
Budgeters
Homeowners looking for additional space but who don't want to pay for a traditional home addition can save money with a year-round sunroom or a DIY kit.
Families
Families with younger children can use sunrooms as play spaces for children or patio rooms to enjoy fresh air without worrying about insects.
Sunroom addition contractors FAQ
Can I build my own sunroom?

Yes, it is possible to build your own sunroom, but this is an advanced project that requires considerable skill and experience to do well. Even if you're using an existing porch, deck or patio as the base for a new sunroom, make sure you're following regulations for construction.

If you're committed to building your own sunroom, many companies offer sunroom kits to simplify the process.

How much does it cost to build a sunroom?

The average cost to build a sunroom runs between $25,000 and $55,000. However, these costs vary, depending on:

The size of the room
The type of sunroom
Whether it's being built on an existing foundation
Construction material costs
Labor costs

Can you build a sunroom on an existing deck?

Yes, it is possible, but check your local building codes to make sure your local government allows it. If your deck is high above the ground, consult with an engineer to make sure that your deck can handle the weight of a sunroom.

Do sunrooms require planning permission?

Regulations on home renovation and construction vary from town to town, but you likely need to get one or more permits from your city in order to add a sunroom to your home.

If you live in a neighborhood with a homeowners association, get permission from your HOA as well.

Does adding a sunroom add value?

Yes, adding a sunroom adds livable square footage to your home, which increases its value. The return on investment for a sunroom addition is around 50%.

How long does it take to build a sunroom?

It should take two to four weeks to build a sunroom, but construction time depends on whether you're building from scratch or onto an existing foundation. Pouring and setting a concrete foundation adds up to a week to your construction schedule.
Thank you, you have successfully subscribed to our newsletter!
We value your privacy. Unsubscribe easily.
Expert reviews about sunroom contactors

Four Seasons Sunrooms was established in 1975 as a greenhouse supplier, and Latium USA bought the company in 2006. Four Seasons' headquarters and manufacturing facilities are located in Holbrook, N.Y. The company manufactures and installs sunrooms, patio rooms, patios, retractable awnings and more.
Read More

Fifthroom.com was established as The Cedar Store in Pennsylvania in 1992, selling cedar outdoor furniture. Over the next two decades, the company launched several specialty websites, and in 2011 it developed Fifthroom.com to house all of those websites. Fifthroom sells a huge selection of home and garden products and accessories, including kits for detached sunrooms and other garden structures.
Read More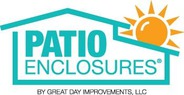 Patio Enclosures has been in business since 1966. The company sells several types of sunrooms, including patio rooms, year-round sunrooms, conservatories and sunroom kits. Its headquarters are in Cleveland, where all of its products are manufactured.
Read More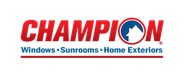 Champion Windows & Home Exteriors manufactures and installs sunrooms, windows, doors, siding and roofing materials. All their products are manufactured in the United States. The company was founded in 1953 and is headquartered in Cincinnati with 52 locations across the country.
Read More

Florian Greenhouse and its parent company Florian Solar LLC manufacture sunrooms as well as conservatories and greenhouses that can be attached to an existing structure or stand alone. The company is headquartered in South Carolina and has 200 locations across North America. It frequently has booths and displays at regional home and garden shows.
Solar energy: Florian sunrooms can serve as passive solar heat generators when the company's triple pane heat repellant glass, which blocks heat in the room, is used. A thermostat and wall fan can be set to filter warm air into the house once the sunroom reaches the preset temperature, helping homeowners save on their energy bills during cooler months. They offer solar panels in some areas as well.
Clip assembly: Florian sunrooms are assembled using clips inside of the frames. The company claims that this system makes their sunrooms more energy efficient than similar products on the market.
Greenhouse accessories: Florian sells many accessories designed specifically for use in greenhouses.
Online quotes: Interested consumers can enter basic information about the size and shape of their desired room to receive a quick quote via email. A more detailed quote will be sent if the consumer fills out a more detailed form about their desired product.
Kits: Florian offers some of their models as kits, so DIYers and budget-conscious homeowners can install a sunroom or greenhouse for a reduced price.
Best for: Florian Greenhouse sunrooms and enclosures are best for those interested in solar technology in their sunroom, observatory or greenhouse.

Screenmobile sells and installs window and door screens, sun control products, patio rooms, sunrooms and more. The company was established in 1982 and is now headquartered near Palm Springs, Calif. It has almost 100 franchise locations across the United States.
Upgrade options: Screenmobile can help customers who have existing covered porches or patio rooms. They can install new screens, sunroom walls or storm windows to make their space more usable.
Franchises: Screenmobile locations are operated by local franchise owners. These franchise owners are familiar with the climate and building codes in their service area, so they can help homeowners choose the best enclosure for their residence.
Gallery: Interested consumers can visit the Screenmobile website to find a local franchise and then see a photo gallery of sunrooms installed by that franchise.
Free estimates: Interested consumers can visit the company's website to schedule a free in-home consultation with a local franchise employee.
Best for: Screenmobile is best for those who want information about several types of porch enclosures, including sunrooms.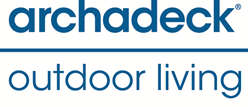 Archadeck was founded in Richmond, Va. in 1980 as a deck builder. The company has since expanded to construct custom outdoor living spaces of all types as well as sunrooms. There are more than 40 franchise locations in the United States and Canada.
Matching styles: Archadeck works to make sunrooms an extension of customers' homes as opposed to an addition to their home by matching the style and design of the existing structure.
Franchises: Local owners operate all Arachadeck locations. The owners and employees provide local expertise to help homeowners understand how climate, geography and building codes will shape their design options.
Custom design: All of Archadeck's sunrooms are custom designed, so homeowners are not limited by any pre-built designs. Homeowners can choose products, colors and more when working with Archadeck.
Free consultation: Interest customers can schedule an in-home consultation with an Archadeck representative. The representative will measure and photograph the installation site so the company can provide the customer with options and estimates. Consultations are no obligation.
Warranty: Archadeck's sunrooms, decks and other garden structures are covered by a one-year warranty for workmanship and five-year warranty for structural integrity. Manufacturers' warranties covered most materials.
Best for: Archadeck sunrooms are best for consumers who want a totally customized design.
Disclaimer
Information in this guide is general in nature and is intended for informational purposes only; it is not legal, health, investment or tax advice. ConsumerAffairs.com makes no representation as to the accuracy of the information provided and assumes no liability for any damages or loss arising from its use.
Thank you
Keep an eye on your inbox, the latest consumer news is on its way!