Consumer Complaints and Reviews

We bought a new over the stove Samsung Microwave and it's faulty after 2 months. It comes up with error code and you cannot use it at all. This started about one month after we bought it. They keep telling us they are waiting for a part, but they have never come out to look at it. All they have is the error code which makes me wonder if this is a known fault and what happens after the warranty is over. We have had a Samsung washer that has been great. The service company keeps telling us they are waiting on a part but it's now going on 3 weeks without a microwave.

We bought the entire kitchen Samsung appliances. It's a second home with limited use. 3 months out of warranty the lights don't work on the panel. (It will still heat.) Samsung doesn't care. Local repair is within $ of a new microwave. I should have checked here before buying Samsung junk.

In reading all of the problems with Samsung microwaves catching fire I am not sure a call to Samsung will be worth the hassle. I am just thankful I was in front of the microwave and saw the flames. I will buy a new one and IT WILL NOT BE SAMSUNG. Live and learn I guess. I also bought a refrigerator and stove. Really worried about those now too. It's a good thing that the average consumer is made of money. Shame on you Samsung.

Just bought this microwave and first time using it, noticed a burning smell but I thought was just because it was new. Second time I used it, microwave went on fire. Fire stopped when we turned off the microwave. We then called Samsung who wanted pictures so we turned microwave back on with nothing in it. Again went on fire and we took pictures of the flames and the burn hole, that looks exactly like the pictures others have posted. Been in contact with Samsung for days who are still reviewing the case and whether it will be approved to send out a service guy to "repair" my burnt up microwave. I'm lucky my daughter wasn't near the microwave or we weren't defrosting something and left.
Samsung takes zero responsibility even though I could have had a house burn down or the fact we just spent nearly 10,000 on all Samsung appliances. This microwave needs to be recalled!! If you google it, so many have caught on fire, yet Samsung does nothing to warn the consumer or even try to fix the situation. Disgusted by Samsung.

Our Samsung microwave died on Thanksgiving day. Christmas has come and gone and we still do not have a working microwave. We have talked to Samsung at 800-726-7864 multiple times to get it fixed. We had their service vendor come to our house multiple times. We were told that the magnetron was under the 10 year warranty by Samsung and should be provided by Samsung to the repair vendor. Then we would be responsible for the labor only for $89. Each time the vendor came they said we were responsible for the part and all repair costs. We are now done. We will never buy a Samsung appliance again and suggest that Lowe's should not sell this product either. Incidentally, our microwave was 3 years old.
How do I know I can trust these reviews about Samsung Computers and Monitors?
670,460 reviews on ConsumerAffairs are verified.
We require contact information to ensure our reviewers are real.
We use intelligent software that helps us maintain the integrity of reviews.
Our moderators read all reviews to verify quality and helpfulness.
For more information about reviews on ConsumerAffairs.com please visit our FAQ.

In May, 2016 we purchased a Samsung Microwave Model # ME16H702SES/A... and the rest of the number is not visible due to the fire which burned off the serial number and part of the model number. I suspect the fire started due to "electrical arcing" between the microwave housing and the door, because I had that on another model six years ago, and the arcing started while the unit was not being used. The fire started in October 2016 and we contacted Home Depot Canada, the vendor. They took the information and said someone from Samsung would be coming to look at the damage and by the middle of November 2016 no one had come.
We called Home Depot again and they told us to contact Samsung Canada for help. We did so, and on December 2, 2016 we received an email from Meyson **, asking us for a copy of the store receipt and photographs of the damaged area. On December 14 I sent the photographs, also asking him to confirm the receipt of the information. He replied the same day stating he had not received the photographs, I sent them again the same day, both times I sent them, there was no negative feedback from the email system, and this indicates the emails had gone through. On December 23 I had not received a reply from Meyson ** so I emailed him again indicating the length of time it was taking to acknowledge and repair this product, and heard nothing from him.
December 27, I called the Samsung Canada Specialty Group (where Meyson ** works) and he wasn't available so we described the problem to another support person, they said in order to help us they required an order number. Obviously they didn't know the difference between an order number and a ticket number. After 30-35 minutes on the phone with a few individuals, it was useless going forward. We called Home Depot again asking for the appliance rep in the store where we purchased the unit and he was on vacation. At this point there is little use in pursuing this through the Customer Support area so we will file an incident with the Better Business Bureau and the CSA Group since we have had more success with the CSA in the past than the vendor.

We purchased all 4 appliances from Samsung when we moved into our new home (Refrigerator, stove, over-the-range microwave, and dishwasher). A package deal from the former "Future Shop" chain. Total price was just over $4,500 for the stainless steel set. Within one year, things started to fail. The fan on the convection stove stopped one month after the warranty ended. I fixed it myself to the tune of $90. 2 years on, the dishwasher grew louder and louder. The dishes never cleaned 100% perfectly. Eventually we had to wash the dishes when nobody was home (That loud). 36 months after purchase, the refrigerator began to ice up and stopped working. Two repair bills and 2 loads of spoiled food. We gave up on it and had to replace it. Repair bills were $200. Lost groceries were $250. New Frigidaire price? = $2500+. At the anniversary of year 4, the dishwasher quit. Bosch replacement? - $800.
Now the microwave. The plastic door hook broke inside. I had to rig the tension spring onto another inside part so it would work. Then the top, plastic grill broke. The screw clips fatigued and split causing the grill to fall. Now the door won't close and the replacement part isn't made anymore. Cost to replace the microwave? - Still looking today (Probably +$500). So there you have it friends. DON'T BUY SAMSUNG.

We purchased the microwave on 5/2016 from Best Buy. 7/2016 microwave filter began to pop out randomly once hitting me on my chest, then buttons were pressed on their own as if we had a ghost. Fan turns its self on, the light goes on by itself, a code came on (Samsung comp said disconnect and connect again - WHAT!!!). Geek Squad came and changed the board panel, filter panel, door. Called Samsung company, they sent a tech who changed the SAME thing. The company refused to replace the microwave. Once all was replaced the microwave worked for 1 mo and began to malfunction once more. Now the microwave freezes, we can not press any button on the door, the microwave turns off as if it was unplugged plus all the other things that were wrong with the microwave.
I have asked to speak with the manager and all I ever get told is the microwave will be replaced if the SAMSUNG tech recommends it. Hello they work for Samsung it will not get recommended. Well the tech came today. Recommendations replace the door again. Really. That will be the 3rd time. The stove it takes a long time igniting. I was told not to cook with flour (I do not cook with flour). The fridge the ice dispenser it is very small you are lucky if you get 4 cups with ice. Icemaker sweats and drips water inside the fridge. This was the first time we purchased Samsung appliances, and it will be the last one. I should of bought Viking/Frigidaire appliances. DO NOT PURCHASE SAMSUNG APPLIANCE. They are the worst.

We purchased a Samsung kitchen bundle (microwave, refrigerator, oven and dishwasher) from Home Depot. A week after installation the microwave caught fire and created a burned hole on the inside of the microwave. Contacted Samsung and have been spinning for 2 weeks now as they will not replace this unit, only repair it. At this point we paid for a BRAND NEW unit, 2 weeks ago, and we have zero confidence in the reliability and safety of this unit being repaired. Samsung has been very unresponsive to our request. Cannot believe that big corporations can treat people in this way. Taking our hard earned money and not replacing like for like.

Purchased Samsung microwave model #ME20H705MSS. Quit working shortly after the one year warranty and Samsung would not honor the warranty. Samsung sells junk. Do not buy their products! Unfortunately every appliance in our house is Samsung including our television, makes me wonder what will break next? Save yourself some money and time don't buy Samsung.

Samsung 17 Cu Ft SLIM FRY OvertheRange Microwave SS 1571002 - Bought X-mas 2013. Keypad stopped working or behaved randomly turning lights and fans on randomly or operated by a ghost. Nov 2016 microwave doesn't even power up. It's outside 1 year warranty period and refusal to replace it. My previous microwave lasted 10 years. Don't buy Samsung Microwaves.

Just installed this Model ME21H706MQS/AC microwave. Turned it on started on fire. Luckily we were right there and caught it. Samsung should be ashamed of themselves for manufacturing such product. We just bought all new Samsung appliances including stove, fridge, dishwasher, washing machine, dryer. All top of the line items. It kinda makes you wonder what sort of crap they are making. Very concerned with their quality control. Bought at Home Depot Peterborough Canada.

We purchased a Samsung SMH 9187 ST over the stove microwave in 2010. We had the keypad replaced at our cost in 2013, and are about to replace it again (November, 2016) - not what I would call very reliable. When working, it's a great product.

Samsung SMH2117S/XAC. Would expect a quality microwave to last more than 2 years. Started displaying 5E or SE error code. Called Samsung as there are many known reports of this. They stated my model not part of the recall and would offer no support. Regret furnishing my new home with Samsung appliances. Have had repairs to dishwasher and range already as well. Buyer beware!

I purchased my microwave in 2010 Serial # J4LVMOSC00753V. After about 2 years I got the infamous 5E error. I found information on the internet as to how to repair it myself. When I opened the front of the unit to access the inside of the control panel, I found that the hot wire connector was melted. I must have been very close to a fire! I replaced the connector and dried the wires to correct the 5E error. The 5E error reappeared again after a few months. I again dried the wires. To keep the story short, the 5E error appeared more and more frequently, until finally it was happening weekly. The unit is now waiting for the junk man to collect it.

I had the vent fan working on my microwave (which is an above range microwave) because I had a stew pot cooking on the range. Supposedly this will help keep condensation down. When I went to check my pot on the range the fan on the microwave had quit and I was getting a code "5 E" on the display. I have since learned code 5 E means the keyboard on the microwave has quit due to condensation in the wiring of the microwave. My question to Samsung is...why didn't you take care of this problem before selling me an above range microwave? Did you think through the problem of condensation? Very disappointed in SAMSUNG.

Purchased a Samsung convection microwave oven for 299 Sing dollars and the very first day I wanted to bake muffins. Heavy smoke came out of the oven and filled the whole kitchen and spread to other rooms. I panicked and switched off and called the company. They said the technician can come only after two days. Then the technician arrived and said the coil has gone and replaced it. By then, the back of the oven looked all burned out. I wanted a replacement as it was on extended warranty, but the repair person said that it will not have any more issues. Tried to bake again, this time, the cake was not cooked in the middle, only the sides were cooked and it was all a mess. My previous oven was Sharp convection, used it for 9 years without any problem. I will never buy the Samsung oven again and will not recommend to anyone.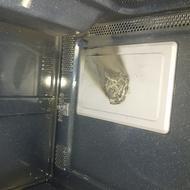 Bought new Samsung microwave (me21h706mqs) and after one week it caught on fire at the plastic piece in rear corner. Lucky we were at microwave watching or whole house could have caught on fire. Huge plastic smoke and horrible smell. Home Depot response was call Samsung. I asked them to come and take out as it is health hazard. Called Samsung, had to call three different numbers as they cannot transfer, phone technology?? Samsung was not impressed their unit caught fire and really did not care. Said they would sent tech in 2-3 days. UNACCEPTABLE.
Basically they hung up on me after I requested someone come out on Monday to remove. Do you think if this happened to the GM at Samsung they would have treated it as routine maintenance? It is now 2 hours after Samsung was supposed to be here and no word yet. Going to replace with ANY other brand than Samsung. If you look at these reviews you see many fires. Can't believe they still are selling them. Buyer beware.

In January of 2014 we remodeled our kitchen with all new appliances. We purchased a Samsung Microwave model MC17F808KDT. A month later, we started having problems. When we run it, the exhaust fan and lights come on ON their own. In the middle of the night we would hear it come on, so we unplug now to be safe. This product should be recalled. It's very dangerous!

I was home thank God but I started smelling smoke really strong and checked all over. It was my Samsung microwave burning from the inside. Door closed. Nothing inside. Hadn't even been used for a few days. Not even 1 year old. Had been serviced by Samsung first week. Was told "burnt dude".

On September 6, 2016 I was heating frozen vegetables in the plastic pouch on a microwave safe plate. When I looked up from the stove, there were flames shooting out the right side of the oven. I opened the door and threw water on them to put them out. Then I unplugged the oven. I called Samsung immediately to report this. I was told I would be contacted by a technician with 24 hours. The repair department did not call me until 2 days later and the earliest appointment available was for Wednesday, September 14. In the meantime I called the electrician to check my electrical outlets and service. Everything is up to code--prover voltage, etc. Now I am waiting for the repair tech to arrive on Wednesday. Very disappointed in this product. It was purchased the end of March this year and is even 6 months old.

Bought a microwave less than 2 months old. Numbers stopped working. Appliance store ordered new door. Second door doesn't work either. Store won't replace oven unless we try a 3rd door. Called Samsung. They said same thing. Now no working microwave. Have to wait week and a half for doors to come in.

Purchased 4 months ago from Lowe's. I wasn't even using the inside of the microwave at the time. I was using the exhaust fan for I was boiling pasta on the stovetop. Flames all in the microwave, I had to use the fire extinguisher. I am so glad I was home when this happened! My model number ME18H704SFS. So, now I have to wait to see if they will repair it... umm I want my money back not repaired. DO NOT BUY A SAMSUNG MICROWAVE!!! SCARY!!!

Purchased fall 2013. Currently summer of 2016. Brackets to close door securely broke off little by little. Now won't close securely at all. Because of this, throughout the 2 years, occasionally would run when not started but had just closed door. Functioned well while cooking. Safety hazard and crap. I expected much more from high end appliance. I have sworn off Samsung!

4 Years ago I upgraded 4 of my appliances, 2 of them Samsung fridge and microwave. Fridge broke in 2013. Microwave broke this month. Called Samsung informed them it's not working and gave burning smell and they recommended to have microwave evaluated by tech which I refused (reason written below between they told me after 1 year no warranty). Went to Best Buy and bought GE microwave. Hopefully it will last long. Our TV from Samsung already broke of course. Last year when my fridge broke, I called Samsung. In short they recommended CERTIFIED technician who came and couldn't pinpoint issue (FREEZER SIDE WAS NOT WORKING, MELTING EVERYTHING). He told me it could be one of many reason and recommended to change 3-4 expensive parts plus his labor cost. I could buy new fridge comparing parts and labor cost. My opinion Samsung products don't last long. If you have money to throw, do buy them.

Bought my Samsung Microwave ME21F707MJT alongside the Samsung slide in range 2 months ago and recently installed it over the weekend. I've used it about 3-4 times to heat up some food and once before to make some popcorn. Well this time around I went to make some popcorn using the preset popcorn button as usual and went to the bedroom. After a few minutes I smelled burning smoke and sent my friend to check on the popcorn. She screamed out my name and I went running to the kitchen only to see the microwave in flames. I put it out with a wet tshirt I had used to clean something off the countertop with. Disaster averted.
Called BestBuy, BestBuy transferred me to Samsung. Samsung was more worried if I was injured or had property damage. Gave me a ticket number like others before and said I would get a call back within 24hrs. (9:15 am) Finally got a call from Samsung at around 3:00 pm the following day and again, they seem more worried if I was injured or incurred property damage. I was told that a service agent would be "scheduled" to come to my house and "service" the microwave. Yep, you read right. Service my microwave.
I told her politely that I am a loyal Samsung customer with Samsung phones, tvs, tablets, gas range and microwave, and that I DO NOT want a repaired, serviced dysfunctional microwave that caught on fire and is liable to do so again and Samsung should be happy that this incident wasn't worst than it was and that they should be more than willing to replace a burnt up microwave. She said that was not how Samsung warranty works.

I'm had a same issue with our microwave. Serial# ME18H704SFG. Interior on the rt side sparks flying out. Same issue with customer Joey from NJ... I think we caught it in time... I have called Samsung. Spoke to a guy. He gave me a Ref #. I called today 7/21/2016. I'm waiting for that call. He said he has sent my information to the repair department. I don't want it repaired. I want a different model. It's very scary. I'm hoping I don't have to deal with this. We bought ours from Lowe's Nampa.

Purchased model 4 years ago. Had all sorts of problems. The control pad "froze" up continually. Lights & fan came on randomly by itself. We had service to fix it on numerous occasions. The repairs were in vain. Could not be fixed. Samsung finally within the warranty period exchanged the unit for a new one. Well, we had the same problems. Several repairs and 3 years later, the unit "died" No power. Since the warranty expired, Samsung refused to replace or repair. A service call was $165 plus parts. We purchase a new GE microwave. Do not purchase a Samsung Microwave.

On December 27, 2013, I bought a Samsung kitchen appliance suite at The Home Depot. I made the purchase at store #6326. Unfortunately, the microwave (SMH1816S) has not performed well. The microwave does not powers on, but the timer still counts down. I do not expect a microwave to last forever. However, I do expect it to last more than 18 months.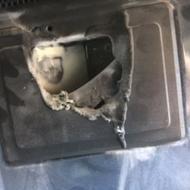 New Microwave Caught Fire - Purchased Samsung Microwave Model Number ME18H704SFG on 07-03-2016 from HHgregg. They delivered the microwave on Saturday 07-09-2016. Used the microwave Saturday and Sunday. Monday morning 07-11-2016 my wife screamed "FIRE" so I ran to the kitchen where the microwave door was open and a flame about 4-5 inches long was jetting out from the side of the interior of the microwave. When I say jetting it was like a torch so I got the Fire Extinguisher and put it out then unplugged it. The inside wall was still hot to the touch for some time so I removed it from above the Gas Range and Sat it outside for the day. Now there is a big hole in the side wall of the microwave.
I called HHgregg and they told me to call Samsung. I called 800 726-7864, spoke to a lady there who gave me a transaction number and said a Product Specialist would call me back within 4 hours. Said I needed to call back with the serial number or I would be charged a service call fee. That return call did not happen within 4 hours so I called again and spoke to another lady who gave me a claim ticket and a service ticket and said the claim folks would call me within 24 hours and the service folks would call back the same day. I did receive a text from service saying "The repair facility has accepted your repair. ASC Phone 201-672-9502 ASC will contact you within 2 business days". Then received a call from service around 5:34 who left a message which I returned the call.
The lady also needed the serial number which I provided the next day and they have scheduled a service person to come out... today is the 12 the service person will come on the 19 between 10-2. I told her I did not want them to attempt to repair this unit and give it back to me. She said the service person would not take the unit but would take photos and send to Samsung where they would determine if it could be repaired. I told her I would not let that unit back into my home. She said "if you refuse the service then you will be left with a broken microwave." This is where I have left this issue. We will see what happens when the service person comes out.

ConsumerAffairs Research Team
The ConsumerAffairs Research Team believes everyone deserves to make smart decisions. We aim to provide readers with the most up-to-date information available about today's consumer products and services.
Samsung is a highly-rated technology company that sells a range of electronics and appliances including cell phones, televisions, washing machines and microwaves. They focus on high-tech innovation in all of their products.
Ease of selection: The websites makes it incredibly simple to shop for a microwave thanks to various search filters. This is an ideal way to make a purchase if you know exactly what you are looking for in a microwave.
Small to large: Samsung's microwaves range from 1.6 cubic feet of capacity to 2.1 cubic feet, making it easy to choose the very best size for your needs.
Dual cook: Some products in the Samsung range allow for convection or conventional microwave cooking.
Grill: There's no need to switch between the microwave and the grill with this feature, since the grill is already included.
Scratch-resistant: The enamel-coated interior of certain Samsung microwave models makes for a strong and scratch-resistant surface.
Best for Singles and couples, small families, large families and commercial kitchens.
Samsung Microwave Company Profile
Company Name:

Samsung Computers and Monitors

Year Founded:

1938

Country:

Korea Sout

Website:

http://www.samsung.com/